The fintech market continues to grow, offering a variety of opportunities for new players. A multitude of software solutions covering almost every aspect of users' financial lives are constantly emerging, yet the demand for better and more inclusive financial services is increasing ever faster. So there is still room for new players.
However, newcomers entering the financial services sector should be prepared to overcome numerous challenges. Having a great idea is only half the battle. The other half is dealing with data security issues, compliance with a variety of regulations, user experience, and so on, not to mention the solution development itself. Handling all of these issues on your own, at best you'll delay time to market, and at worst, the project will end in failure. The success of a project is composed of several elements. One of them is hiring qualified fintech developers.
A strong development team facilitates project implementation across all stages, delivers an exceptional product that will take its place in the app stores, and shortens time to market. To help you hire the best specialists and turn your idea into an impactful, user-friendly, and stable product, we have compiled a list of fintech developers to hire. Check it out to find your perfect development partner.
Top 10 FinTech Developers
Itexus is a fintech development company that has delivered more than 220 advanced solutions to startups, SMEs, and enterprises in the financial industry across the globe. The company develops robust and scalable solutions for digital banking, wealth management, and investment, digital lending and alternative finance, online payments, personal finance management, regtech, insurtech, and other fintech sectors. Itexus offers different engagement models, so you can either outsource the project on a turnkey basis or hire top fintech developers to reinforce your own team. In-depth fintech domain expertise, world-class engineers, and a customer-centric approach make Itexus a top company for custom financial software development.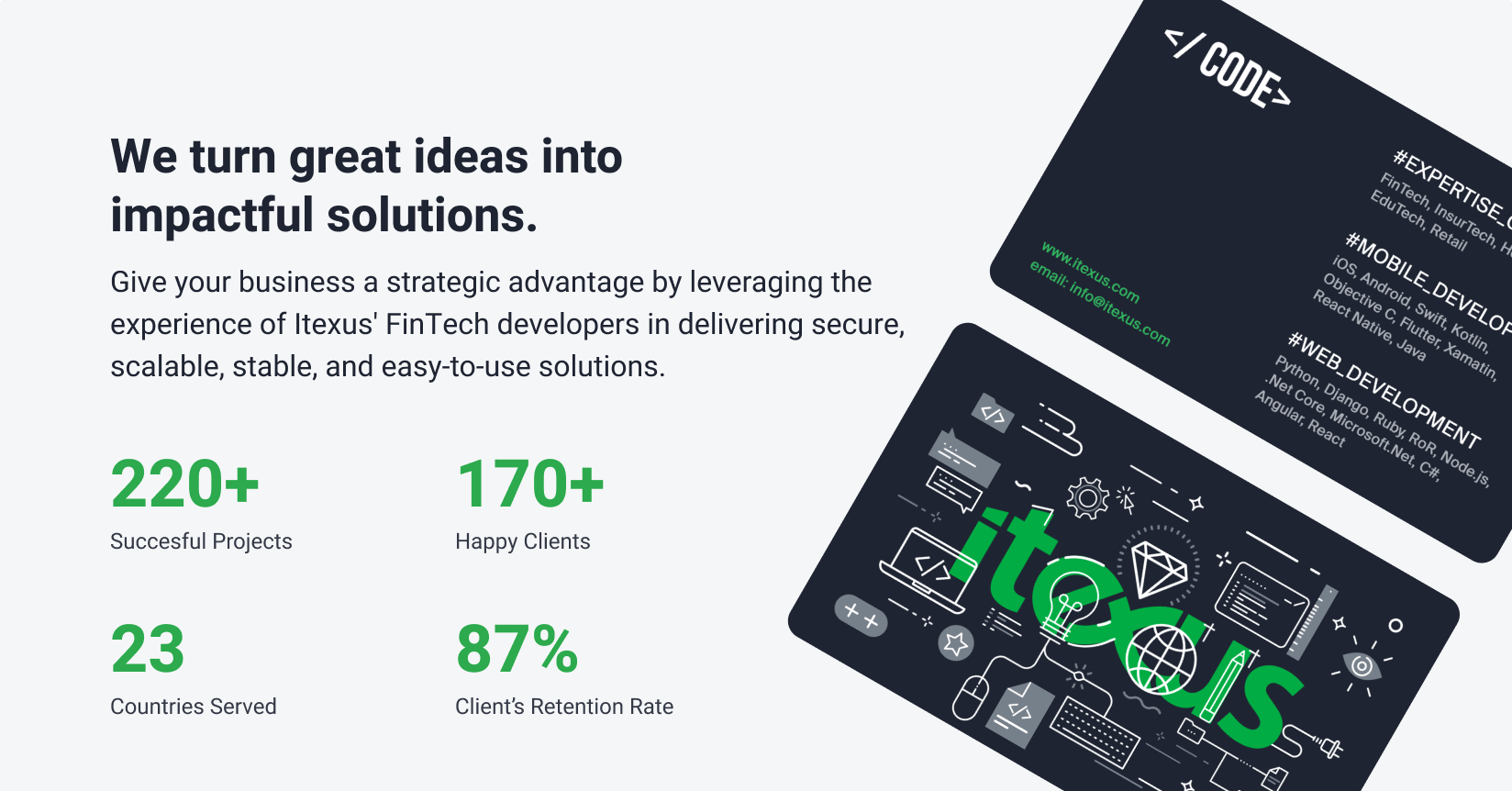 2. Waverley Software
Waverley is a US-based software engineering company that builds award-winning software products. The company's philosophy is to develop products that provide real solutions to people's problems and change the world for the better. Waverley focuses on custom software development for primarily mid-sized businesses and enterprises.
3. GoodCore Software
GoodCore is a UK-based custom software development company that offers different engagement models depending on the specific needs of its clients – engagement, fixed price, time & materials, and dedicated teams on a monthly retainer. The company works with startups and established businesses, providing web and mobile applications development services, integration projects, and more to help its clients leverage digital trends and gain a competitive advantage.
4. Britenet
With over 1000 highly qualified IT specialists on board, Britenet provides custom software development, mobile app development, and UX/UI design services primarily to mid-sized and small businesses. In addition to bespoke software development, Britenet also offers consulting services that allow its clients to benefit from the company's extensive expertise in business intelligence.
5. Computools
Computools is a US-based agency known for delivering outstanding IT solutions to enterprise, mid-market, and small businesses. The company offers consulting, product design, engineering & reengineering, and support services. Working as a robust and infallible mechanism, Computools' team employs agile methodologies, appropriate technologies, and frameworks to deliver competitive solutions to its clients.
6. 10Pearls
Being an industry-leading custom software development studio, 10Pearls offers a full range of application and software development services. The company provides mobile and web development, UX/UI, quality assurance, DevOps & SecOps, and other services. By leveraging new technologies such as AI, IoT, AR /VR, voice & language processing, etc., 10Pearl helps businesses achieve desired results with efficiency and creativity.
7. ELEKS
ELEKS is a financial services development company that has over 2000 specialists on board in Europe, the US, and Canada. The company provides custom software and application development, UX/UI design, QA, and consulting services. ELEKS focuses on delivering advanced solutions to enterprises and mid-market businesses, helping its clients to close IT expertise gaps, save operational costs, and adopt digital transformation.
8. Woodridge Software
Woodridge Software specializes in bespoke software development, digital transformations, and complex integrations for enterprises, financial institutions, and startups. Their team of talented and experienced fintech developers, business analysts, and UX designers focuses on security and stability, delivering user-friendly, robust, and scalable solutions.
9. CSHARK
CSHARK is a software development and product design firm operating across the US, UK, Canada, Switzerland, Sweden, Germany, Singapore, and Poland. The company offers a full range of web and mobile application development services, from initial concept to launch. CSHARK works primarily with mid-sized and small organizations, helping clients find the right technology solutions for their business challenges and build digital products that users love.
10. Systango
A specialized UK-based software development studio Systango is known for delivering fast, efficient, attractive, and easy-to-use software solutions. The Systango team's core competencies include full-cycle custom software and application development, product design and engineering, discovery, CRM and CMS integrations, and more.
Any questions? Drop us a line.
How You Know You've Found "The Ones"
By now, you may have shortlisted a few development companies. The next step is to contact their representatives and schedule an initial consultation. But how do you know you have found the right ones? Ultimately, it comes down to a set of hard and soft skills. Read on to learn what to look for in fintech developers you are going to hire.
Soft Skills
It does not matter how skilled and experienced the team members are if you can not establish proper communication with them. Therefore, your potential hires should have the following set of soft skills:
• Communication skills. Best fintech developers have strong communication skills and a strong work ethic, as this fosters team spirit and reduces the likelihood of conflict.
• Problem-solving skills. Your ideal fintech development team should be able to efficiently solve problems as they arise.
• Adaptability. Every software developer should be adaptable enough to handle unpredictable situations and expectations.
• Proactivity. You do not want to hire fintech developers who need a babysitter. Proactive team members complete tasks faster and avert problems before they arise.
Hard Skills
If you have some technical background, you may have already come up with a list of libraries, coding languages, and frameworks that your potential hires should know. Otherwise, you can ask for the company's fintech portfolio and check reviews on a portal like Clutch. If you like the projects in the portfolio, feedback from previous clients is positive, and you feel like you are on the same page, you are in luck because you have found your perfect partner. Without further ado, let the fintech journey begin!
To Sum Up
In the fintech market, the road to success can be a bumpy ride. But a team of reliable, skilled, and experienced fintech developers will turn the emerging challenges into opportunities. At Itexus, we have been helping our clients discover and make the most of new opportunities for years. Drop us a line if you want to hire financial software developers for your project – our specialists are here to make things happen.
By Itexus Team