Financial Software
Development Company
Professional software development for the Financial Services industry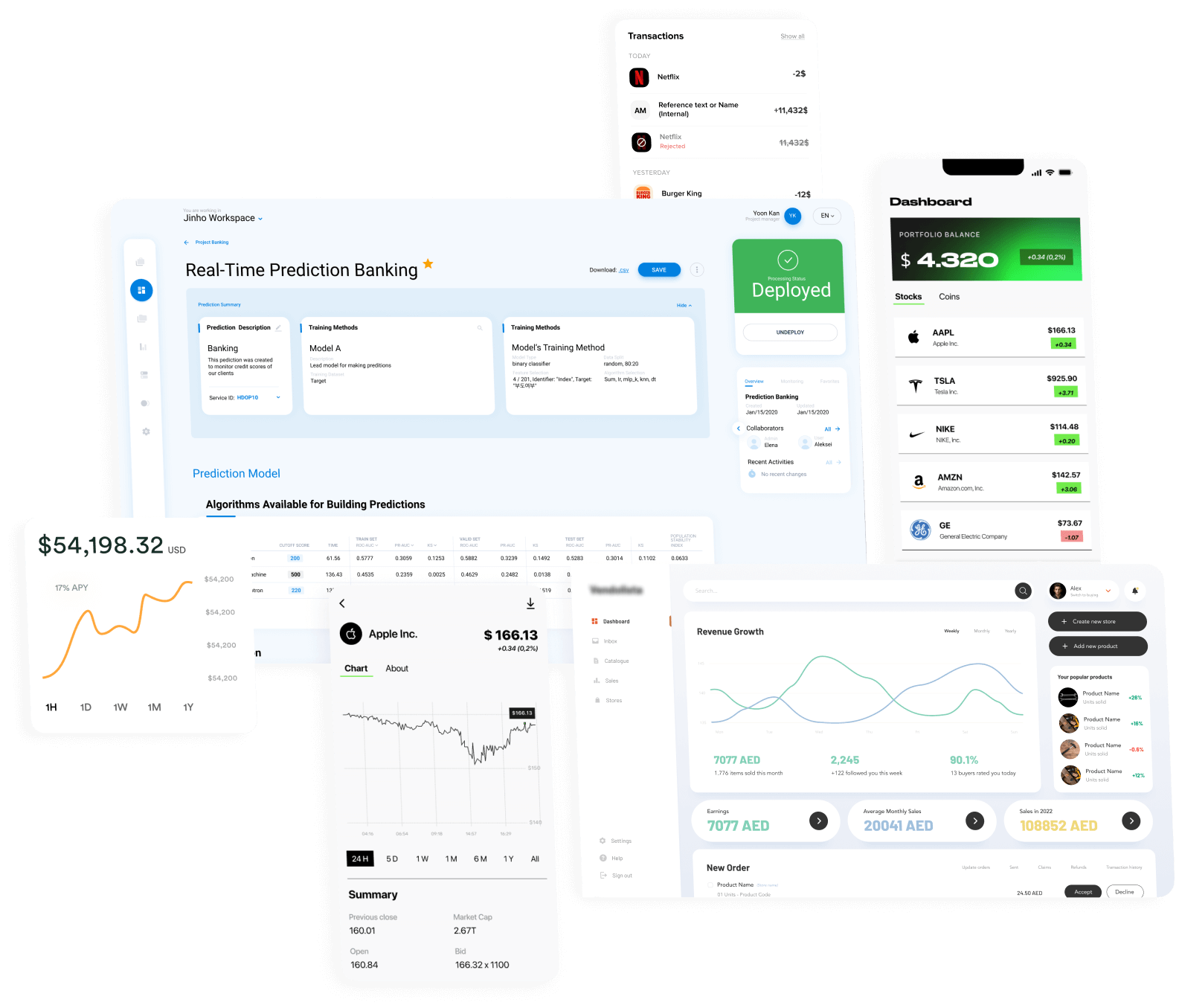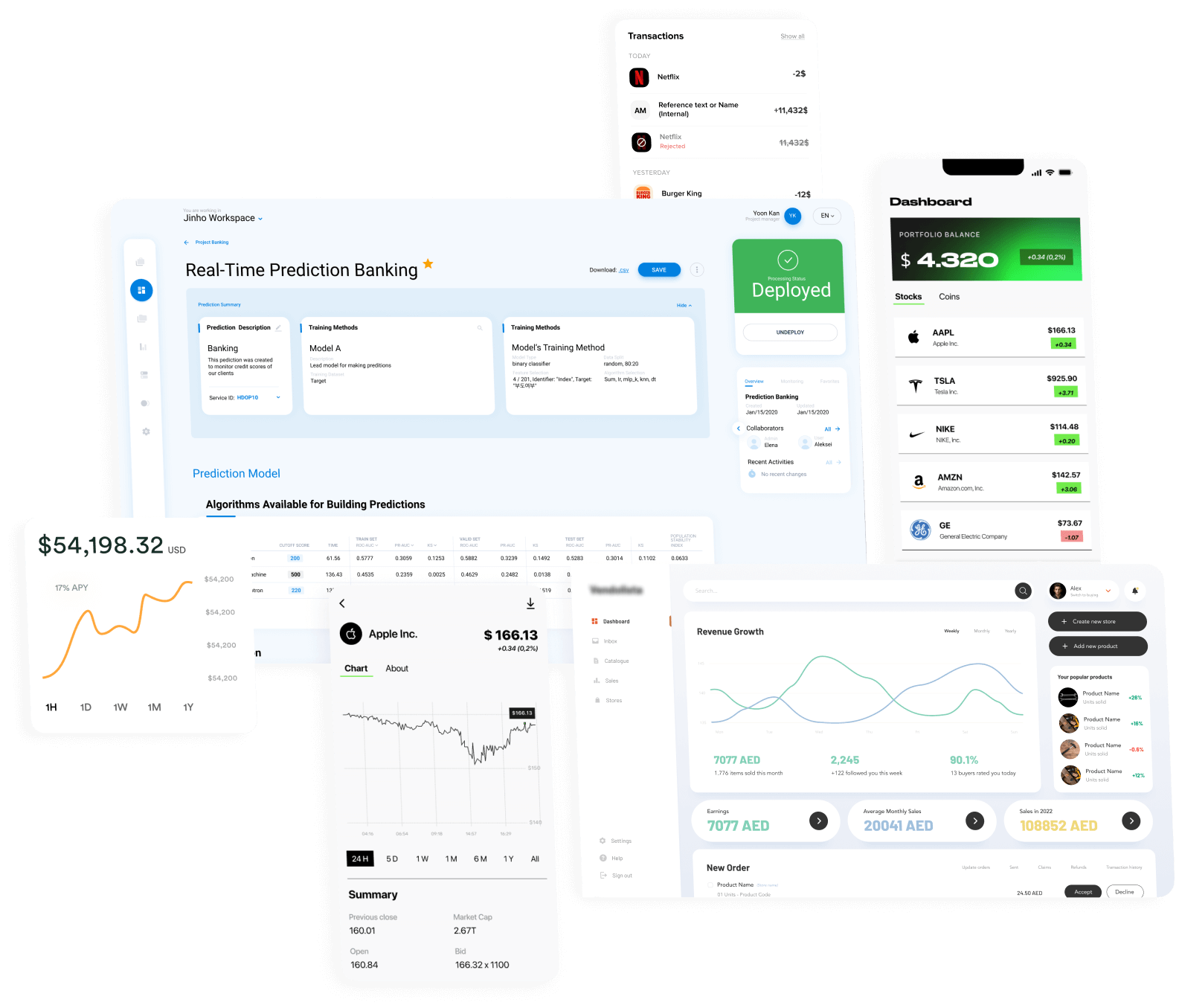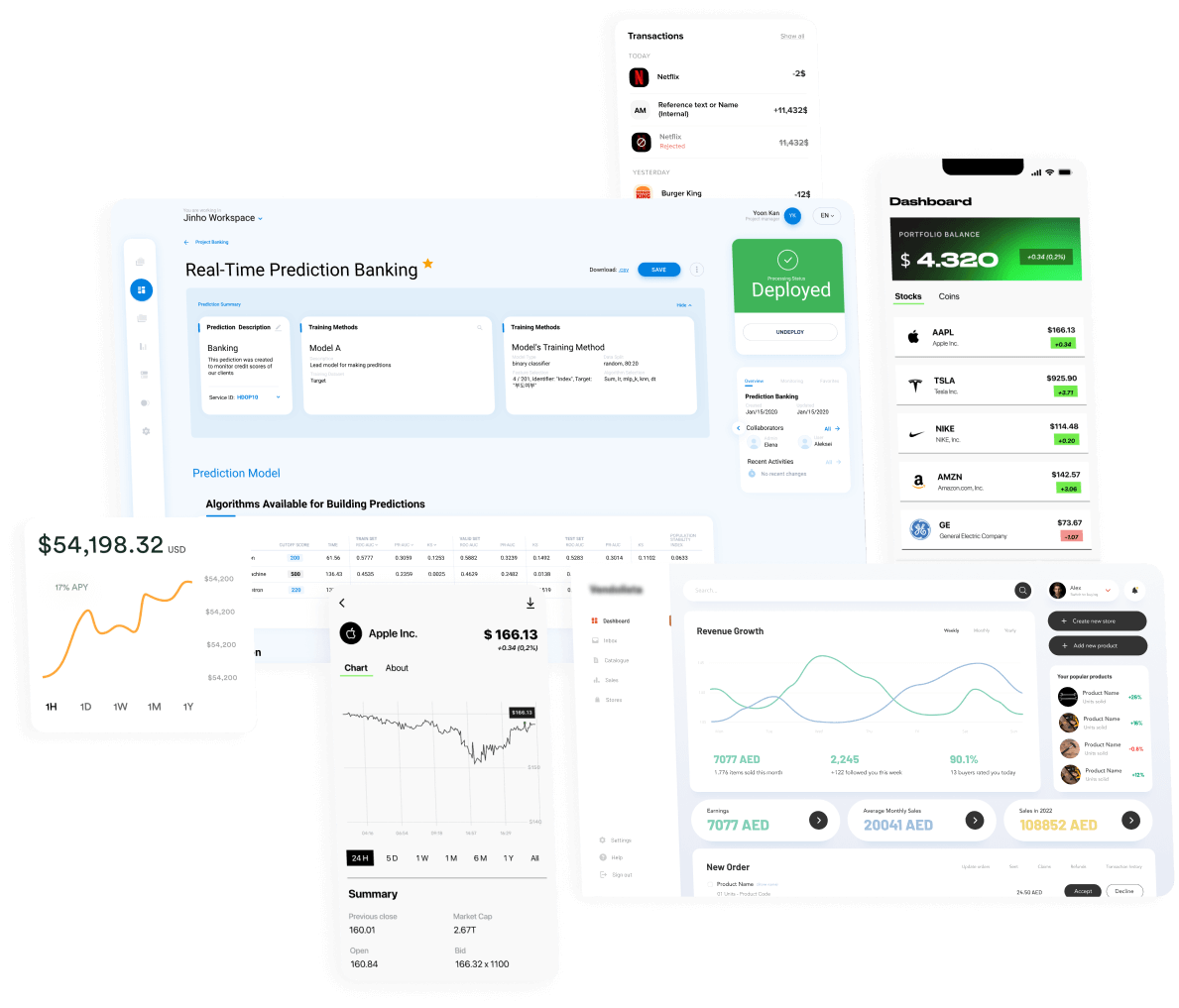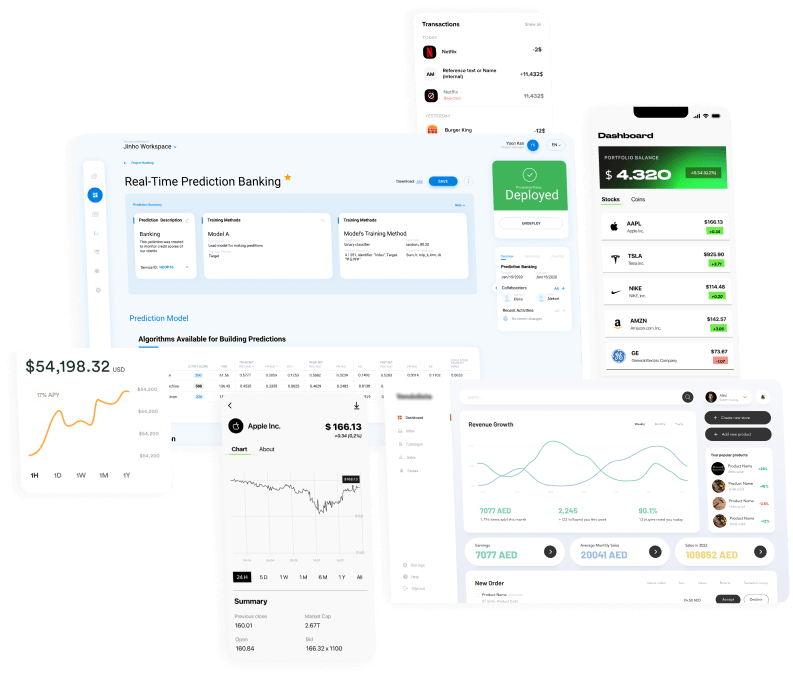 We provide a full spectrum of software solutions for the financial services industry
from simple mobile apps to enterprise‑grade, AI‑powered digital banking and investment management systems.
Financial Software Solutions We Develop
Client portals
CRM systems
Prediction and recommender systems
KYC, KYB , AML and fraud protection
AI-powered virtual assistants and chat bots
Crypto
smart contracts development
crypto exchanges
crypto wallets
NFT marketplaces
blockchain solutions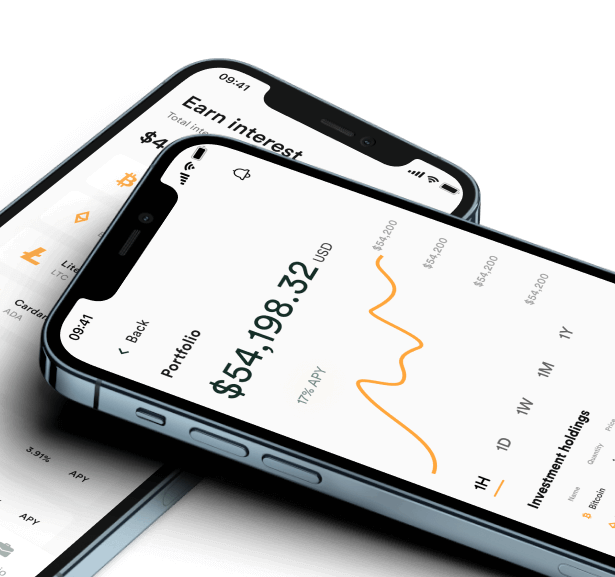 Personal Finance
account aggregation and expense tracking systems
debt refinancing and optimization
financial goals and retirement planning
automatic investment and savings apps
gamification and social features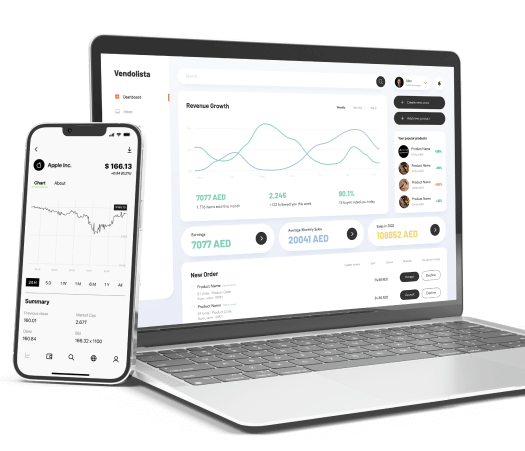 Digital Banking
digital lending
сredit scoring
e-wallets
mobile & online banking
money transfer applications
crowdfunding platforms
Insurance
on-demand insurance
P2P insurance platforms
claim & policy management systems
underwriting and quoting software
risk analysis software
Wealth Management and Investment
stock trading apps
algorithmic trading systems
AI robo-advisers
portfolio analytics & recommender systems
remote portfolio monitoring and advisory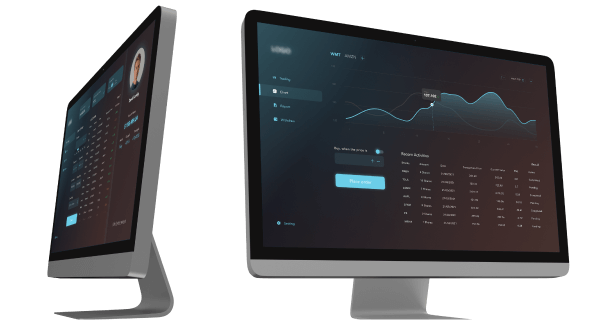 Financial Software Development Services
Financial Software Development Services
Custom Finance Software Development
Financial Product Development
Financial Mobile App Development
Fintech and Digital Transformation Consulting
Fintech UI/UX Design and Prototyping
Fintech Developers for Hire (Outstaffing)
Financial Software Modernization
Process Automation
DevOps and Cloud Engineering
Project Rescue
Cybersecurity Consulting
Quality Assurance
Website and Landing Page Development

Custom Finance Software Development
Create a custom‑tailored, well‑documented software solution with our Custom Finance Software Development service. Scalable architecture, clean code, thorough testing, professional project management and excellent customer service.

Financial Product Development
Outsource the development of your financial product to the Itexus team. We provide experienced engineers, cutting‑edge technologies, professional agile development process, thorough documentation, meticulous testing, and intuitive UI/UX and architecture design.

Financial Mobile App Development
Go mobile with our Financial Mobile App Development service. Native and cross‑platform advanced financial mobile applications, graphs, charts, KYC, BAAS, brokers, exchanges and other third party integrations.

Fintech and Digital Transformation Consulting
Leverage Itexus' extensive fintech expertise to find the best technical solutions for your business challenges. Whether you're looking to digitize your business processes, launch a new fintech product, analyze growth opportunities, or create documentation package for fundraising — we can help.

Fintech UI/UX Design and Prototyping
Create intuitive, clear, and engaging UI/UX design that your customers will love. Our designs are driven by your individual business's goals and based on research and usability standards, not subjective taste.

Fintech Developers for Hire (Outstaffing)
Quickly scale up your development team with our experienced engineers. Deep fintech knowledge, passion for clean code and great architecture, attention to detail, agile experience and excellent communication and proactivity.

Financial Software Modernization
Modernize your IT infrastructure, migrate your software systems to the latest well‑supported technologies, leverage data for analytics and predictions, and offer your users new digital and mobile experiences.

Process Automation
Optimize your business processes to reduce operational costs and eliminate human error. "As Is" and "To Be" documentation, business process modeling, digitization, adoption, and personnel training.

DevOps and Cloud Engineering
Create a scalable, cost‑effective, and secure cloud‑based infrastructure, automate your development processes, and set up automated backups and monitoring of your production servers.

Project Rescue
Get your project back on track: restore documentation, perform a security and code quality audit, fix stability and performance issues, refactor messy code, migrate to the latest technologies, and establish a transparent, reliable development process.

Cybersecurity Consulting
Perform security audit and penetration testing, identify and eliminate vulnerabilities, and ensure compliance with security standards such as SOX, HIPAA, PCI DSS, GDPR, ISO 27000, etc.

Quality Assurance
Ensure your software works flawlessly, supports the required number of concurrent users and data, and meets regulatory standards. Full spectrum of testing services: manual, automated, security, usability and penetration testing.

Website and Landing Page Development
Create everything from simple landing pages to a complex websites for your business in no time. We provide engaging and modern designs, CMS capabilities, and SEO optimization. Fast and easy.
Give your business an edge with our outcome-driven software development services.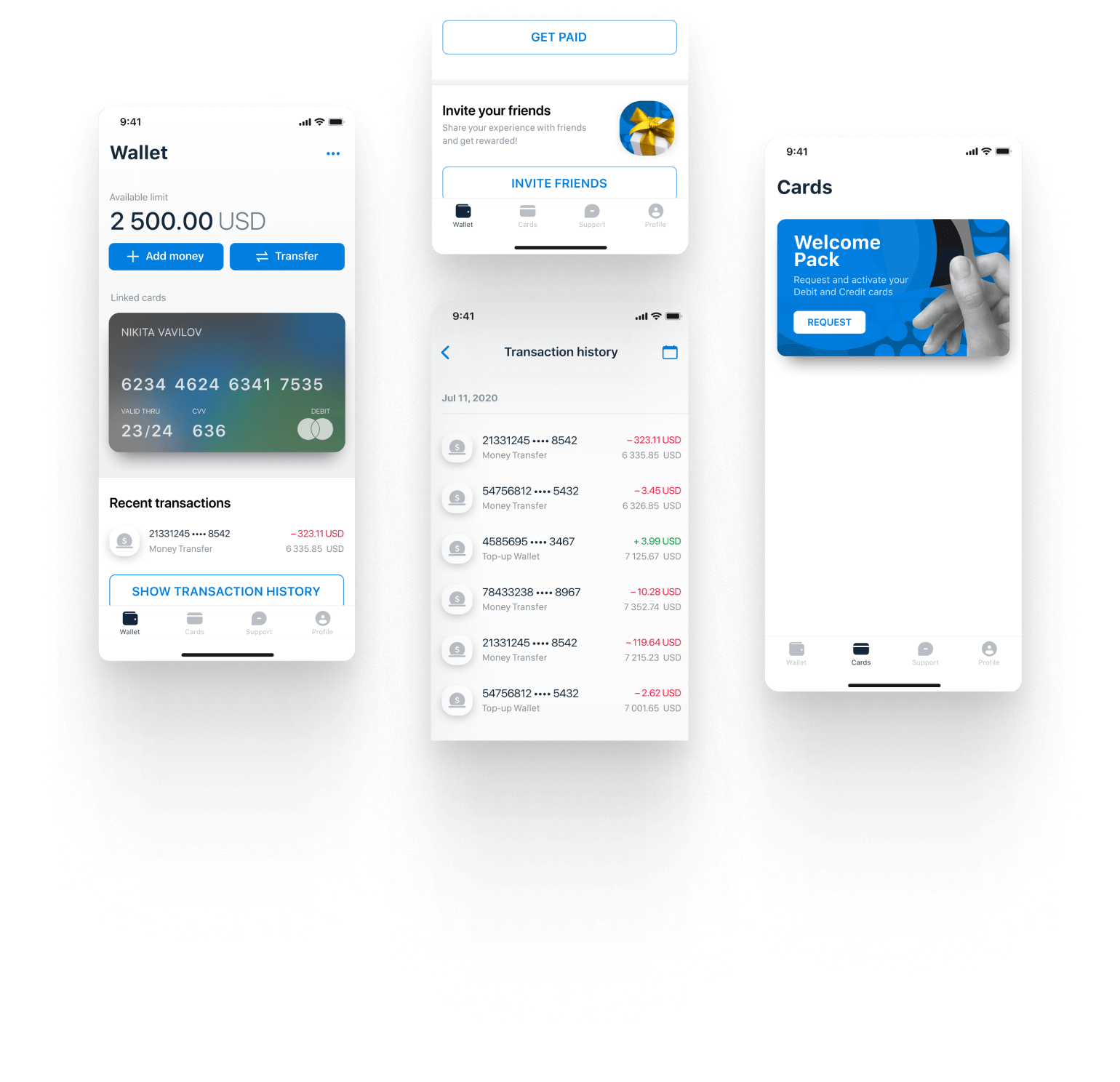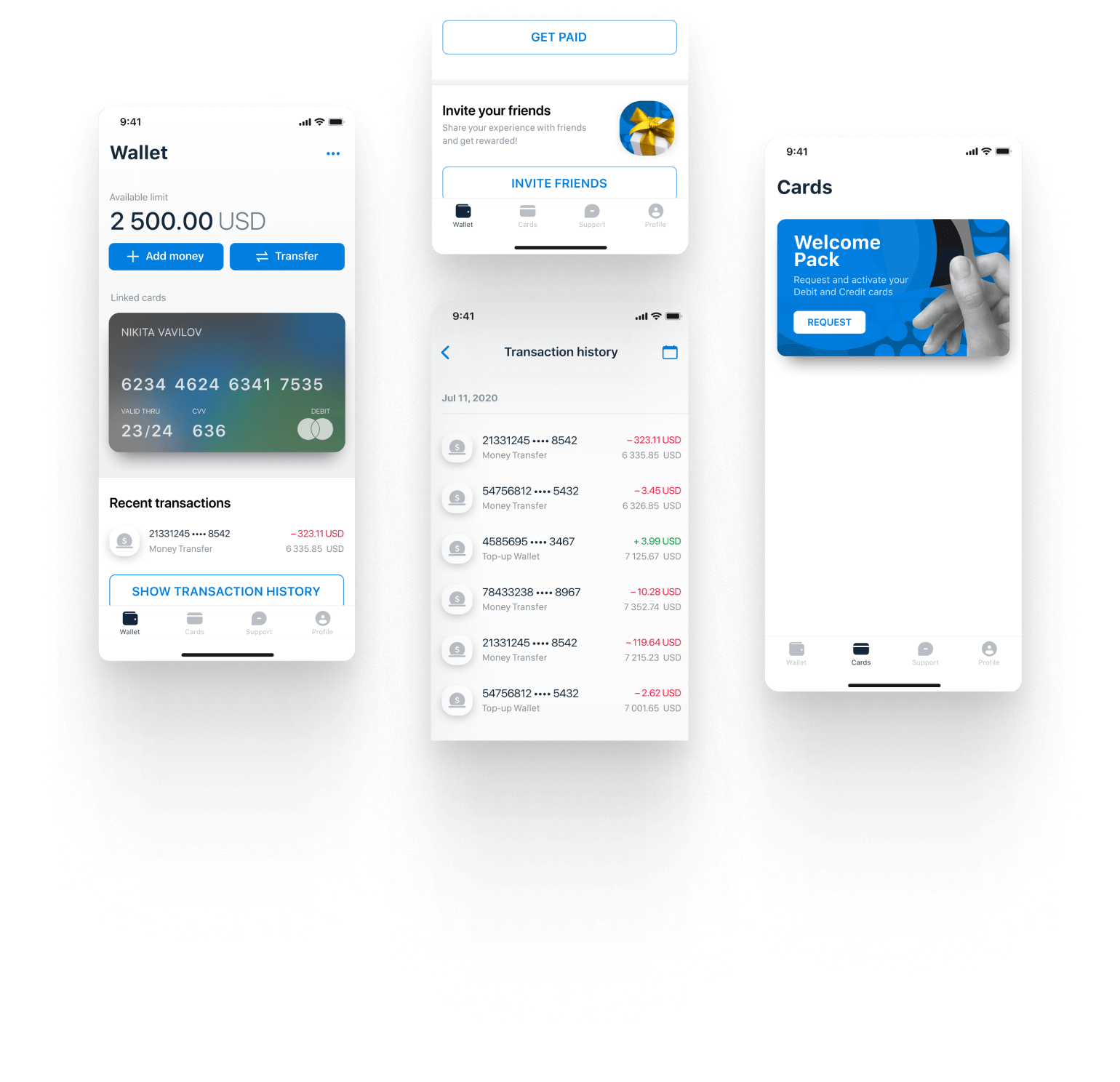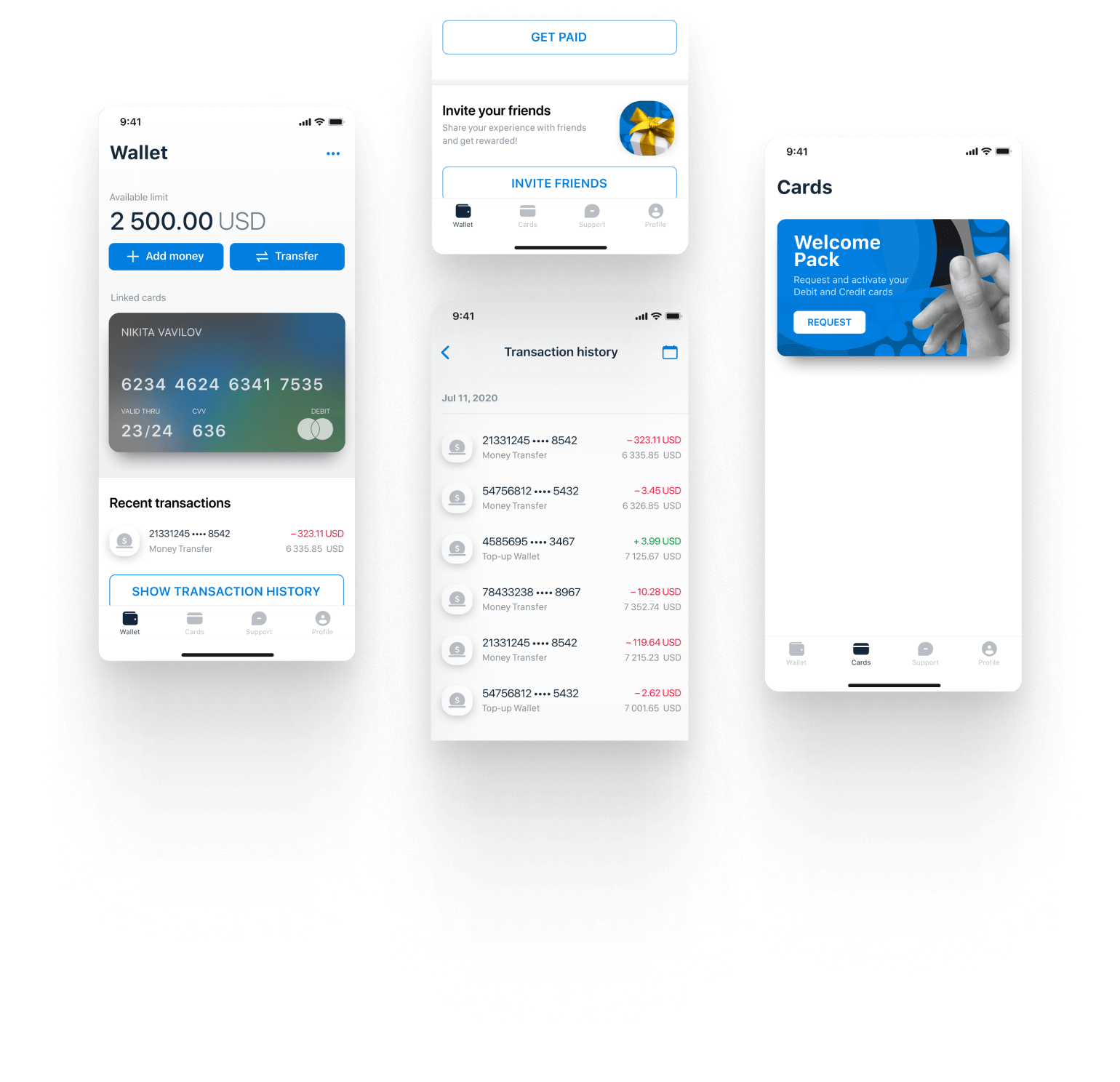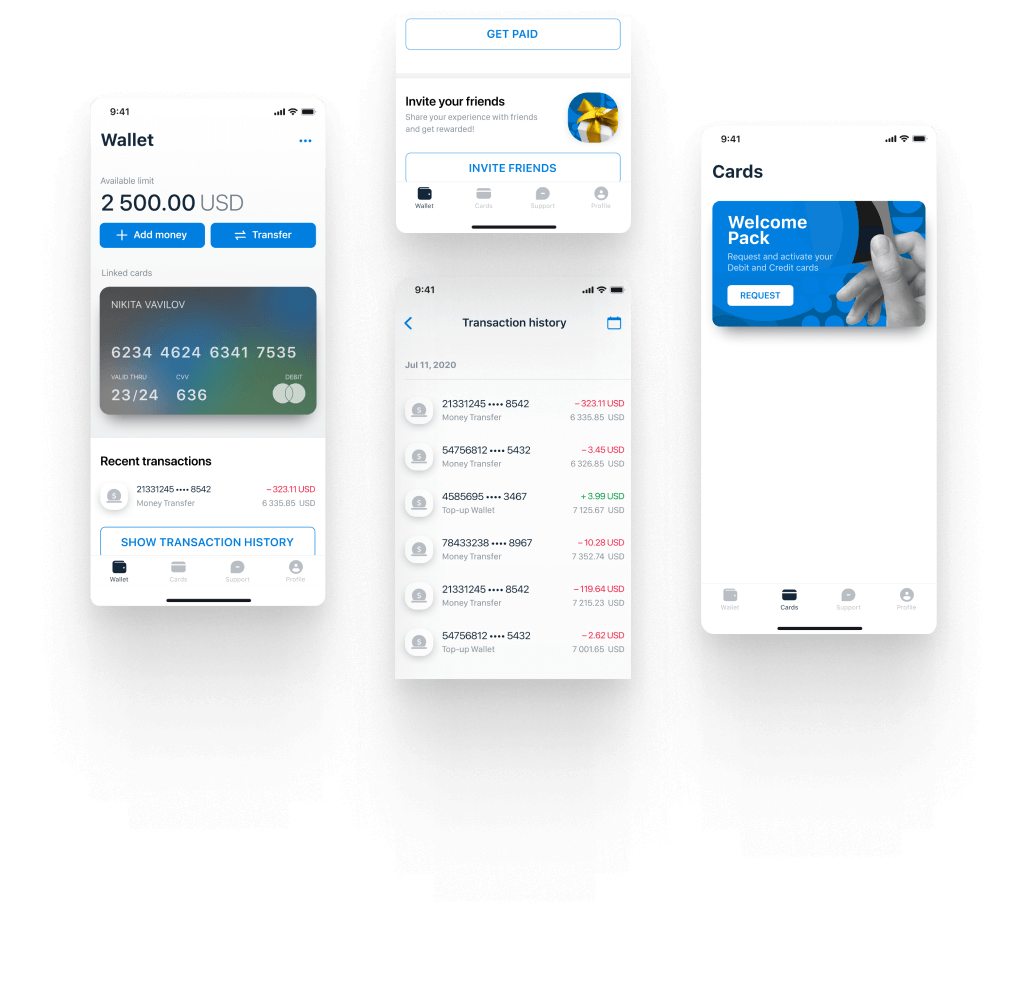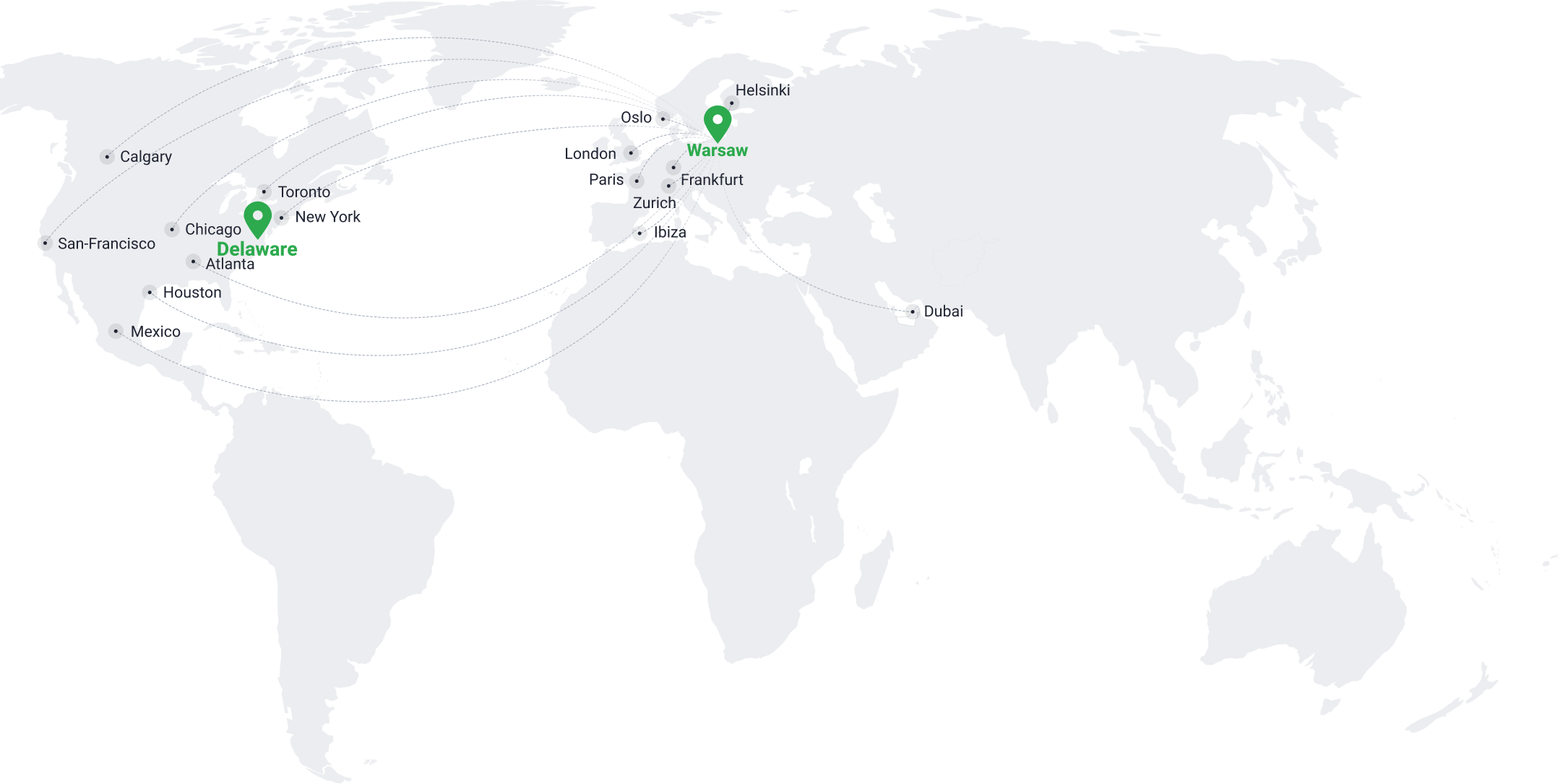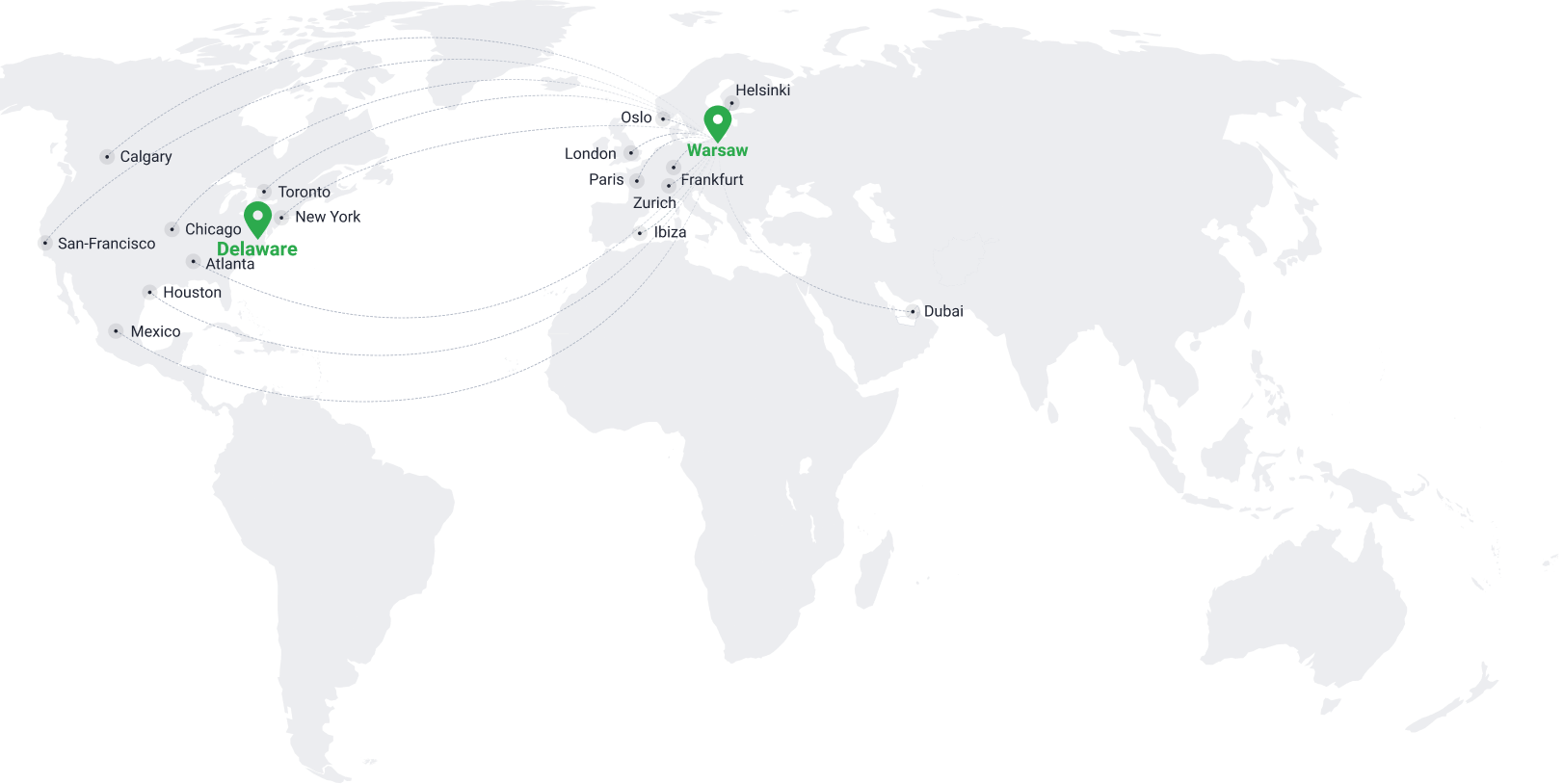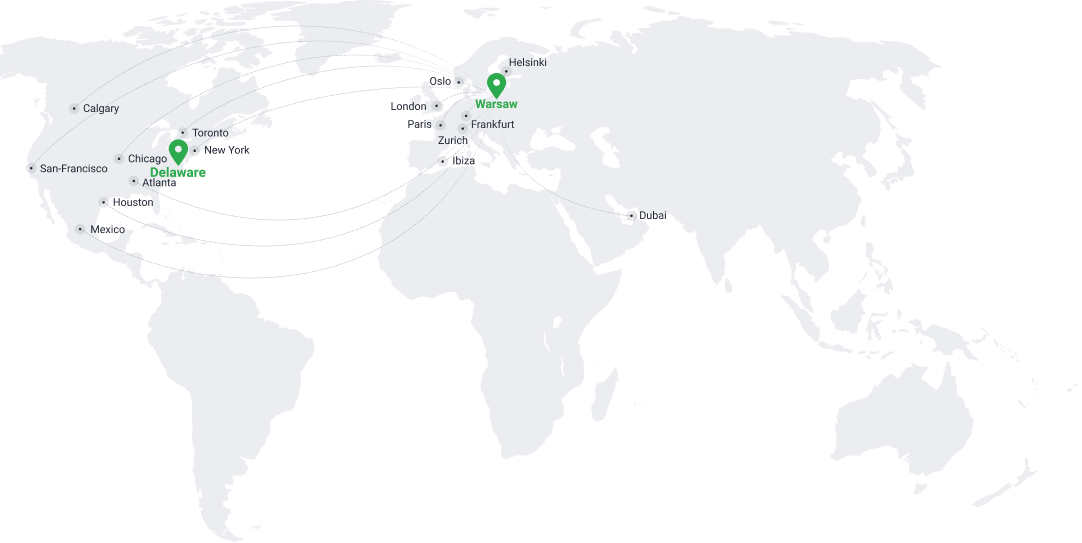 The Itexus team has successfully served more than 250 clients across 23 countries since 2013
Itexus is headquartered in the United States and has development offices across Europe. Our business is global in every sense of the word, with clients in North America, Western Europe, the Gulf countries, South Korea, South Africa, Australia, and more.












What Differentiates Itexus
Our Values
Integrity
Trust
Respect
Our Passion
We love what we do.
We celebrate teamwork, collaboration, and new ideas.
As a financial software company, we are proud to be at the forefront of the digital revolution in finance.
Our Professionalism
We preach and demonstrate professionalism at all levels.
We are the experts in the latest technologies and tools we use.
We have zero tolerance for low‑quality work.
We follow the latest trends and best practices in software engineering.
We are proud of the great software products we create for our clients.
Our Partnership Approach
Our strategy is not to maximize our profits, but to gain the trust of our partners and build long‑lasting relationships.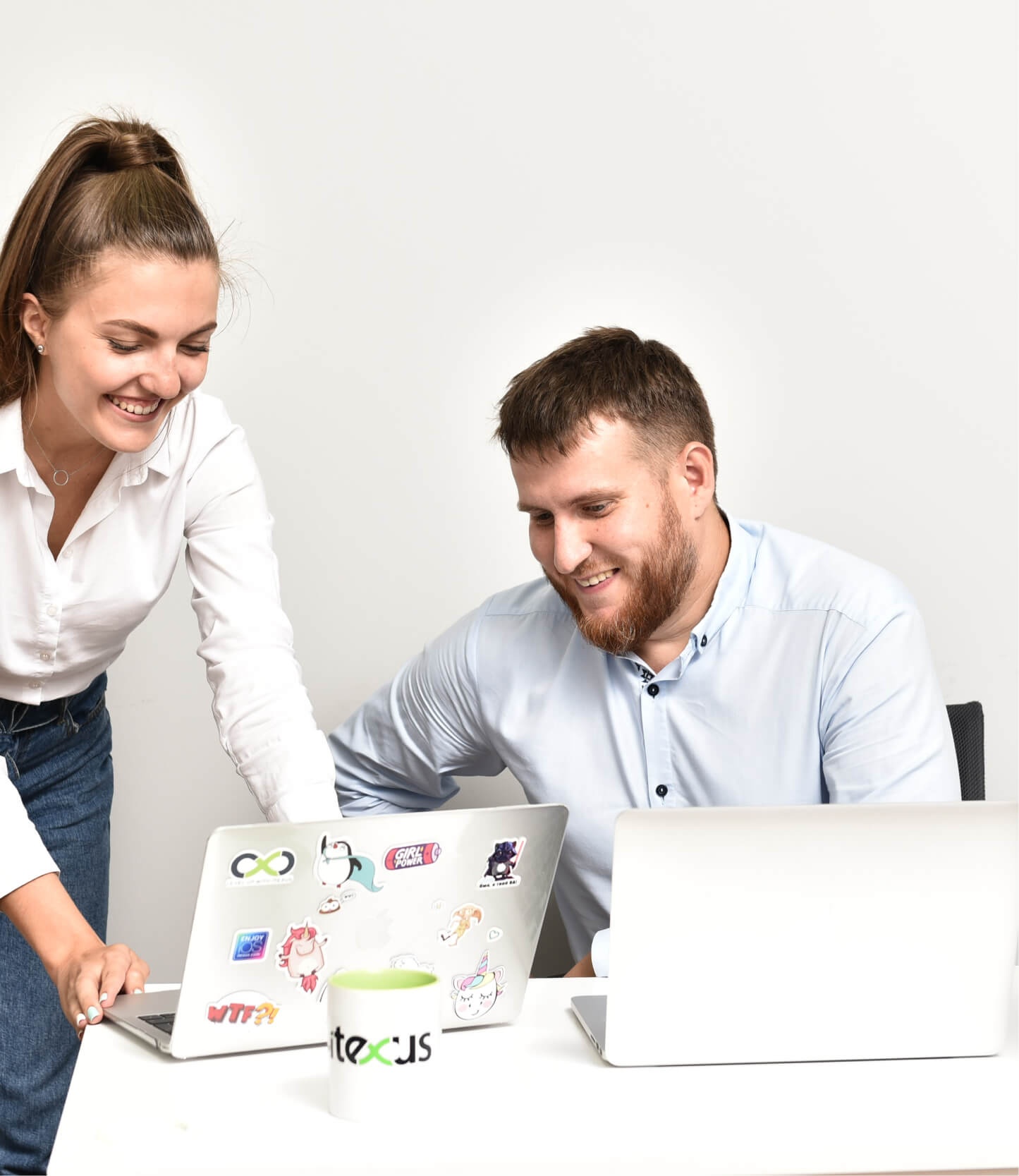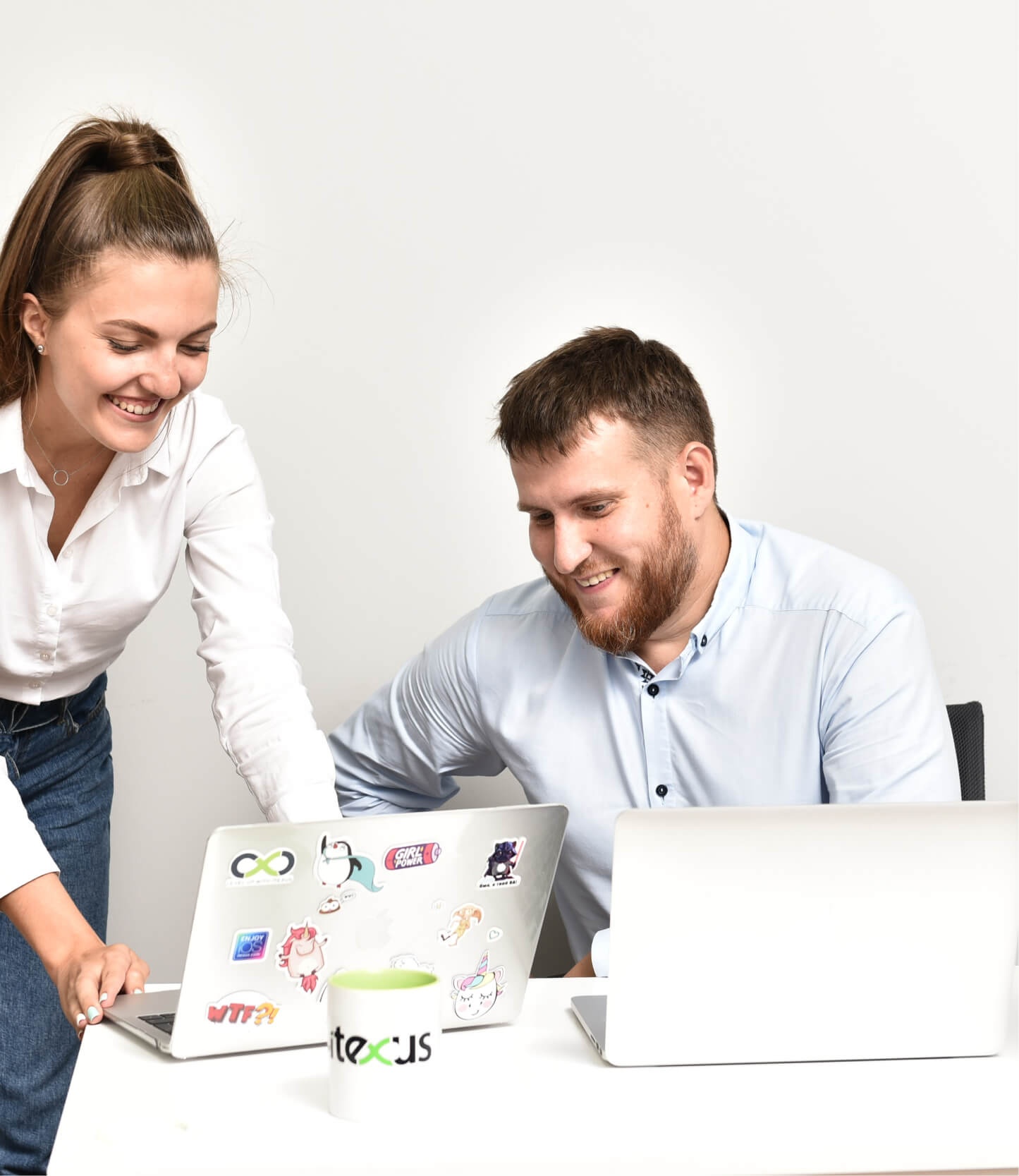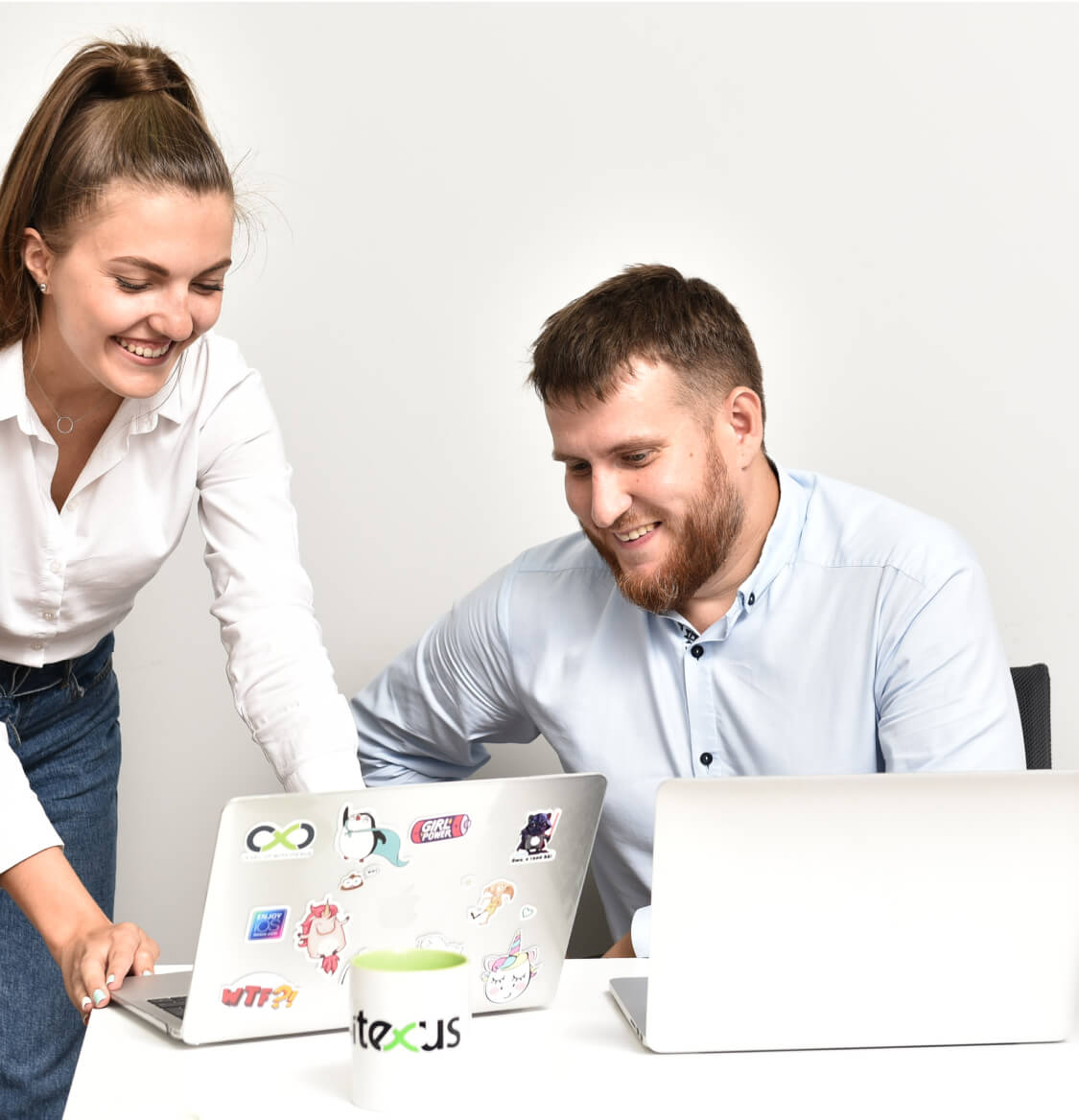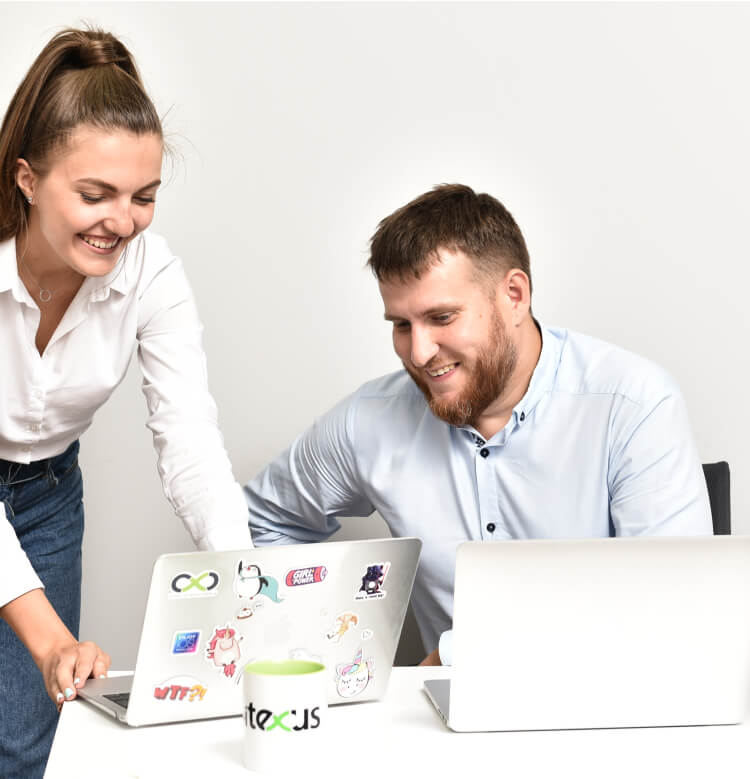 What Makes Itexus Stand Out
Our Fintech Specialization
We specialize in fintech and financial software development, constantly striving to be the world's best financial software development company in our niche.
We hire business analysts with degrees in finance and train them to become our fintech consultants.
Our developers are pros when it comes to navigating complex financial regulations and requirements.
Our developers are like fish in water when integrating BAAS systems, Stock Brokers, Exchanges, Payment, KYC/KYB, and financial data providers.
Our Fintech Competence Center is where we amalgamate the fintech expertise we gain on every project. Our combined experience from hundreds of projects and research enables us to be not just coders, but true partners, advisors, and consultants to our clients.
Our Unique Cooperation Model
Our unique cooperation model is forged from nearly a decade of efforts to combine the benefits of agile flexibility with discipline, meticulous planning, strict budget control, risk management and deadline observance.
We provide full transparency, excellent customer service, communication, team creativity, and proactivity.
We are lean, cost-saving, fully adapted to remote working conditions.
Our expertise has been honed by hundreds of projects and thousands of lessons learned.
Our Flexibility and Great Client Service
Our goal is not only to create great software, but also to provide excellent service to our clients.
We work hard to make sure you enjoy every day of our collaboration.
We understand the constraints of real-life business and are ready to adapt our approach to your individual situation.
We can scale our team up or down depending on your deadlines and budget.
We can help you pick the right MVP scope to fit in your budget and impress your investors.
We highlight all project and business risks up front and work with you to find ways to mitigate them.
Contact us, and we'll find the best approach to your project and ways to overcome your constraints.
FAQ on Financial Software Development
Clients' Testimonials & Awards
They're a great group of developers who really understand the reality of business.
Itexus excelled at both experimental AI and sprint-oriented UI/UX tasks. Itexus did strong project management work, too, a necessity in such a complicated project.
The assigned team was easy to work with and they are especially strong collaborators and communicators. They demonstrated flexibility, professionalism, and trust in everything they did, and completed the work on time and budget.
Itexus' work positions the business well for an imminent launch. They excel at managing their team, presenting frequent product demos to ensure that the project is aligned with development goals. An affordable price structure coupled with remarkable technical skill makes them an attractive partner.