Wealth Management Platform
With Robo Advisor, Remote Portfolio Construction, and Monitoring Functionality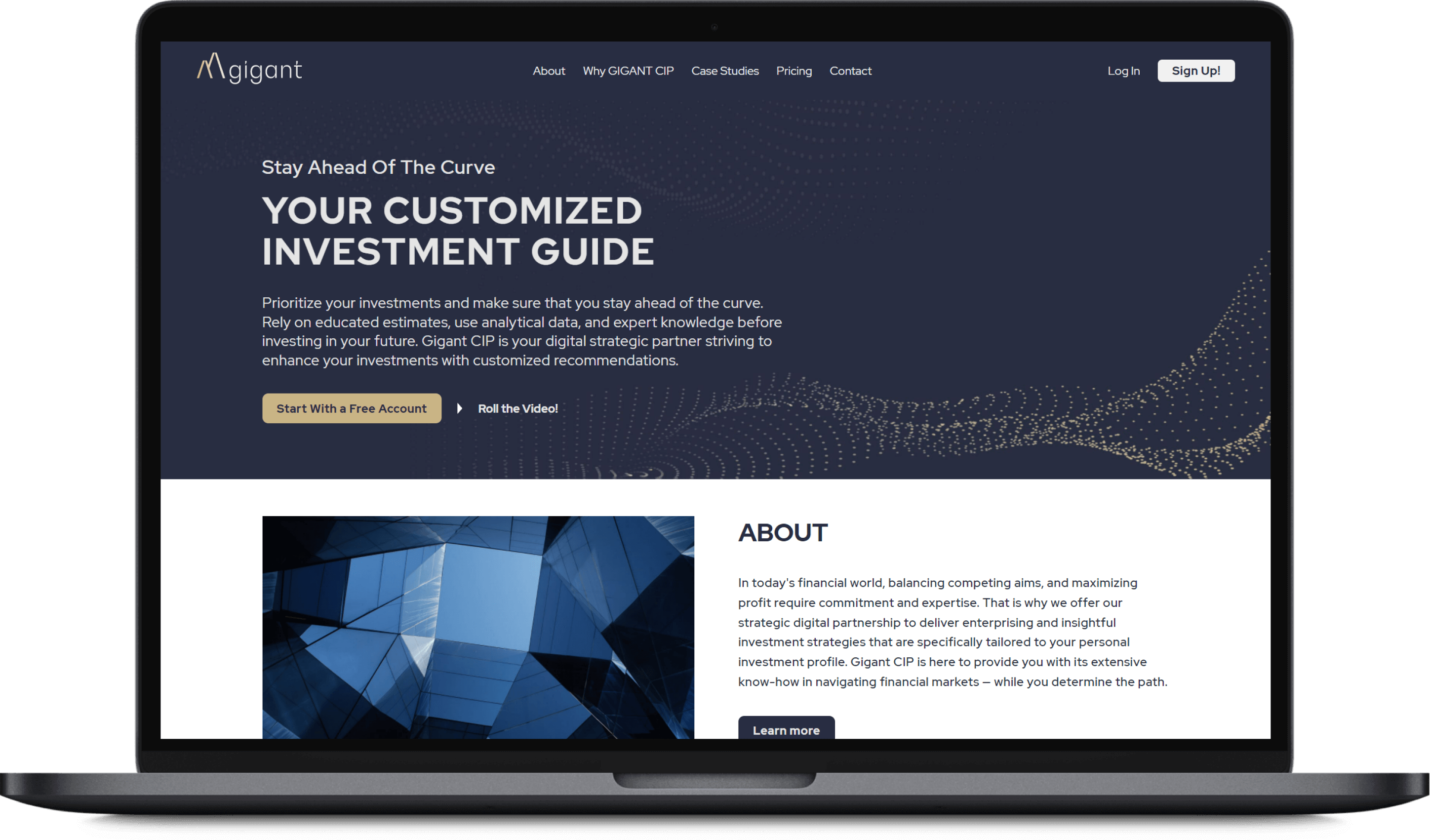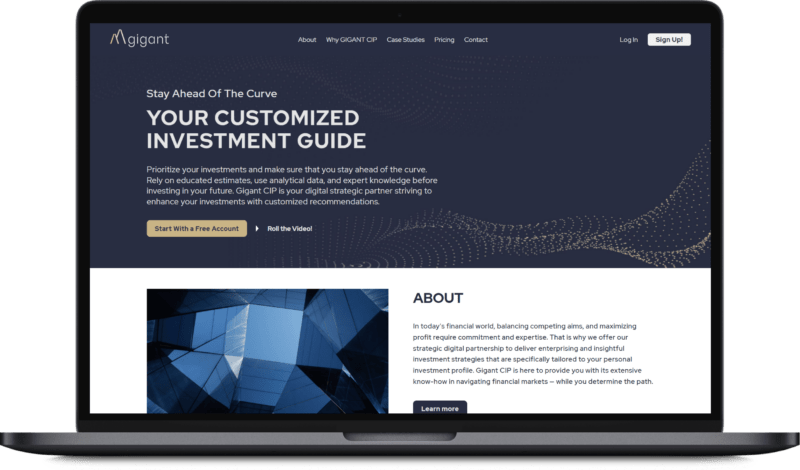 A wealth management platform that connects investors with a professional wealth-advisory company, allowing investors to answer a questionnaire and receive either a recommended model portfolio or a custom-tailored individual portfolio — monitored, rebalanced, and adjusted by a professional wealth advisor based on changing market conditions and client goals.
Engagement model
Time & Material
Effort and Duration
Ongoing (since May 2019)
Solution
Wealth Management Platform
Project Team
2 .Net Engineers, 1 Front-end developer, 1 BA, 1 PM, 2 QA, 1 Designer
Project Background
The client is Gigant Customized Investment Portfolio LLC, a well-established Swiss wealth-advisory and asset-management company. In order to expand their market reach and provide a new, fully digital service to their clients, they decided to launch an online platform that would automate their consulting workflow and allow clients to remotely and anonymously access their wealth-advisory services from anywhere in the world.  Gigant was looking for a top-notch, full-cycle development partner with a good understanding of the wealth-management and FinTech domain, who could convert the initial idea into a live application and provide post-production maintenance services. Itexus' track record of successful FinTech and wealth-management projects and a positive personal meeting were enough to convince the client to entrust his project with us.
Functionality Overview
The platform allows investors to register; answer a questionnaire to determine their risk profile, investment goals, and time horizon; and choose whether they want to receive either a recommended model portfolio or a custom-made individual portfolio. The individual, custom-made portfolio is created by Gigant Swiss' portfolio construction team, based on the current situation on the market, the client's experience, and views. It consists of an optimal allocation for individual stocks and bonds, funds, alternatives, and cash. The platform also features a special portfolio construction tool that allows for the semi-automatic creation of portfolios, using preselected securities for each asset class.  Once chosen, user portfolios are further monitored, rebalanced, and adjusted by the Gigant Swiss team. Clients receive alerts if any changes in their portfolios are proposed and can compare their portfolio's performance against a benchmark. The platform features a sophisticated administration module (connected to leading market-data providers and news feeds) that allows users to semi-automatically create and monitor all of their portfolios in the system. Once the relative weight of an asset class in a client's portfolio increases or decreases more than a certain preselected percentage, an advisor will propose Rebalancing or Switch & Rebalancing options, to ensure that the portfolio stays within the desired risk level. Investors pay an advisory fee for each portfolio or rebalancing advice they receive, and may choose to give Gigant Customized Investment Portfolio LLC the custodian rights to their account if they are happy with the advice that they are getting.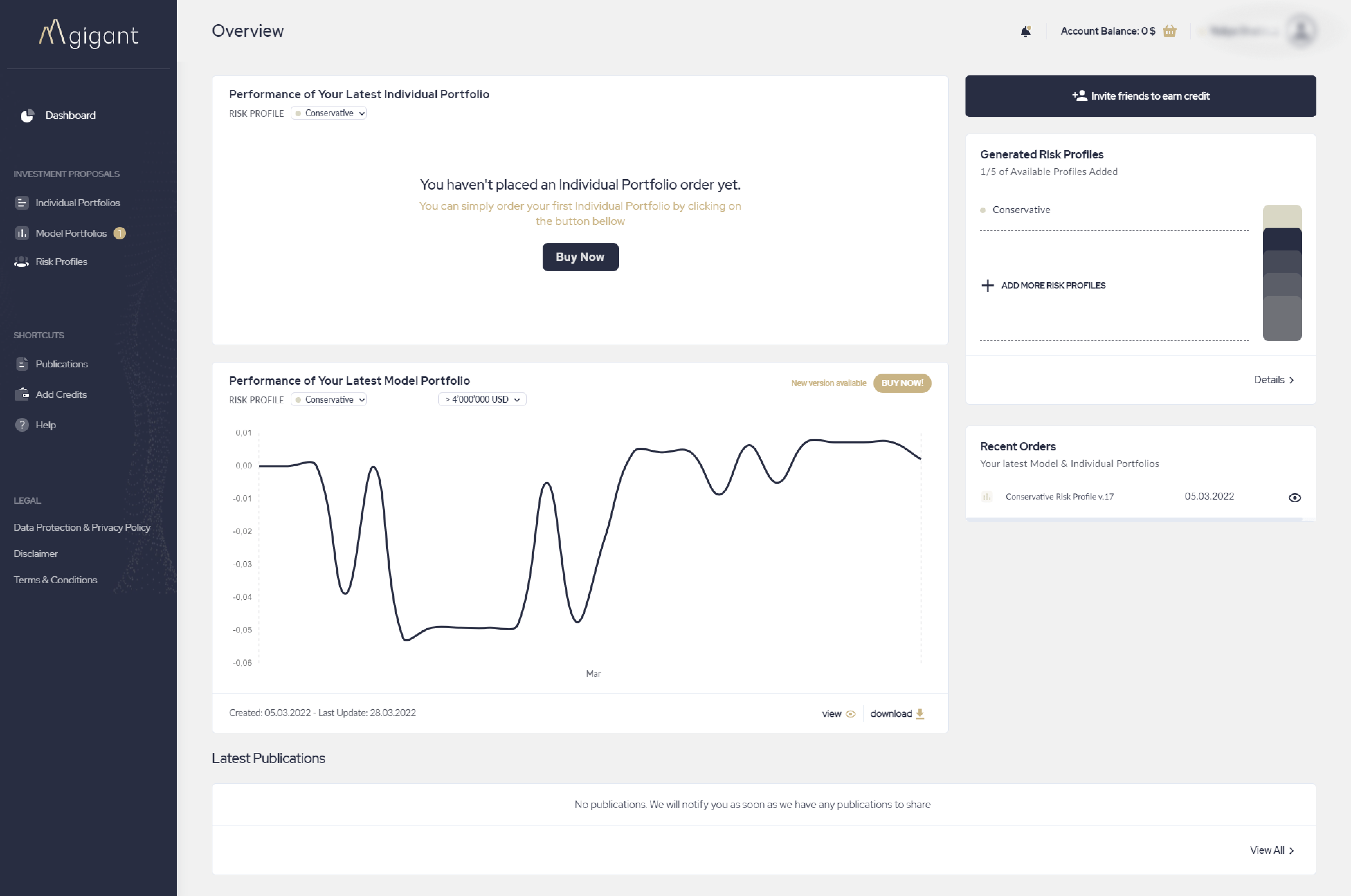 Results & Future Plans
The system is now ready and live. Gigant Swiss is working with legal advisors to ensure that the new process is fully compliant with Swiss laws. Currently, Itexus and Gigant Customized Investment Portfolio LLC are discussing a co-marketing plan, as well as potential new features for the product, such as a mobile client app for iOS and Android platforms. 
Contact Form
Drop us a line and we'll get back to you shortly.
For Quick Inquiries
Offices
Poland
Żurawia 6/12/lok 766, 00-503 Warszawa, Poland