Mobile Banking App for Migrants
A mobile banking app for migrants designed to facilitate money transactions, e.g. financial aid for families, early salary payments, micro-loans, etc.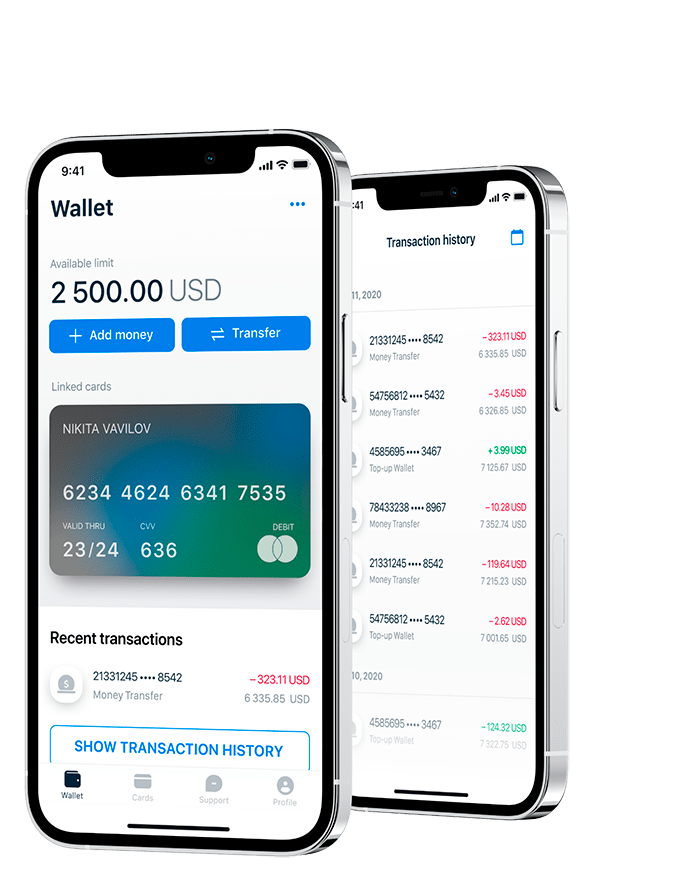 About the client
The client is an American entrepreneur whose business interests and expertise lie primarily in the Fintech industry.
Client's request
The client approached us with the idea of developing a neobanking solution for people who represent a large but unbanked segment of the population – migrants. It was crucial for our client that the contractor not only had a solid background in fintech development, but also a good grasp of working in such a highly regulated business environment as banking.
Our deep knowledge of legal and regulatory issues impacting fintech companies and our technical expertise honed through years of work left no doubt that Itexus was a perfect fit for a fintech project so we got to work.
Engagement model
Time & Materials
Effort and Duration
13 months
Solution
iOS & Android apps
Project Team
Team lead, 2 backend developers, 2 iOS developers, 2 Android developers, 1 BA, 1 PM, 1 QA
Revenue Streams
Transaction fees and credit card interchange
Target audience
The app's target audience is people who have recently immigrated to the United States, have a job, and regularly send money to their families.
Each year, more than 1 million people come to America to earn a living and financially support their families who remain in their home country. As customers of U.S. banks, these people have special needs and problems. Yet they are not potential bank customers due to the missing or low credit scores.
Until recently, there was no specific banking product that could address and meet the immigrants' needs. The app we've developed is intended to support this sizeable but vulnerable section of society.
Project challenges
Security issues
When it comes to neobank solutions, it is crucial to ensure the security of users' data. We have equipped the app with the best-of-breed products and services the Azure cloud platform has to offer:
Azure SQL Database
Azure Security Center
Transport Layer Security 1.2
Azure Key Vault
The app has passed a security audit and penetration test confirming that it poses no risks to its users and their data.
Regulated business environment
For fintechs, meeting multiple regulatory standards is a must for operating within a regulatory framework. The app we delivered to our client is fully compliant with AML (Anti-Money Laundering), CFT (Combating the Financing of Terrorism), PCI DSS (Payment Card Industry Data Security Standards), and a number of other regulations and guidelines.
Third-party service providers
Since most of the online banking services available in the app are tied to the cloud-based banking platform Mbanq, the solution depends entirely on this third-party provider. The challenge is that Mbanq updates its APIs frequently, so we need to constantly track the changes to ensure continuous and flawless performance and availability of the app.
Solution overview
After downloading the app, users need to sign up and go through the KYC process, which is rolled out through the Alloy system. For this, they provide their social security number, personal details like first and last name and date of birth, phone number, and address. After the identity is verified through the third-party service Vouched, the user receives a confirmation SMS and sets a password. By that moment, a personal virtual card is created so the user can use it immediately. The physical card, issued by a banking partner, is delivered to the user's physical address within a few business days.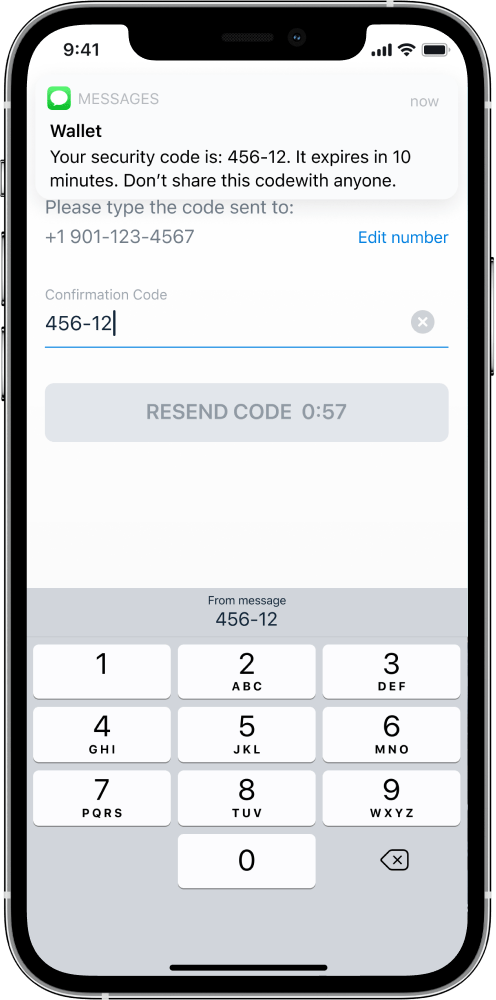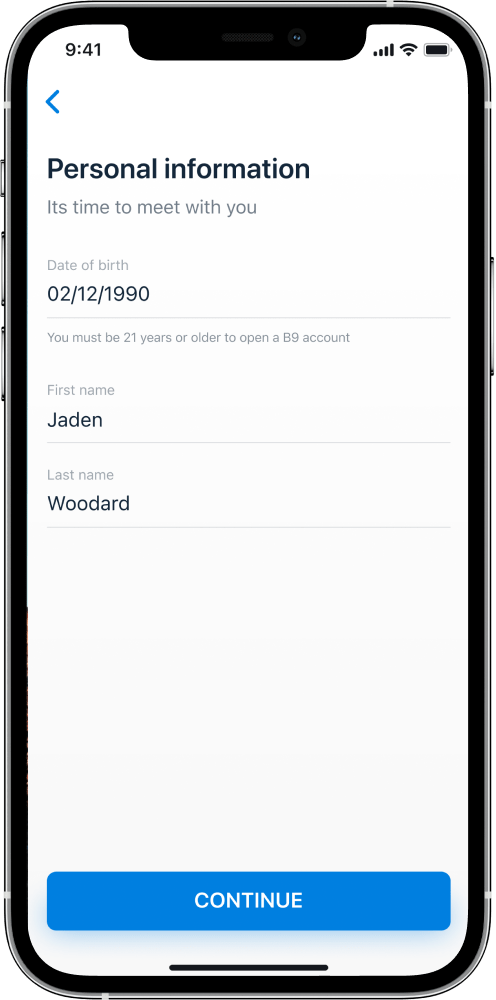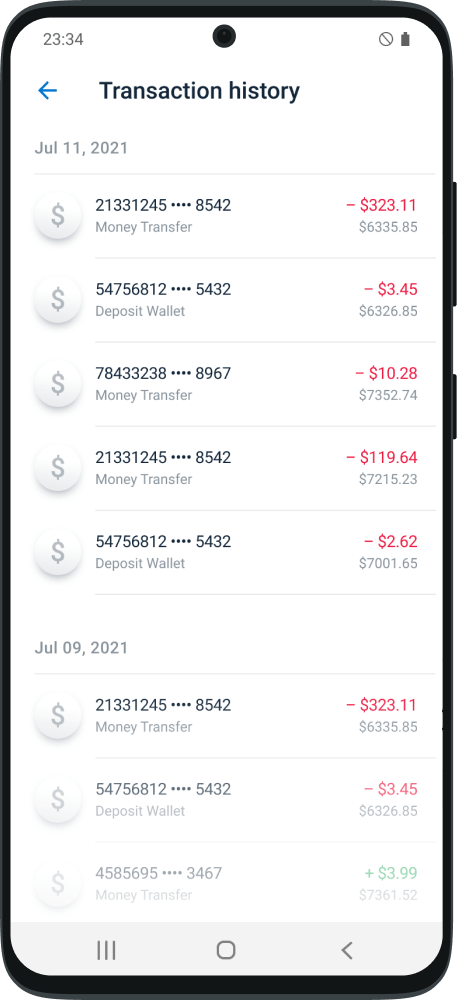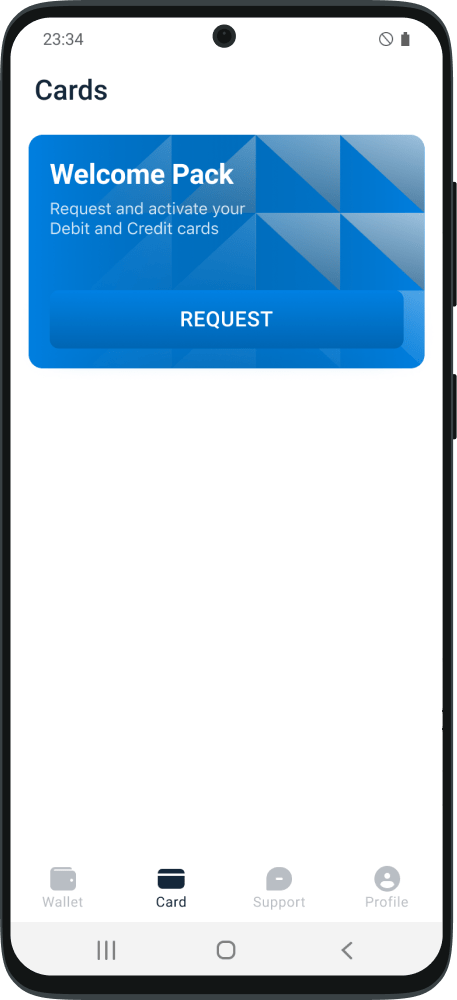 Main features
Together with our client, we held some ideation sessions to create a user persona and define the user journey, and another session was dedicated to design thinking. This helped us to better understand the user's needs, motivations, and pain points. Eventually, we came up with a clear vision of the features that would best meet the users' needs.
• Money transfer
Transactions available in the app can be divided into two parts: money transfer to another app user account or to a non-user via an ACH transaction. We have enabled the app for P2P payments and allowed transfers from other banks' accounts, so users can top up their app accounts with cards from other banks. Users can also top up their accounts with cash at any bank branch.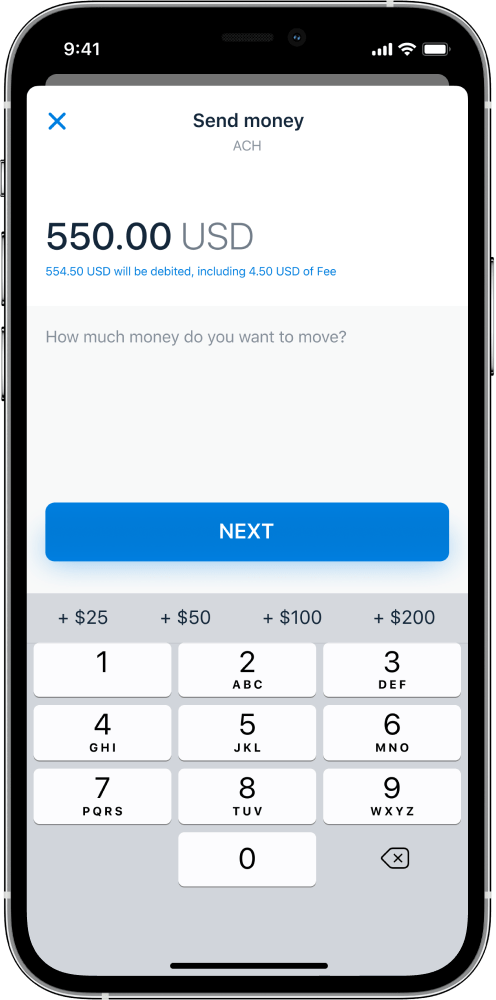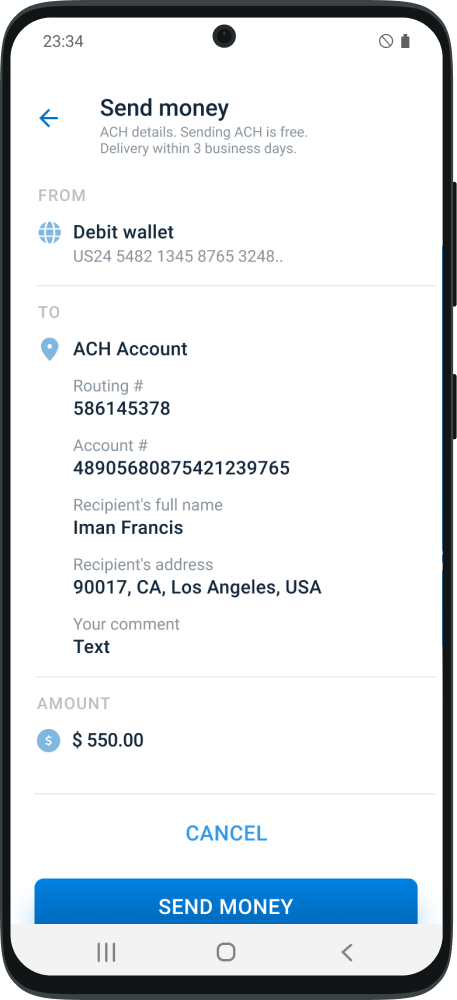 • Family mode
As we mentioned earlier, migrants often send money to their families who remain in their home countries. With the Family Mode feature, users can distribute money between different family members who have accounts in the app instantly and without fees.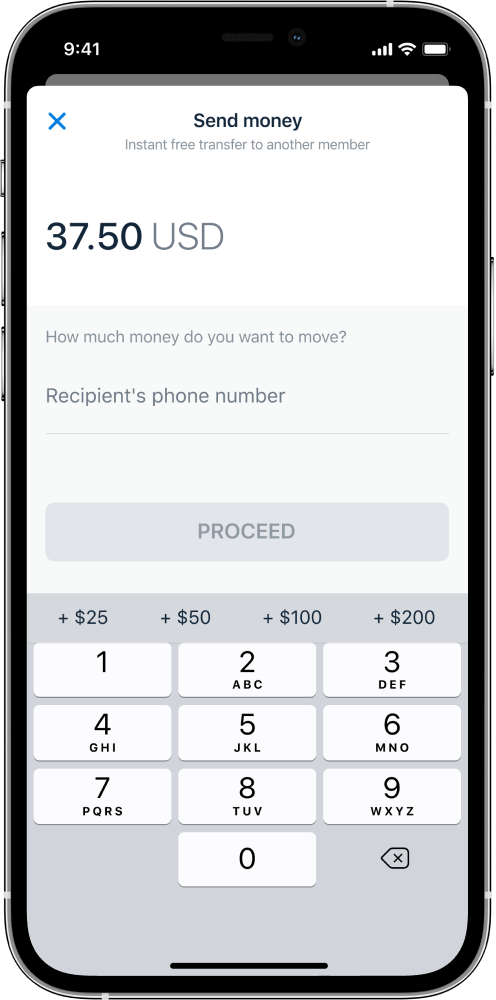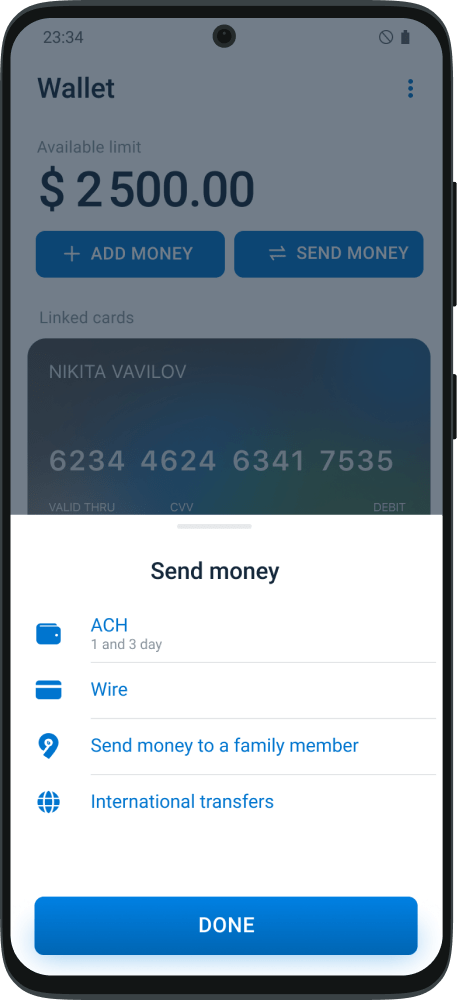 • Early paycheck
Users can receive their salary a few days before payday. To do so, they need to ask their employers to process payroll through the app's banking partner.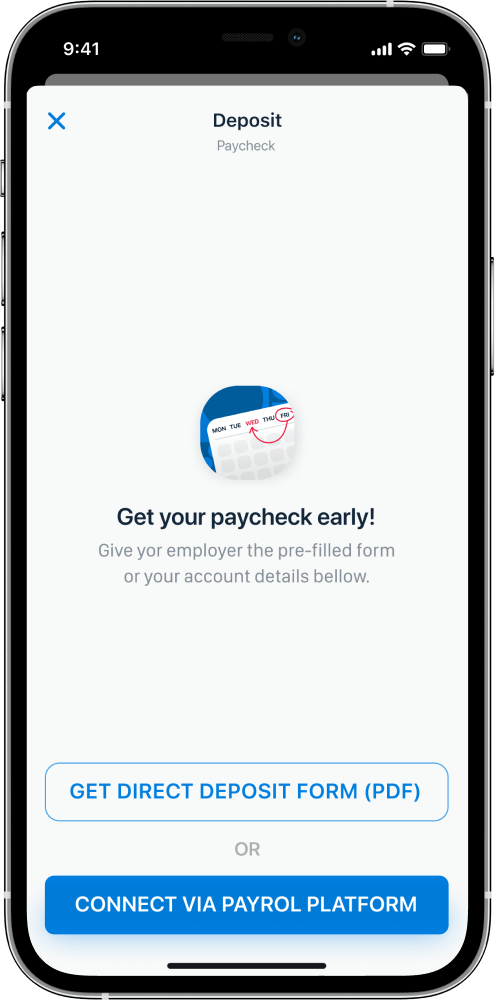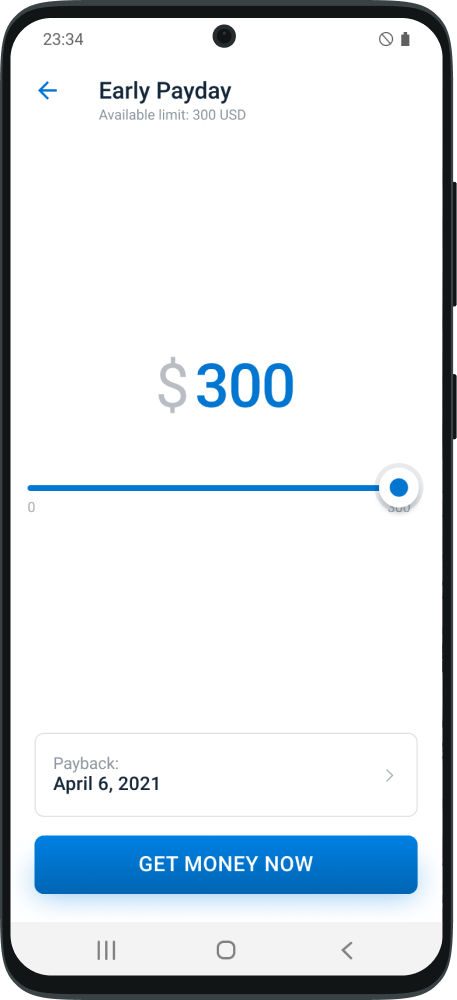 • Microloans
Users can obtain microloans through the app's banking partner without bureaucracy or delay. The app assesses the user's creditworthiness based on transaction amounts and grants a loan equal to a certain percentage of the sum of transfer.
• Apple Wallet & Google Pay Integration
​​Immediately after successful registration in the application, the user can add their virtual card created in the app to Apple Pay or Google Pay. This allows the user to pay for their purchases with their card even before they receive it.
Third-party integrations
Mbanq

 is a Banking-as-a-Service solution. It is used to open current and savings accounts, process payments, issue virtual and physical or virtual credit/debit cards, etc.

Alloy

allows automating KYC decisions during onboarding. So, all user data is checked and as a result, a decision is made: whether a user is eligible to be registered in the app or not.

TransUnion

checks transactions for AML purposes.

AI-driven service Vouched

 was selected for user's ID verification to detect fraud and meet compliance requirements.

With the help of Plaid

, we can access and receive the necessary data (e.g. account balance, list of transactions and their categories, loans, etc.) from a linked financial institution.

Argyle

allows users to receive their salary directly on app account. Users can either distribute their salaries by percentage (e.g. 60-40 split ) or in dollar amounts (e.g. $2,000 to one account and the rest to another).

With the help of Mitek

, users can capture a check and the amount will be deposited to their account.

Uniteller

is used for international payments from one bank account to another.

Twilio

provides one-time passwords for users' phone numbers verification.

SendGrid

​​is used for sending emails.
Development process
We used the Scrum framework to execute this project. One iteration lasted three weeks, two of which we spent implementing the requirements from the iteration backlog, and the third week was spent testing and debugging.
At the end of the three-week sprint, we held a demo session to demonstrate the functionality increment to the client. They installed it on iPhones and Android devices for user acceptability testing. Any resulting notes or update requests were passed on to us, and we implemented them concurrently with the following sprint.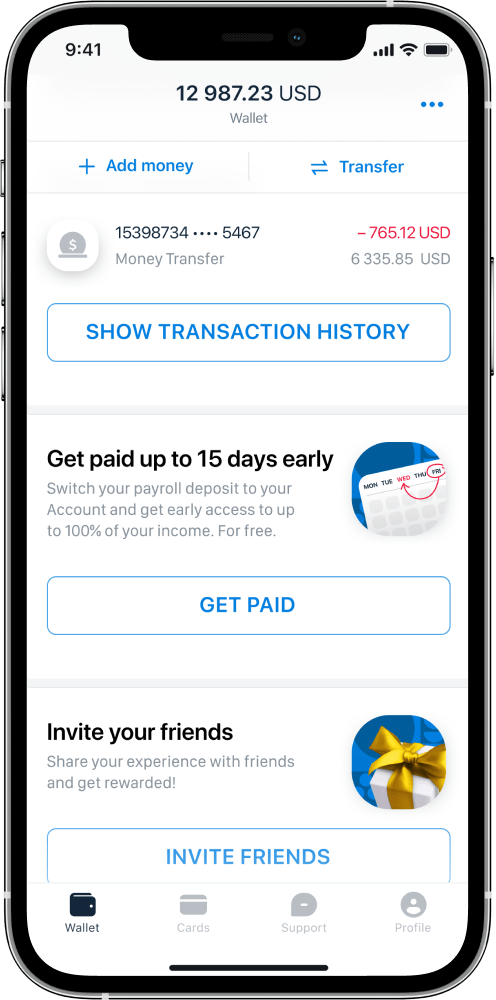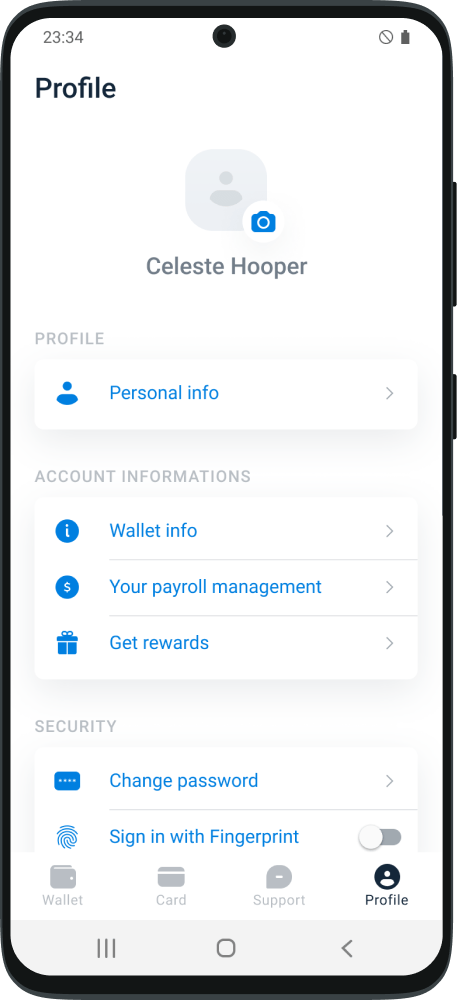 Technical Solution Highlights
There are multiple integrations with third-party services that entail multiple dependencies. Any technical issue on the part of a service provider can cause an issue that is beyond our control and can affect the performance of the app. So we had to consider different scenarios and develop a fallback plan for such cases.
In addition to logging system events and a built-in online chat that allows users to notify app support of untoward behavior (error alerts or other issues), the team also sets up uptime monitoring for external services. This monitoring is configured with the early warning via email or SMS if a service is unresponsive.
No less important is the dedicated environment for the pivotal Mbanq service and stable API where the updated versions are deployed in sync with the newer mobile app versions.
Results & Future Plans
It took us 13 months to deliver the solution to the client. The apps have been PCI DSS certified and released to the app stores.
iOS and Android apps are expected to cover more than 30 million users who need a solution tailored specifically to their goals, and our client expects all of these people to become customers of the banking partner over time. Our near-term plans include integrating the check cashing feature, which allows users to deposit checks into their savings accounts online. As for Itexus, we will maintain and support the apps and help our client's business grow by leaps and bounds.
Got an idea? Share it with us, and we'll see how we can make you a world-changer.
Algorithmic Intraday Stock Trading System – Stock Trading Bot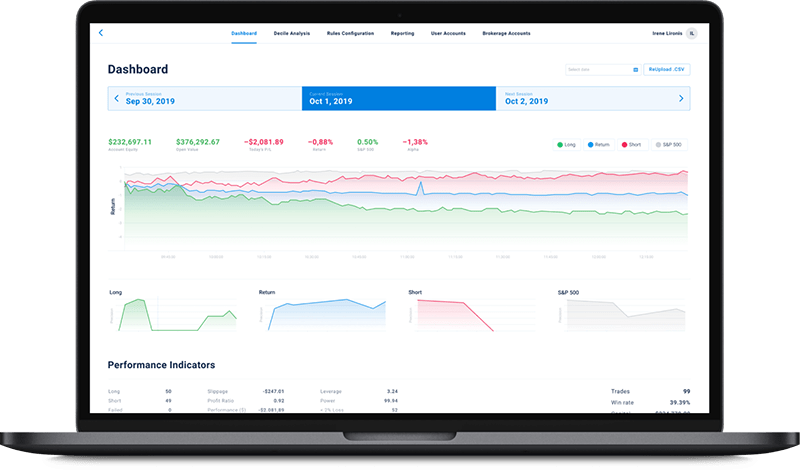 Algorithmic Intraday Stock Trading System – Stock Trading Bot
Machine learning can automatically create and refresh an algorithm for solving a complex problem based on a large volume of data. It's not necessary to search for business-important patterns. Instead, a team of qualified professionals should prepare the right data set for training and automate the entire data processing and application process. But at the same time, it is very important to ensure the quality of data and continuous quality control of algorithms.
App for Getting Instant Loans / Online Lending Platform for Small Businesses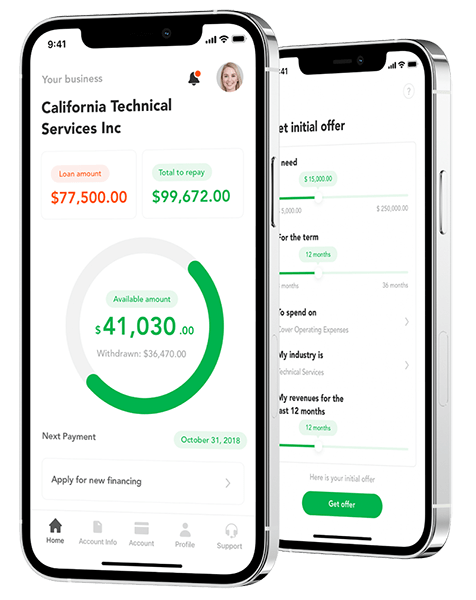 App for Getting Instant Loans / Online Lending Platform for Small Businesses
Fintech
ML/AI
Credit Scoring
Digital lending platform with a mobile app client fully automating the loan process from origination, online loan application, KYC, credit scoring, underwriting, payments, reporting, and bad deal management. Featuring a custom AI analytics & scoring engine, virtual credit cards, and integration with major credit reporting agencies and a bank accounts aggregation platform.
Wealth Management Platform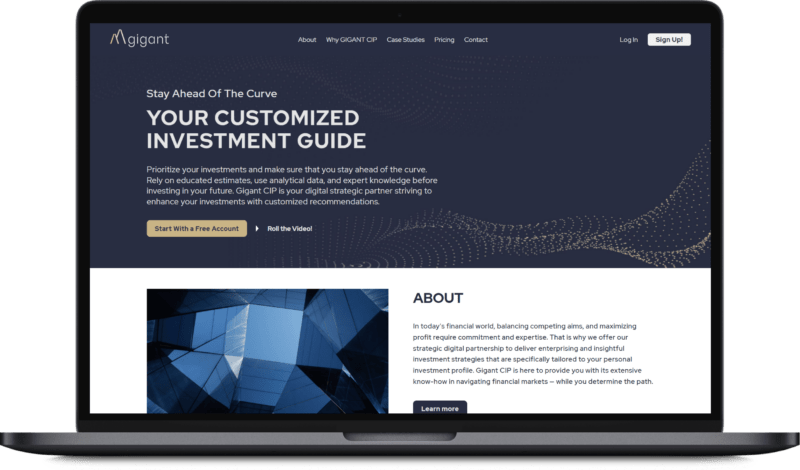 Wealth Management Platform
Wealth management platform connecting investors with a professional wealth-advisory company, allowing investors to answer a questionnaire and receive either a recommended model portfolio or a custom-tailored individual portfolio, that is further monitored, rebalanced and adjusted by a professional wealth-adviser based on the changing market conditions and client's goals.
Stock Trading Signals Platform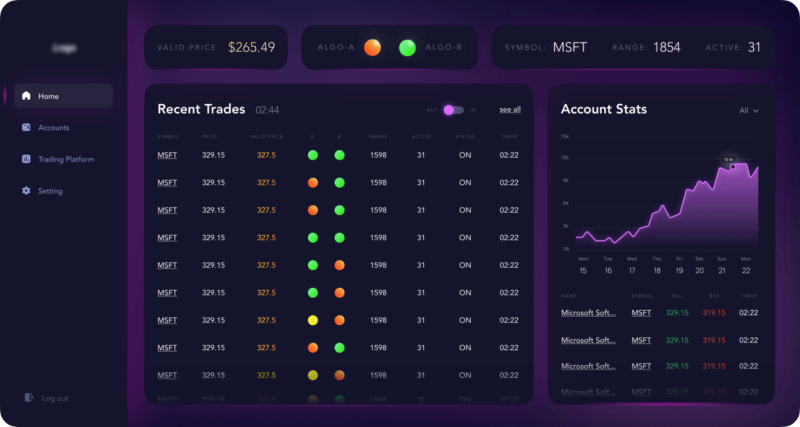 Stock Trading Signals Platform
Intelligent investment assistant that performs technical analysis for a number of stocks, automatically tracks multiple indicators on stock exchanges, and generates buy/sell and risk signals for a human trader.
Stock Trading Bot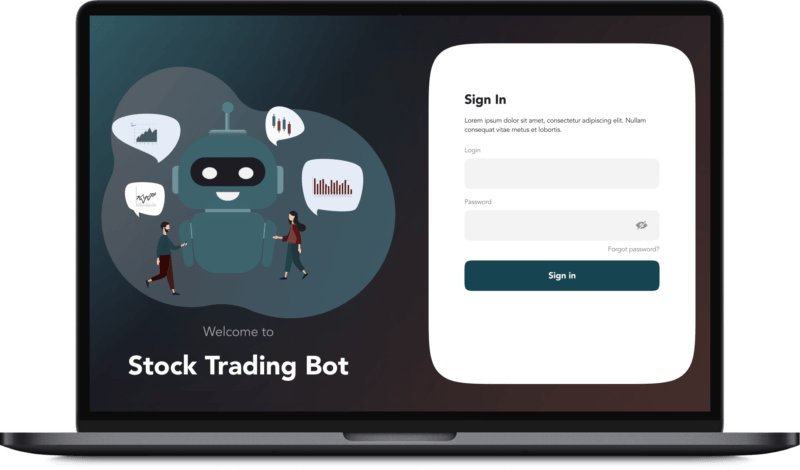 Stock Trading Bot
A cloud-based trading bot that automatically trades stocks per intraday scalping strategy following pre-configured buy and sell rules.
Automated Stock Trading Platform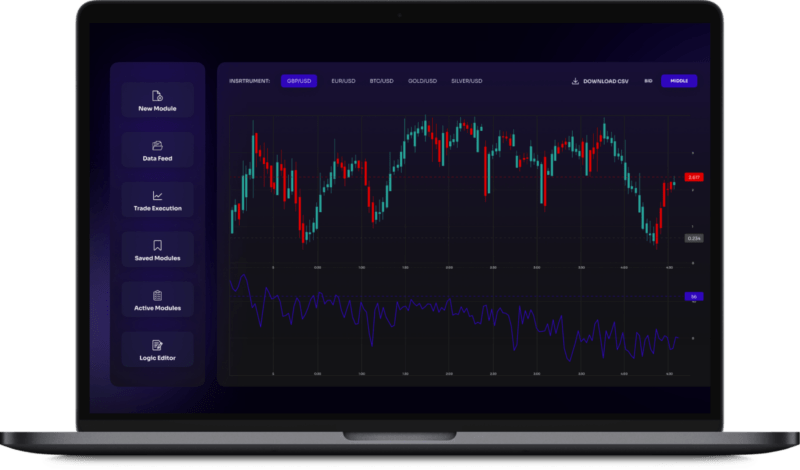 Automated Stock Trading Platform
An automated real-time trading system that allows administrators to configure trading strategies based on various technical indicators, and investors to invest their money in the selected strategy.
Mobile E-Wallet Application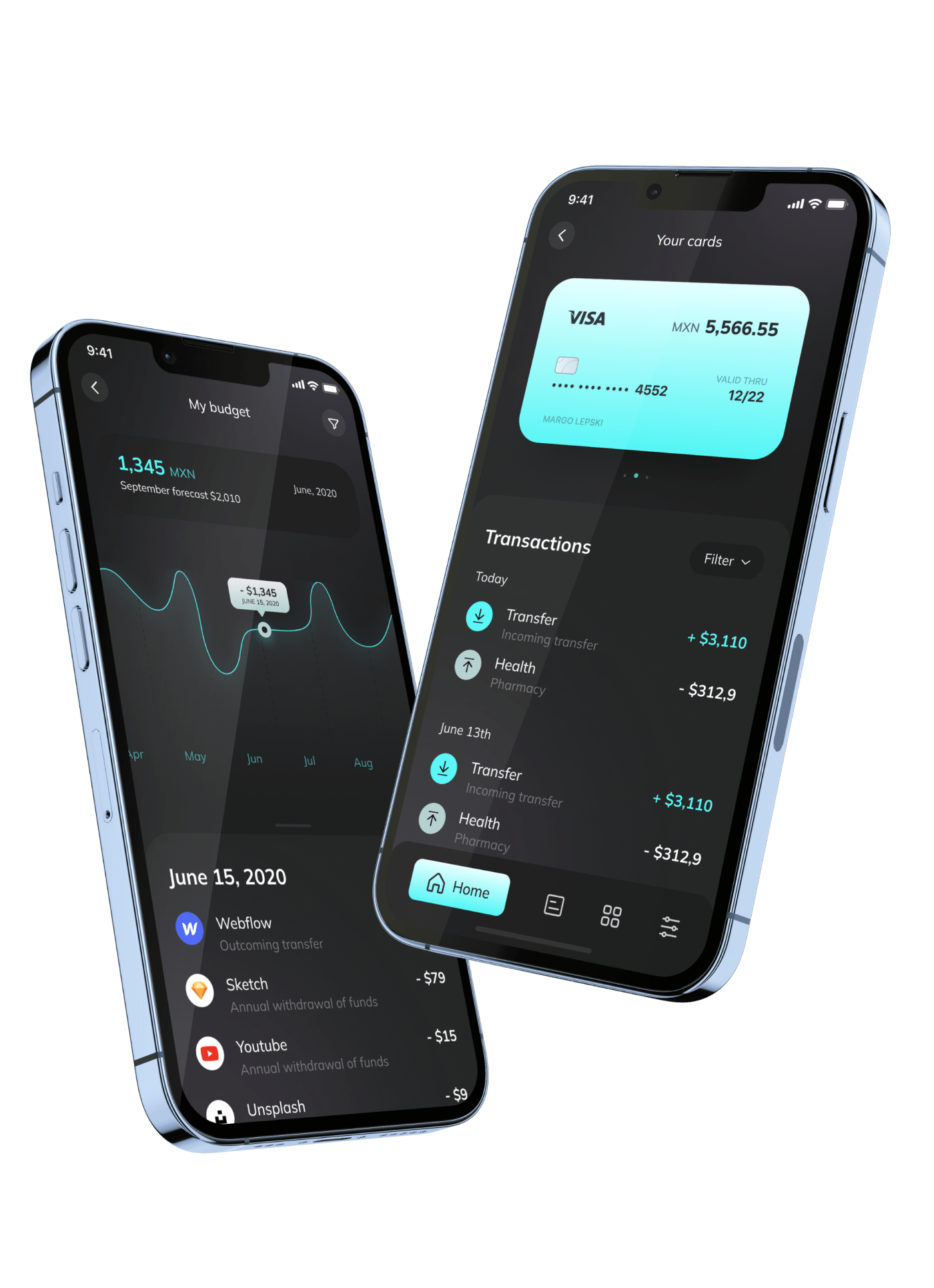 Mobile E-Wallet Application
Mobile e-wallet application that allows users to link their debit and credit cards to their accounts through banking partners, create e-wallets and virtual cards and use them for money transfers, cash withdrawals, bills, and online payments, etc.
Contact Form
Drop us a line and we'll get back to you shortly.
For Quick Inquiries
Offices
Australia
Level 20,109 Pitt Street, Sydney, NSW, 2000
x
Something went wrong!
Try one more time!
The Itexus Team