App for Getting Instant Loans / Online Lending Platform for Small Businesses
Digital lending platform with a mobile app client with automated loan lending process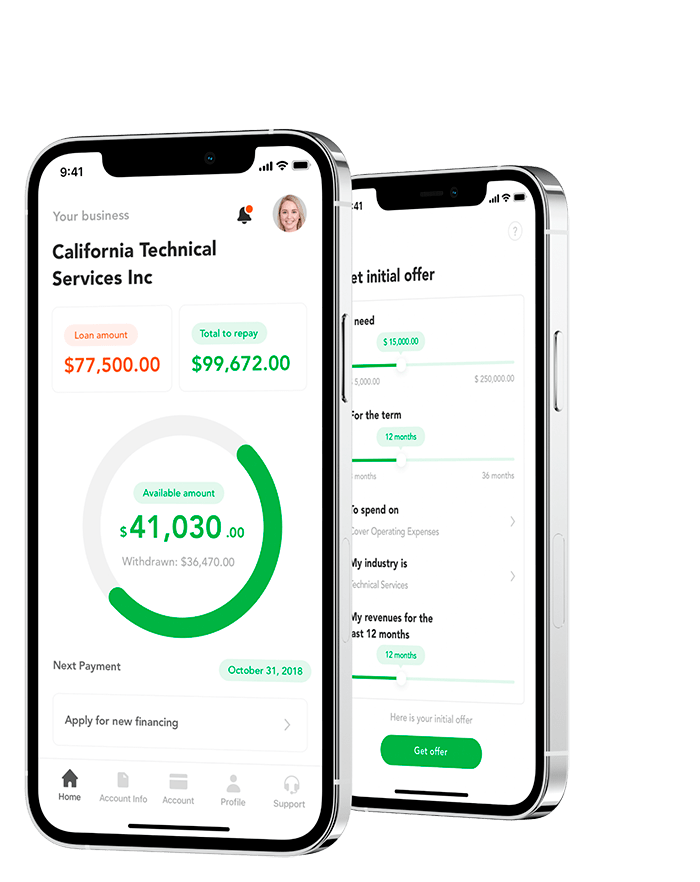 Digital lending platform with a mobile app client fully automating the loan process from origination, online loan application, KYC, credit scoring, underwriting, payments, reporting, and bad deal management.
Featuring a custom AI analytics & scoring engine, virtual credit cards, and integration with major credit reporting agencies and a bank accounts aggregation platform.
Engagement model
Time & Materials
Effort and Duration
Ongoing, since February 2018
Solution
Loan Lending App
Project Team
2 iOS developers, 1 PM, 1 BA, 1 Data Scientist, 3 Back-end developers, 1 QA Engineer
Project Background
The client is a FinTech startup with decades of experience in the financial services industry. Recognizing many inefficiencies in the current loan business they decided to launch a fully digital online loan platform and a mobile app for small and midsize business that would fully automate traditional loan business providing the following benefits:
Allowing the end clients to apply for and get a loan and make payments via a mobile app in minutes not leaving their home
Lower operational costs for capital providers and lower the interest rates for the end clients through full automation of the process and minimizing human involvement
Allow disbursing more loans with a lower default rate with AI-based self-learning credit scoring module
Move operations from brick-and-mortar branches to the online platform
The client was looking for a technical partner with profound expertise in the Fintech industry, namely digital lending technologies, artificial intelligence, and mobile app development. Itexus was selected for its expertise in those areas and for its flexible startup-oriented approach.
Functionality Overview
A mobile app for the end clients with user registration, KYC, loan application, agreement signing via DocuSign, virtual credit card issuance, payments, statistics and reminders functionality.
Administration Module with overall stats of app performance, user management, scoring settings, and reporting.
Back office with advanced reporting and loan portfolio monitoring functionality.
External Integrations with
Advanced credit scoring model using credit history and transaction data and an ensemble of statistical and machine learning algorithms to determine credit risk, interest rate and other parameters.
Automated Know Your Customer (KYC), Anti Money Laundering (AML) processes through integration of the industry's leading KYC/AML providers such as Experian.
Automated bad deal management module. Automatically selling nonperforming loans to a collection agency.
Project Approach
Discovery
The project started with a discovery phase, during which  the Itexus Business Analyst and Software Architect team performed and In-depth market and requirements analysis and created the initial project documentation:
Software Requirements Specification
Document describing all functional requirements with use cases, diagrams, user screen mockups, user journey etc.
Software Architecture Document
Document describing suggested technology and architecture of the system addressing, third party integrations,
security, performance, reliability and other non-functional requirements.
Project plan and work estimate
Detailed project plan with all work broken down into 8-16 hours tasks, with priorities, dependencies, and team
structure.
UX/UI Design
At the start of the project our team of UX/UI specialists designed a user-friendly intuitive UI of the mobile app. The UI mockups were combined in a clickable prototype and a marketing video that were used for marketing purposes long before the system was ready.
The delivered design is based on the Apple Human Interface Guidelines.
Development
Agile/Scrum development process with 2-week sprints and a demonstration of the new product versions and feedback collections session at the end of each sprint
Continuous integration and deployment process
Combination of unit test, automated service and UI level tests and manual testing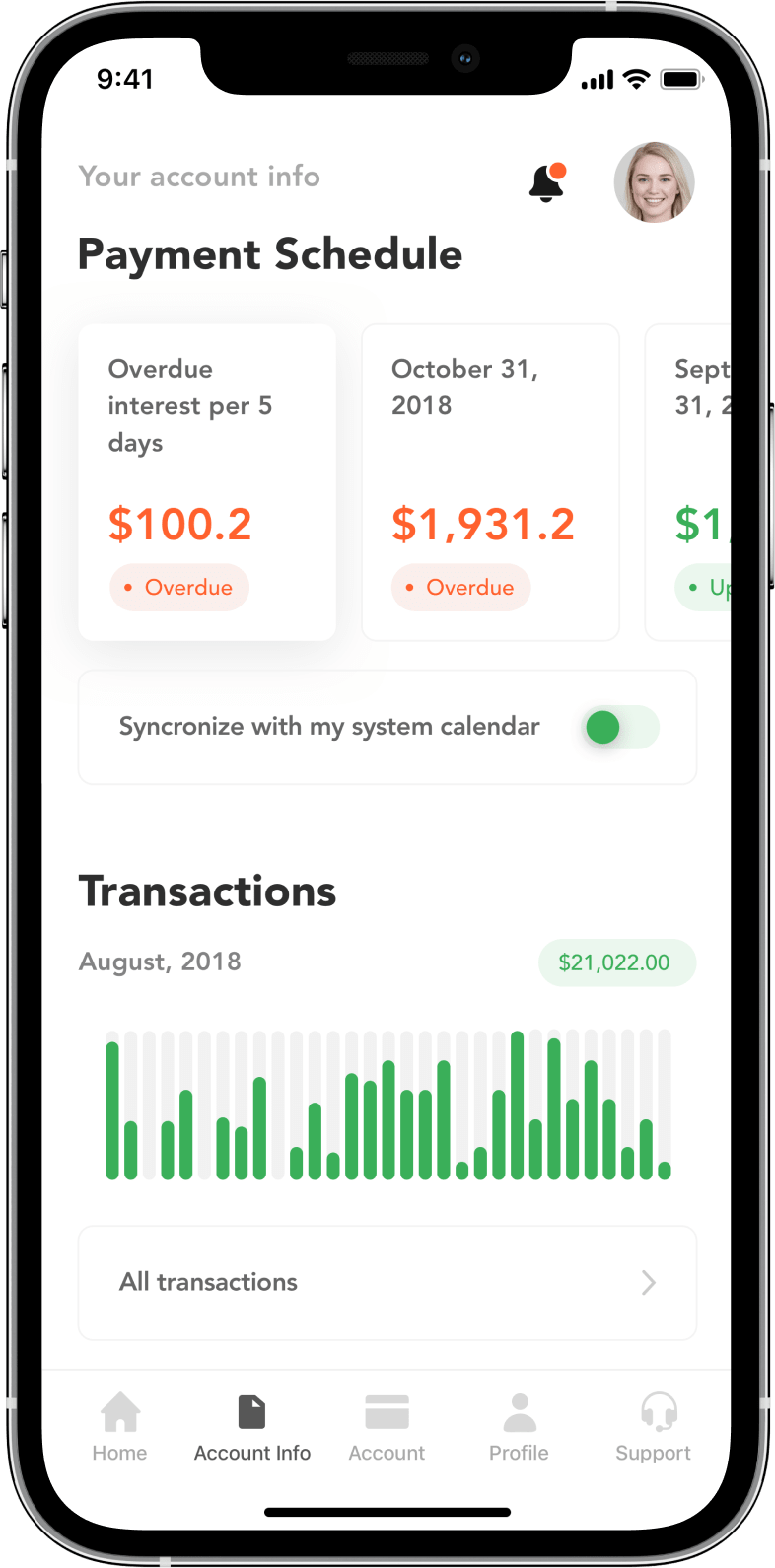 Artificial Intelligence Based Credit Scoring
A dedicated team of data scientists on our side worked in close collaboration with credit bureau specialists to create an AI-based credit scoring module that used credit history reports, transactional and social data on both the business and the business owner, assessing the value of the collateral, future inflation predictions, and overall economic growth to forecast the probability of default on a loan and calculate the optimal loan parameters in real time.
The credit scoring module used an ensemble of algorithms varying from logistics regression to deep neural networks to achieve optimal performance on any volumes of data.
The models are updated and retrained on daily basis as the new data comes in.
Results & Future Plans
The final product has been delivered within budget and on schedule, ready for launch in the App Store.
The client is currently negotiating deals with major U.S. and local community banks to launch the financial platform as a means to deploy capital through the platform.
Itexus team is working on the second version of the product turning it into a white label solution.
AI-based Financial Data Management Platform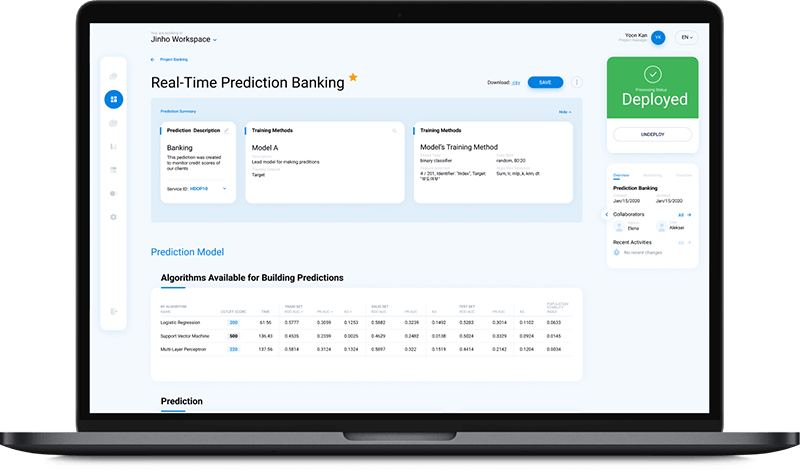 AI-based Financial Data Management Platform
The platform automates key-decision making process with AI-based predictive modules reflecting the credit cycles. This financial platform is equipped with rich data streaming, processing, and reporting capabilities to provide real-time on-demand data.
Accounting Platform with Crypto Assets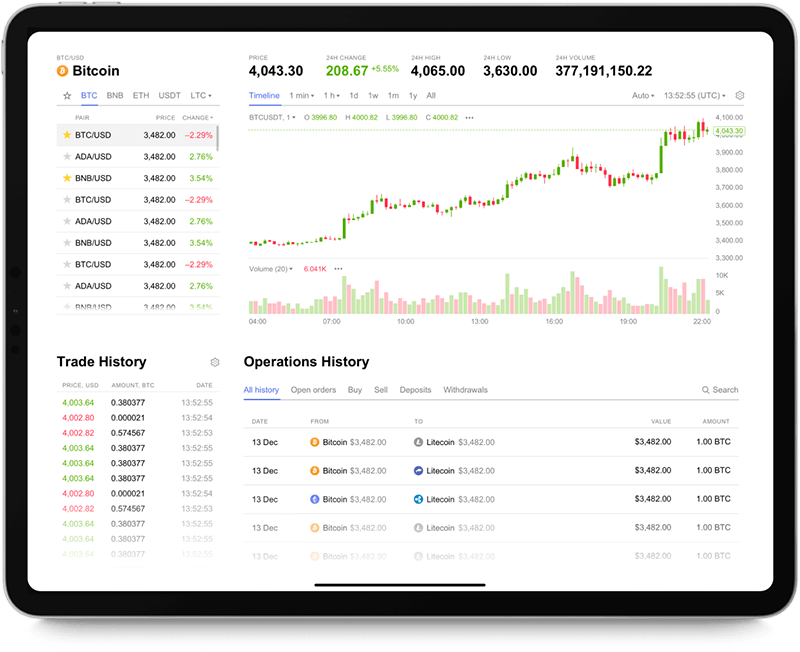 Accounting Platform with Crypto Assets
A full-fledged crypto accounting software platform, which retrieves data from exchanges, wallets, and other cryptocurrency platforms, computes the profits, losses, and income from a user's investing activity, calculates gains and losses, and generates the necessary tax reports.
One-Page Website for a Wealth Management Platform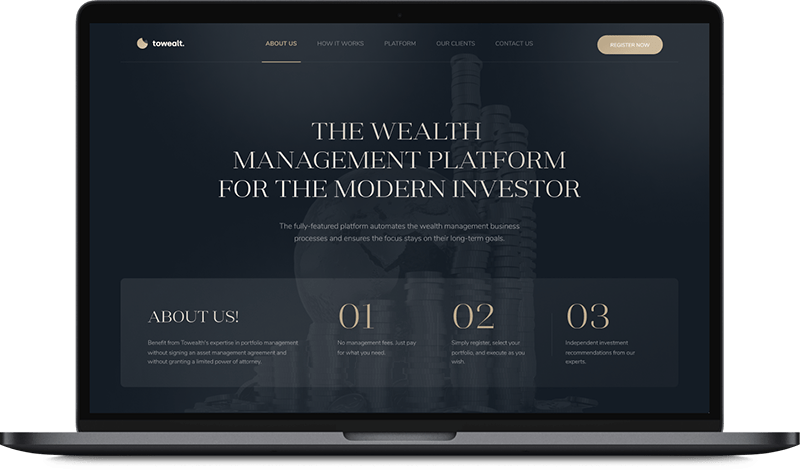 One-Page Website for a Wealth Management Platform
Fintech
Website development
One-page website designed to build brand awareness and attract a loyal audience before the platform release.
Claims Management System for Evaluating Hospital Bills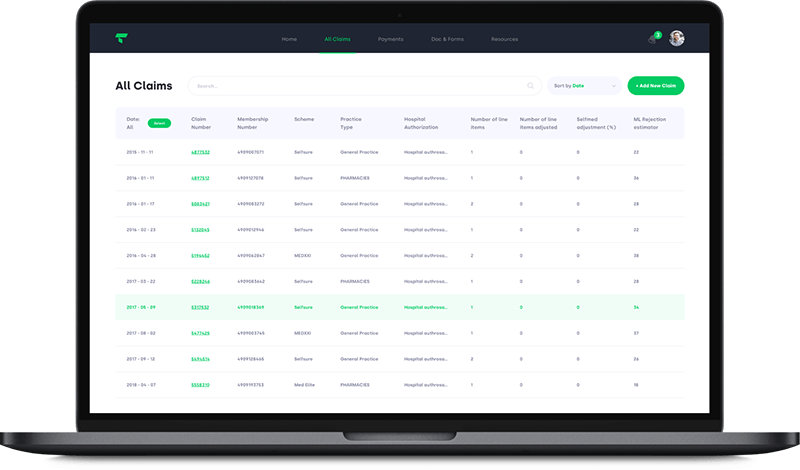 Claims Management System for Evaluating Hospital Bills
Insurance
Healthcare
Machine Learning
The healthcare claims management system is a web app that helps medical insurance auditors making a judgment on the claims issued by the medical aid providers. It reduces the costs of claims auditing process and fraudulent risks or human mistakes with the help of machine learning algorithms.
Mobile Bank Transfer App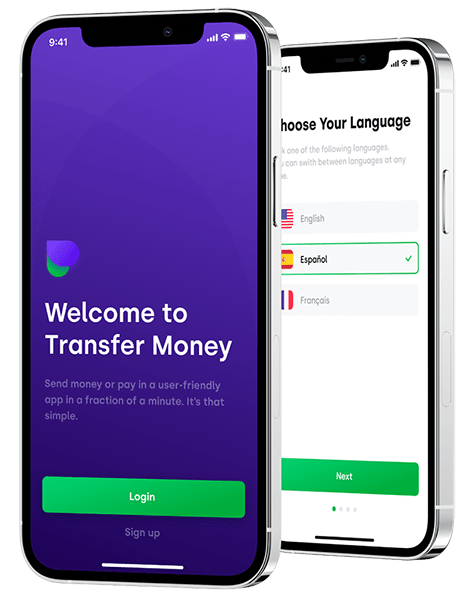 Mobile Bank Transfer App
Mobile app-to-bank transfer solution enabling its users to send money from US-issued bank cards to Nigerian bank accounts when money debited from senders' cards instantly enters bank accounts in Nigeria. The app also allows paying bills internationally.
Credit Scoring SaaS App for Financial Organizations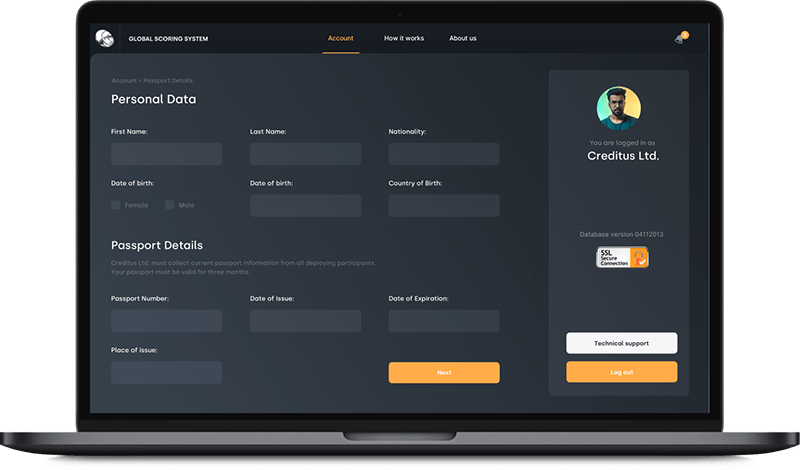 Credit Scoring SaaS App for Financial Organizations
Fintech
Credit Scoring
Machine Learning
The system is a SaaS platform allowing the client to evaluate solvency and reliability of the potential borrowers using statistical methods of analysis of the historical and nontraditional data sources such as social network profiles and others. It allows the client to upload his normalized and anonymized database of previous loans data, build mathematical models and calculate the credit score of the future potential borrowers entering their data through the system's web interface.
Design for Finance Data Management Platform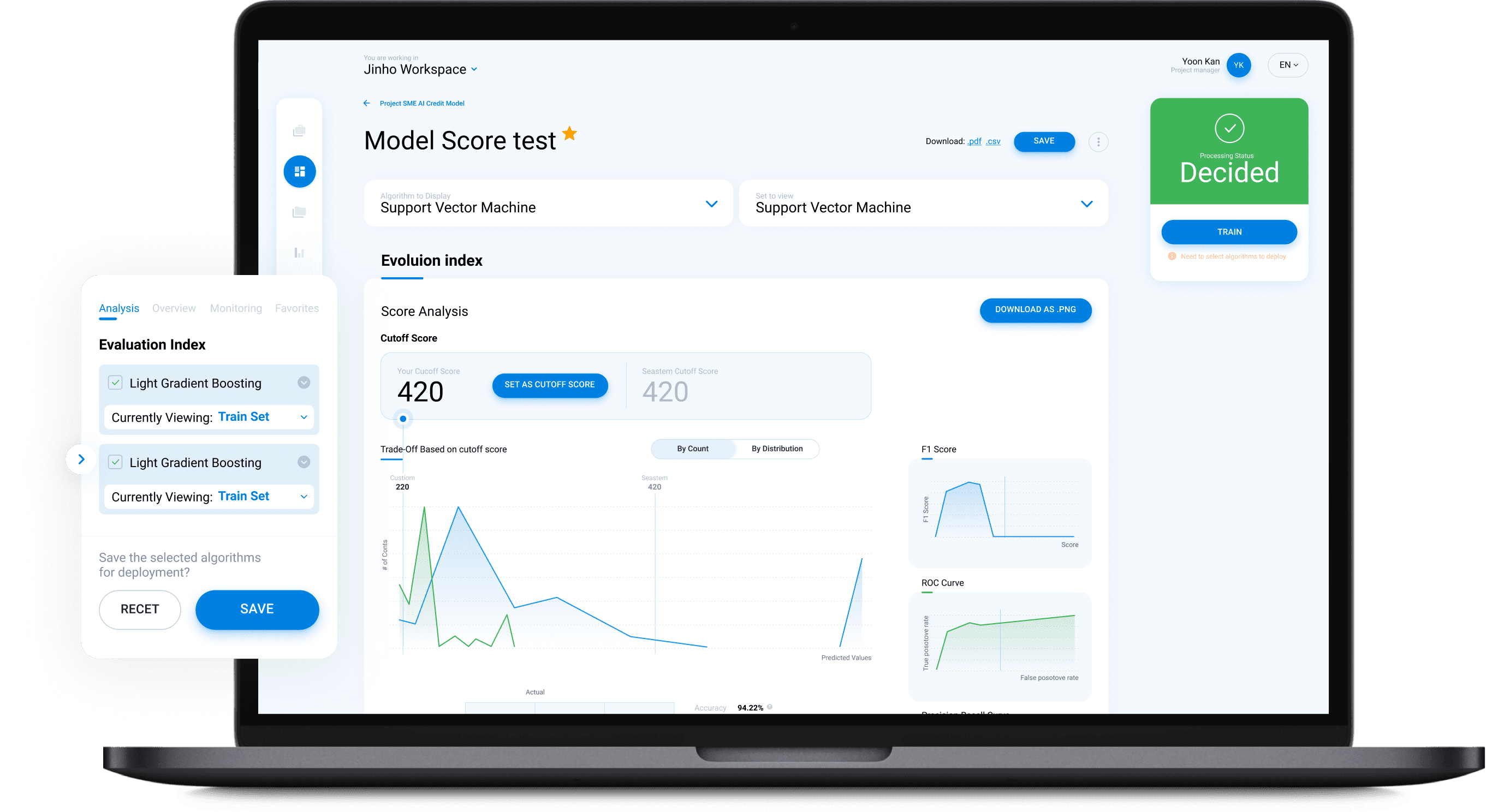 Design for Finance Data Management Platform
Fintech
Artificial Intelligence
A web app for people working in the financial sector to create analytical models. The app uses AI-based predictive modules reflecting the credit cycles to automate decision-making in Finance. Unlike the traditional statistical approach when making one analytic model takes 2-3 months, the application enables users to build, test, and deploy multiple predictive financial models within just a few clicks.
Contact Form
Drop us a line and we'll get back to you shortly.
For Quick Inquiries
Offices
Australia
Level 20,109 Pitt Street, Sydney, NSW, 2000
Belarus
20a Internacionalnaya Street Minsk 220037
x
Something went wrong!
Try one more time!
The Itexus Team