In financial services, Banking-as-a-Service (BaaS) platforms have emerged as a key component of open banking that allows non-financial businesses to introduce financial products and services. More and more banks are now developing their own BaaS platforms to take advantage of Open Banking opportunities ahead of their competitors and to create new revenue streams by monetizing their platforms. The growing demand for banking-as-a-service development is not surprising, given the advantages that come along with it:
Access to financial services. With BaaS services integration, businesses can provide their customers with access to core financial products without the need to invest in building from scratch and maintaining their own banking infrastructure.
Faster time to market. BaaS helps fintechs to reduce time to market by utilizing the existing banking infrastructure, allowing them to focus on their own products and services.
Fostered competition and innovation. Incorporating BaaS can foster competitiveness and drive innovation in the finance sector, as it allows new players to enter the market and offer fresh and innovative products and services.
Cost-efficiency. Building a banking infrastructure from scratch requires a considerable investment of time, money, and resources. BaaS allows companies to save resources and focus on introducing new services and improving customer experience.
Compliance and security. Introducing financial services brings a significant amount of regulatory and compliance challenges. Banking-as-a-service providers remove these obstacles and allow companies to focus on their growth.
It is predictable that the demand for BaaS (Backend as a Service) platforms will continue to increase. According to statistics, the global BaaS platform market is expected to expand at a 15.7% CAGR between 2021 and 2031. Therefore, if you've been considering developing a banking-as-a-service platform, now is the time. To help you find a reliable partner for custom BaaS platform development or integration with an off-the-shelf solution, we have shortlisted the top 10 banking-as-a-service companies. Check them out!
Itexus is an accomplished fintech development company with a solid understanding of the ins and outs of the financial services industry. With the best talent on board, the company develops complex software solutions for banks, non-banking financial institutions, and startups, from simple personal finance assistants and mobile payments to enterprise financial applications. Itexus' specialists can either develop a SaaS platform from scratch or integrate your app with any of the existing Banking-as-a-Service providers. The company is known for its customer-centric approach, high work ethic, and excellent quality of delivered solutions.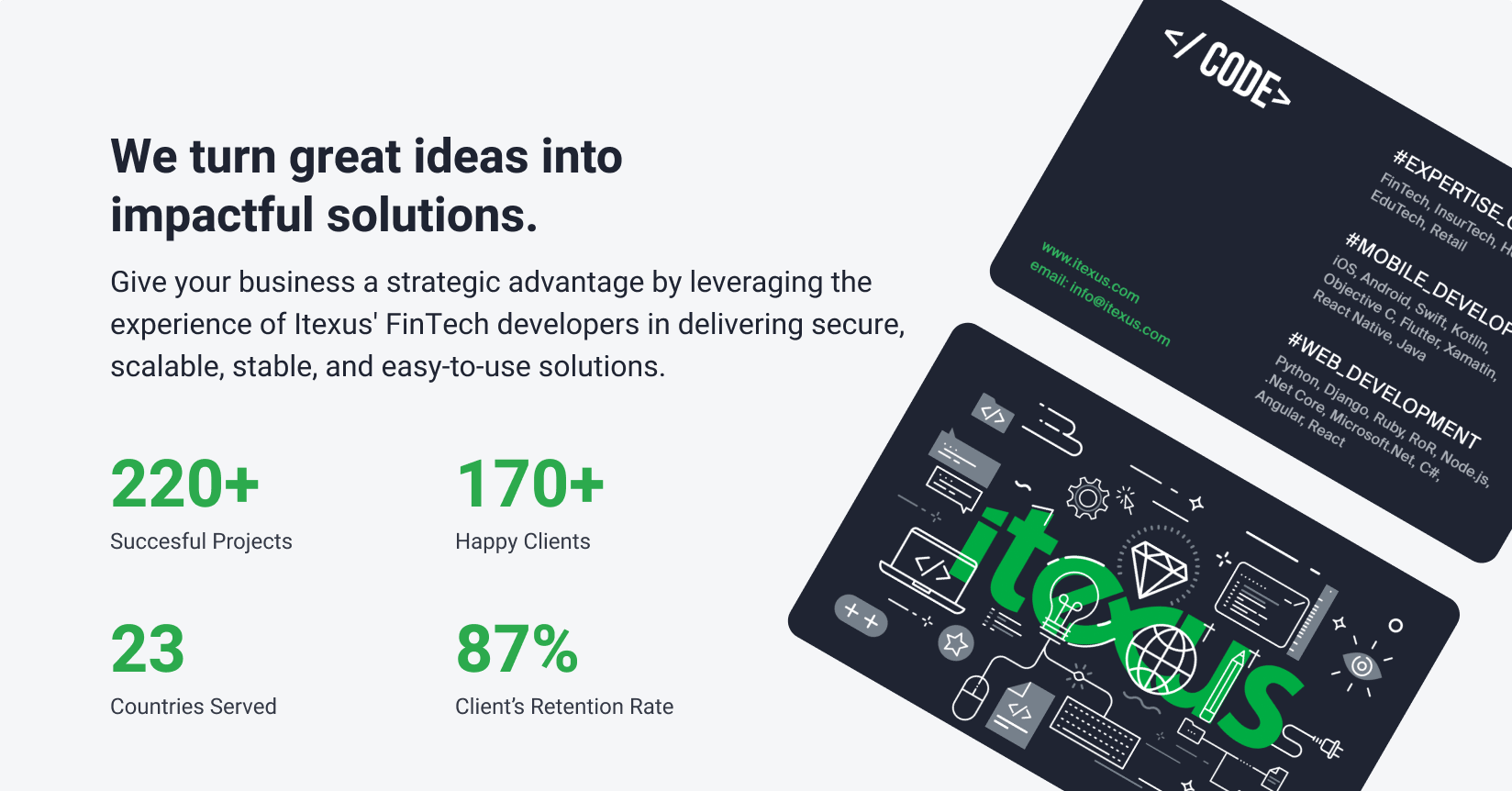 2. Atkom Software & Consulting
Altkom Software & Consulting is an agency that offers the full cycle of digital product development – from idea generation to post-launch maintenance and support. The company works with multinational corporations, fast-growing companies, and startups to provide custom software development, including BaaS platform development, business process automation, and cloud-native services.
3. Magnise
Magnise delivers industry-standard solutions for financial services institutions and startups. In addition to custom software development and banking process automation, the company also offers Big Data & BI, cloud, and DevOps services. Magnise's clients praise its proper organization of the work, clear communication, and transparency throughout all phases of the project implementation process.
4. Gorilla Logic
Gorilla Logic is a software development company that strives to build great products that drive innovation, profitability, and growth. The company's core areas of expertise are web and mobile app development, mobile banking development, security, Big Data, IoT, and so on. Gorilla's team can also develop a banking-as-a-service solution upon request.
5. Q Agency
Q is a development & design agency that designs and builds digital solutions and scale-up dedicated teams for global brands, enterprises, and startups. The firm specializes in custom software solutions, including various mobile and web apps for financial services companies, enterprise platforms, and e-commerce & payments solutions.
Any questions? Drop us a line.
6. Mentor Mate
MentorMate is committed to designing innovative products and delivering secure solutions. The company provides strategic consulting, design, cloud services, DevOps, web and mobile development, quality assurance, and software support services. MentorMate works with companies of all sizes and is known for developing robust, reliable, and scalable software products.
7. Anadea
Anadea is a fintech software development agency that helps its clients build a solid foundation for their tech businesses. Anadea's team has a lot of experience with the financial services industry and is happy to bring their expertise to develop a BaaS platform for you.
8. LaunchPad Lab
LaunchPad Lab's strategy is to deploy small, cross-functional teams of internal product developers who bring a high level of collaboration and critical thinking to customer projects. Their robust, scalable, and efficient solutions meet and exceed customer expectations and create lasting value for their businesses.
9. Accedia
Among accomplished banking-as-a-service providers, Accedia stands out due to its transparent approach across all development stages. The company delivers best-in-class solutions to the financial services industry, offering technology consulting, software development, and IT operations management services. The company is a preferred tech engineering and consulting partner for fintech startups, SMBs, and large enterprises.
10. Quantum Mob
Quantum Mob is an end-to-end digital innovation agency with a passion for building beautiful and functional products that deliver results and solve complex business problems with digital solutions. In addition to custom software development, the company offers product strategy and planning services and has solid knowledge of building stellar and personalized customer experiences.
Summary
Whether you are a banking-as-a-service company looking for top talent to reinforce your in-house team, or a fintech startup striving to develop your own platform from scratch to compete with the big banking-as-a-service providers, you'll find everything you need in our list. When choosing between different vendors, be sure to look at their portfolio of relevant projects, the engagement models available to choose the most beneficial one for you, the terms on which the company offers post-launch support and maintenance services, and the company's reputation – after all, this will directly affect the reputation of your future BaaS solution.
At Itexus, we've accumulated a treasure trove of diverse projects in the financial services industry and look forward to contributing our expertise and developing a digital solution that will create lasting value for your business and delight your customers. Choosing between different Banking-as-a-Service companies and need help? Want to develop a BaaS platform from scratch or integrate an off-the-shelf solution with your software? Itexus' specialists have got you covered! Contact us and find out how we can help you.
By Itexus Team