Automation, cloud computing, AI, and robotics have led to the adoption of new technologies in various industries. Robotic process automation (RPA) in particular has grown rapidly due to its ease of integration, user-friendliness, and ability to handle mundane tasks across different business units. Initially, RPA was popular in domains with high transaction volumes such as banking and claims processing. Currently, businesses of all sizes are demonstrating interest in robotic process automation. Big-name financial institutions are investing in this technology to reap its long-term benefits.
What is behind the optimistic approach to RPA in financial services? What benefits can this technology bring, and what can we expect from it in the coming years? Read on to find answers to these and other questions.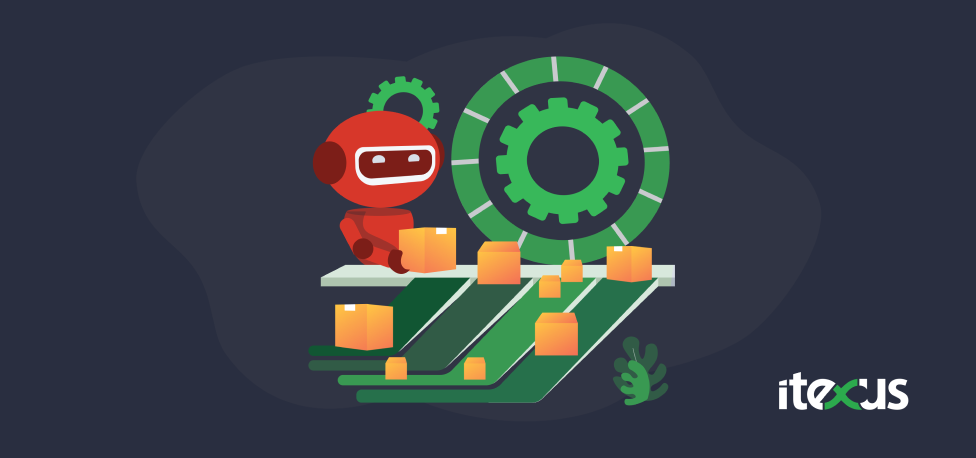 RPA use cases in finance
In this section, we will explore the main use cases of robotic process automation in financial services.
• Customer onboarding and verification
Processes such as customer onboarding can be entrusted to a robot that utilizes character recognition to gather client information and record personal details in the database.
• Account opening
Automating bank account opening and registration with RPA simplifies and speeds up the process, benefiting both businesses and their customers.
• Invoice automation
Outsourcing invoice processing to RPA can reduce workload and free up valuable time for employees. This allows them to focus on other tasks that require their attention.
• Fraud monitoring
RPA is commonly used in finance to monitor fraudulent activity. Robots can handle data entry and reports, easing the workload of compliance officers and giving professionals more resources to track risks and make better decisions.
• Tax reporting
Robots can extract, validate, calculate, and report data from multiple sources. They can also handle tasks like data entry, reconciliation, and tax form submission. Robotic automation minimizes errors and helps organizations reduce the time needed to complete tax reporting.
• Loan processing
ML- and AI-powered RPA solutions can simplify the loan process and decrease processing time by automating tasks such as data entry, document scanning, credit checks, risk analyses, loan amount calculations, and others.
• Financial planning
Finance robotic process automation can be used to analyze past trends, track present trends, and forecast future expenses. This makes it possible to create more accurate financial plans and improve decision-making across various departments.
• Mortgages automation
RPA tools improve mortgage processing speed and accuracy by handling data entry, document verification, and credit checks. This enables mortgage lenders to handle more loans and improve the borrower experience.
Key trends of robotic process automation in 2023
ML- and AI-powered RPA solutions
Businesses are gradually getting used to the idea that robots can facilitate routine tasks. This technology has become widely employed to handle repetitive operations and free up resources for areas that require more of a human touch, such as customer experience.
But what if we say that robotic automation is capable of more? As customer expectations and business needs continue to evolve, vendors offering RPA for finance companies are predicted to leverage NLP, AI, and ML algorithms to be able to handle more sophisticated tasks.
More industry-tailored RPA solutions
According to Gartner, about 80% of finance leaders have either implemented or are planning to implement robotic process automation. Other industries are also expressing interest in adopting RPA. For example, HR and sales departments are experiencing visible changes through the use of this technology. Using RPA in trade finance is also gaining momentum.
Meanwhile, it is becoming clear that there is no one-size-fits-all solution, as different industries have different automation needs. Therefore, RPA vendors are expected to develop solutions tailored to specific automation needs, enabling each organization to implement the technology efficiently.
No-code/low-code RPA tools
In a press release, Gartner stated that by next year, over 80% of technology products and services will be created by people who are not technology professionals. This overall trend towards no-code and low-code solutions also applies to RPA solutions.
To automate the process, users can write what-if scenarios and enter them into the tool interfaces. The tool will then convert them into code, facilitating the process and increasing its speed and efficiency.
Built-in RPA features
Robotic process automation is expected to become a standard feature in many software platforms due to mergers and acquisitions among enterprise software companies and new competitors entering the market. These factors will contribute to the diversification of the RPA market.
Any questions? Drop us a line.
Benefits of robotic process automation
Today, RPA tools in banking institutions and financial companies focus on two major types of core benefits.
Behind-the-scenes operations
Robotic process automation is a key initiative across multiple sectors today. Robots, which leverage both ML and NLP technologies, can be applied in fintech for multiple reasons.
Cutting operating costs
Robotic process automation in finance can substitute for and augment the human workforce, enabling it to accomplish more in less time with fewer resources. As a result, financial companies can achieve increased efficiency while reducing staff and decreasing the need for physical locations.
Increased efficiency
The fintech market has various use cases today, showcasing the capability of robotic process automation to efficiently automate mundane and routine administrative processes. For instance, the Bank of NY Mellon Corporation has deployed over 200 bots to manage repetitive tasks like money transfers. This implementation resulted in an 88% improvement in processing time and $300,000 in savings.
Customer experience
When it comes to customer experience, both speed and quality of service are crucially important. RPA can greatly contribute to improving both aspects.
Processing customer queries in real-time
Improved customer service directly correlates with increased sales conversion rates. Robotic process automation can significantly enhance back-office productivity and operational quality, ultimately leading to increased sales conversion rates.
As an example, the Italian Banca Popolare di Sondrio (BPS) bank faced common issues with its contact center. With 500 agents handling approximately 650,000 calls per month, agents were spending too much time on follow-up activities after each call. These activities included logging job tickets and call details in relevant databases, filing claim requests, and more. Due to the high volume of activities, operatives were frequently unable to meet a five-minute response time target for fraud alerts.
The bank has implemented RPA (Robotic Process Automation) to automate most of its manual post-call activities. The implemented robot draws necessary information from internal systems and submitted requests, processes it, and creates new customer files. Additionally, desktop automation tools have been set up to guide agents through a complicated fraud alert process.
The results are impressive: all requests are processed on time, with an average handling time reduction of 82% during the wrap-up phase. Additionally, there is a 99% accuracy rate in handling over 8,000 fraud alerts per month.
Eliminated risk of human error
Robotic automation helps put in place step-by-step instructions which a robot follows whenever it reviews financial documents, issues mortgage approval, processes credit card orders, and cost accounting. Human participation will be reduced to a minimum, with experts intervening only when an exception or a force-majeure event occurs.
Setting the right priorities
As noted by Will Davenport, director at Business Systems Ltd., the average employee spends around 80% of their time on mundane and routine tasks, like data entry, form filling, filing and archiving, and so on.
RPA-ensured tools allow employees to focus on concerns of higher priorities, leaving low-priority issues for bots.
Robotic process automation in finance: how to start the journey
1. Define the global goal
Do you want to increase the back-office efficiency? Get a new source of revenue? Or improve customer engagement rates? Once you know why you are starting process improvement or implementation, it will be easier to determine how to leverage Robotic Process Automation in this process.
2. Create a roadmap
Once the goal is clear, conduct a thorough study of what is obstructing its realization. This will help identify inefficient business processes, detect gaps, and gain in-depth visibility of what needs to be re-engineered and automated.
3. Determine the place of robotic process automation within the strategic roadmap
Robotic automation is most efficient when seen as part of the overall structure, rather than as a single, targeted technology.
4. Ensure coordination across different units
Since RPA functions across the entirety of an organization and aggregates data from multiple sources, all departments – including IT, security, and accounting – must have a clear understanding of the robots that have been implemented.
5. Educate staff on process automation and RPA technologies
Employees should not only be aware of the implemented robotic process automation scripts but also understand how these scripts impact their functions, automate certain processes, and provide more time and effort for strategic and creative tasks.
Summary
Robotic process automation has proven to be a highly effective tool in the financial services industry due to its ability to enhance accuracy, speed, and ultimately, the customer experience. Using RPA in finance industry helps to streamline operations, reduce errors, and minimize costs, allowing companies to better serve their clients and remain competitive in a constantly evolving marketplace.
Are you considering embracing RPA technology? Itexus specialists will thoroughly analyze your needs and implement an RPA solution to help you achieve maximum efficiency and remain competitive in the ever-changing financial services industry. Contact us to learn more about what we can do for you.
By Itexus Team