Over the past 2-3 years, we have observed a significant increase in the popularity of digital wellness mobile apps. This trend is driven by a growing awareness of mental health issues and a gradual reduction in the stigma surrounding conditions such as depression, anxiety, and eating disorders.
Today, these apps assist in monitoring symptoms and providing treatment for a range of disorders, including anxiety, sleep disorders, and eating disorders. But how to develop a mental health app? Can a new app attract customers and gain their trust in such a competitive market? Here are some insights from the Itexus' experts in mental health app development.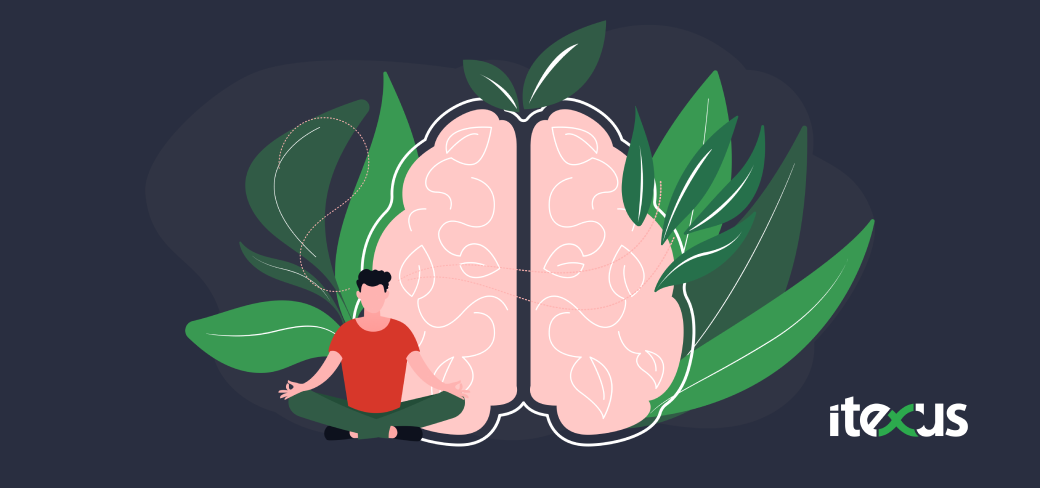 Apps for anxiety & depression: key facts
To begin, we have gathered some facts about mental health apps in order to address key questions about the market and its current state.
How big is the segment?
The global market for mental health apps increased from $5.49 billion in 2022 to $6.36 billion in 2023, representing a compound annual growth rate (CAGR) of 15.7%.
Is it stagnating or growing?
It is growing, and doing it remarkably well. Today it presents one of the most promising online healthcare industries, with depression ranked third as holding the highest mHealth market potential.
What sort of content do mental health apps provide?
The Nature Digital Medicine conducted a study of 1435 apps, from which selected the 350 top-ranked ones. Here are some facts about their content:
36% contain information or psychoeducation
32% – therapy/treatment
25% – symptom or mood monitoring
12% – self-assessment
11% – peer/community support.
81% of them give focus on a single health-related functionality, while nearly 11% describe 2, and 4.1% – 3 functions. 4.1% don't provide any clear description of the delivered functionality.
What about the most successful digital wellness apps?
The most successful are the apps focused on mindfulness and meditation (namely, Calm and Headspace). Calm generated generated $200 million in revenue in 2020.
Overall, the wellness app sector was valued at $2.7 billion in 2022, with a projected compound annual growth rate of 17.7% until 2030.
How efficient are mental health apps?
mHealth apps have been proven effective in reducing symptoms of depression (with a "moderate positive effect") and anxiety.
Another controlled trial demonstrated that mobile applications exhibit superior patient engagement and patient satisfaction compared to clinic-based group intervention for managing illness in patients with serious mental disorders.
How is the mental health market regulated?
Today, there is a regulatory gap in the industry. Institutions like the FDA take a hands-off approach, without exerting any control over the effectiveness of mental health apps or the potential harm they can cause. Specialists refer to digital wellness mobile apps as "a booming under-regulated market".
How to turn a good mental health app into the best one
Today, customers have the option to choose from the 3 main types of mental health apps:
Apps that offer therapy interventions for mental disorders, such as depression, anxiety, and others. These are often used as part of clinical care programs.
Apps that provide mindfulness and meditation practices to increase focus, happiness, and calm.
Apps that function as platforms with authorized therapists, allowing clients to have therapy sessions online.
These apps have distinct uses, but only a handful in each category prove to be genuinely effective. So, how can you differentiate yourself from the competition and create an app that users won't uninstall after the initial use?
One way to differentiate your mental health app could be by incorporating livestreaming features to provide real-time therapy sessions, leveraging solutions such as Sendbird's API for livestreaming. This allows therapists and clients to engage and interact more dynamically. As an alternative to Sendbird consider using Sceyt, Getstream or Cometchat.
Renowned organizations like the American Psychiatric Association (APA) are collaborating to develop an app rating system. This system aims to provide assessment guidelines for the effectiveness and risks of mental health apps. The goal is to improve the current practice of evaluating self-help apps, which currently relies solely on a marketing description in an app store.
If science doesn't outpace sales, at least sales will become more informative and transparent about their app.
The APA's rating system is based on 4 major parameters:
Safety/Privacy
Scientific evidence
Ease of use
Interoperability
This provides directions for further product improvement and enhancement.
Safety/privacy
Problem
While the situation is evolving, many people still find it challenging to overcome the social stigma associated with seeking mental health treatment.
According to the WHO statistics, one out of four people struggles with mental health issues, and two-thirds of them don't seek professional help.
Mental health apps can be very helpful in this regard, as long as customers maintain the privacy of their treatment.
Given the under-regulated status of digital wellness apps today, there is a significant concern regarding the security of sharing personal data with these apps. And there is a valid reason for this concern: a study conducted by the BMJ Publishing Group Limited in March 2019 revealed that 19 out of 24 of the most popular health apps in the Google Play marketplace transmit user data to at least one third-party recipient.
Solution
Developers of mental health apps disclose their policies on sharing user data with third parties, but they do so in an unclear manner.
John Torous, director of digital psychiatry at Beth Israel Deaconess Medical Center in Massachusetts: "It is clear that most privacy policies are nearly impossible to read and understand".
That's why users appreciate the approach of the Molehill Mountain app, an anxiety app for autistic people. It features a privacy statement written in plain language, which clearly explains what data the app collects from customers, how it will be processed, and what rights users have regarding their own data.
💡 Tip: If a mental health app shares user data with third parties, it should openly and clearly disclose this to its users.
Scientific evidence
Problem
When it comes to self-care apps, customers are seeking scientifically proven information.
But what happens in reality? The Nature Digital Medicine study shows: 64% of studied mental health apps claim effectiveness, with nothing supporting it but scientific language (44%), "random" techniques not validated by scholarly literature searches (33%), "wisdom of the crowd" (19%), and lived experience (14%). None of them contained referenced certification, accreditation processes, or high-quality evidence.
Solution
Step by step, public authorities are introducing regulations and rules to validate these apps. As a result, product owners will soon face a dilemma: either providing their applications with high-level evidence or exiting the market of digital wellness products.
💡 Tip: Accreditation processes, app libraries, and scientifically proven frameworks will provide genuine value to mental health apps and assist clinicians in recommending them to their clients.
Ease of use
Problem
In general, mHealth is not typically associated with top-notch UX/UI design. However, mental health apps can change that perception. Many of them feature a minimalistic design that is sleek and attractive.
Owners of self-help apps have their reasons for creating them. According to a clinical review published in Evidence-Based Mental Health Month, 74% of users stop using the app after only 10 sessions. Poor mental health app design, along with useless content and privacy concerns, were cited as the main reasons for this drop in engagement.
Solution
Here is the definition of the "ease of use" concept, provided by IGI Global: "The degree to which a person believes that using a particular system would be free of effort." Successful digital wellness apps are designed with usability and simplicity in mind, so that users, particularly those who suffer from depression and mental disorders, do not need to exert any additional effort to understand how it works.
💡 Tip: Try to simplify the use of a mental health app and make it as intuitive and user-centric as possible.
Interoperability
Problem
This criterion demonstrates how an app can enable the sharing of data among health professionals, patients, and other relevant parties in meaningful and beneficial ways. User data from mental healthcare apps is typically considered sensitive, which imposes certain limitations on how it can be processed and shared.
Solution
✔️ Transferring data to healthcare service providers
It is important to note that when it comes to mental health apps, we are dealing with sensitive health-related data that is transferred to medical institutions and healthcare organizations.
If data is regularly sent to a regional Health Information System, security standards should be integrated into the existing infrastructure. This can be accomplished by using relevant data transfer standards such as FHIR, Direct, and C-CDA, and by translating clinical data into a Clinical Document Architecture (CDA) file.
✔️ Integration of mental health apps into an IoT ecosystem
Smartwatches and smart screens are commonly used for monitoring mental health. By integrating a behavioral health app into a connected sensor-equipped architecture, which includes sleep-tracking devices and wearables that measure blood pressure and heart rate, you can enhance the value of your app and attract a larger number of potential end-users.
Once you are ready to launch a mental wellness app, take some time to check whether it meets the following 6 HEALTH guidelines, where each letter stands for a feature:
Human, i.e. relating an app's user to a therapist or any form of social support.
Evidence-based, keeping in mind scientifically proven methods when building a mental health app.
Accepting, which is a principal issue in digital therapy. In practice, it means, for example, cautiousness with the language used in the app or providing some forms of supervision.
Lasting, i.e. motivating customers to continue using an app. While in other apps it usually takes a form of gamification (badges, rewards, etc.), in case of mental health apps, product owners and their designers should be careful and try other forms of motivation and support. For example, try not just to explain what a user should do to stay calm, but what he is doing right already that is helping him.
Tested, i.e. how your target audience feels about using an app. Here, it is necessary to keep in mind the needs and peculiarities of end-users, as some mental health issues affect one's ability to concentrate or feel in control of a situation. That is, usability testing should be performed on a specific group of users, to track down their necessities and difficulties.
Holistic, which goes beyond simple diagnosis and treatment advice. The holistic approach to building a wellness app means that a product owner takes into account the full amount of information about potential users: their age, mental state, healthcare literacy, etc. – and puts his effort into delivering the most suitable solution.
Any questions? Drop us a line.
Telehealth apps as an alternative way to keep mental health in control
According to the Centers for Disease Control and Prevention, the number of telehealth visits increased by 50% during the first quarter of 2020 compared to the same period in 2019. Telehealth is used for various healthcare services, including mental health consultancy and treatment.
What is telehealth?
Telehealth technology enables healthcare professionals to remotely evaluate, diagnose, and treat patients using telecommunication.
What are the benefits of telehealth?
Getting care at home. It's especially convenient in case of a lockdown or when patients can't easily get to their providers' offices.
Getting care after office hours.
Getting care from a specialist who is not close by.
More time for communication with your providers.
Better coordination between healthcare providers
Lower cost, since virtual visits may be cheaper than in-person visits
Telehealth technologies
mHealth
This technology enables the use of applications on smartphones, laptops, and tablets for TeleHealth purposes. These apps enable patients to set medication and appointment reminders, track health measurements, and share information with clinicians. Mobile devices also allow patients to schedule appointments and communicate with healthcare providers through video conferences and text messaging.
Video conferencing and high-resolution cameras
Nowadays, clinicians use video conferencing technology to provide care not only for city dwellers, but also for inmates, patients located in rural locations, and military personnel.
Remote patient monitoring (RPM)
Remote Patient Monitoring (RPM) involves the reporting, collection, transmission, and evaluation of patient health data using electronic devices such as mobile devices, wearables, smartphone apps, and internet-enabled computers.
Store and forward
This technology refers to the capture, storage, and transmission of patient health data for asynchronous healthcare delivery. It involves gathering MRIs, CAT scans, X-rays, photos, videos, and text-based patient information, which are then sent to specialists for evaluation and to assist in their treatment.
Must-have features for a telehealth app
To create a successful mental health and wellness app, include these key features for optimal performance and user engagement:
Self-monitoring. This feature enables customers to stay aware of their internal state and prevents the progression of psychological issues. Your app can assist in monitoring various aspects such as sleep cycles, trigger levels, stress levels, mood patterns, and symptoms of users.
Diary. Any app that intends to enhance mental health should include a diary feature where users can write down their emotions and thoughts. Additionally, it should provide the option to make drawings, as they can often express feelings more effectively than words.
Video and audio content. This can include relaxation features, mood-enhancing content, calming music, educational affirmations, relaxation techniques, stress relief, sleep management, and more. Therapists can also attach video and audio files from patients' sessions for review.
Support communities. This feature helps individuals facing similar challenges by providing a space to share experiences and seek guidance.
Notifications and reminders. Adding this feature to your mental health app will prompt users to regularly assess their mental state and engage in exercises, relaxation, medication, and therapist appointments. However, be cautious not to overload users with notifications or reminders, as excessive amounts can contribute to stress in a demanding routine.
Video calls and chats. The app should have features for therapists and patients to connect through text, audio, video, or live sessions. This gives users the flexibility to choose the communication method they need.
White-label telehealth solution to buy
If you want to take your medical practice to a new digital level, we have a ready-made white-label telemedicine solution that is HIPAA-compliant. With a one-time payment, you can have your own TeleHealth app under your brand, accessible through web and iOS. Take a look at the key features of our white-label telehealth solution, which is available for purchase right now. We also offer on-demand customization to tailor the solution to your specific business needs.
Summary
Thrilled by the perspectives of the mental health apps market? Ready to face the challenges of its tight competition and win your share?
Start with searching for a tech vendor, who already has:
A portfolio of mobile app development projects under their belt.
Skills in applying security standards to sensitive and valuable data protection.
Expertise in working with complex interconnected ecosystems.
Once you have the app in place, promote it to people who might benefit from using it. Use live streaming, video ad and other methods of content creation to generate more interactions among users.
By Itexus Team