Since the creation of the banking system, its infrastructure and the communication between banks and their customers have been evolving at a rapid pace. Not to mention the introduction of bank cards, which revolutionized the industry and reduced stress levels associated with carrying cash. The XXI century brought with it new inventions making a deep imprint on the banking industry. And here we are talking about the tendency of doing away with the use of bank cards altogether. Equipped with all the modern technologies, cardless and contactless financial operations are already at your disposal. The FinTech industry is currently actively introducing NFC-friendly banking hardware and software.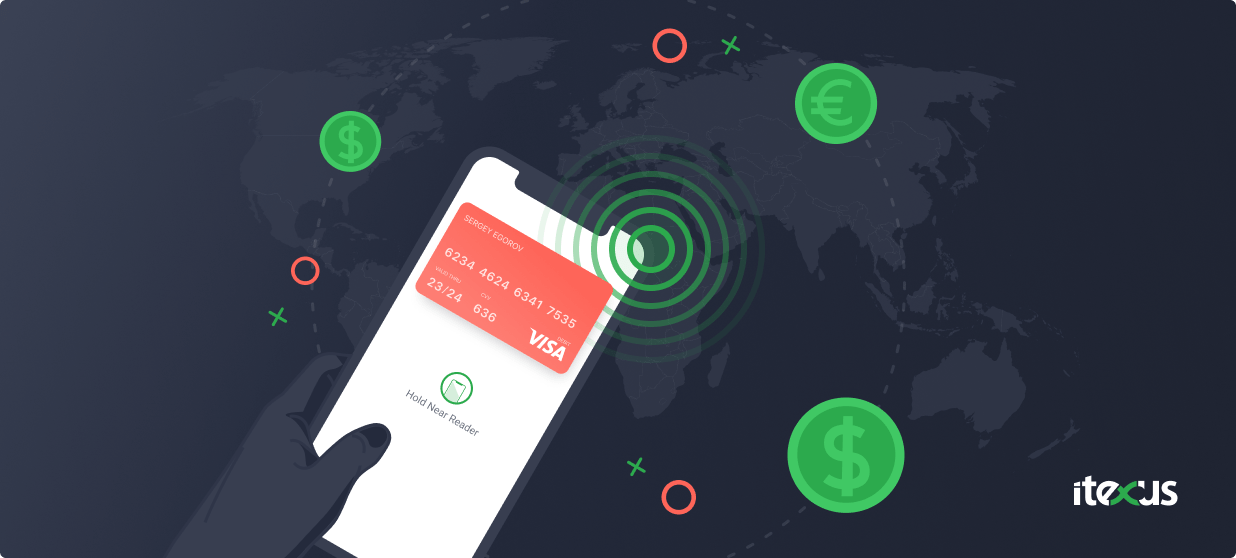 What is NFC?
Near-Field Communication (NFC) technology was developed in the early 2000s. It enables wireless communication between two devices over short distances, ca. 10 cm (4 inches) or even less. One of the devices (active) has an embedded NFC chip while the other (passive) carries an NFC tag that is activated through the interaction with the active device. Practically all types of transactions can be carried out through NFC chip-tag communication: payments, files and media transfer, exchange of locations, etc. Due to the versatile nature of the technology, NFC app development is recently on the rise.
NFC in Banking Apps
✅ Contactless Payments
NFC technology has been applied by banks to enable contactless payments before we even heard about the coronavirus infection. In 2018, for example, more than half of the payments across the UK were contactless, in South Korea, its number grew up to 96% compared to just 3% in the US. The 2020 pandemic brought a "new normal" into our lives and made the whole world aware of the importance of contactless financial transactions. Since March 2019, the use of contactless payments in the US has increased by 150%.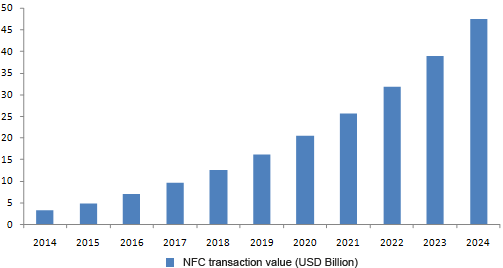 Everyone has heard of Samsung Pay, Apple Pay, and Google Pay services, but not many know that near-field communication is the technology served. A cardholder enrolled in such a service can perform a no-touch payment via their smartphone, watch, or other wearables. If a bank or credit union is striving to provide the best service to its customers, it may not use a third-party mobile wallet, such as Apple Pay, but instead, develop or at least customize the existing banking app to make it NFC friendly.
✅ Customer Acquisition and Loyalty
A banking app can be used for more than just financial operations or checking account balances. There are multiple reasons why customers need to visit a bank branch and physically interact with the bank employees. The NFC tag inside the bank branch could serve as a 'check-in'. It allows customers to choose what they need today and enables banking clerks to act accordingly and provide professional assistance. A customer gets a notification on their phone with the bank employee's name and the possible waiting time.
✅ Identity Check
Such a feature can easily be introduced through NFC technology. One tap of the phone to the tag in the bank or at the desk and a bank employee's computer gets all the needed information about the customer. This could be especially important for loans as NFC-based verification leaves no room for fraud. Moreover, the identity check feature could be useful for large banks with multiple branches in different states or overseas. For example, a regional manager could travel through bank branches and the activation of an NFC tag by arrival facilitates the auditing of the branch.
✅ Scheduling Appointments
One of the ways NFC mobile app development alters banking processes is to generate tickets. A tag inside the bank can help schedule appointments to take the loan or meet a mortgage advisor. By tapping their phone at the bank, customers can access available slots in bank employees' schedules. This allows them to pick up the time and lets the banking app synchronize with the phone calendar.
✅ Paperwork and NFC
NFC banking apps could also make it easier to fill out documents and provide robust fraud protection. Government-issued ID cards and passports are RFID-chipped documents, which means that NFC technology could be used to facilitate onboarding processes and instantly verify or fill in banking documents with100% accuracy.
✅ NFC Digital Wallet 
Cryptocurrencies are making their way to legacy banking systems. If not today, then tomorrow national banking systems all over the world will adopt the use of cryptocurrencies. The options for cryptocurrency holders are to connect digital assets to mobile banking apps, send or receive funds, and enable contactless NFC-based payments at casual sites of everyday life.
Any questions? Drop us a line.
Why Opt For NFC Banking App Development
An NFC mobile payment app frees bank customers from carrying around their cards. This means that mobile phones can now be used to make payments. What are the benefits of cardless financial transactions?
✅ Encryption and Security
The data transferred during NFC chip-tag interaction is end-to-end encrypted. Moreover, NFC payment readers can only be connected to one active device (mobile phone), which prevents customers from paying the wrong bill. To close digital security gaps, banking apps mask the payment data using a random string of characters (tokens).
✅ Convenience
Banking apps or mobile wallets could make it possible to add more than one bank card and manage payments accordingly without having to carry physical bank cards.
✅ Quicker Payment Time
Merchants are the first to benefit from NFC-powered contactless payments. While this means having more buyers, it also means a better buying experience for end customers.
✅ Cost Efficiency
Retail chains that have installed NFC tags in POS (Point-of-Sale) terminals save on energy consumption as NFC interaction consumes less power.
How to Implement NFC Features into Your Banking App
• It's very important to partner with a competent development company. Check out their experience and previous projects in the FinTech domain. If needed, reach out to the previous clients of the company and ask for reviews.
• Make sure you have a clear view of what benefits NFC technology would bring to your company or banking institution. Discuss in detail with the developers what your expectations are and determine the size of the team that will work on your application. These and other vital steps should be discussed during the project phase.
• Negotiate the budget and find out how the required functionality can be accommodated within your budget. Usually, the solution as well as its integrations and further maintenance are included in the price of development. Sometimes there are options for startups.
• Make sure the company you want to work with has a wide range of in-house specialists, from UI/UX designers to AI specialists. During the development process, you can change the design of your app, and introduce new features like cloud sharing or machine learning.
Summing Up
NFC technology is revolutionizing the banking industry in many ways. Not only does it provide the ultimate protection for your funds and financial transactions, but it also enables cardless and contactless interaction within the banking facility (scheduling, ticketing, identity verification, etc.). The ability to conduct transactions remotely will increase bank customer loyalty and attract new customers. Banks that have adopted NFC technology are ahead of their competitors and sometimes ahead of the curve by offering fast, seamless, and fully protected financial transactions. Consider hiring Itexus for NFC app development? Contact us to get a free consultation.
By Itexus Team