Online B2B Invoicing & Billing Platform
An autonomous invoicing and billing web platform that enables businesses to issue and send invoices and receive timely payments.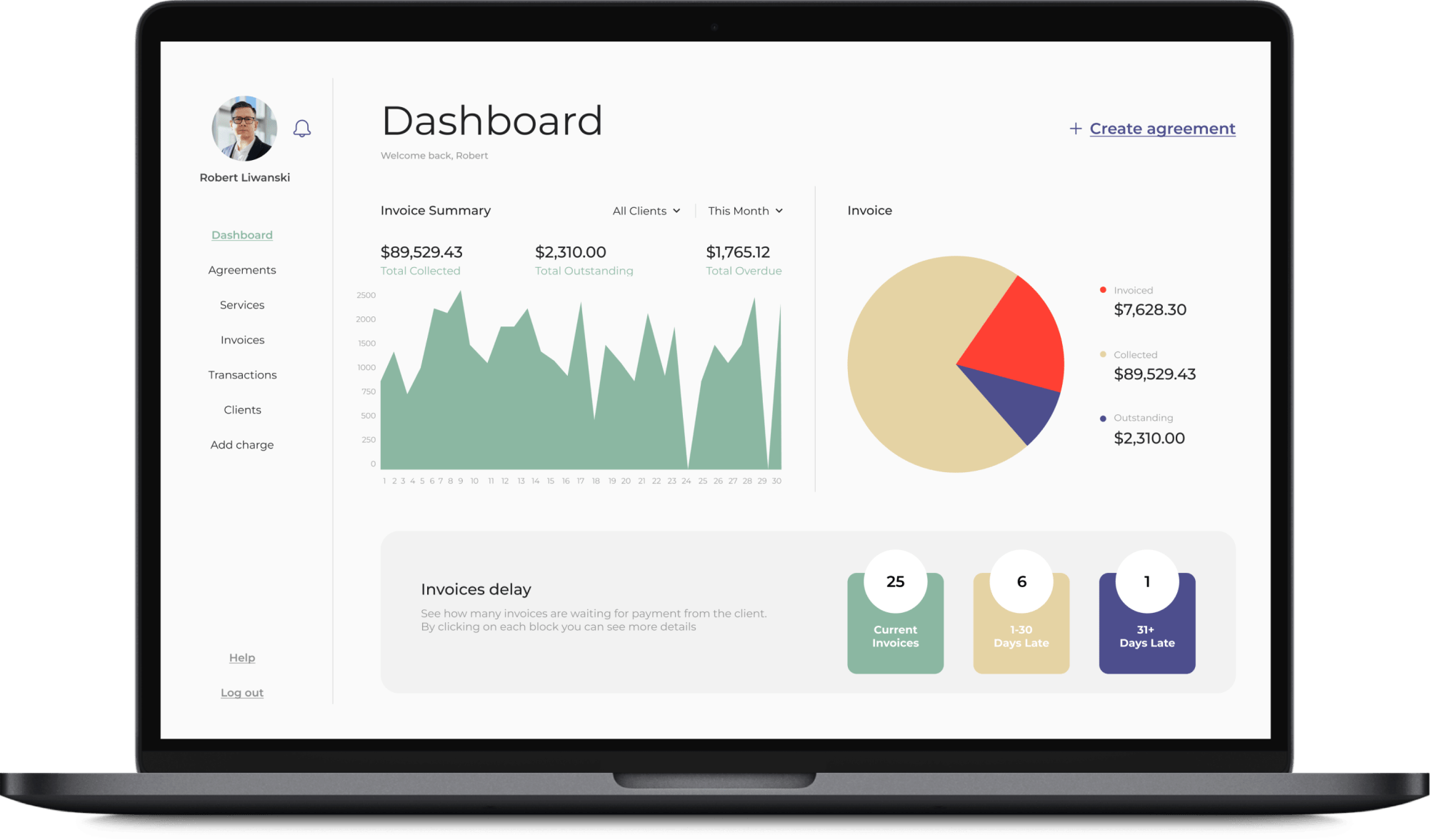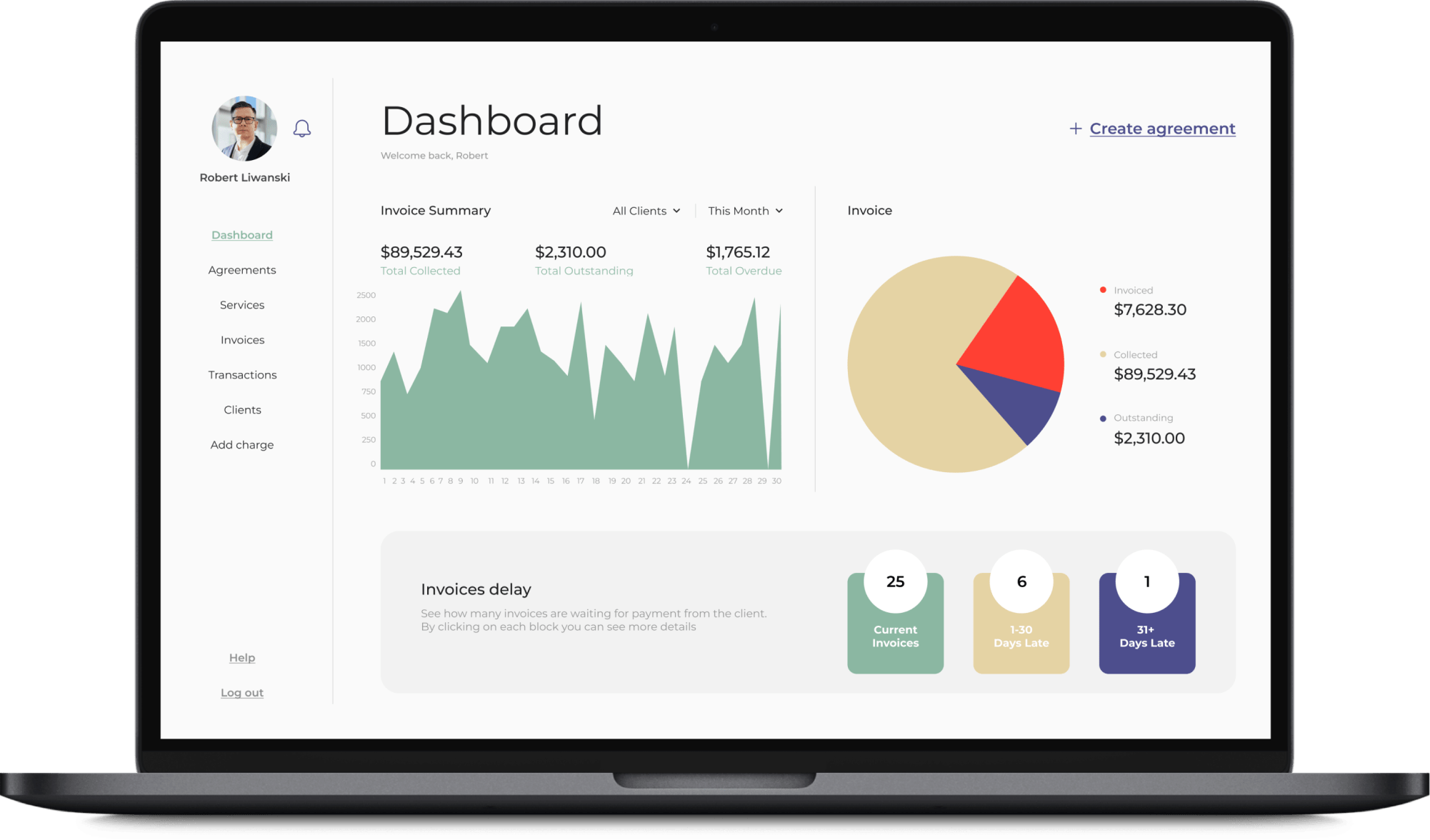 About the client
Our client is a startup company based in Western Europe. Its founder used to run a digital marketing consulting agency and had to constantly deal with issuing and sending invoices to customers using invoicing software.  
Solution
Invoicing & billing web platform  
Engagement model
Time & material  
Effort and duration
7 months
Project background
After trying several off-the-shelf invoicing platforms, our client came up with the idea of developing his own solution. His main goal was to create a user-friendly platform that would allow entrepreneurs to focus more on improving and growing their businesses by entering new markets, rather than dealing with the various issues and challenges that come with invoicing and billing. To this end, he turned to Itexus. Our client selected us for the project implementation because we offer a comprehensive suite of software development services and flexible and cost-effective engagement models.  
Project team
3 Business Analysts, 1 Frontend Developer, 1 Backend Developer, 1 Tech Lead, 1 Architect, 2 QA engineers, 1 UI/UX Designer
Target audience
The platform is aimed at companies that issue invoices for services rendered and companies that pay invoices for services consumed.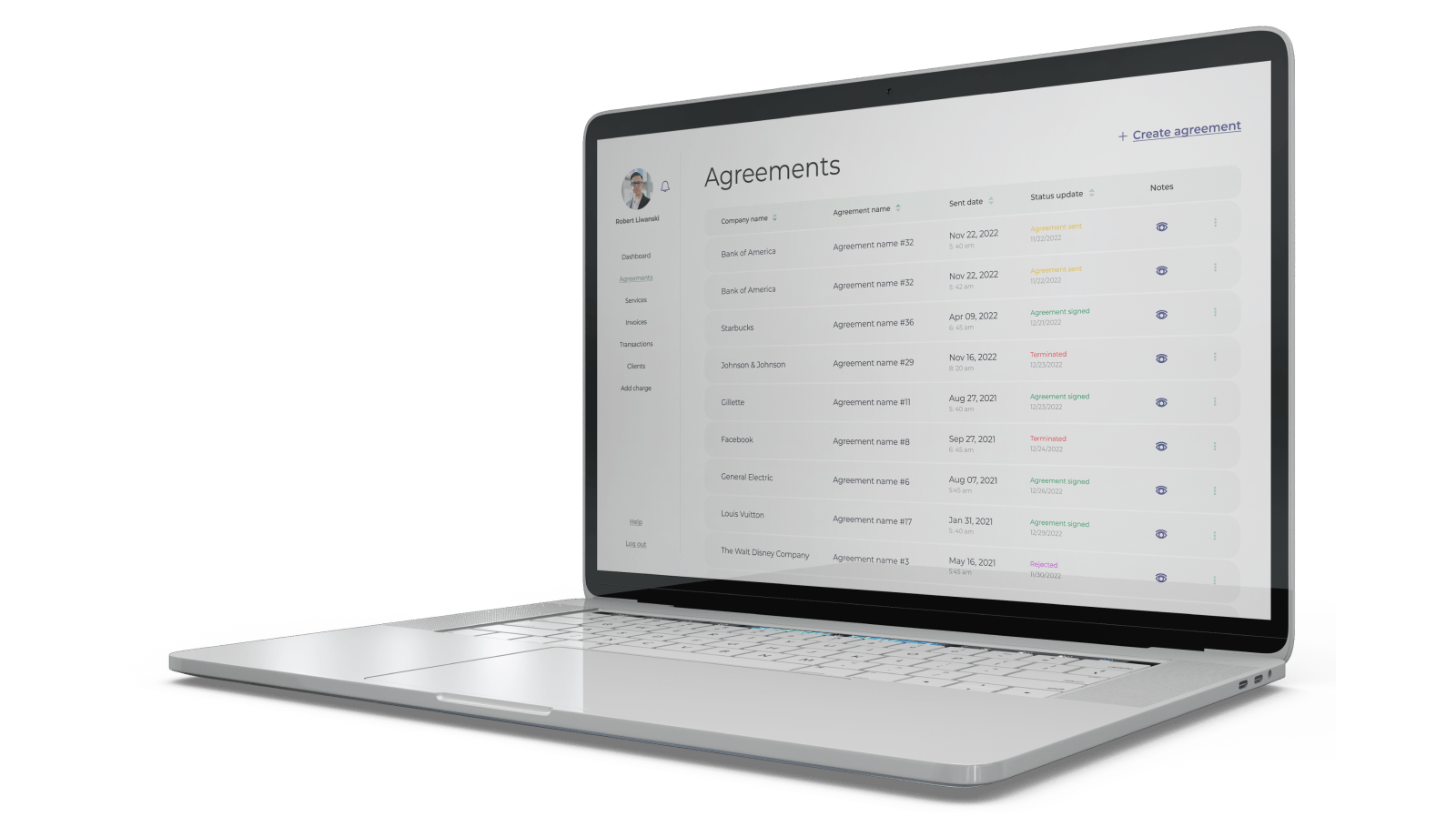 Solution overview
The platform aims to prevent B2B payment errors and put an end to fraud with the help of end-to-end billing. It eliminates most of the manual work and automates the entire invoicing and billing process – from the creation of online agreements between the provider and the consumer to the payment and reconciliation stage. The main difference from the competitors is that our platform allows payment of invoices from foreign companies (European and American) and issuing invoices in different currencies. Another difference is that users can invite other company representatives to use the system. Moreover, the same user can issue and pay invoices within the platform.
Functional modules
The platform includes an admin panel, a biller (or service provider) portal, and a bill payer (or service recipient) portal. After authorization, users go through onboarding to learn the main features of the system and how to work with it. After onboarding users can outline their agreements. Then users go through the KYB check and connect the bank accounts for the money transfer. There are also coach marks and tutorials to help users quickly master the platform's functionality. Let's explore the features of all modules in detail.
Admin panel features
manage users
assign roles
manage transactions
Bill payer (service consumer) portal features
receive, sign, or reject agreements with service providers; view the list of agreements received from the service provider
view all services offered by providers and their status (active/completed)
view and pay received invoices
select and change the payment method (bank accounts and cards); confirm payment of invoices; change the method of payment confirmation (automatic payment or manual approval)
track transactions
switch to service provider mode and issue invoices & access all features available to service providers)
learn main details about the platform and its features in the support center
access the chatbot to get help or ask a question
Biller (service provider) portal features
create & edit services – both one-time (these are paid once) and ongoing (those for which invoices will be issued to the client with a certain frequency set by the provider); view the list of services; archive/activate services; initiate service completion
create, edit, and send agreements to clients; send reminders about pending agreements; terminate agreements
issue invoices; set their parameters; send invoices (manually or automatically); confirm invoice sending; cancel invoice; view the list of sent and paid/pending invoices
create and send non-recurring charges
track cash flow
view list of clients and their information
switch to the bill payer (service consumer) mode (if a provider wants also to become a consumer and pay invoices, he or she must receive at least one invoice issuer by another platform provider)
learn main details about the platform and its features in the support center
access the chatbot to get help or ask a question
Project challenges
The client's vision of the final product changed significantly amidst the development process. To this end, we had to rewrite documentation and re-create mockups, so it took extra time to get the client's approval for the new solution. Another challenge was to select vendors for integrations, as most of them did not meet all the criteria. At a certain stage, we handled the development without knowing exactly which third-party services should be integrated into the platform.
Third-party integrations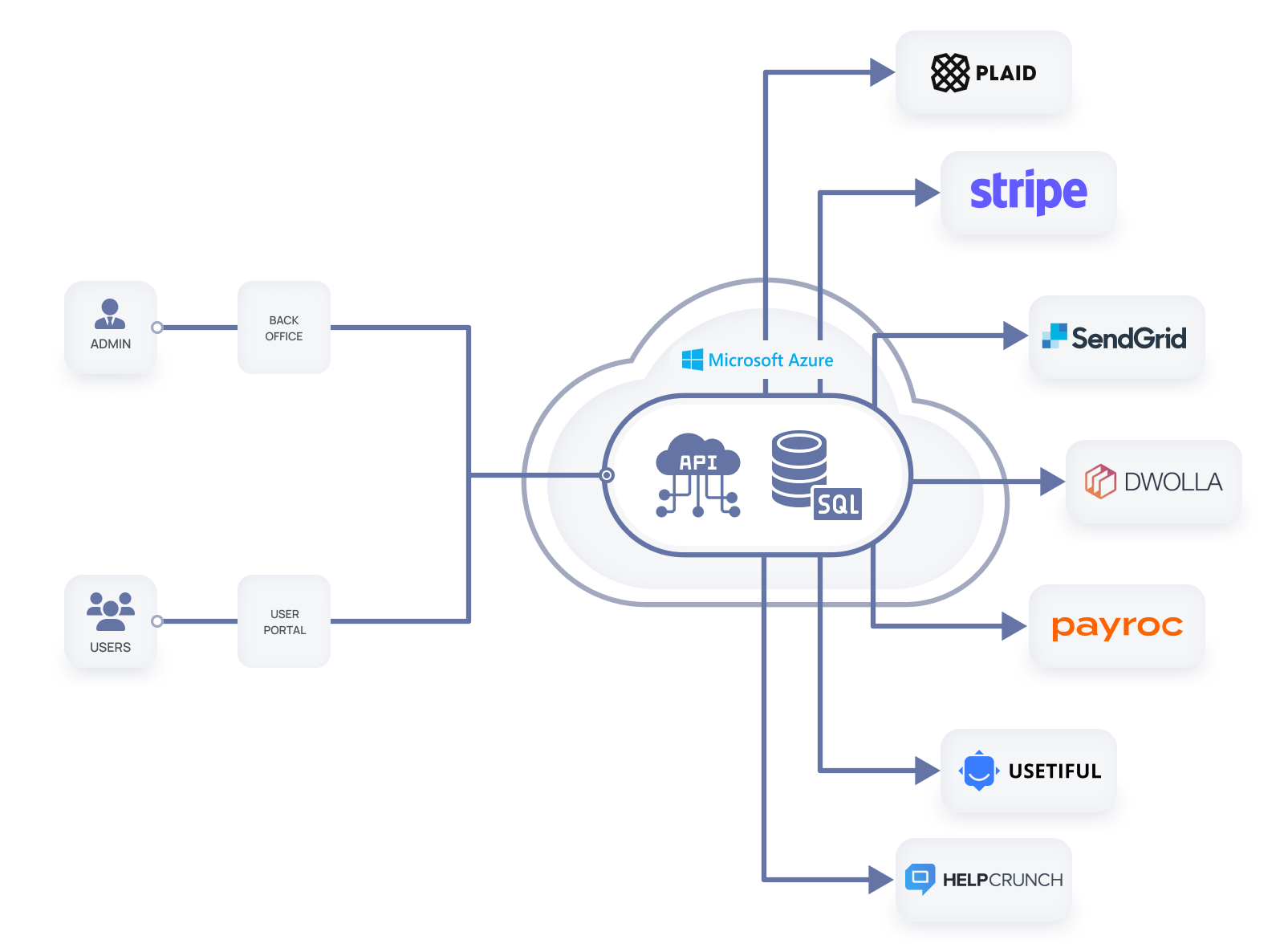 Dwolla

is a KYB provider that helps verify the user's business identity. Depending on the business type, there are several verification steps:

• business owner data/admin data • business data and address • controller data • beneficial owner data • certification data In addition, Dwolla acts as a payment service provider to manage ACH payments between companies and receive transaction information from bank accounts.
Payrock

is another payment provider that helps to manage card payments and get transaction information from bank accounts.

Plaid is a service that allows users to link their financial data, e.g. a bank account to which the provider receives money from the client for services rendered and a bank account/payment card from which the customer is debited.
Usetiful interactive product tours help users explore the platform. It creates smart tips in a simple way to get users on board.
HelpCrunch is a communication platform that has allowed us to provide users with the chatbot and articles about the platform.
SendGrid is a customer communication platform that enables the sending of transactional and marketing emails. In addition, users of the platform can send invitations to other potential users to join.
Development process
The project was implemented using the Scrum framework with three-week sprints and a demonstration of the implemented functionality as well as a feedback collection session after each sprint. We started with the discovery phase, which lasted about a month. After a few sprints of the development phase, the client changed the concept, so we held several brainstorming sessions with the client and the team to gain a better understanding of what the client expected from the project and to define the scope of the MVP. We then continued to work on detailing and documenting the requirements and added two more analysts to the project to complete the project on time as the scope of work increased. In the final phase of the project, a consultant from the client, who had experience in marketing and product ownership, was introduced to the project. He reviewed the layouts, provided comments on the UI/UX improvements, and helped ensure a better digital experience for the platform's users.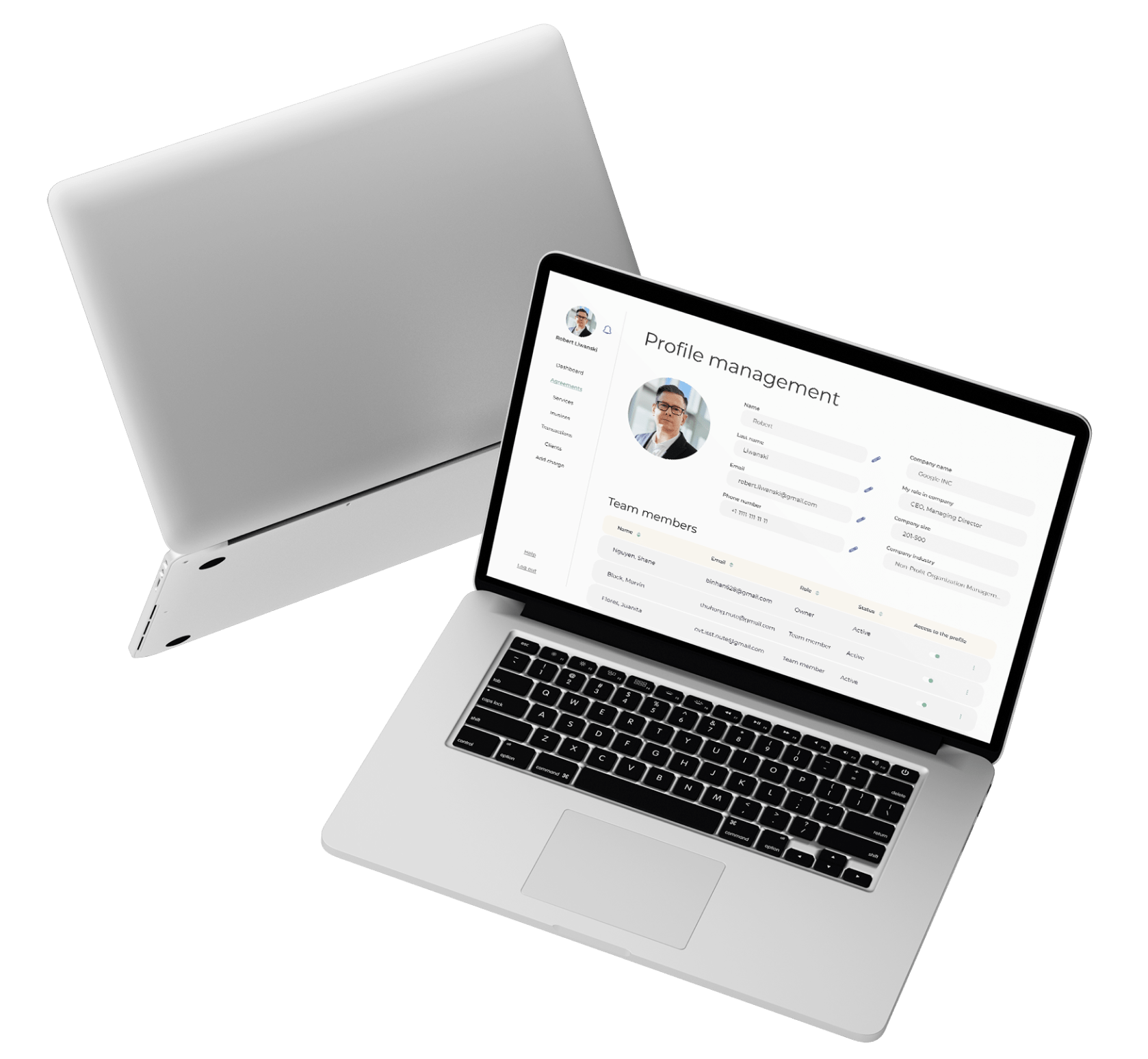 Results & future plans
7 months after the project started, Itexus' cross-functional team of experts delivered an MVP of the B2B invoicing and billing web platform according to our client's requirements, on time, and on budget. Now it's available for the first real users. Together with the client, we are collecting their feedback to improve the platform and make it even more helpful for the target users by implementing advanced features. Need help with the technical side of your business? Contact us to find out how we can help you.
Contact Form
Drop us a line and we'll get back to you shortly.
For Quick Inquiries
Offices
Poland
Żurawia 6/12/lok 766, 00-503 Warszawa, Poland