When we think of a specific digital service or function, a certain mobile app usually comes to mind. But what if there was a single solution that comprised a multitude of functions we need daily? In fact, such a solution exists.
Super apps have emerged as ecosystems that offer a plethora of services through a single mobile interface. Although they originated in Asia, they are now widely adopted in different countries and industries.
What exactly defines a super app? Should you consider developing one? What challenges can you expect during its creation, and how can you tackle them? Lastly, is it feasible to create such a sophisticated solution? Read on to get answers to all of these and other questions.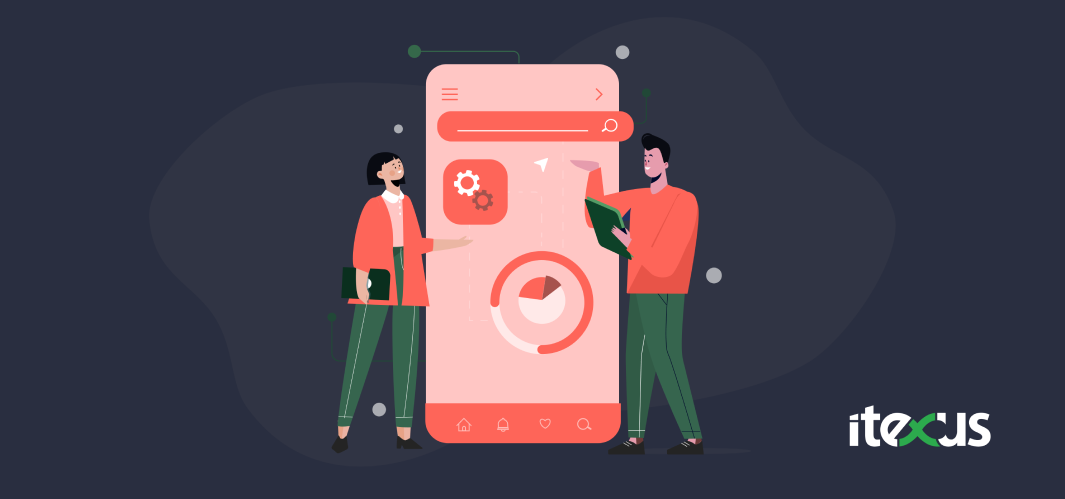 Understanding the concept of super app
The idea of a super app was identified back in 2010 by Mike Lazaridis, the founder of Blackberry.
A super application is a closed ecosystem of many apps that people would use every day because they offer a seamless, integrated, contextualized, and efficient experience.

– Mike Lazaridis
It's a well-articulated concept, isn't it? However, it fails to clarify what exactly makes an app a "super app". To help you understand the essence of this term, we've listed six key elements that are inherent to a superapp.
Social. Can you imagine life without social media? Hardly. These platforms have reshaped the way we communicate, and we are now accustomed to exchanging messages and sharing experiences anytime, anywhere. For an app to be super, it should include a social media feature that enables users to interact with each other.
E-commerce. With 19% of all purchases made online, e-commerce is a multi-billion dollar turnover sector. People tend to shop from the comfort of their couches, and super apps provide them with the opportunity to do so.
Delivery. There can be no e-commerce without delivery. Super apps not only enable users to purchase items online but also cover the entire delivery process.
Transportation & travel. Gone are the days when we needed to visit multiple websites to plan our itineraries and book tickets. With a superapp, users can book and pay for airplane, bus, and train tickets, as well as order a taxi, all in one place.
Banking and finance. Super apps typically include banking services such as bill payment, money transfer, balance checking, and even in-app loans.
Health services. The widespread use of telemedicine has led super apps to expand their services even further, to provide health-related services. These may include making appointments with doctors and paying medical bills, among others.
Does your business really need a super app?
In 2023, it is rare to find businesses unaware of digital transformation, and mobile app development is one of its key means. While many organizations need mobile apps, the question arises – do they need super apps? Are there any criteria to decide? Actually, there are. Your company needs to develop a super app if it:
offers diverse services or has a large user base that would benefit from a one-stop-shop for various services,
or has a complex infrastructure with hundreds and thousands of employees.
User-facing apps
If the first point applies to you, you need a customer-facing super app. Here are the major benefits it will bring you:
increased revenue due to diverse super app monetization opportunities,
higher user engagement and retention,
improved user acquisition due to tailored customer experience,
reduced costs on the infrastructure development and maintenance in the long-term.
Below are examples of user-facing super apps:
Since its launch in 2011, WeChat has evolved into a super app with multiple platforms and programs. It offers countless services, including video chat, payment, social interaction, coupons, membership cards, translation services, and more.
Grab is a Singaporean super app that aims to drive economic empowerment in Southeast Asia. It offers food and grocery delivery, express document and package delivery, transportation booking, and financial services, including payment options, insurance, and investment guidance.
Gojek started with GorDie (motorbike ride-sharing), GoSend (delivery), and GoMart (shopping) services. It has since evolved into the most successful super app for Southeast Asia, offering over twenty services on a single super app platform. The app has been downloaded over 170 million times and has over 2 million registered driver-partners and 500,000 GoFood merchants.
Employee-facing apps
In the second scenario, when your organization has a complex infrastructure and many employees, an in-house employee-facing super app is a good option. With this solution, your organization can enjoy the following benefits:
improved productivity and collaboration,
effective communication across departments and teams,
seamless knowledge sharing among employees, teams, and departments,
boosted employee engagement,
enhanced document management,
reduced time and cost spent on manual processes and inefficient communication,
and more.
Do these arguments seem compelling enough to initiate building a super app? If not, let's examine some facts and figures.
Super app development potential and market demand
The popularity of super apps in both developing countries such as Thailand, India, and South America, and in first-world countries such as the US, UK, Canada, and Australia, has led many entrepreneurs to consider building super apps to generate quick revenue. And indeed, it is a promising game.
The super app market is rapidly growing and shows promise for the future, transforming the way we interact with technology and access essential services. For example, the Russian sector of super apps is currently experiencing a booming trend. According to Statista, super apps brought over $50 billion to businesses in 2020. This figure is expected to skyrocket by 2025, as the development of on-demand super apps continues to surge.
According to some estimates, approximately 70% of consumers in Australia, the UK, the US, and Germany would choose a super app over mobile apps that have limited features. This indicates that the trend toward super apps is gaining momentum.
How to develop a super app: a step-by-step guide
At this point, you're probably wondering where to start the super app development journey. And we've got you covered! Below, you'll find a step-by-step plan that covers all the key stages in the super app development process. Please note that while we explore the process of building a user-facing super app, the steps involved in developing an enterprise solution will differ.
Product discovery
Discovery phase includes identifying your target audience, analyzing their needs, and evaluating your idea from the perspective of helping users accomplish their tasks more effectively. It involves researching competitors as well. Throughout this process, you will gain valuable insights and a clearer vision of your future product.
Great results are based on well-outlined plans. Therefore, the process of discovery also involves carefully outlining the following documents:
Vision and Scope document: defines the product vision, and identifies the necessary work scope, methods, and activities to achieve it.
Software Requirements Specification document (SRS): describes the project, feature set, and tech stack.
Software Architecture Document (SAD): provides a clear vision of the software structure.
UX/UI design and a clickable prototype of your future product: provides actionable insights into how the future solution will function and look.
Detailed work breakdown structure, workload and cost estimate, and a project plan: helps plan and manage time, costs, and human resources.
Risk assessment and mitigation plan: allow to identify potential risks and evaluate & minimize their impact.
You can attempt the discovery phase with your in-house team's efforts, but we recommend approaching a reliable super app development firm that will guide you through the entire process.
Development phase
This is where the actual development takes place. If enough attention was paid to the documents from the previous steps, the development team will most likely deliver the planned scope on time and within budget.
Quality assurance
Investing in thorough testing can help to avoid costly mistakes and delays, ensuring the app works trouble-free and provides a smooth user experience.
Deployment and maintenance
Once your app is live, the journey has just begun. Now, you need to keep it up and running, which requires proper issue resolution, regular updates, and rolling out new features.
Any questions? Drop us a line.
Super app development challenges
What's a success story without challenges, right? Creating a super app can be a daunting journey with various roadblocks.
Significant resource investment
As we already mentioned, super apps are more cost-efficient in the long-term compared to a few narrowly specialized apps. However, at the beginning, multifunctional apps require considerably more investment than simple apps. This is due to their complexity, which involves housing a vast array of mini-programs and micro-apps from various vendors and companies.
The flip side of the coin is that a super app can generate revenue that offsets its high development cost. With a diverse range of features and services, it can attract a large user base, resulting in increased revenue. As your app's popularity grows, more vendors and companies will be eager to offer their services within your platform, creating a virtuous cycle of revenue growth.
IT infrastructure requirements
For an app to be super, it's not enough to provide multiple offerings within a single platform. There is also a smooth user experience that significantly contributes to the superiority. To be fast, trouble-proof, and efficient, your app must be scalable and always keep up with the latest technology updates.
Security
The rise of multipurpose apps has raised concerns regarding their security. To offer various services and features, super apps integrate with external APIs and third-party services, which in some cases can make the entire system vulnerable to attacks. To address these concerns, industry-leading and time-tested security measures should be implemented.
Even with these measures, 100% safety cannot be guaranteed. There is still a risk of malfunctioning or attacks. Therefore, it is important to have a team of cybersecurity experts who can monitor the system, detect potential threats, and respond quickly to any security breaches.
UI/UX design
If your goal is to reach millions of users with your super app, then UI/UX should be among your top priorities. Paying appropriate attention to interface, navigation, design elements, and related aspects is crucial because a good application starts with good design. Your app might offer a handful of useful features and services, but poor design and ill-conceived navigation can become insurmountable obstacles to its success. Here comes the challenge: the wider the functionality, the trickier it is to enable a seamless user experience.
Cost of custom super app development
As previously mentioned, developing a super app can require significant investments due to factors such as app design, complexity, development time, and features. Other expenses include app maintenance and marketing. The overall cost of developing a super app varies depending on its features and platforms, as well as on the rate of super app development company you choose for the project implementation. A basic app can cost between $30k to $100k, while a more complex super app platform can start at $70k and reach up to $150k.
Summary
Super-apps provide a seamless and integrated user experience across a broad range of services and industries, revolutionizing how consumers interact with technology. It's no surprise that companies worldwide are investing heavily in various super-app models and white-label industry apps to meet the growing market demand.
If you're thinking about developing a super app, this investment can give your business a significant advantage. But keep in mind that it's a complex project that requires a clear vision, strong technical skills, and an experienced development team.At Itexus, we've been helping clients across the world and industries bring their most ambitious ideas to life. Our team of professionals includes business analysts, UI/UX designers, architectural engineers, developers, QA specialists, and project managers. All these people are ready to contribute their skills and knowledge and can join your project at any stage. Contact us to discuss collaboration.
By Itexus Team