As your business grows and you expand your operations, you may encounter payment-related challenges that could hinder the company's further development. That is where ACH payments come in, bringing multiple benefits along the way:
lower processing and transaction costs,
reduced risk of error and fraud,
faster payments,
more efficient payables management,
automated recordkeeping,
streamlined disbursement process and reconciliation, and more.
Introducing ACH payments can streamline your payment processes, reduce costs, and improve customer satisfaction, regardless of your company's size. If you need assistance with ACH payment integration, you can find a reliable tech partner in our comprehensive list of companies with hands-on experience connecting businesses to the ACH network. These companies will assist you with everything from selecting ACH payment companies to post-integration monitoring. Check them out and choose the one that best suits your needs.
1. Itexus
Itexus is a software development agency with a proven track record of delivering various types of systems for businesses of all sizes across industries. They have extensive experience integrating their clients' systems with third-party service providers, including best ACH processing companies like Stripe, Payoneer, and others. Itexus can assist with specific steps of the integration process or take over the entire project. In either case, you can be confident that you will get the most out of your technological investment. Additionally, Itexus offers consulting services. If you're unsure which ACH provider to choose, they will analyze your requirements and help you select the most suitable processor.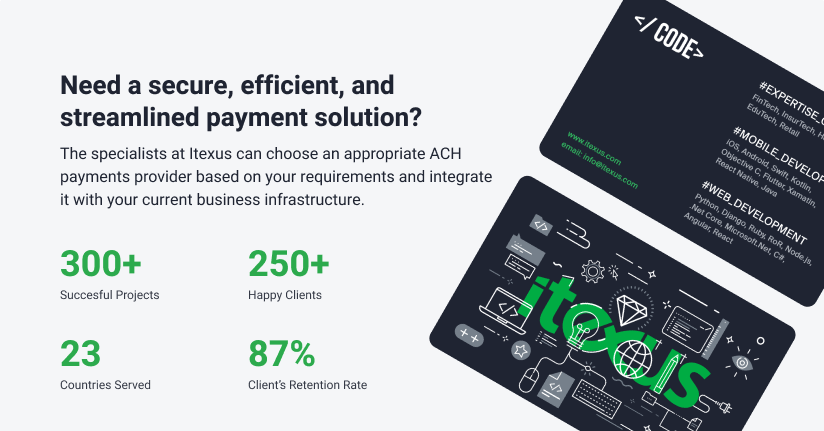 2. Spiria
In addition to design and development services, Spiria offers assistance with customer experience-related processes such as customer research, acquisition strategy, engagement planning, and mapping customer journeys. If you are in search of an ACH payment processor that will offer the best value to your customers, Spiria's team can assess their requirements and suggest a provider that will be a perfect fit for them.
3. JH Media Group
JHMG gives great attention to their clients' business processes and intricacies to offer the best solutions that will fulfill their needs in the most efficient manner. The company specializes in developing SaaS applications. If you have one and need to connect it to the ACH network, they will assist you in selecting a payment processor, integrating it, and maintaining it post-integration.
4. YND
YND is a digital product studio that provides end-to-end development and team extension services. You can choose to hand over the entire project to the YND team or hire an extra pair of hands to reinforce your in-house team working on integration. The company claims to be proficient in solving complex technical challenges, therefore, they may be an ideal partner if you have specific constraints or demands.
5. 6thSolution Technologies
As a consulting and development agency, 6thSolution Technologies knows how to make the most out of the integration of third-parties into existing systems. The company utilizes data and AI to drive businesses forward. If you want to gain actionable insights into your customers while streamlining their payment experiences, 6thSolution Technologies is ready to assist you.
Any questions? Drop us a line.
6. Mach One Digital Company
Mach One Digital Company is a comprehensive technology consulting firm that prides itself on helping clients to make technology an asset for their businesses by providing them with the tools they need to succeed in today's digital age. The firm can provide technology leadership and oversight for implementing ACH integration, helping you stand out from the competition.
7. Softwire
Softwire has years of experience in software consultancy and the development of custom solutions. They seamlessly integrate their clients' software with third-party providers by carefully analyzing and evaluating unique needs, identifying suitable ACH companies, and implementing robust solutions.
8. Engine Digital
With a diverse team of strategists, designers, and engineers driven by a need to create impactful change in the way businesses operate, this firm can not only build digital products but also help redefine the sales funnel. So, if you need marketing advice in addition to ACH payment integration, Engine Digital may be the right fit for you.
9. Qualex Consulting Services
Qualex Consulting Services is a consulting firm that provides staff augmentation and IT implementation services. They have helped hundreds of businesses across various industries succeed in today's globalized world. With a wealth of knowledge in ACH integration, the team will do their best to ensure that you get exactly what you need to succeed.
10. AIMDek Technologies
AIMDek offers top-tier IT solutions to businesses worldwide. The firm specializes in innovative, high-quality strategies to tackle complex challenges and digitize businesses and offers end-to-end digitization services to startups, mid-size, and large-scale businesses, including assistance with connecting existing systems to ACH payment processing companies.
Summary
While the main objective of an ACH API is to link a business to the ACH network, processing companies provide additional features, such as various payment options, tokenization, establishment of recurring payments, and more. Similarly, different ACH companies have varying offerings with regards to integration requirements, pricing, post-integration support, and more. As a result, it is easy to become overwhelmed when attempting to sort out all of the details.
Whether you need assistance selecting a suitable payment processing provider or integrating an ACH API with your software, we've got you covered. At Itexus, we have been helping companies across industries set up efficient, secure, and convenient payment methods to enhance the purchase experience for customers and reduce operating costs for businesses. Contact us to discuss your needs and discover how we can help.
By Itexus Team