Android has established itself as the world's leading mobile operating system, controlling the mobile OS market with a 72.74% share (as of August 2021). For app developers, opting for Android means the following:
• Easier access to the market. Publishing your app on Google Play usually takes a day, whereas on App Store this can take up to a few weeks due to Apple's lengthy approval process.
• A larger customer base. Android OS runs on more devices than its competitors, and these devices are usually more affordable than iOS hardware. So with an Android app, you can reach the majority of mobile device users and expose your app to a larger audience.
• Profitability. Compare: for a subscription to Google Play Store you pay $25 once, for a subscription to Apple's App Store you have to pay $99 annually. The average CPM (Cost Per Thousand) across all Android devices is $2, while for iOS devices it's $5. Lower advertising and publishing costs make Android the operating system of choice for app developers.
The ultimate customization options, seamless Google integration, and greater inclusivity give Android a distinct advantage over iOS and make Android app development a more profitable option.
To take full advantage of Android, you should hire the right mobile app developer, but this can be a tough assignment. To help you overcome this challenge, we have compiled a list of top Android development companies where you can either hire developers or outsource the building, design, testing, and launch of your app.
Itexus has been delivering engaging Android apps for over 8 years. With its world-class Android app developers and UI/UX designers, Itexus leverages the latest frameworks and tools to deliver successful app strategies, stunning designs, and innovative mobile solutions at cost-effective prices. The company offers experts as an extension to your in-house team or can handle the development of an Android app from concept to post-production.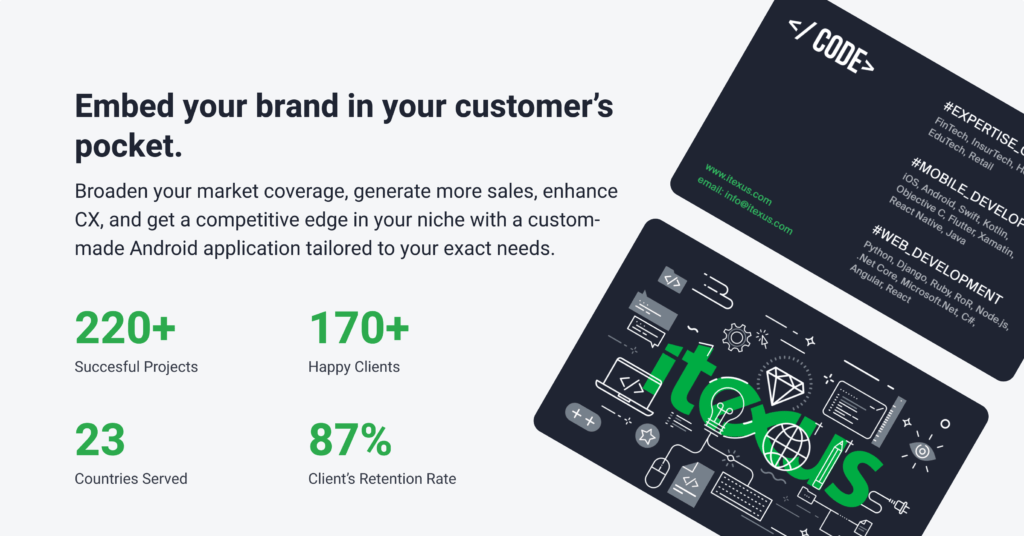 2. Alphonic Network Solutions
Alphonic is a top Android app development company with years of experience in mobile development. The company has established itself as a trusted digital partner offering feature-rich Android solutions for smartphones, wearables, and Android TV for various industries.
3. Blue Label Labs
Being an app development and digital product agency, Blue Label Labs transforms businesses through strategy, design, and app development. The company develops compelling, revenue-generating products for smartphones, tablets, wearables, and IoT devices. Blue Label Labs also develops Android products that integrate with various external hardware accessories, such as bill acceptors, card dispensers, NFC scanners, and POS systems.
4. NetSet Software Solutions
NetSet specializes in the end-to-end delivery of customized mobile applications, tailoring every aspect of its work to the unique business needs of its clients. The company delivers scalable, responsive, and secure mobility solutions for enterprises, healthcare applications, wearable device applications, and more.
5. Arka Softwares
Arka Softwares is a mobile solutions provider that delivers creative, scalable, and secure mobile apps with impressive UI/UX for any business idea. The company offers various engagement and hiring models to provide its clients with powerful mobile strategies and applications, ensuring that all advanced features come in a user-friendly package.
6. Gecko Dynamics
Gecko Dynamics is a software development company that specializes in mobile applications for startups and enterprises. The company develops intelligent mobile applications of different types and sizes – from small MVPs to mobile layers built on top of complex systems.
7. SovTech
SovTech is a provider of custom software development services that designs, builds, deploys, and maintains Android mobile applications for startups and enterprises. The company offers three delivery models to suit your needs and budget: Fixed Price and Time, Dedicated Developer Teams, Software Maintenance, and Support.
8. Brossard App Design
Brossard App Design is a mobile application development company that takes a customer-centric approach and is agile, effective, and results-driven. Brossard App Design accompanies their client from concept to product delivery, ensuring a transparent development process and industry-focused knowledge.
9. Stfalcon
Stfalcon provides on-demand app development services and focuses on mobile solutions for logistics, travel, healthcare, and e-commerce mobile solutions. Their mobile teams develop cross-platform and native Android apps for small and medium businesses and enterprises.
10. Idealogic
Idealogic is a software development company with extensive experience in product design, custom app development, quality assurance, and post-release support. The company develops mobile solutions for the fintech, logistics, and retail industries.
Any questions? Drop us a line.
How to Choose a Company to Hire Android Developers?
Hiring a remote team, you should pick not just a service provider but a team you'd be on the same page with to ensure the success of the project. We have elaborated on some qualities that you should look for while choosing a dedicated Android development team:
• Team players. Every person in the dedicated team should be a team player and consider every project as a team project. Get involved in the hiring process and interviews to make sure you hire the right people.
• Skillset. All team members should have all the technical skills necessary to complete your project. And you should be clear about each person's role and clarify specific project needs, challenges, technical requirements, etc. so that neither side has unmet expectations.
• Communication. Communication can be the biggest challenge when working with remote teams. Make sure the people you hire are easy to reach and establish clear communication channels to avoid misunderstandings, unspoken assumptions, and missed messages.
Get Free Consultation
Get in touch and we will put together a tailor-made, cross-functional team of experts that will take full advantage of Android's capabilities to build an app your customers will love. We can also provide you with a full project estimate with the hours and budget required to develop, test, and launch your Android app. For this, fill in the contact form and briefly describe your idea.
By Itexus Team