The increasing prevalence of smartphones and the growing availability of high-speed mobile networks are boosting the popularity of mobile payment solutions. Compared to cash transactions, payment apps offer numerous advantages – it is more convenient, secure, and faster way to pay. No wonder the demand for such solutions is increasing. According to a report by Fortune Business Insights, the global mobile payments market was $1.54 trillion in 2020 and is expected to grow to $11.83 trillion by 2028, at a CAGR of 29.1% from 2021 to 2028, so if you have been thinking about filling a gap in the market with a new mobile payment solution, it makes sense.
If you only have a rough idea and do not have experienced app developers and UI/UX designers behind you, outsourcing the development is the best option. However, there are many companies in the market that offer mobile payment app development services. So how do you choose the right one? To help you cherry-pick the perfect contractor, we have reviewed multiple firms and selected the top 10 payment app development companies based on their reputation, relevant experience, affordability of their services, and more. Take a look at our list of development companies.
Itexus is a full-cycle mobile payment app development agency known for its deep fintech expertise, flexible and transparent customer-centric approach, and robust development processes. With a multidisciplinary team of experts on board that has successfully completed over 220 projects for clients around the world, Itexus helps both established companies and startups build successful tech products. Whether you need a native iOS or Android app or a cross-platform payment solution, Itexus can transform your idea into a robust and user-friendly app, provide end-users with a superior digital experience, and ensure data privacy and compliance with industry-specific standards.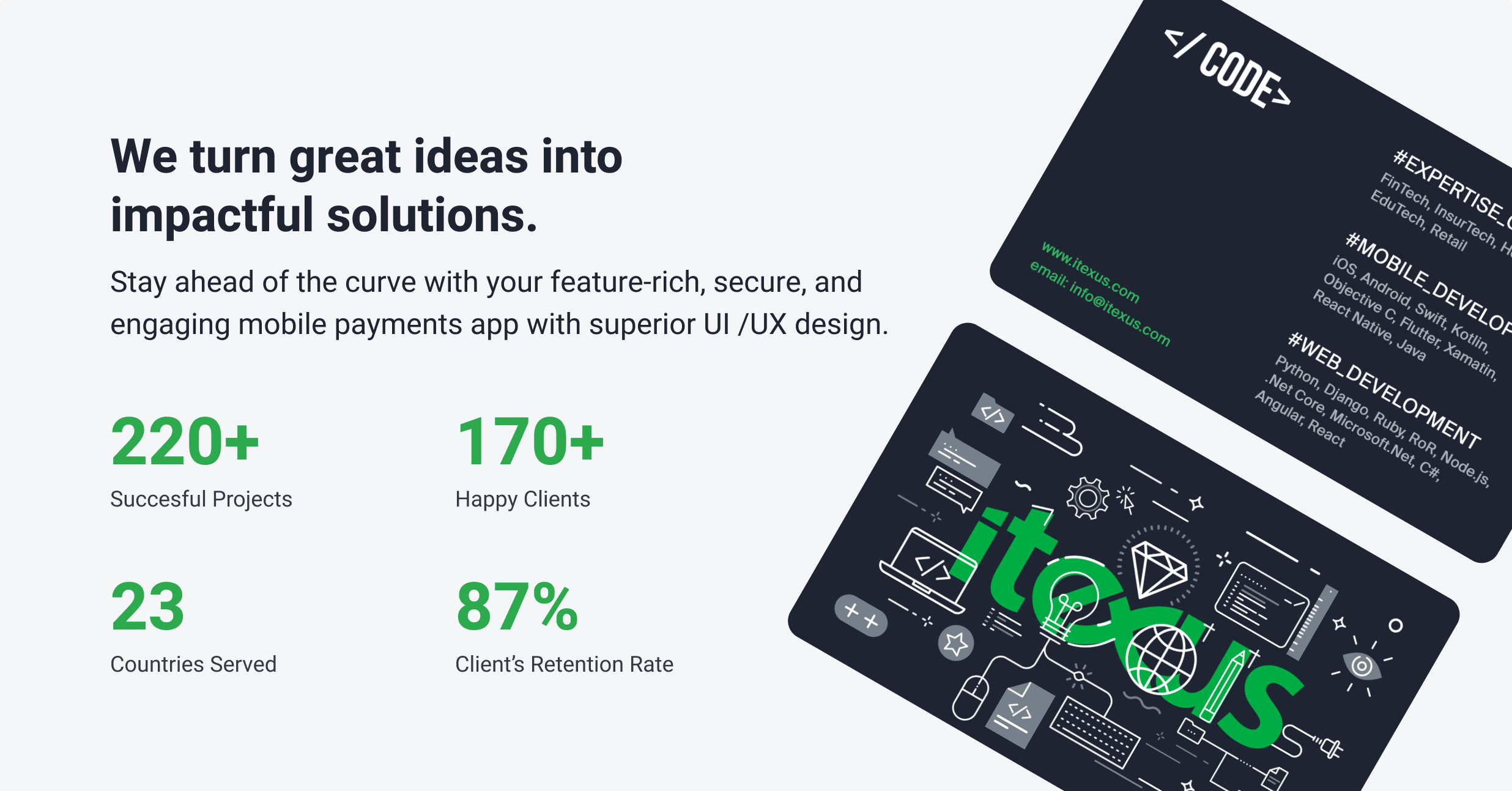 2. Cheesecake Labs
Cheesecake Labs is a software design and engineering company that delivers user-friendly and engaging solutions. The firm offers P2P payment app development, along with product strategy, UI/ UX design, quality assurance, and testing, and much more. Cheesecake Labs' team leverages the latest technologies to create incredible mobile experiences with native iOS and Android apps and cross-platform solutions.
3. Red Foundry
Red Foundry is a mobile app design and development consulting company. With seasoned experts on board who have years of experience in developing successful mobile apps, the company helps entrepreneurs, early-stage startups, and established companies to transform digitally and go mobile. The company specializes in creating beautiful and intuitive native mobile apps for iOS and Android.
4. The Distance App Developers
The Distance App Developers specializes in native app development for iOS and Android tablets and phones and has an extensive portfolio of brands it has worked with. This peer-to-peer payment app development company also offers cross-platform app development using Facebook's React Native platform or their app-optimized backend system called The Core. The Distance App Developers provides reasonable peer-to-peer payment app development costs and guides their clients through the entire process – from initial idea to launch.
5. Appstudio
Appstudio is an app development company specializing in building secure, feature-rich, and scalable mobile and web apps for businesses and financial institutions of all sizes. The company's top priority is to develop engaging products that provide users with memorable digital experiences. AppStudio also pays special attention to the security of its apps, ensuring that they have a strong fraud prevention mechanism to keep users' data and transactions safe.
6. Apadmi
Apadmi is a leading development agency with a proven track record in system integration and complex mobile application delivery. The company is committed to developing digital products that provide an enriching experience to end-users. Apadmi's team stands out for its communicative and transparent approach across the entire app creation cycle – strategy, design, development, testing, launch, and optimization.
7. Waracle
Waracle specializes in custom payment app development (including payment P2P app development) and has solid expertise in product design, user experience, product management, DevOps, cybersecurity, and more. Waracle has a reputation as an innovative solution provider that delivers high-quality apps that meet all requirements and deadlines. Whether you need a native app for iOS or Android, a hybrid app, or a progressive web application, Waracle's highly skilled team will meet your requirements, budget, and deadline.
8. Infinum
Infinum is committed to helping brands succeed through digital transformation. Their responsive team with impressive technical expertise designs, develops, and scales robust, consumer-focused mobile apps that deliver value to end-users and empower them to achieve their goals. In addition to strong digital products, the agency is known for its holistic approach, flexibility, and willingness to make requested changes needed to ensure seamless collaboration and ideal partnership with the clients.
9. Five Pack
Five Pack is a mobile app development agency known for its friendly, talented, and creative experts. This P2P payment app development company tailors its mobile app development strategies to the needs of its clients to create thoughtful and creative digital products for smartphones, tablets, and wearables. Five Pack's team excels at meeting deadlines, delivering quality code, and quickly adapting to changes.
10. itCraft
With more than a hundred experts on board and a decade of experience in designing and developing custom apps, itCraft develops high-quality, cross-platform digital solutions that make users' lives easier. The company provides mobile development, UI/UX design, project management, QA, and other services. Using an agile framework, itCraft's development team focuses on the priorities that will deliver the highest business value at every stage of the process.
Any questions? Drop us a line.
What Makes a Good Payment App: 3 Points to Consider
There is something that makes a good app a great one and still does not affect payment app development costs too much. We have identified 3 key points you need to consider to provide your users with stellar digital experiences.
✔️ Intuitive UI and fast self-registration
Mobile payment solutions have emerged to make people's lives easier and payments faster. The user's journey with a new payment app consists of several steps: downloading the app, registering (sometimes this step requires users to go through the KYC process), setting up password and login, linking cards, and so on. Finally, users need to master the app's functionality to use it smoothly and quickly. So, it's in your best interest to make the registration and onboarding process smooth and ensure that using the app is as easy as possible. This is a task for experienced UI/UX designers.
✔️ Proper security measures
When it comes to mobile payment app development, you are dealing with sensitive data (card numbers, account information, passwords, etc.), so it is crucial to ensure the app's security. There are multiple options for fintech apps to protect user data and money, such as tokenization, 2-factor authentication, fraud scoring methods to identify and block suspicious transactions, implementing perimeter defense, using a VPN layer, and more. Experienced engineers will offer the most suitable options, depending on the specifics of your solution.
✔️ Reward program
Rewards programs and discounts are something that turns one-time users into loyal users. And loyalty is important if you expect users to trust your app with their money and sensitive data. Offering rewards and discounts for using your solution can be a powerful tool to acquire and retain customers, increase brand awareness, and improve the customer experience. There are many ways to reward users. Choose the most suitable option – you can offer cashback, reward new users after registration, introduce an affiliate program, allow users to pay with accumulated reward points, and so on.
To Sum Up
When it comes to bringing a new product to market, partnering with the right development company is half the battle. An accomplished, knowledgeable team that understands the ins and outs of the fintech market will guide you every step of the way, take care of any potential issues, and ensure that the project is implemented in the most time- and cost-effective manner.
The criteria for choosing a software development company are pretty clear, but the real magic starts when you are on the same page with your development team. So, do not hesitate to explore different companies to find your perfect app development partner.
At Itexus, we have mastered the art of exceeding our clients' expectations. Share your idea with us, and we will bring our expertise and skills to the table to turn it into an engaging, intuitive, and robust solution that your users will love.