Plaid is a top data network and payments platform that simplifies payment processing and helps to onboard and convert more customers. By integrating Plaid with your software, you can offer secure and seamless payment options and enhance customer experience by offering more tailored and personalized services. Plaid's user-friendly API makes it an excellent option for developing fintech solutions across various industries such as personal finances, banking, e-commerce, lending, investment & wealth management, and more.
The provider offers several fintech products into its ecosystem that are worth considering for integration to save time and money, for example:
transactions: shows real-time updates and categorizes expenses.
authorization: provides a smooth and instant connection to bank accounts.
balance: shows real-time account balances.
identity: verifies the account holder's identity using bank data.
investments: understands holdings, balances, and transactions that can affect investments.
assets: provides a holistic view of the account holder's financial situation for lending institutions to decide on loan size.
liabilities: shows real-time loan data and analyzes payment terms and balances, and others.
For those who want to leverage Plaid's capabilities and are looking for a reliable tech partner to enable the integration, we've compiled a list of top Plaid API integration companies. With hands-on experience in integrating various third-party services into all kinds of software solutions, these companies will do their best to ensure that you get the most out of your investment in technology. Go check them out!
Itexus is a custom software development agency that offers a full cycle of services, from ideation and product discovery to design, development, testing, and post-production maintenance. The company's specialists have hands-on experience in integrating clients' systems with various third-party services, including payment gateways, KYC/KYB/AML providers, data aggregators and providers, brokers, and others. Plaid is no exception – Itexus' specialists are well-versed in its capabilities and features and can seamlessly integrate it into your software. The company also offers consulting services. If you're not sure which service provider to choose, Itexus' specialists will analyze your needs and goals and offer the most suitable options available on the market.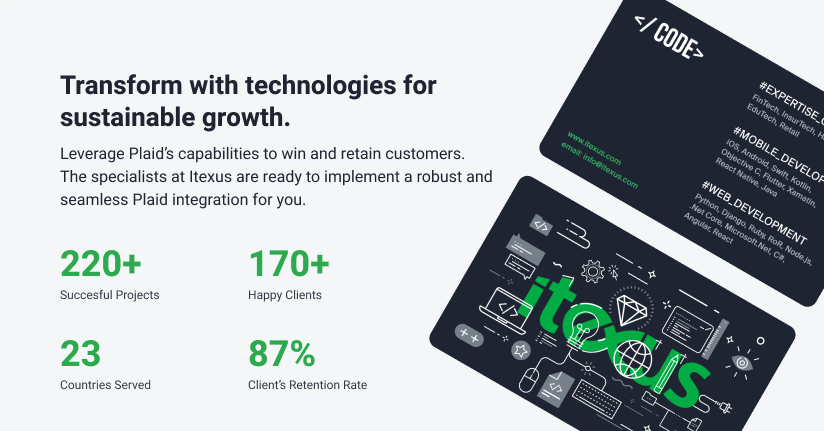 2. ThoughtWorks
ThoughtWorks Software Technologies is a prominent technology consultancy with cross-functional teams of strategists, developers, data engineers, and designers. The company's objective is to assist clients in creating their own path to digital fluency and in building organizational resilience to navigate the future. The team has significant experience integrating financial APIs with clients' software solutions and can assist with Plaid API integrations, among other things.
3. Cognizant
Cognizant is a top-tier professional services firm that helps clients modernize their business, operations, and technology models for the digital age. They take a consultative approach tailored to each client's industry, enabling them to innovate and optimize their businesses. Cognizant's team of specialists is experienced in seamlessly integrating third-party services and is available to support your Plaid integration needs.
4. RapidValue Solutions
RapidValue provides comprehensive mobility, omnichannel, IoT, and cloud solutions to enterprises worldwide. The company has a large team of experts in consulting, UX design, application development, and testing, with extensive experience delivering global projects. RapidValue offers a range of services across various industry verticals, including assistance with Plaid banking API integration.
5. Svitla Systems
Svitla Systems is a trusted global IT solutions company that focuses on digital transformation and innovative technologies. The company is dedicated to providing exceptional customer experiences and has developed a tailored engagement model to ensure that each client gets the most out of their technology investments. Among other services, Svitla offers third-party integration, so whether you're just considering the opportunity or need extra help in the middle of a project, they've got you covered.
Any questions? Drop us a line.
6. Chetu
Chetu is a software development and Plaid API integration company that offers industry-specific solutions to businesses worldwide. With a combination of technological expertise, domain experience, and a commitment to delivering enterprise-grade solutions, Chetu acts as a seamless backend technology partner, helping businesses leverage technology capabilities. In addition to custom software development, Chetu provides integration services and can implement Plaid integration for you.
7. Devbridge
The Devbridge team defines itself as a software development agency that fights mediocrity by building extraordinary custom software that delivers measurable results for their clients. Devbridge provides a wide range of digital transformation services, including custom Plaid API integration.
8. Simform
As a digital product engineering company and experienced Plaid API integration partner, Simform is dedicated to solving complex software engineering problems and helping businesses elevate their value through development services. The company's specialists can help you determine the appropriate architecture and processes to follow, and they oversee the successful delivery of your software projects. Simform partners with the best technology providers to bring their clients the power of cutting-edge technologies and can assist you in realizing Plaid bank integration.
9. Innopl
Innoppl, Inc. is a company specializing in mobile app, open source, and eCommerce development. Innoppl aims to accelerate its clients' growth by providing best-in-class services through strategic mobile and web applications. The company places a strong emphasis on hiring talented, confident, and energetic individuals who are the best in the industry. They provide their employees with all the tools necessary for an outstanding career. As a Plaid integration partner, they guarantee that everything will be executed in a high-quality manner.
10. Intertech
Intertech takes pride in its ability to deliver high-quality software solutions that are tailored to meet the unique needs of clients across various industries. The company creates systems that support operational processes in many business areas and is dedicated to building high-quality and resilient software. Intertech specialists are well-versed in various third-party tools and can integrate Plaid API into your software.
Summary
By partnering with Plaid integration companies, businesses can innovate faster, save time and money, and generate more revenue. With the right partner in place, you can leverage the full power of Plaid's API to drive growth, improve efficiency, and enhance the customer experience. The challenge here is to find one. Fortunately, there are experienced and trustworthy companies available who can help you navigate these waters with confidence and ease.
At Itexus, we have been helping businesses across various industries leverage the capabilities of various third-party services. Our specialists are ready to contribute their knowledge and skills to your project and implement a robust and seamless Plaid integration for you. Contact us to discuss the details.
By Itexus Team