Being the most popular operating system globally, Android is a top platform to choose from if you plan to develop a mobile app of any kind. Creating a fintech solution isn't an exception since this industry is on the special rise as well. However, to make your fintech app accessible to the 3 billion Android users worldwide, you have to build it in the greatest way possible, meeting the customers' expectations and following the best fintech development practices. The best fintech app developers can help your project skyrocket, and below are the trusted and proven companies to hire them across the world.
Itexus is a fintech software development agency that offers flexible engagement models so you can either assemble a professional dedicated development team or hire fintech Android developers to reinforce your in-house team. Mobile app development for fintech is one of their flagman services. The company is known for deep and extensive fintech development expertise, delivering high-quality solutions, a strong work ethic, and established communication processes. Itexus developers are highly skilled in creating software solutions for online trading, digital lending, insurtech, banking, personal finance management, and other domains.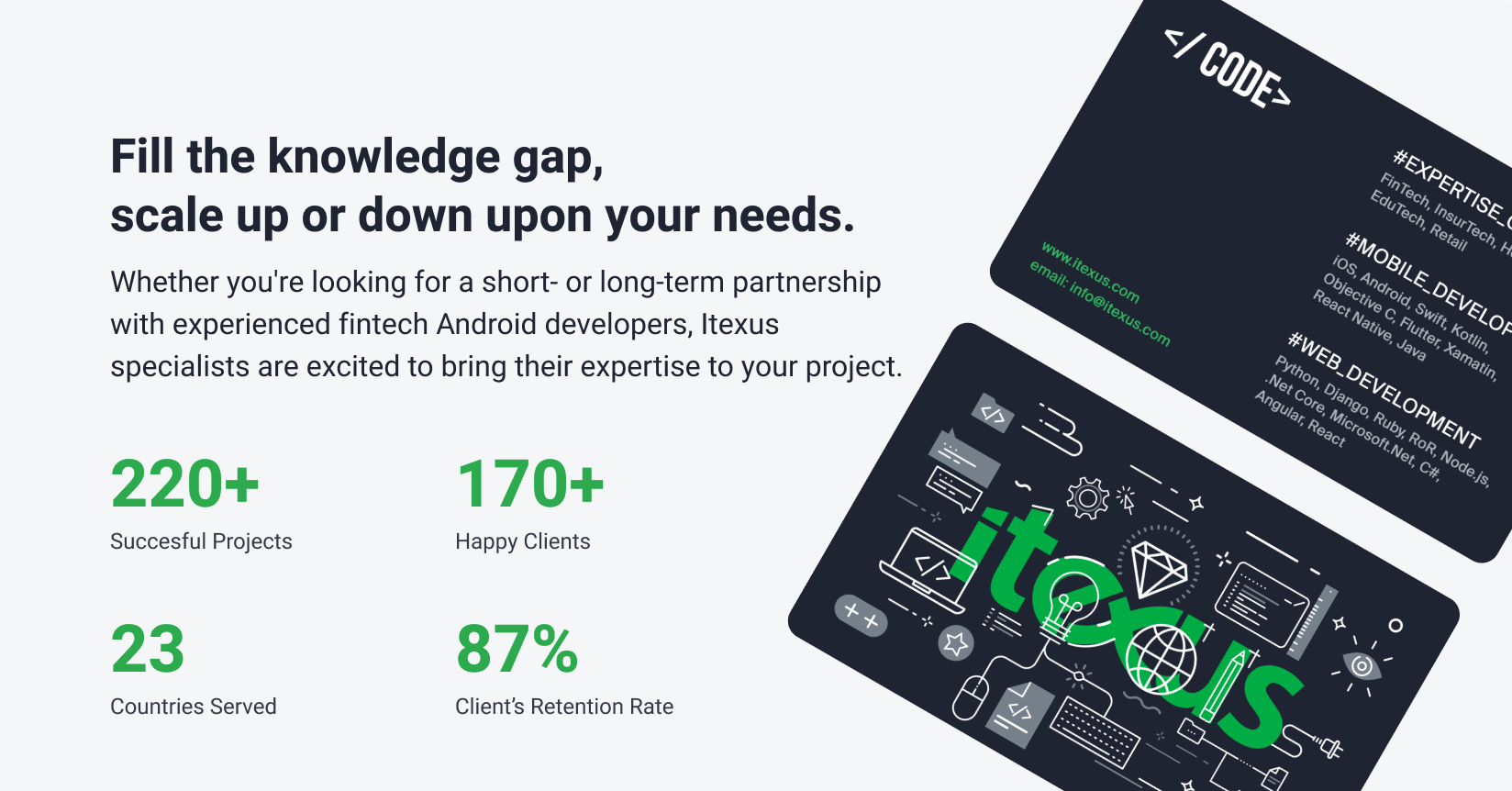 2. Possumus
The company provides software development outsourcing services and has especially outstanding expertise in DevOps. They build cross-functional dedicated teams to work on your project, so you can be sure that your software will be completed on time and with the highest quality. Their team also features fintech Android developers. Possumus focuses on transparent communication, striving to make sure that everyone is on the same page about every detail of the project, so it can be delivered exactly as expected.
3. Waracle
Waracle is a UK-based company that strives to ensure that its clients are getting the most out of their investment in digital technology by providing them with cutting-edge solutions that improve efficiency, reduce costs, and increase revenue. The company specializes in mobile app development and offers experienced Android fintech developers to close the skills gap in your project. Their core expertise is finance, healthcare, and cleantech, and they've spent years developing innovative solutions for these industries. Additionally, they offer mobile design and optimization services. This means that if you're looking to revamp your existing app, they can help you do it.
4. MAS Global Consulting
MAS Global Consulting leverages its tech expertise to help businesses start their digital transformation, guiding them along the way. The company is highly proficient in DevOps and CloudOps, Big Data solutions development and fintech programming, security, and compliance. If you are looking for top-notch Android developers for a fintech project or you feel like your business is ready for full-scale digital transformation, this company can become the right choice.
5. Powercode
Powercode is a full-cycle software development agency that offers a wide range of services, from mobile and web development to design and business analysis, legacy code modernization, quality assurance, and e-commerce consulting. The business niches the company has development experience in include but aren't limited to financial technologies, e-commerce, foodtech, healthcare, edtech, and enterprise development. Powercode's customers appreciate the high proficiency and creativity of its software developers, effective and manageable workflows, as well as transparent and quick communication. If you're looking for Android developers for fintech project to create a custom application tailored to your business needs, Powercode has the team to do it.
Any questions? Drop us a line.
6. CXR Agency
The company offers to hire fintech Android developers skilled in mobile development for Android. The programming expertise the agency has is diverse, so this company can become a great option to partner with and build innovative fintech solutions. In addition to leveraging the best programming and security practices in mobile fintech development, the company's teams (that you can hire according to the outstaffing business model) are highly proficient in blockchain and Artificial Intelligence. Their portfolio features outstanding web and mobile apps for mobile banking, cashless payments, financial management, and investment.
7. Ingenia
If you're looking for a fintech developer in Latin America, Ingenia is the place to go. The agency has created more than 1500 websites and 500 mobile apps for some of the world's biggest companies. Ingenia is a full-cycle software development and digital marketing agency—a good choice for US companies that don't want to work out of time zones and struggle to find fintech developers in the LATAM region. The company specializes in Android fintech app development, including payments processing and financial planning tools.
8. One Beyond
OneBeyond is a UK-based software development agency providing development and tech team augmentation services. The company's expertise includes but isn't limited to creating applications for fintech. They also provide rapid development services for quick and low-cost idea validation and are proficient in cloud migration, DevOps, and application security testing. OneBeyond prides itself on being able to deliver high-quality results quickly, with an emphasis on communication between the client and the development team to guarantee a pitfall-free collaboration experience.
9. Whiz
The companies looking to outsource their fintech development process offshore are welcome to consider Whiz – a tech company based in Latin America. Whiz offers to hire the best fintech app developers available on the local job market. The company has extensive expertise and hands-on experience in mobile and web development, including fintech, healthcare, and retail. Partnership with Whiz promises a competitive cost to hire fintech developers, designers, and testers. In addition to the development services, the company would be glad to help you create a digital marketing strategy and support it with engaging content distributed across the channels.
10. Accure Technologies
Accure Technologies is based in Canada but provides software development outsourcing services to small-to-large businesses across the globe. In addition to fintech Android developers for hire, the company can help with building DevOps teams and source data engineers for complex projects. Creating mobile solutions for Android and other mobile platforms is one of their core domains. Accure Technologies are proud of growing more than 40 startups and completing more than 200 projects successfully. There are 80 cross-functional tech specialists under their roof.
Summary
The list of companies offering to hire fintech Android developers can go on, and that's why finding a reliable tech partner is challenging. With so many options out there, what company is the best fit for your business? We kindly recommend choosing a tech vendor which has both fintech and mobile app development experience at once, and we, at Itexus, are compliant with this requirement.
Our development team is exceptionally proficient with creating mobile and web applications for the fintech industry, following the best development practices, ensuring legal compliance, and leveraging the latest innovations to make your app stand out. Drop us a line now to meet our qualified fintech developers and get a free consultation!
By Itexus Team