iOS, the mobile operating system developed by Apple, has become a popular platform for fintech applications. According to a report by Sensor Tower, iOS users spent over $43.7 billion on in-app purchases and subscriptions during the first half of 2022, with finance apps among the top-grossing categories.
Furthermore, a study by Statista found that as of the 3rd quarter of 2022, Apple's App Store had over 1.64 million available apps, with finance apps being the third most popular category. It indicates a growing trend of consumers turning to mobile devices for their financial needs, and fintech companies are taking notice.
Finding top fintech iOS developers can be daunting for companies looking to create or improve their mobile financial applications. With so many iOS developers and development firms to choose from, it can take time to figure out where to start. We will provide a comprehensive list of the top ten fintech iOS developers with confirmed expertise to hire this year!
Itexus is a custom software development company that creates cutting-edge fintech mobile apps. The company covers the entire development lifecycle – from ideation, prototyping, and design to engineering, testing, and post-launch support. They can either develop your app from scratch, or you can hire their fintech iOS programmers that will serve as an extension for your in-house team if you are challenged with the skills gap. With over 300 successful projects under their belt, including apps for renowned brands like McDonald's and enterprise-wide software for Fortune 500 companies, Itexus is a trusted partner for any organization looking to bring its fintech vision to life.
With a team of skilled iOS fintech developers, UX/UI designers, business analysts, testing professionals, and other specialists on board, Itexus ensures flexible and robust development processes, high-quality software, timely support, and long-term partnership. The company also offers fintech consulting services helping businesses find the best technology solutions to their challenges.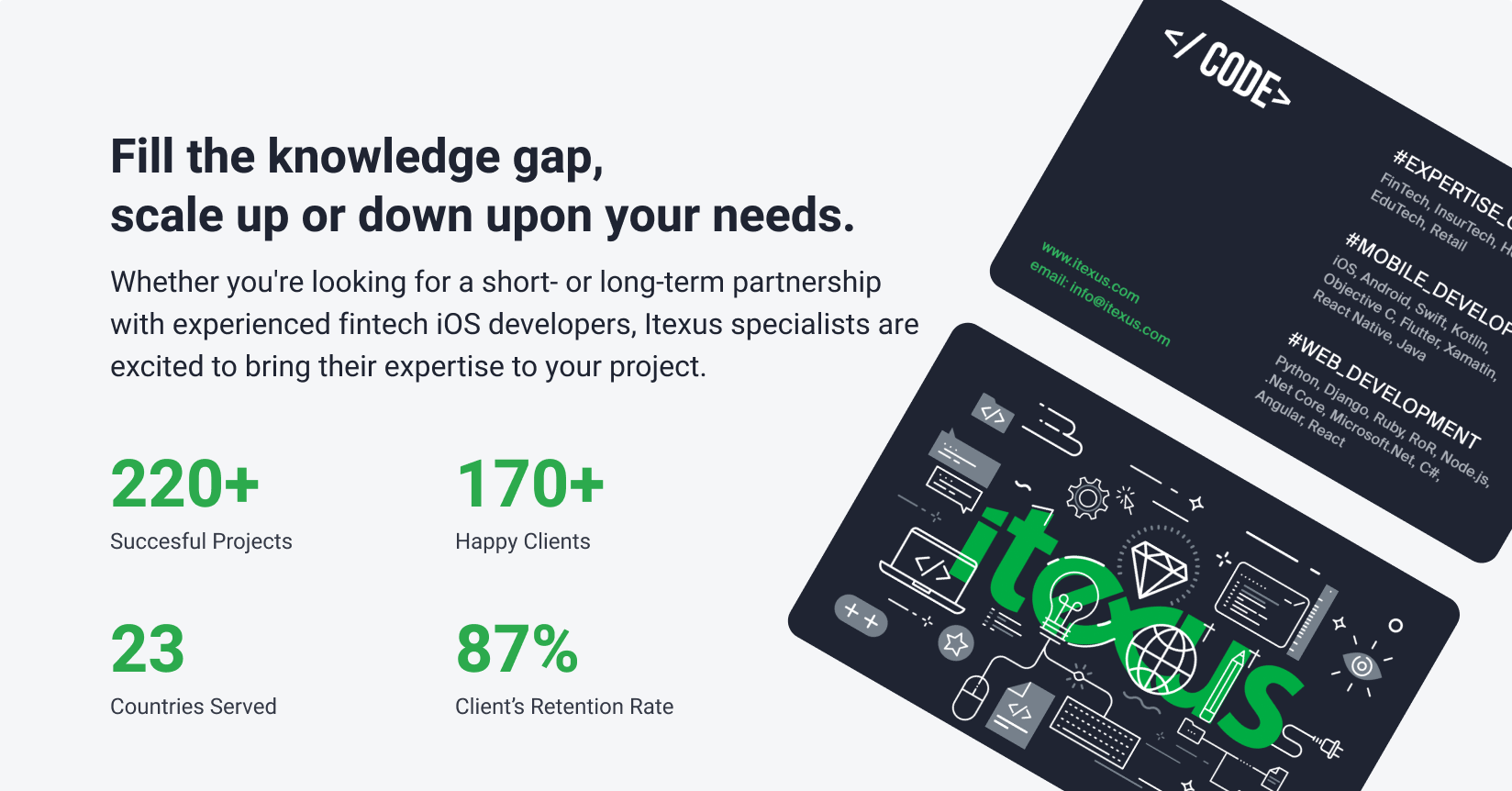 2. SPD Group
SPD Group offers comprehensive and customized iOS app development services for businesses. Their experience encounters various industries, including finance, healthcare, and e-commerce. They utilize the newest technologies and agile methodologies to ensure efficient and effective development, delivering superior iOS fintech apps to clients. With the distributed team, SPD Group is a top choice if you want to hire remote fintech iOS developers.
3. Newwave
The Newave team is committed to delivering high-quality solutions that are efficient, scalable, and secure, leveraging the latest technologies and industry best practices. Overall, NewWave offers reliable fintech iOS programmers for hire for businesses seeking to transform their operations through innovative and customized fintech software solutions.
4. Foonkie Monkey
Foonkie Monkey strongly emphasizes security in handling sensitive information frequently processed by fintech apps. They possess multiple innovation, creativity, and technology awards for delivering exceptional software. The company is a good choice if you want to hire fintech iOS programmers – they offer flexible engagement models.
5. STRV
STRV excels in launching digital products for businesses across diverse industries. Their exceptional services encompass mobile app development, web development, product design, and augmented reality development. Equipped with a team of seasoned fintech iOS developers, designers, and product managers, they closely collaborate with clients to comprehend their business requirements and curate bespoke solutions that pave the way for progress and prosperity.
6. Possumus
Possumus believes in providing meticulous digitalization processes that transform into innovative technological solutions for businesses of all sizes. Through collaborative efforts with their clients, Possumus co-creates high-value iOS-based fintech products that address their specific needs in the digital realm, with a strong emphasis on design and usability.
7. Adonis Software
Adonis Software has expertise in software development, mobile app development, web development, and e-commerce development, among others. The team collaborated with well-established corporations, including Coca-Cola, McDonald's, JTI, Orange, Vodafone, OMV, Heineken, and other notable entities. As highly-professional fintech iOS developers, they have worked with start-ups, too, and played a pivotal role in helping them achieve unprecedented success. Just like others, Adonis Software offers fintech iOS programmers for hire.
8. Waracle
With over 20 years of experience, Waracle delivers digital product innovation for retail and commercial banks, wealth managers, insurers, and capital markets. Their extensive experience, high client satisfaction, and strong reputation in the industry make them a top choice for businesses seeking quality differentiated digital solutions and the best fintech iOS developers. Waracle has several offices across the globe and offers to hire remote fintech iOS developers.
9. Kellton
As a top-tier banking and financial software development company, Kellton is committed to enabling intelligent banking through digital transformation, empowering seamless and secure transactions that drive omnichannel experiences across products and services. Kellton is at the forefront of developing cloud-based fintech software solutions, enabling operational excellence and providing the necessary tools for financial institutions to thrive in a rapidly evolving digital landscape.
10. Red Foundry
Red Foundry specializes in developing native, hybrid, and web-based mobile apps for iOS, Android, and other platforms. Red Foundry was founded in 2009 to offer personalized support from expert mobile app developers. They are passionate about creating feature-rich, fast, and engaging fintech iOS apps that enable businesses to mobilize their operations and reach their target markets.
Summary
Hiring top fintech iOS developers is essential for building a thriving financial application that meets the needs of today's consumers. By considering the top fintech iOS developers from the list, you can obtain the skills and experience necessary to bring your fintech app ideas to life.
Remember to look for developers with a strong fintech and iOS development background, excellent communication skills, and a track record of delivering high-quality projects on time and within budget. And make sure to ask for references or examples of past work to help you make an informed decision.
Looking for skilled and experienced fintech iOS programmers? Hire them at Itexus. Contact us to learn how we can help you with your fintech project.
By Itexus Team