When it comes to fintech development, Python is often a tool of choice. It's a versatile and robust programming language with a diverse array of ecosystems and data visualization frameworks. Data is crucial for the finance industry as users expect their finance tool to provide actionable insights so that they can make informed decisions and optimize their investment and saving strategies. And Python is perfectly suited for this purpose in particular and for fintech development in general.
Seamless integration is another advantage of using Python in fintech projects. It effortlessly connects with databases, APIs, and web services, facilitating real-time data access and secure transactions. Python's integrability allows developers to deliver quickly without compromising quality. Furthermore, Python's cross-platform compatibility ensures that fintech solutions can run smoothly on different operating systems and devices, maximizing accessibility and convenience for users.
3 Reasons to Choose Python for Fintech Development
Python is perfect for building analytics tools, banking apps, crypto solutions, and many other types of financial software. It offers several compelling benefits that make it a tool of choice for fintech development – let's explore them.
Shorter Time-to-Market
When it comes to fintech development, time is of the essence. Python offers a significant advantage in terms of time-to-market due to its extensive library of frameworks and pre-existing code blocks. With frameworks like Django and libraries like NumPy and Pandas, developers can leverage existing solutions and focus on writing new code to make everything work together seamlessly. This streamlined process allows for faster development cycles, with minimum viable products (MVPs) often ready within 2-4 months for low- to mid-sized projects. Python applications are also highly scalable, making them an ideal choice for fintech startups aiming to proliferate.
Strong Community Support
Python boasts a vibrant and dedicated community of developers, often called "Pythonistas." With a vast user base and active support forums like Python's official Discord server and Stack Overflow, developers have access to a wealth of knowledge, documentation, and shared solutions. This community-driven support system greatly facilitates troubleshooting and resolving potential issues during the development process. Additionally, the community has contributed to developing frameworks that enable cross-development in Python, further expanding its capabilities and enhancing collaboration among developers.
Python Is Well-Suited for ML & AI
Machine Learning (ML) and Artificial Intelligence (AI) are actively used in fintech, powering automation, fraud detection, risk management, customer service, data analysis, and more. Python is highly regarded in the ML and AI domains due to its code readability, efficient execution speed, and robust support from the community.
Python's extensive ecosystem offers specialized libraries like TensorFlow and scikit-learn, making it easier for developers to implement complex ML algorithms and statistical models. By choosing Python for fintech projects involving ML and AI, developers can leverage its power and take advantage of cutting-edge advancements.
Although this programming language is highly demanded in the financial sector, it still may be challenging to hire fintech Python developers To help you find experienced specialists, we've compiled a list of top fintech Python developers. With their proficiency in utilizing Python's versatility, data analysis capabilities, and seamless integration, these developers are at the forefront of shaping the future of fintech. Whether you want to outsource your whole fintech project to a dedicated team or just need an extra pair of hands to reinforce your in-house development team, you'll find the perfect option in the companies listed below.
Top Fintech Python Developers
If you are planning to hire fintech Python developers, Itexus stands out as a professional and experienced company operating since 2013. Leveraging their deep knowledge of the financial industry and strong technical skills, Itexus helps SMBs, startups, and enterprises create advanced digital products along with reducing go-to-market time, cutting development costs, and avoiding common pitfalls that often lead to project failures.
Itexus's extensive experience in fintech application development, coupled with its solid Python programming skills, positions them as a top choice for organizations seeking reliable and innovative custom solutions. By partnering with Itexus, businesses can drive digital transformation, enhance customer experiences, and stay ahead of the rapidly evolving fintech landscape. The company offers flexible engagement models. It means they can either implement your project from the ground up or provide specialists with the required skill sets as an extension of your in-house team.
Itexus delivers the following fintech solutions:
Digital banking;
Digital lending and alternative financing;
DeFi lending & borrowing solutions;
Stock market trading and analytics;
Wealth management and investment;
Personal finance management (PFM);
Online payments;
Cryptocurrency;
InsurTech, and more.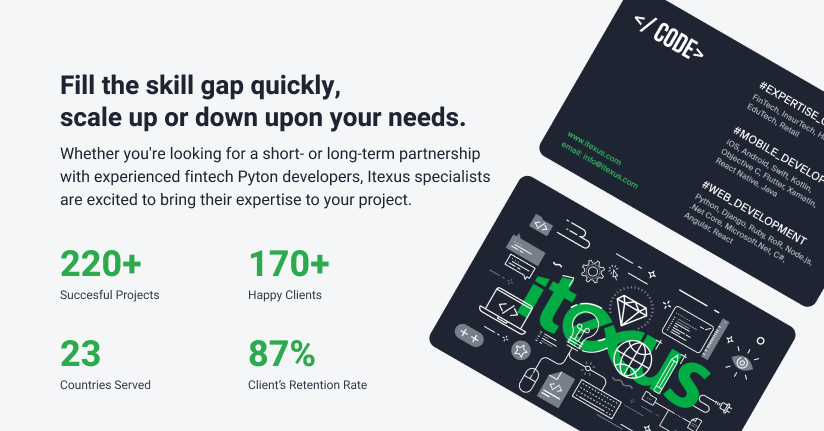 2. STX Next
With over a decade of market experience, a team of 550+ professionals, including top Python developers, and a track record of serving 300+ clients, STX Next is the trusted partner you need for your digital transformation journey. Hire Python developers at STX Next, and you'll gain the advantage of working with the largest Python software house in Europe, attracting the best talent in Central Europe. STX Next believes in single-tasking, ensuring that your team remains fully focused on delivering exceptional results. You can hire remote Python developers or visit the offices and meet the team to foster a strong working relationship.
3. Teravision Technologies
When you choose Teravision Technologies for your fintech Python development needs, you gain a partner with a wealth of experience and a proven ability to deliver exceptional results in the finance sector. Their case studies speak for themselves and encounter investing, brokerage, and private funding solutions. Teravision Technologies combines technical expertise with a deep understanding of financial processes to develop robust fintech solutions.
4. KnubiSoft
KnubiSoft is a full-cycle development agency that also offers fintech Python developers for hire. In the project implementation cycle, KnubiSoft places a strong emphasis on leveraging the power of fintech Python development alongside a diverse range of technologies. Their team of top Python developers possesses deep expertise in utilizing modern technologies to bring your project to life in the most optimal way. Whether it's Python or other relevant tools, KnubiSoft ensures that the developers are equipped with the necessary qualifications to meet your specific requirements.
5. Kellton
As a leading banking and financial software development company with top Python developers, Kellton empowers intelligent banking through digital transformation. Their innovative solutions enable instant and secure transactions, delivering omnichannel experiences across products and services. By leveraging disruptive technologies and modern architecture, the team drives continuous innovation in the banking sector. Renowned names in the industry trust Kellton's cloud-based fintech software solutions to optimize customer touchpoints and achieve operational excellence.
Any questions? Drop us a line.
6. Vincit
In today's dynamic landscape, the balance of power within the banking, finance, and insurance industries is shifting toward the customers, and Vincit understands it. Customers now demand flexible, personalized services, and their loyalty hinges on the quality of the experiences they receive. Simultaneously, the rapid evolution of technology and regulatory frameworks is reshaping the industry. Hire fintech Python developers at Vincit and become a pivotal force in driving this change.
7. TechMagic
With expert developers for fintech projects, TechMagic truly stands out. Explore their offerings by the best fintech app developers, including digital banking, digital wallets, blockchain apps, buy-now-pay-later software, payments processing apps, cryptocurrency exchange platforms, trading platforms, wealth management software, insurance services, and asset management solutions. Hire Python developers at TechMagic if you need transformative fintech experience that propels your business forward.
8. Anadea
As one of the best fintech app developers, Anadea offers fintech Python developers for hire. The agency excels at creating crowdfunding platforms, payment services, predictive analytics software, and exchange marketplaces by top Python developers. And for startups in the finance industry, the team provides the necessary finance software development to help them grow and thrive. Whether you are a commercial bank, investment bank, credit union, financial data vendor, brokerage firm, legacy finance institution, fintech provider, or startup, Anadea will offer the solutions to address your technical challenges.
9. Codete
Unlock the potential of your fintech venture with Codete, outstanding fintech developers for hire. This trusted fintech software development company understands your business perspective and specializes in delivering successful digital projects for the crypto/financial industry. With a decade-plus of experience and partnerships with fintech giants like Spotcap, Broker Genius, Wells Fargo, and Raisin, Codete possesses profound domain knowledge and practical expertise that can give you a competitive advantage.
10. 8allocate
8allocate's talent pool consists of top Python developers with diverse skills. Through rigorous screening, the company will find the best-fit IT talent for the fintech projects for those looking to hire Python developers, guaranteeing a fast ramp-up with minimum time-to-hire and maximum time-to-value. 8allocate offers flexible service models to adapt to your evolving business needs and transparent collaboration taking all the responsibilities for project delivery.
Summary
When choosing fintech Python developers, it's crucial to pick a team that understands the intricacies of the financial domain and can deliver tailor-made solutions to meet your specific requirements. Hire Python developers who have a deep understanding of banking processes, payment systems, compliance regulations, and data security and will help plan your software.
As a trusted and reputable fintech Python development company, Itexus offers more than just coding expertise. We provide end-to-end services, from project discovery and business analysis to deployment and ongoing support, and ensure transparency, flexibility, and individual approach to each project. With a professional team of business analysts, UI/UX designers, backend and frontend engineers, cloud architects, DevOps specialists, and quality assurance engineers, we guarantee on-time and on-budget delivery of high-quality software. Need a reliable and skilled tech partner? Contact us to pick the best option for your project.
By Itexus Team