Our attitude toward emotional well-being changed significantly over the past decades, and the number of people visiting therapists grows yearly. In 2021, 31.6 million adult Americans received mental health counseling or treatment. In 2021, this number increased by a third and reached 41.7 million.
It's proved that mental health is essential to physical well-being and affects all areas of our lives. People's awareness of emotional wellness's importance grows, bringing the increasing demand for therapy. And as the age of technology dictates its own terms, healthcare providers consider shifting their services to online more and more often.
If you consider expanding your offering with online therapy, you can develop a custom telemedicine platform. This will require significant money and time investments – depending on the functionality, custom mental health app development may take years. Another option is to buy and customize a white-label app – it's cheaper and significantly quicker: in the best-case scenario, you can customize and launch it in a couple of weeks.
For those who want to shorten time-to-market and cut development costs with a ready-made customizable solution, we compiled a list of top white-label mental health apps to buy. Check them out if you're looking for a cost-efficient, reliable, and scalable telehealth application.
Itexus is a custom software development agency with its own white-label HIPAA-compliant telemedicine app suitable for both web and mobile usage. The app comprises reach functionality for patients, doctors, and admins and will become a great support for organizations seeking to enable automation, efficient care & business flows, and more personalized patient care. Itexus's specialists would be happy to brand their app and tailor it to your organization's needs so that you can provide accurate and convenient care to your patients. Moreover, upon your request, they can implement such modules as EMR/EHR, document management, e-prescriptions, treatment history, and more.
The app is available in English, however, Itexus's mental health app developers can enable any language or multi-language interface. The full setup – from a white-label app to a customized end-to-end healthcare ecosystem – will take 3 weeks.
What's more, by buying Itexus white-label app, you pay once for the source code and can use it for a lifetime – there are no additional or hidden costs.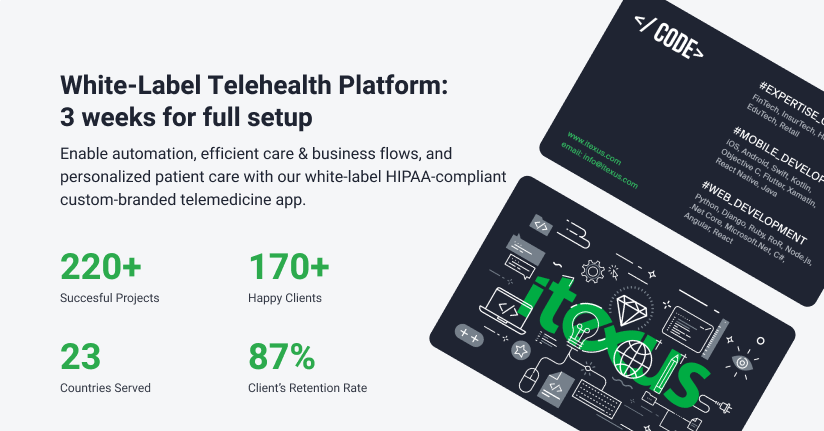 2. Confy
Confy is a multi-platform-enabled telemedicine application that can be set as a web or mobile solution. With a mission to make therapy more convenient and affordable for patients, Comfy features an easy-to-use and efficient workflow with comprehensive features to enable virtual care for medical organizations of all sizes. The app comprises such features as appointment booking, payment collection, virtual waiting room, video consultation, patient records, and more. The company offers support in hosting, maintenance, scaling & integration.
3. Continuous Care
Continuous Care offers a white-label mental health app for iOS and Android platforms to help you grow medical practice revenues and personalize patient care. The provider can customize the app's interface so that it carries your branding. The app's functionality includes doctor listing and profiles, patient appointment booking, text and video consultations, patient care plans, and more. Note that you'll have to pay the monthly subscription to use the app.
4. Doxy.me
Doxy.me is suited for healthcare providers of all sizes – whether you are a small organization or a clinic with multiple branches, the platform can be adjusted to meet your specific needs. The app works in all major desktop and mobile browsers, no download or install required. The provider takes privacy and security very seriously and claims that their solution is HIPAA-, GDPR-, PHIPA/PIPEDA-, and HITECH-compliant. Doxy.me offers monthly and yearly subscription plans for individual providers, clinics, and enterprises.
5. ATOM Labs App
ATOM Labs offers a white-label, easy-to-use telemedicine platform for online consultations. Their app will come in handy for private clinics, medical institutions, and startups seeking to offer remote patient consultations over a video call. It has all the core features needed to enable online remote patient treatment. The provider doesn't reveal information on costs but specifies that pricing includes 3-weeks "help and support" period from their mental health app developers.
Any questions? Drop us a line.
6. MDLIVE
MDLIVE is a customizable, scalable telehealth solution for organizations of any size. However, it's not exactly a white label mental health app – rather, it's a network of healthcare providers that you can join as a specialist or organization. The company partners with health insurance companies and employers to grow their patient base, but their services are also available to consumer patients directly. MDLIVE's distinctive feature is a virtual health assistant called Sophie, designed to improve engagement and enhance the member experience. The company offers full and ongoing marketing support to jump-start adoption and drive utilization.
7. DDM Health
DDM created a whole ecosystem of telehealth solutions. One of their most prominent products is a comprehensive library of health self-management education, health coaching, notifications, and behavior change techniques, all available in 9 global languages. It's perfectly suited for organizations having their own apps and seeking to supercharge them with advanced features and content. DDM's mobile SDKs are available for iOS and Android.
8. Wellify
Wellify is a customizable patient success platform that can be white-labeled with your organization's logo, color palette, and branding guidelines and integrated into your existing workflow. In addition to core functionality, the solution has such features as AI monitoring & customized clinician alerts, automated collection of patient outcome measures, mindfulness practices, and more. There are two different pricing and functionality options – for solo practitioners and smaller clinics with up to 20 practitioners or for larger organizations.
9. Healthfully
Healthfully is a white-label behavioral and mental health digital platform featuring a suite of tools for healthcare organizations. The app is designed to facilitate business operations and improve the quality of care by enabling better management, communication, and patient engagement. From scheduling, billing, payments, secure messaging, and registration forms to virtual visits, electronic medical records, and more, Healthfully is an efficient solution for organizations looking to administer care, fulfill operational functions, and connect with their patients.
10. Nova
Nova's HIPAA-compliant white label mental health app can be customized and branded to match your brand regardless of the organization's size. The solution is designed to enable simple and instant access to professional help – no app download or plugins are required, patients just need to open Nova from a browser on their favorite device connected to the Internet. Pricing includes monthly and annual subscription fees in addition to a one-time setup fee.
Summary
White-label telehealth app is a great opportunity for medical organizations looking to enter the mental health app market and expand their services with online therapy in the most time- and resource-efficient manner. By buying and customizing a ready-made platform, you can launch your mental health app in a few weeks, while custom mental health app development may take months or even years.
There are multiple customizable and scalable white-label solutions on the mental health app market, so each healthcare provider can pick up the best option. However, before making a decision, you should consider a few factors in addition to the app's functionality – e.g., some providers take monthly or annual subscriptions fees in addition to one-time setup fees, others don't provide support in the app's maintenance, scaling & integration, and so on. So, make sure you've considered all factors before opting for a specific solution.
Itexus white-label telehealth platform takes care of all your needs as a provider: it is HIPAA-compliant, easily customizable and scalable, features the necessary set of functions, and can be equipped with extra features if needed. What's more, it doesn't require subscription fees – you pay only once for the source code and can use the product for a lifetime. We'd be happy to tell more about our platform and how your organization can benefit from it – contact us to discuss the details.
By Itexus Team