The digital age has made it easier to fundraise for business ideas, charitable causes, or personal needs with the introduction of online crowdfunding platforms. According to Statista, global equity-based crowdfunding raised $4.97 billion in 2021, and the size of the global crowdfunding market is projected to reach $39.8 billion in 2026. With the demand for crowdfunding platforms increasing, let's discuss the topic in depth. This includes crowdfunding website and app development, key players, business models, features, and the difference between custom fundraising solutions and off-the-shelf solutions.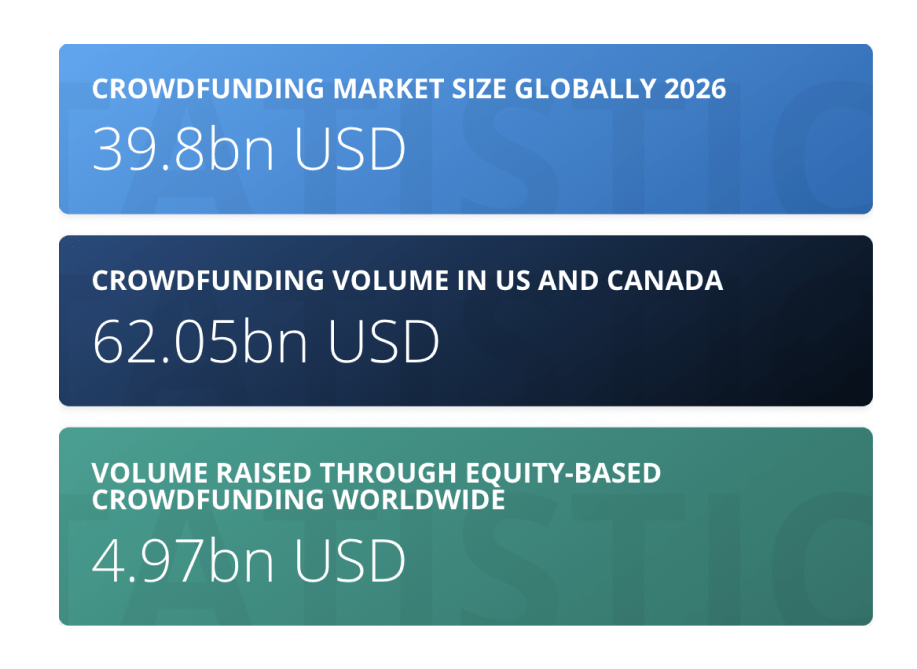 Crowdfunding Software Core Players
As the demand for crowdfunding development is increasing, we decided to discuss the topic in detail – crowdfunding app development, key players, business models, features, as well as the difference between custom fundraising solutions and off-the-shelf ones.
• Kickstarter
Kickstarter was founded in 2009 and has helped 500,000 projects gain funding. It's geared more toward creative projects like a new album or book and inventions like a personal one-wheeled vehicle. Categories include art, comics & illustration, film, food & crafts, games, music, publishing, and design & tech. The platform isn't suitable for purchasing equipment or supporting non-profit organizations, and you can only keep your money if you raised the pre-set sum. Otherwise, the funds will go back to donors.
• Indiegogo
This crowdfunding website has helped fund over 800,000 ideas around the world since 2008. Today, more than 15 million people visit the Indiegogo website, where about 19,000 campaigns are launched every month. The platform is great for entrepreneurs and investors, allows integration with other platforms, including Facebook and Google, and is open to worldwide operations. However, there's a 5% platform fee plus a third-party payment processing fee.
• Mightycause
Founded in 2006, Mightycause is one of the most cost-effective platforms, which makes it a preferred tool for nonprofits. Mightycause has helped more than 150,000 organisations raise the funds they need to achieve their goals.
Mightycause is compatible with CRM systems, has media integrations, and the demo version can be requested for free. However, a number of features (such as CRM integration and event fundraising) are available only in the advanced plan, which is more expensive.
• StartEngine
Founded in 2011, the platform celebrated 500,000 users in 2021, has helped 375 companies, and has already raised $350 million. StartEngine is a great option for anyone who wants to get funding, invest, and get their share in the companies they like. StartEngine allows ordinary people to invest their money directly in companies and startups they admire, and in return receive an equity stake, starting at just $100, depending on the share value specified for each company.
• SeedInvest Technology
This crowdfunding platform aims to provide investors with the opportunity to support early-stage startups. Since its inception in 2012, the platform has funded more than 500 companies and is a good choice for startups in need of seed capital. The website has a calculator that you can use to estimate how much it might cost you to raise money through the platform. If your fundraising is unsuccessful, you won't have to pay any fees.
Crowdfunding Company: Business Models
With so many crowdfunding sites using different business models, it's easy to lose track. We want to help you get things straight. There are four main business models that differ in how they deliver value to customers and monetize that value.
Peer-to-peer (P2P) Lending
When lenders get their money back with interest.
This is the most popular business model because it offers the ability to borrow and lend money without having to turn to traditional banks. Borrowers no longer have to go to a bank to get a loan, nor do they have to go through many financial checks. Lenders, in turn, have more investment options.
The platform typically performs a credit risk assessment, determines creditworthiness, and adds an interest rate to a borrower's profile. Loans are also repaid through the platform, which can be integrated with a third-party service to process transactions. The borrower pays an upfront origination fee (between 1% and 5%), which is used to process and issue the loan. This is where the P2P lending platform derives its revenue.
Donation-Based
When a campaigner receives donations for no consideration.
This is a growing model, especially among crowdfunding platforms for charity and nonprofit crowdfunding platforms. Donors give because they want to support the person's idea or cause. Donations work well for startups, small businesses, personal goals, social and educational campaigns. They suit certain industries as well. A real estate crowdfunding business model, for example, is unlikely to be based on donations or rewards.
You could also allow donors to cover the fees you charge the advertiser. However, there are obvious pros and cons.
On the plus side, campaigners no longer have to cover the fees, which will naturally attract more crowdfunding campaigns to your platform. Also, there is usually no set minimum or maximum amount that a donor should put into your project. On the other hand, you run the risk of alienating donors.
Equity-Based
When entrepreneurs are able to raise money for their businesses by selling part of their business to outside investors in exchange for capital.
Companies that are not publicly traded receive money from a number of people who believe in the early idea of a product or service, and those people become shareholders in the company.
This model is especially popular with companies that have been around the corner for some time. They launch a campaign to scale their business and are willing to give away a significant amount of the shares to the public.
Royalty-Based
When funders receive a percentage of the revenue generated by the project or venture they support, it incentivizes them to continue providing capital.
For instance, funders may provide support for an app even before its full development and later share in the generated revenue once the app is launched.
However, this does not make the backers shareholders in the project. They are simply participants in the funding process and are entitled only to the royalties they receive from sales.
Reward-Based
A funder donates to a project or business with the expectation of receiving a non-financial reward in return.
In this type of business model, funders who support the project or idea receive various types of rewards, such as goods or services, as tokens of appreciation.
A typical scenario for an entrepreneur would be to develop a minimum viable product and offer it to certain types of crowdfunding investors (also called supporters ) to test and see if a full-fledged offering would be useful in the long run.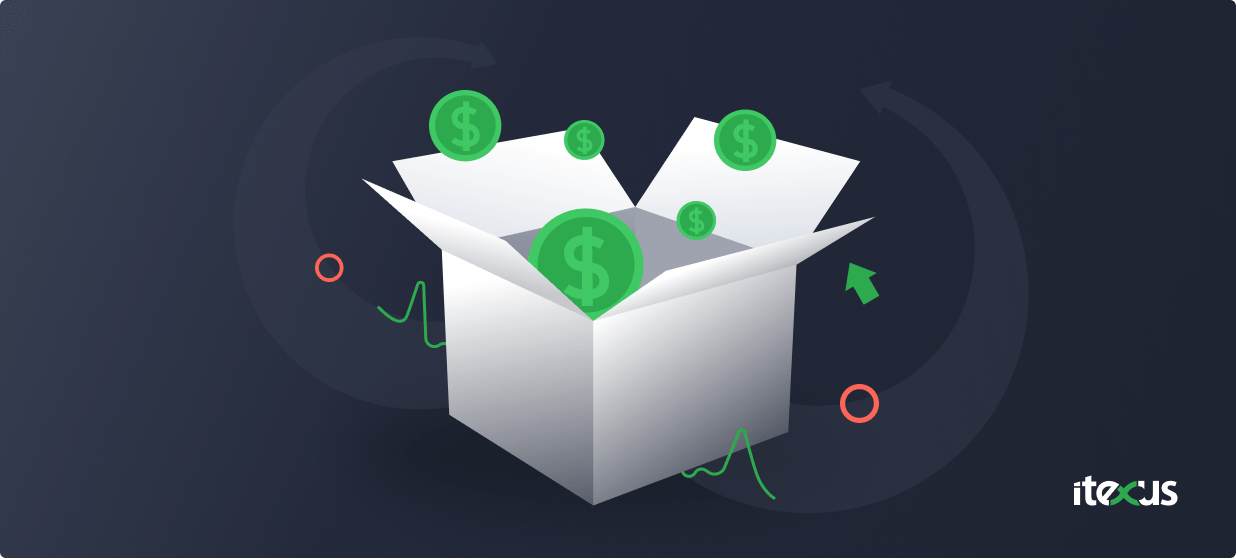 Custom-Made vs. Off-the-Shelf Crowdfunding Software
Off-the-shelf solutions are widely available on the market. However, many companies choose to develop their own crowdfunding apps. Here's why:
A custom crowdfunding website enables a hybrid model where users can choose the type of engagement. Most ready-made platforms restrict users to a specific business model.
The platform includes all the necessary features and can be customized to meet your needs. In contrast, off-the-shelf solutions have a limited number of features.
When it comes to upgrades, custom solutions are easier to manage. It is important to consider flexibility in potential integrations with your existing programs and databases. With off-the-shelf solutions, this can be challenging due to the lack of necessary features.
As the owner of the software, you have the independence to make changes without relying on third-party decisions. However, if you use a pre-made platform, be aware that you may need to pay extra for subscriptions or additional features.
Any questions? Drop us a line.
Must-Have Features for Crowdfunding Software
We have rendered our expertise in crowdfunding platform development & crowdfunding website development to select the most essential features that every platform should have.
✔️ Smooth Onboarding & Application Processes
The entire interaction takes place on the website, so providing a seamless user experience right from the sign-up and sign-in steps will give you a competitive edge. Your clients, whether fundraisers or investors, should not be confused when they visit your platform for the first time.
✔️ KYC Verification
A crowdfunding platform should provide reliable and effective means to verify the identities of potential donors, while remaining KYC compliant. This ensures that documents can be matched to the individual, reducing the risk of money laundering and identity theft. Learn more about financial crime prevention and AML software for financial institutions here.
There are numerous scalable identity verification solutions available on the market to prevent money laundering attempts. These safeguards are essential for detecting potential fraud and terrorist financing that these platforms may be vulnerable to.
✔️ Data Security
Developing an online platform that involves personal and financial information is challenging in many ways. While customer interaction with the platform must be flawless, their private information must also remain secure. Therefore, crowdfunding platforms should take additional security measures to protect their customers.
Employ viable security technologies (AI/ML, cryptography, etc.).
Comply with data privacy regulations (such as GDPR and CCPA).
Partner with vetted third-party vendors.
Invest in security issue detection (advanced identity, automated policy management, access management).
✔️ Intuitive Design
A good crowdfunding platform should have a clean and unique design, intuitive navigation, and transparency. These are the most important aspects that ensure a lasting relationship with the audience. Additionally, we believe that providing crowdfunding tips for campaigners and investors and explaining the application process and funding will be a valued feature of the website.
✔️ Effective Account Management
Account management should be simple and easy to understand, so that neither party has to worry about what's happening with the campaign, who donated, or how much money was raised. The account management area should include an investment chart, progress bar, transaction records, top-ups, withdrawals, reports, and dashboards.
As a platform for showcasing startup ideas, your crowdfunding app will have to handle dozens of inputs from individuals and organizations. That's why it's important to equip it with numerous features to meet these business needs.
✔️ Transactions Management
Your crowdfunding website should enable centralized management of all payments. Users should be able to receive and secure funds from many countries and automatically reconcile their payment flows.
As crowdfunding relies heavily on payments and donations, it is crucial to provide a well-established payment gateway suitable for your business model.
Additionally, it is important to configure your crowdfunding software to accept multiple currencies, as this can give you a competitive advantage over projects that do not. By accepting a wide range of currencies, you can also attract more people willing to donate.
✔️ Tax Reporting
Investors participating in a crowdfunding campaign, especially in the United States, are likely to be required to pay sales and income tax. To help investors save time and ensure accurate and timely reporting of their income, platforms can report investment income to the relevant tax authorities.
✔️ Support and FAQ
Understanding all of a crowdfunding platform's capabilities at once can be difficult. That's why a professionally designed and managed knowledge base can help users comprehend the platform's features.
Key technical considerations
If you want your platform to be high-performing and trouble-free, consider the following technical caveats.
Scalability and performance optimization
As the user base and traffic increase, your platform should efficiently handle the load. Incorporating the following scalability and performance optimization methods will help your crowdfunding platform deal with increased load and remain performant and reliable even during peak periods.
Load balancing and horizontal scaling
It's advisable to apply load balancing methods to distribute incoming requests across multiple servers, preventing overloading a single server. Balancing the load can be achieved through round-robin, least-connection, weighted least connection, or other algorithms.
Caching and Content Delivery Networks (CDNs)
You can improve response times and reduces infrastructure load with caching mechanisms. In-memory caching systems can store frequently accessed data, while Content Delivery Networks (CDNs) can cache and deliver static assets.
Asynchronous processing
Implement asynchronous processing for time-consuming or non-blocking tasks to improve system responsiveness and enhance scalability. For example, when processing a large number of transactions, use message queue systems to enqueue tasks and process them in the background.
Secure payment processing
By establishing secure payment processing in your crowdfunding platform, you can instill confidence in your users, protect sensitive financial information, and maintain the integrity of your crowdfunding platform. Here's how you can do it.
SSL/TLS encryption
To establish secure communication between the user's browser and the server, implement SSL/TLS encryption. This encryption ensures that sensitive payment information, such as credit card details, is transmitted securely over the network, protecting it from unauthorized access.
Tokenization
Use tokenization to make payment more secure. Tokenization replaces sensitive payment data with a unique identifier (token). This identifier is stored and used for future transactions. This reduces the risk of sensitive information being exposed, as the token is meaningless outside of the secure environment.
Compliance with Payment Card Industry Data Security Standard (PCI DSS)
Follow the rules for keeping credit card information safe, known as PCI DSS requirements. Make sure that how you handle payments meets all the rules, such as keeping payment information safe during storage and transmission, and processing payments securely.
With the measures mentioned above implemented, you can be confident in the high performance, security, and trouble-free operation of your crowdfunding platform.
Summary
Crowdfunding platform development can give you a competitive edge over other platforms by offering a unique set of features that solve your or your users' problems in the best possible way. If you need a reliable tech partner with hands-on experience in crowdfunding development, contact us to discuss your idea and find out how Itexus can help you achieve your business goals.
By Itexus Team