Fintech applications have revolutionized the financial industry, and front end fintech developers play a crucial role here. These specialists are responsible for creating intuitive and seamless user experiences that encourage users to engage with the product or service in the long term. Achieving this requires a deep understanding of user behavior and translating complex financial information into easy-to-understand visual representations.
According to a survey by Accenture, 59% of consumers acquire financial products from a provider other than their main bank. Besides, they prefer financial management tools that offer personalized recommendations and insights. The competition is getting fierce, and as the fintech industry grows, finding experienced and reliable front end fintech developers to handle your project is becoming increasingly difficult.
To help you navigate this challenge, we've put together a list of top front end fintech developers to hire. Each company has a proven track record of delivering quality financial software. Let's take a closer look at what they have to offer.
Itexus is at the forefront of front end fintech development, offering a wide range of software development services to meet the complex needs of the industry. With a team of experts specializing in business analysis, design, project management, quality assurance, DevOps, and other domains, they ensure that each project is delivered with the highest level of quality.
Their portfolio is filled with outstanding fintech apps for digital banking, wealth management solutions, trading platforms, and more. By exploring their case studies, you can access a rich library of impactful fintech projects, which can serve as a source of inspiration for your ideas. You can also check out the core features and technologies used in each project, giving you a better understanding of what is possible in fintech front-end development.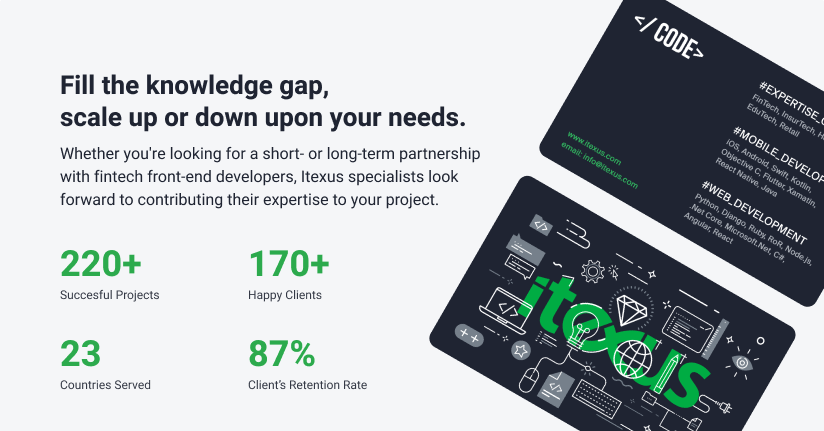 2. Espeo Software
Espeo Software is a boutique one-stop-shop for businesses looking to front end fintech development services. Their in-house consulting team has helped dozens of clients design innovative solutions and product strategies, ensuring they stay ahead of the competition. With a focus on fintech front-end development, they understand the importance of delivering user-friendly and visually appealing products that meet the needs of both consumers and businesses.
3. 8allocate
8allocate is a leading provider of high-quality front end developer fintech services to companies, backed by a slew of industry awards that attest to their expertise. With a team of seasoned developers specializing in creating custom fintech solutions, 8allocate is a trusted partner for businesses looking to take their digital presence to the next level.
4. Pragma
At Pragma, creating custom fintech solutions is at the heart of what they do. Their talented developers possess deep expertise across various front-end development technologies, including AngularJS, ReactJS, and VueJS. In addition to the front-end development capabilities, Pragma offers a comprehensive suite of services that enable them to deliver end-to-end solutions. From mobile app development to blockchain and AI development, the team has the skills and experience to tackle even the most complex fintech projects.
5. SoftProdigy
SoftProdigy is a renowned provider of front end developer fintech services, delivering exceptional solutions to help businesses thrive in the digital age. Their team of experienced developers has a wealth of knowledge in various front-end technologies, enabling them to create innovative and customized solutions that address the specific needs of each business model.
Any questions? Drop us a line.
6. Magora
Magora offers top-notch front end developer fintech services, providing an easy six-step process to create a stunning financial app. Starting with market analysis and competitor research, they prioritize features and design interactions that reflect your business needs. Experienced designers create app concepts while developers turn them into functional programs. Quality assurance teams test rigorously for functionality and security before submitting to the App Store for profit. Magora leverages the latest front-end development technologies to create seamless and engaging user experiences, making them the perfect partner for businesses looking to take their financial app to the next level.
7. Untile
Untile, a digital product agency founded during the 2008 recession, thrives on challenges. Their belief that custom is best guides everything they do as they aim to optimize processes, save time, and solve problems for their clients with software built for humans. With a proven track record of crafting solutions for over 100 companies in six industries, Untile's team deepens into each project to truly understand their client's business, team, and users.
8. Plug & Play
At Plug & Play, they understand that many clients have in-house development resources but often need more specialized skills for front end fintech development. That's where the expert team comes in. With a laser focus on front end fintech development, Plug & Play delivers high-quality solutions quickly, taking the burden of the heavy lifting off your internal team. They collaborate with the team to ensure knowledge transfer throughout the process and even offer on-site work options to facilitate agile delivery and pair-programming methodologies.
9. Broscorp
Broscorp offers custom front end developer fintech, bringing your ideas to life. Their team is skilled in developing fintech applications, P2P platforms, blockchain solutions, and unlocking big data's potential through real-time data processing and advanced analytics. By working with Broscorp, you'll benefit from the expertise in the fintech industry and access a wide range of cutting-edge technologies.
10. Curtis Digital, Inc.
Curtis Digital, Inc. has worked with diverse clients, including startups and Fortune 500 companies. They have successfully delivered numerous projects, earning them recognition as one of the leading front end fintech development companies in the industry. With their commitment to quality, innovation, and customer satisfaction, they can help you bring your project to life and achieve your business goals.
Summary
When it comes to fintech company front end developer, there are many great ones to choose from. Whether you're looking for a reliable partner for a small project or a long-term collaboration, the companies on this list are definitely worth considering. With their expertise and commitment to excellence, they can help you create shining products that will engage your audience and drive business growth.
Reach out now to discuss your front-end development needs and figure out how we can help.
By Itexus Team