Healthcare providers often find it hard to adopt new technologies quickly due to the harsh regulations of the industry and the need to prioritize stability in delivering high-quality help. Telehealth software has changed this situation dramatically.
Telehealth (also known as telemedicine) software is a type of software designed for healthcare institutions, such as hospitals and clinics, to digitize and automate their workflows. Some apps go beyond management optimization and offer advanced analytics and research opportunities, including AI-based predictive analytics. With more and more solutions emerging every year, thousands of organizations benefit from the flawless integration of telehealth apps. According to An American Medical Association (AMA) survey, 60% of clinicians claim that telehealth allows them to provide more comprehensive, high-quality care. Meanwhile, over 44% of respondents indicated that telehealth decreased the costs of care.
While some healthcare organizations go for custom software systems, others pick white-label apps that can be customized, branded, and used under the medical care provider's name. The choice between the two options depends on the specific needs of the organization. However, there are some advantages to using a white-label healthcare app over a custom solution – e.g., time and cost saving, scalability, ensured compliance and reduced risk of errors or issues, ongoing support and maintenance, a track record of successful implementations across multiple healthcare providers, etc.
For those looking to enhance the patient experience along with cutting operational costs through introducing a telemedicine solution into their healthcare services, we've compiled a list of the top 10 white label health products to buy and customize. Check it out to pick an appropriate solution.
Itexus offers a HIPAA-compliant white-label telemedicine platform for web and mobile use. As an end-to-end telehealth ecosystem, it allows managing all aspects of the healthcare business, from providing support in making better care decisions to automating mundane manual operations regarding supplies, documentation, and more. The company-wide setup of the app takes just up to three weeks. 
Since every institution operates individually, the Itexus team encourages healthcare providers to reach out and order customization of any scale and complexity to ensure an even more personalized patient experience and an enjoyable remote practice for medical staff.
Key Features of Itexus Telemedicine Platform
For Patients
• AI-based matching system;
• Appointment booking;
• Call scheduling;
• In-app payments;
• Audio & video calls;
• Notifications;
• Patient profile;
• Intuitive, easy onboarding;
• Online chat.
For Doctors
• Accept/reject booking;
• Appointment status;
• Calendar;
• Notifications;
• Online chat;
• Payments management;
• Doctor profile.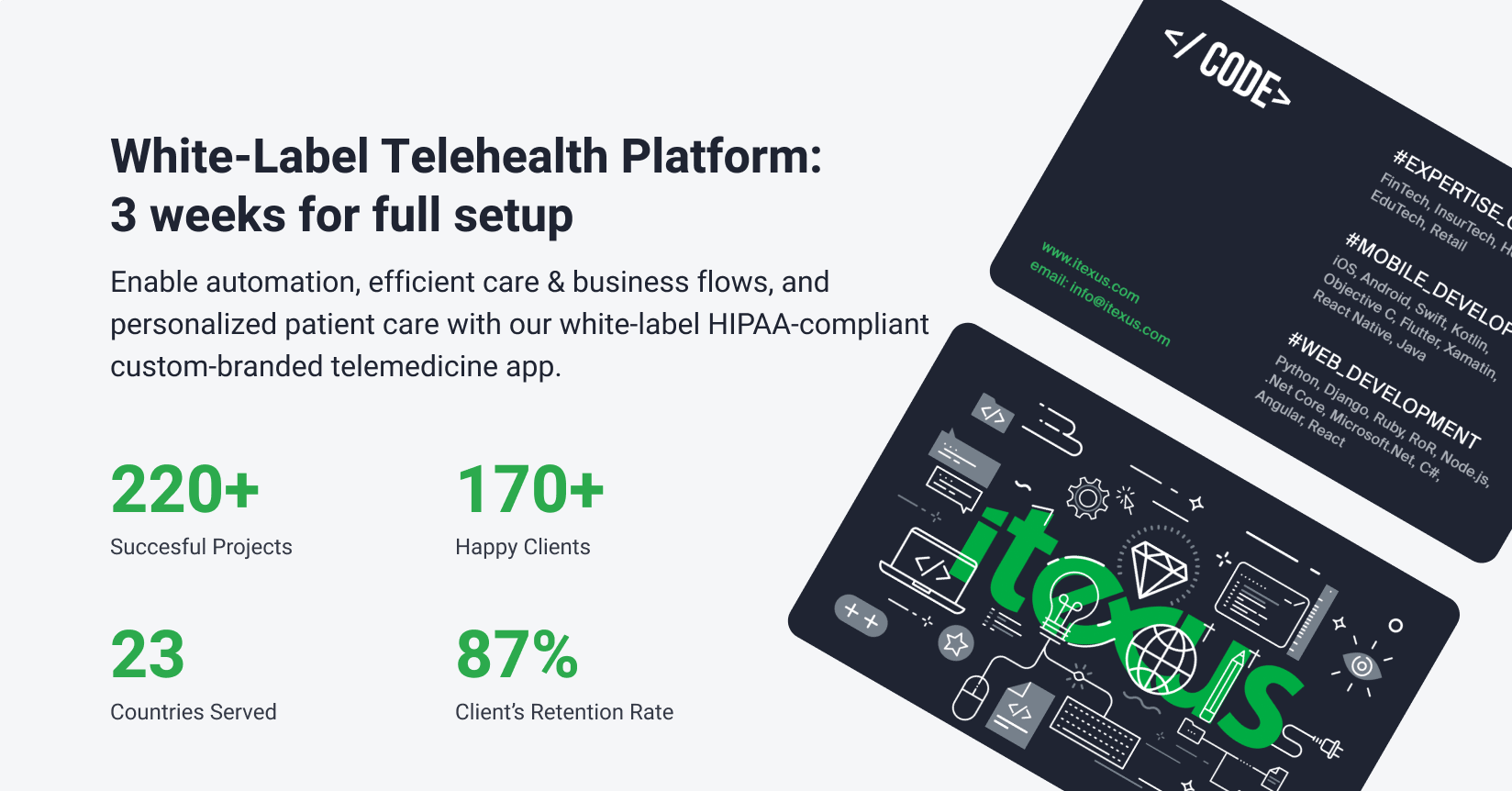 2. Healee
Healee onboards organizations in the world of digital health. With their white label health app, institutions can explore the platform and pick the MVP (minimum viable product) features to integrate into workflows first. As time passes, the platform offers to scale and implement enhancements on the way.
Key Features of Healee
• Multichannel communication;
• Digital check-in;
• Patient scheduling;
• BI & reporting tools.
3. AIMDek
AIMDek is an all-encompassing, easy-to-use telehealth platform. It combines multiple specializations and centralizes the work of different departments. With their web, mobile, and desktop apps, providers deliver enhanced patient engagement and stable healthcare, saving time for patients and doctors.
Key Features of AIMDek
• Waiting room;
• Invoice & A/R;
• Patient info & history;
• Video-calling/e-visit;
• Payments;
• Appointment management;
• Text chat.
4. DrCare247
A cloud-based white label health care solution, DrCare247 integrates the entire hospital into one system. It includes Telemedicine, EMR (Electronic Medical Records), Practice Management, and Remote Patient Monitoring modules. By choosing DrCare247, healthcare organizations get efficient white label health and wellness products, a reliable partner, and enormous time savings. 
Key Features of DrCare247
• Scheduling;
• Document sharing;
• Video & audio conferencing;
• E-prescription;
• Billing & payments;
• Digital marketing.
5. InstaPract
Opting for InstaPract, healthcare providers get comprehensive control over remote care to boost the patient experience. The solution is beneficial for providers of primary care, sports medicine, telepsychiatry, geriatric patient care, chronic disease treatment, and medical tourism.
Key Features of InstaPract
• Multi-locality;
• Multi-speciality;
• Payment integration;
• Waiting room;
• Provider scheduling;
• Video conferencing.
Any questions? Drop us a line.
6. DocToDoor
Establishing the platform for effective and timely remote patient monitoring is the critical mission of DocToDoor. The solution fosters the unification of telemedicine and better care through quick access to a more in-depth overview of patient health status.
Key Features of DocToDoor
• Patient management;
• Health data monitoring;
• Video consultations.
7. SteadyMD
A fully-configurable solution, SteadyMD empowers providers to set up an individualized end-to-end patient experience. Their white label software for health care is available for all devices and screen sizes and acts as inclusive as possible. Accessibility is also facilitated by tight third-party integrations making one-click appointments real.
Key Features of SteadyMD
• Intelligent quiz & matching engine;
• Integrated scheduling;
• Real-time analytics.
8. swyMed
swyMed puts video consultations and mobile health care at the center of their attention. It strives to be simple, fast, and highly reliable in emergencies. The software provides the best possible audio and video in the case of an unstable network connection.
Key Features of swyMed
• Style configuration;
• Real-time video consultations;
• Low-network control.
9. ConnectCenter
ConnectCenter is a perfect environment to connect an organization's brand, patients, services, and employees together. An intelligent interface and inbuilt secure workflows prevent data leaks, confusion, and misprescription.
Key Features of ConnectCenter
• Staff profiles;
• Appointment booking;
• Health monitoring;
• Health data management;
• Video consultations;
• Health blog;
• E-prescription.
10. Sushena Telehealth
Sushena Telehealth, a white label health application, aims to deliver the most satisfactory virtual care experience for patients and doctors. It's a template-driven, multilingual solution with endless potential for UI customization and optimization.
Key Features of Sushena Telehealth
• Quick onboarding;
• Appointment booking;
• Video consultation;
• Patient intake;
• Digital prescription.
Summary
Telehealth contributes to both the quality of the delivered medical service and essential business performance metrics, such as profits, customer retention, or employee satisfaction. It makes a telehealth solution a perfect target for investment. Institutions can get the most out of the digital transformation with minimal effort in setup and patient and employee onboarding.
It is always hard to consider such a shift before receiving a proper consultation from a professional. Feel free to reach out if you need help with a smooth and stress-free integration of a white-label app into your healthcare business.
By Itexus Team