Have you ever wanted a business assistant to take time-consuming tasks off your hands without costing a fortune? Thanks to significant improvements in chatbot performance, you can now get one.
A chatbot is AI software that simulates human conversations in natural language via messaging applications, websites, mobile apps, or the phone. As one of the most effective tools for improving customer service, chatbots have proven their value to various business objectives.
In general, chatbots are used to reduce customer service costs, increase customer engagement and operational efficiency, and streamline sales. To get the most out of your bot, you should bring in a top chatbot development company, as the process requires in-depth knowledge of AI and NLP.
Need a bot? Take a look at the list of the best chatbot development companies we've compiled to help you make the right choice
Itexus is a perfect one-stop shop when it comes to chatbot development services and custom software development & consulting. The Itexus team has a solid grasp of AI and Natural Language Processing (NLP) and has helped dozens of clients across industries improve customer experience and reduce customer service costs with AI-powered chatbots.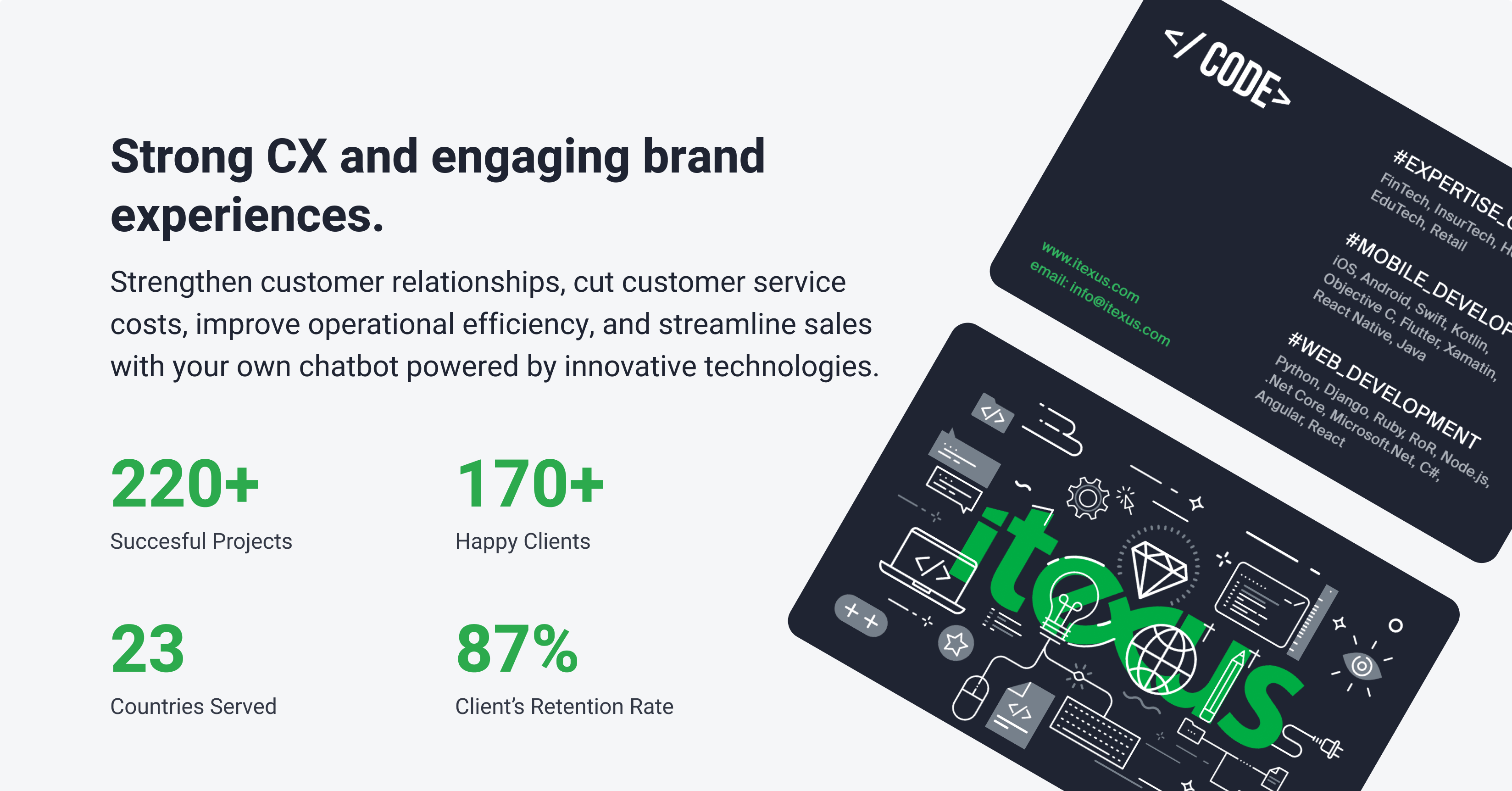 2. Master of Code Global
Master of Code Global provides web and mobile design and development services, including the creation of chatbots for companies of all sizes and industries. The team consists of more than 130 professionals specializing in app development for enterprise and mid-market clients, as well as delivering voice conversational AI experiences across a variety of channels.
3. BotsCrew
BotsCrew is a chatbot app development company and a trusted partner for the world's most innovative companies with extensive knowledge in the field of artificial intelligence (AI). BotsCrew sets itself apart from other chatbot companies with its focus on bot development and is known for providing customer service chatbots and enterprise-level communication solutions. In addition to chatbot app development services, the company also offers automated voice programming.
4. SOR'UN
SOR'UN is a chatbot development agency that provides AI and custom software development services to global enterprises and mid-sized businesses. The company also offers a range of off-the-shelf solutions, including a messaging platform, web chat, and app chat.
5. ThirdEye Data
ThirdEye Data helps companies across industries with digital transformation using data and AI solutions. It is a Big Data services company specializing in chatbot app development, business intelligence, Big Data, cloud consulting, and artificial intelligence solutions.
6. Infopulse
Infopulse is a digital software & bot development company with a team of more than 2,000 employees and core competencies in AI chatbot development. The company also offers cloud and IT infrastructure, software research, development and consulting, app testing, and other services.
7. OTR
OTR is an AR /VR development company that works with small and medium-sized businesses. The company provides custom software and bot development services and has successfully implemented several chatbots for its clients in various industries.
8. CBOT
CBOT develops chatbots for banking, insurance, eCommerce, education, and other industries. In addition to custom chatbot development, CBOT provides a unique platform that enables the virtual assistant to understand natural human sentences contextually using NLP, machine learning, and deep learning technologies.
9. Azati Software
With a team of intelligent software developers, architects, designers, and project managers on board, Azati is known for its professional approach, expertise, and dedication. The company specializes in AI-powered chatbot development as well as mobile app, web, and custom software development. The company serves mid-sized and large clients in the healthcare and business sectors.
10. Azilen Technologies
Azilen Technologies is a chatbot software development company specializing in AI, IoT development, and enterprise chatbot development & application modernization, that works primarily with small and medium-sized businesses. Being a proven expert in customer relations, Azilen leverages its cross-industry experience in developing enterprise chatbots for its clients.
Any questions? Drop us a line.
Benefits of Using Chatbots for Your Business
Below, we describe the most important benefits a chatbot can bring to your business.
✅ Reduced customer service costs
Chatbots enable customer service automation – for example, they can handle simple requests that don't require human contact, leaving only complex requests to employees. Therefore, a smaller customer service department would suffice. Fewer staff – fewer costs on salaries, training, and infrastructure.
✅ Increased sales
Bots provide a frictionless way to introduce customers to new offerings from your company. Because of their 24/7 availability and quick response time, bots can also boost sales.
✅ Increased customer interaction
Chatbots are a great channel for interacting with your customers. With well-timed tips and offers, they can significantly increase customer engagement. By communicating in real-time, bots help customers find what they are looking for and consider other offers, improving the customer experience.
✅ Reaching new customers
Chatbots are widely used on social media messaging platforms and can therefore reach an almost unlimited audience. Their constant presence on such platforms allows companies to connect with new customers who might otherwise be out of reach.
✅ Gaining actionable insights about customers
When it comes to getting to the bottom of customer expectations, bots are the tool of choice. Chat logs can be a great source of actionable insights about your customers, helping you better understand their needs, wants, and pain points to improve your customer service and tailor your products and services to meet customer needs.
You can triple your data's usefulness by connecting chatbots to AI based APIs. APIs can grab your chatbot data and separate it into categories that benefit your business the most. The AI functionality in your API is constantly learning, meaning it'll eventually know what you want to do with your data. This streamlines and automates the whole process.
✅ Scaling your support
For any customer-centric business, the scalability of customer support is always a priority, as it allows you to handle any increase in traffic without any extra costs and resources. Chatbots ensure that your business is able to handle conversations during peak hours without adding more support experts, training, etc.
Summary
Chatbots are reshaping the standards for customer service and communication. With so many benefits for businesses, it would be a mistake to ignore the trend and not integrate a bot. However, to get the most out of bots in terms of customer insights, support scalability, and lead generation, you need to bring in an experienced bot development partner that will create an efficient solution tailored to your company's unique needs. At Itexus, we've helped many companies across a wide range of industries realize the potential of bots, and we'd love to help you, too. Get in touch with us to get a powerful bot for your support team and take your customer service to the next level.
By Itexus Team