When it comes to services, customers expect relevance in every interaction with a provider. Finance is no exception. The digital age and the numerous fintechs that came with it brought personalization, accessibility, and high standards for customer experience. Finance has changed fundamentally, and banks must respond if they are to maintain their position in the financial services market that no longer belongs exclusively to them.
To compete and evolve, banks should redefine their role in the financial services landscape and examine how they can expand their services and functions. One of the trends that have been making the rounds in the financial industry lately is the digital banking marketplace. In short, it is a platform that serves as a central digital storefront where customers can find, compare, and select financial products.
In this article, we define banking marketplaces, explore how they work, and learn how to build one. We also present some important considerations to keep in mind when developing a platform.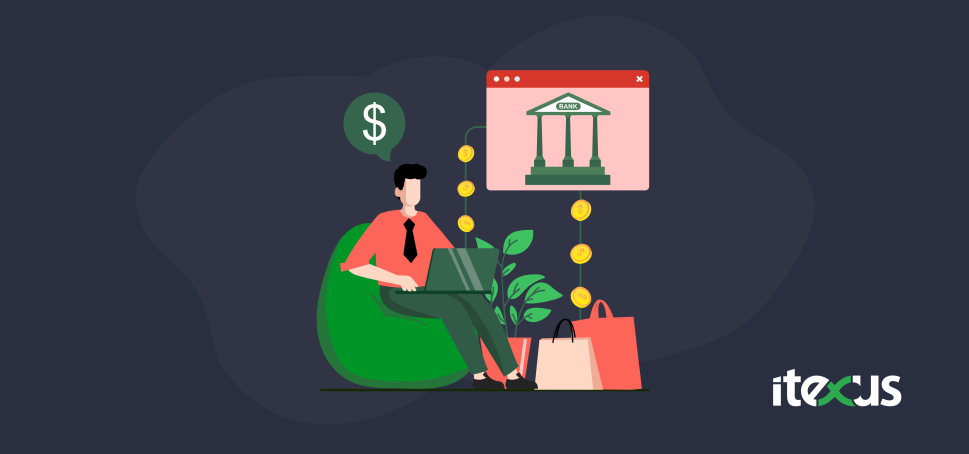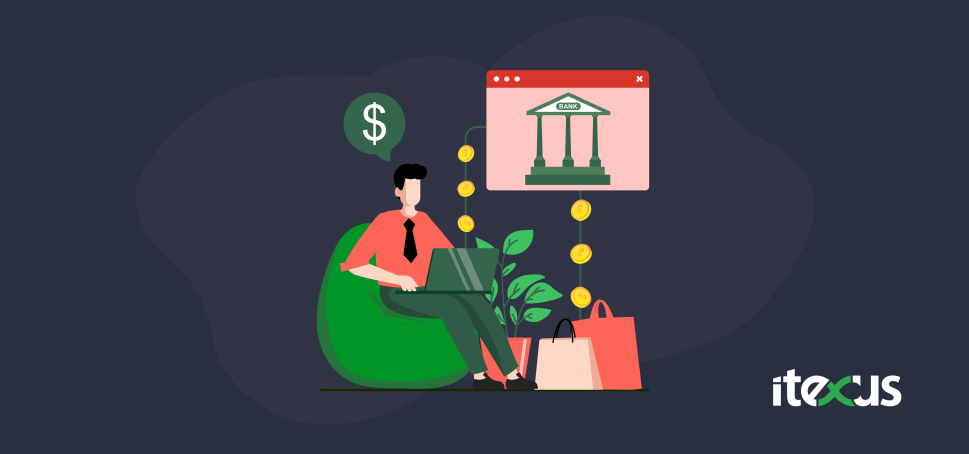 What are banking marketplaces and how do they work?
Like other fintech marketplaces, banking marketplaces bring together a wide range of financial products and services under one roof so that customers can easily access, view, compare, and take advantage of them. A significant portion of the products and services offered come from the bank's partners. These can be insurance providers, peer-to-peer lending, wealth management services, and more. In this way, banks create ecosystems in which every customer can find and use a product that suits their specific needs and purposes.
There are two types of marketplace banking: separate platforms with multiple combined service providers or in-app solutions where banks integrate third-party offerings into their applications. Bank marketplaces usually cover both the B2B and B2C segments, but there are also platforms that are specifically aimed at private individuals or companies.
Regardless of their nature, marketplaces operate on the same principle:
1. Comparison. Customers can search and compare a range of products and services from different entities on the marketplace platform.
2. Selection. After comparing different options, customers can select the product or service that best meets their needs.
3. Application. The marketplace can allow customers to apply for the selected product or service directly on the platform. Alternatively, they can be redirected to the service provider's website to complete the application process.
4. Approval. The service provider reviews the application and approves or denies it based on its internal criteria.
5. Funding. If the application is approved, the services will be provided by the provider and the marketplace may receive a commission or referral fee.
6. Management. The marketplace may also offer management tools to help customers keep track of their accounts, payments, and transactions.
Customers – both businesses and individuals – love marketplaces because of the transparency, choice, better pricing, and personalized experiences they offer.
As for banks, in addition to customer loyalty, they also get numerous financial benefits – from savings on marketing costs to revenue from commissions or referral fees from integrated third-party providers.
Examples of Banking Marketplaces Platforms
Let us take a look at some banking marketplaces that have emerged in recent years.
• GoBear is a Singapore-based financial products marketplace that operates in Asian markets. Since its launch in 2014, the open banking marketplace has reached more than 40 million customers and offers over 1800 products, including insurance, loans, credit cards, etc. The marketplace uses an intelligent targeting system that enables it to match consumers with the most suitable products.
• Starling Bank is the first digital bank to offer access to a comprehensive range of third-party products via an app. Launched in 2017, Starling Marketplace brings together a variety of product and service providers listed in business and consumer banking. This includes categories such as insurance, credit scores, mortgage brokers, retirement planning, savings and investments, and more.
• DBS Bank, another Singaporean financial services company, has established a full suite of marketplace banking platforms to meet specific customer needs: DBS Car, Electricity, Property, and Travel Marketplaces. Each of these platforms offers a wide range of financial products and services. In 2018, DBS Bank was honored as the Best Bank in the World.
How to Build a Digital Banking Marketplace?
As mentioned earlier, there are two options: integrating third-party providers into a banking app or building your own platform from scratch. Here is the general architecture diagram of a marketplace bank built on top of a core banking app.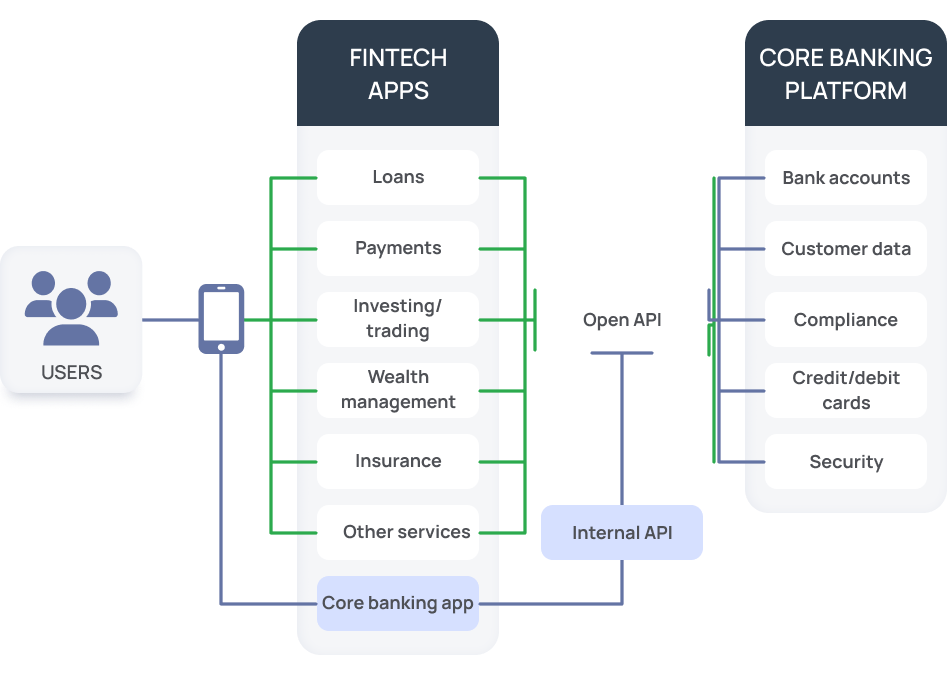 If you choose to build a marketplace from the ground up, it can be implemented as a web app, mobile app, or website. The type of solution affects the development process, but there are some common steps – let's explore them.
Define the strategy
First, you need to determine the most appropriate business model (B2B, B2C, P2P) based on your goals and existing offerings.
Decide on the marketplace type
There are three types of marketplaces – vertical, horizontal, and global.
• The vertical type means that you focus on a specific area or niche, and offer products and services from a few, particularly relevant providers.
• A horizontal marketplace is more like a supermarket, providing a wide range of products with common features.
• And global marketplaces offer everything, connecting providers and consumers around the world.
Define your target audience
A clear idea of who your potential customers are influences both the strategy and the approach to its implementation. Therefore, you need to figure out who your marketplace will focus on. Do you want to target Millennials or Generation X? Will you serve individual customers, SMEs, or enterprises? The clearer you envision your potential buyer's persona, the easier it will be to gain deeper insights into their needs.
List products and services
If you know your target audience, you can determine exactly what tasks they need to do and how you can help them do it. This will be your list of offerings. The next step is to contact product and service providers and find out under what conditions you can include them in your marketplace.
This preparatory work may take some time, but it is essential to do it before starting the actual development to avoid wasting time, money, and effort.
Any questions? Drop us a line.
3 Important Considerations for Building a Successful Bank Marketplace
Think about your customers
To build a successful banking marketplace, it is essential to put the customer at the center of the platform design. A customer-centric design helps address customer needs and preferences, create relevant offerings, and provide a personalized experience. This, in turn, leads to higher user satisfaction, better engagement, and greater loyalty – pretty basic requirements for staying in business.
Develop a comprehensive products and services list
The core idea of a marketplace is to allow consumers to access, compare, and purchase a wide range of products and services on a single platform. The more needs a customer can satisfy in your marketplace, the better. To this end, a sufficient list of products and services enables a one-stop shopping experience that provides transparency, competitive pricing, and convenience.
Build strong technology infrastructure
Every successful digital product starts with a reliable, scalable, secure, and flexible software solution. Strong technology infrastructure is critical for the following reasons:
• It ensures your marketplace is up and running without interruptions and helps provide reliable services to customers.
• It enables scaling to handle more users, vendors, and transactions without compromising performance.
• It allows you to quickly adapt to changing market and business requirements and integrate new technologies and functionalities into the marketplace quickly and efficiently.
Summary
The marketplace banking model is the right direction of product development for banks that want to improve the customer experience by offering a comprehensive range of services that meet their needs. Marketplaces enable new revenue streams and benefit consumers, banks, and third parties. However, to launch a successful platform, you need to do extensive groundwork and develop a strong technical solution.
At Itexus, we combine our sharp technical skills with a deep understanding of the ins and outs of the financial industry to help our clients grow and thrive in the competitive fintech market. Our specialists look forward to creating a reliable, scalable, and flexible banking marketplace for you. Contact us to discuss a collaboration.
By Itexus Team