We've noticed that more and more YouTube and Instagram ads demonstrate personal finance apps, be they daily/ weekly/ monthly spending trackers or apps helping to save up or invest spare money in stocks or real estate from your smartphone. Small wonder. The global appetite for such apps is growing. According to the Liftoff report, over the past five years, user activity on finance apps has increased by 354%. Mobile finance apps occupy a central role in our lives as more people reach for their devices to manage more aspects of their lives including budgets.
By now, personal finance apps have become the "channel of choice" for consumers to manage their finances and plan their futures. They allow us to keep track of spending, plan a budget,  optimize loans and make value-enhancing investments. All that brings multiple benefits:
• Gives control over your money. Budgeting ensures you don't get stressed out when you suddenly have to adjust to a lack of funds.
• Helps to set long-term goals and keep up with them. With personal finance management apps, you exercise mindful consumption, spend less and save up to make dreams a reality.
• Prepares you for financial emergencies. Even if you start small (just $10 a week), you'll be able to build up an emergency fund for several months.
• Ensures you get out of credit card debt. Personal finance trackers teach you how to dig out of the debt hole and make sure you take action not to get back into them.
Amidst the COVID-19 pandemic and concomitant economic crisis, personal finance management is as timely as ever. So, the market is rather promising. Startups that launched a couple of years ago already have substantial revenue now. For example, Mint – $ 2.775 billion, Credit Karma – $1 billion, and Acorns – $1.5 billion. Despite the variety of personal finance management apps on the market, often users aren't 100% satisfied with the chosen solution. They want more features and a more personalized approach to design. So, there's still a lot of room for creativity. In this article, we'll explain what features are in demand and what makes the development cost of good personal finance apps.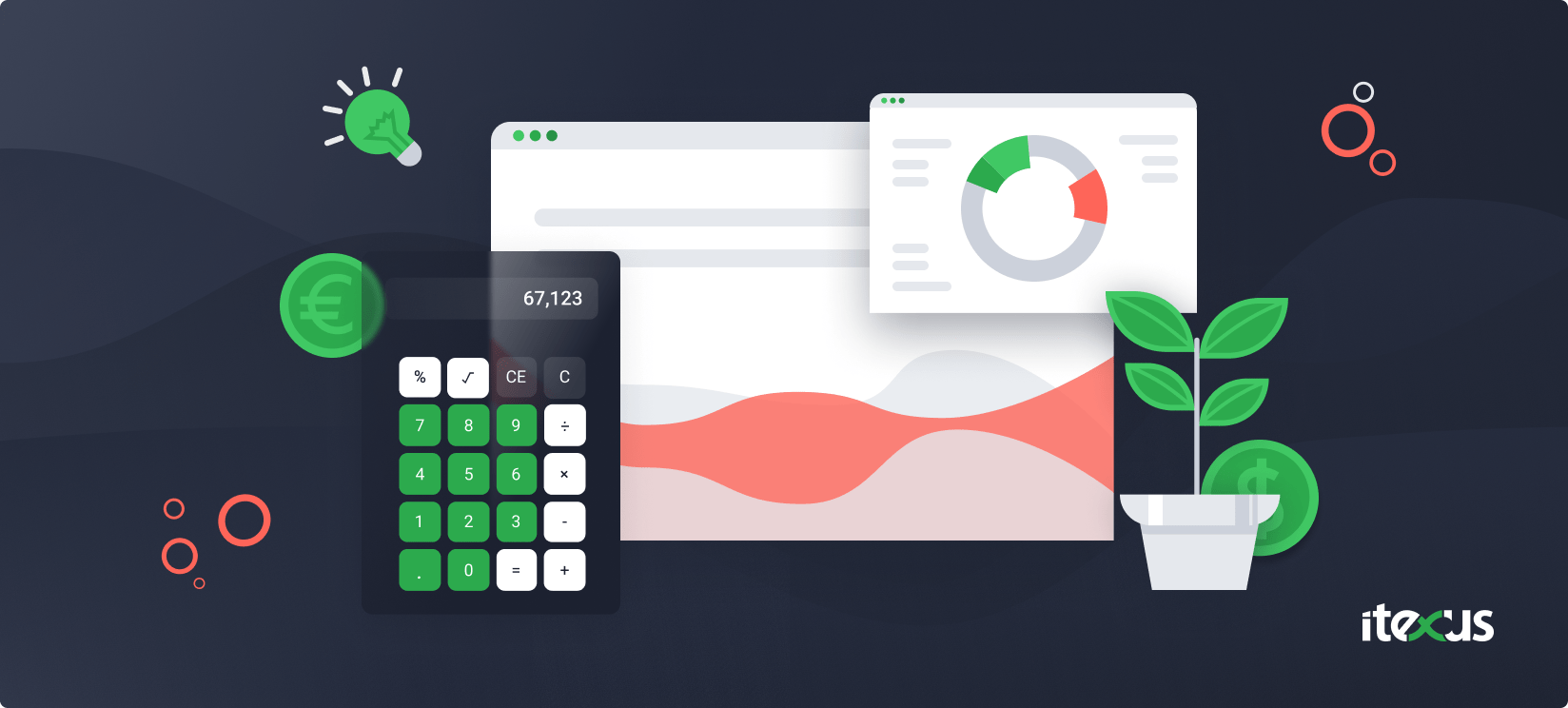 Factors That Determine the Cost of Personal Finance Management App
Set of Core Features
The more features, the more expensive the app. It's simple. Yet, there is a set of core features that are a must for a successful personal finance assistant: account aggregation, real-time spending, credit utilization, and investments.
Registration and Onboarding
Ease-of-use applications have a great opportunity to succeed. As such, intuitive registration and onboarding processes are very important. However, finance applications usually require lots of data to verify starting from simple verification of a client's bank account or the basic client's data collecting and verification to usage of biometric technology. Depending on the complexity of the app and the scope of features the registration and onboarding development takes from 250-400 work hours.
Bank account aggregation
The app can assemble all types of accounts that a user has: credit cards, loans, and other bank details. This way you'll provide a one-stop solution for money management and contain all kinds of confidential data. That's why security is a top priority and you'll have to comply with a range of security standards, such as PCI DSS (Payment Card Industry Data Security Standard) and GDPR (General Data Protection Regulation). Approximately development of this feature takes 120-200 hours. 
To open next 7 Features and Estimates of PFM App leave your email
Be the first one who gets new blog posts and updates!
Expense tracking
The app keeps track of the user's finances in real time, and there's no need to switch to other finance management apps. We all have expenses that consistently eat our budget, for example, coffee, cigarettes, clothes, etc. The tracker can also trace all these expenses, notify you how much money you spend, and set a limit on them. It takes 160-300 man-hours.
Tax expense tracker
Upon any purchase with any of the user's debit/credit cards, the app detects the purchase and defines it as a tax expense or not. Thus a user has a list of spending that can be downloaded for tax purposes Quarterly or Annually. This feature may take 220-300 hours due to the different tax policies of different countries. 
Smart balance. Predictive model
The predictive model collects statistical data and analyses the user's regular expenses using a machine learning technique to predict future expenses. As a result, the model provides a "smart" estimate of the balance after subtracting projected future spending, so a client knows what sum of money he has when the regular expenses are done. Implementation of this feature takes about 120-400 hours.
Budgeting and saving goals
This feature became the key one in a solution Itexus developed for a Silicon Valley startup – a money-saving and personal finance assistant app. It allows users to compare their total monthly budget and actual spending in various categories (e.g., clothing, groceries, movies). The app also allows users to set savings goals that they have been dreaming of for a long time. This feature will cost you between 350-700 hours depending on the complexity of the app.
Payments
To provide the customer with full control of his personal finance the application may be equipped with payment functionality. So there is no need to go to your bank application. A user can pay right in this app. This core feature takes 260-320 hours.
Investments
This cool feature allows buying stocks according to a particular investment strategy. A user takes a quiz on their goals and financial opportunities. On the basis of this quiz and analytical data taken from the user's spending and revenue, the app suggests different investment portfolios: conservative, moderate and aggressive portfolios. The app may connect to a stockbroker via an online API and automatically buy stocks per a defined strategy. This feature can be supplemented with subfeatures that can essentially increase the development costs. Roughly it takes 1000-1500 hours.
Credit utilization
Credit Utilization Ratio (CUR) indicates how much the user currently owns on all credit cards compared to the cards' limits. CUR = Outstanding Credit Card Balance / Credit Limit * 100. CUR is a key factor in making good spending decisions, especially for those who make a lot of transactions per day. The ballpark estimate for this feature is 300-400 work hours.
To open next 7 Features and Estimates of PFM App leave your email
Be the first one who gets new blog posts and updates!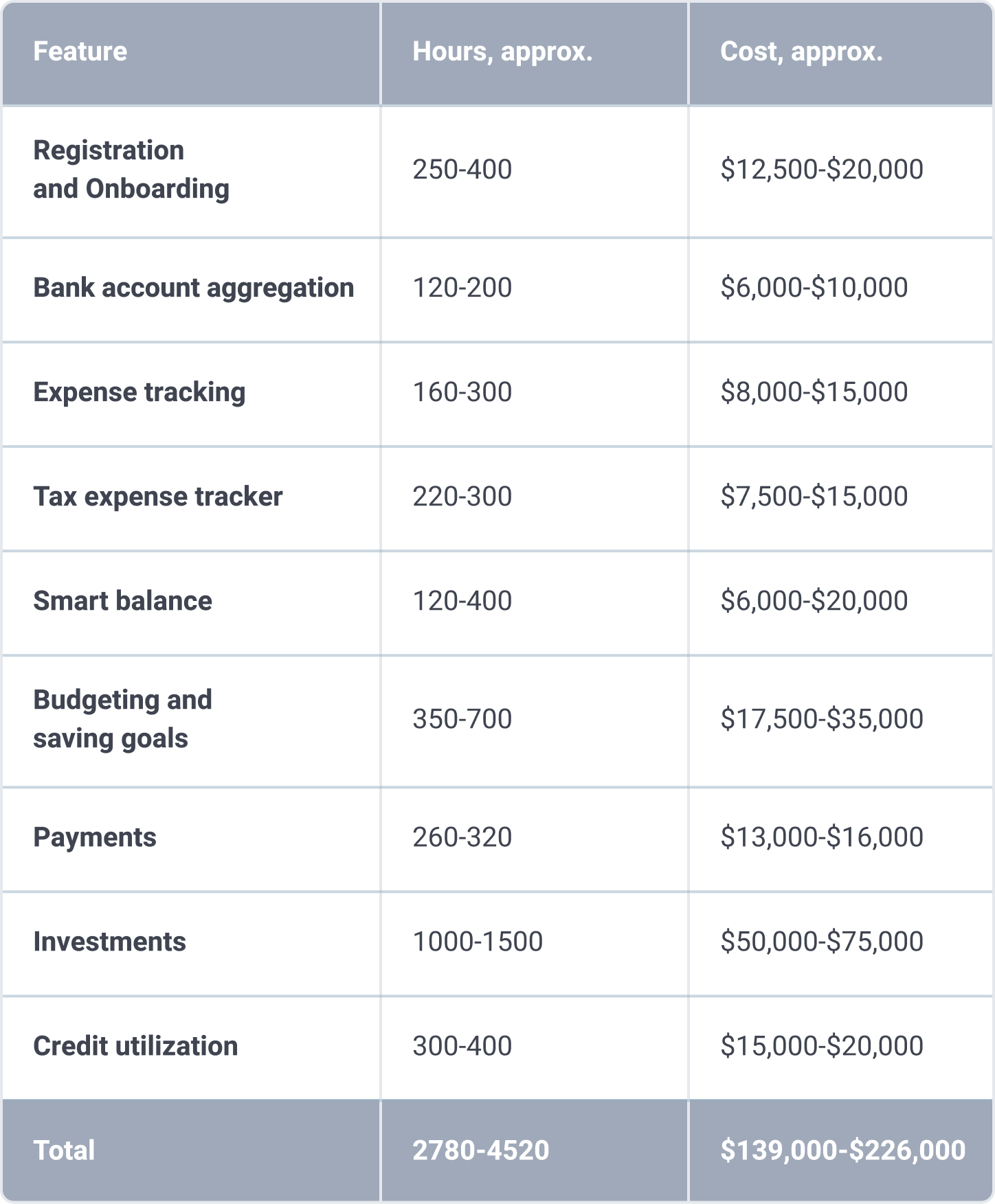 Note that the table contains data that represents an approximate calculation. Each project is unique and the actual price may be lower or higher depending on the development requirements.
Who Develops a Personal Finance App
In-house team
The first variant that comes to mind is to build an in-house team. Yet, it's not cost-effective: extended time to market, substantial hiring and office costs, and the need to keep in-house specialists even without sufficient workload. What's more, you need to hire an experienced CTO to manage staff. Your own in-house development team is the most expensive option.
App development agencies
Personal finance app development with an agency allows you to be sure of trustworthy transparent relations, quality of all deliverables, fixed schedule, all services (or at least the majority) in one place, and effective project management. This option is cheaper than setting up an in-house team and it's more reliable and safe than working with freelancers, for example.
Freelancers
Some freelancers can cost less, but the risks often outweigh this benefit. You may be dissatisfied with the service quality problem, flexible working times of freelance developers, lack of transparency and accountability, and difficulty to manage several freelancers for several services. Any feature-packed project requires a substantial team of developers, DevOps and QA engineers, and designers. It is very hard to gather and manage such a group of freelancers. And even very expensive freelance won't replace the team. There is the risk to ruin the app and after all turning to an agency to fix it or rebuild from scratch.
Developers' Location
App developers' location is another major factor that determines the cost of a personal finance management app. There are several popular areas where app developers are concentrated: the USA, Eastern Europe, and Asia. 
The most expensive option is to work with US-based developers. US and Western European developers charge around $80 – 150 per hour for the services. Asian countries (e.g., India and Pakistan) have the lowest development cost ($15 – $65 per hour). The rates of Eastern European companies are in the middle ($30 – 50 per hour). Currently, the latter variant is the most popular. The low cost of Asian Software development services often equals low quality and slow development processes. There are hundreds of cases when client companies had to switch to Eastern European developers (e.g., Belarus, Russia) to take over a delayed or failed project from a low-cost vendor. That's why a lot of Eastern European development companies, as well as Itexus, have a dedicated option for projects with low-quality development experience – Project Rescue Services. 
Belarus is becoming a new silicon valley for software development companies. Good education, growing IT community, European culture, geographical proximity, and competitive rates make this region an excellent choice for outsourcing development offering one of the best value/money ratios on the market.
Platform
If you plan to develop a mobile app you will need to make a choice between a native and a cross-platform app.
Some Facts about Native Platforms
Recommended by Apple and Google
Best user experience and performance
Ability to directly use all device resources which results in fast load times and easy access to GPS or Camera
Get regular software updates if they are designed properly and properly synchronized with the OS
It makes sense to have apps on two native platforms: iOS and Android. You can start off with launching an MVP on one of these platforms, check the concept and then launch the second one. Mind that the number of Android phone users prevails over iPhone ones'. But companies often target iPhone users first as one of the biggest paying market segments.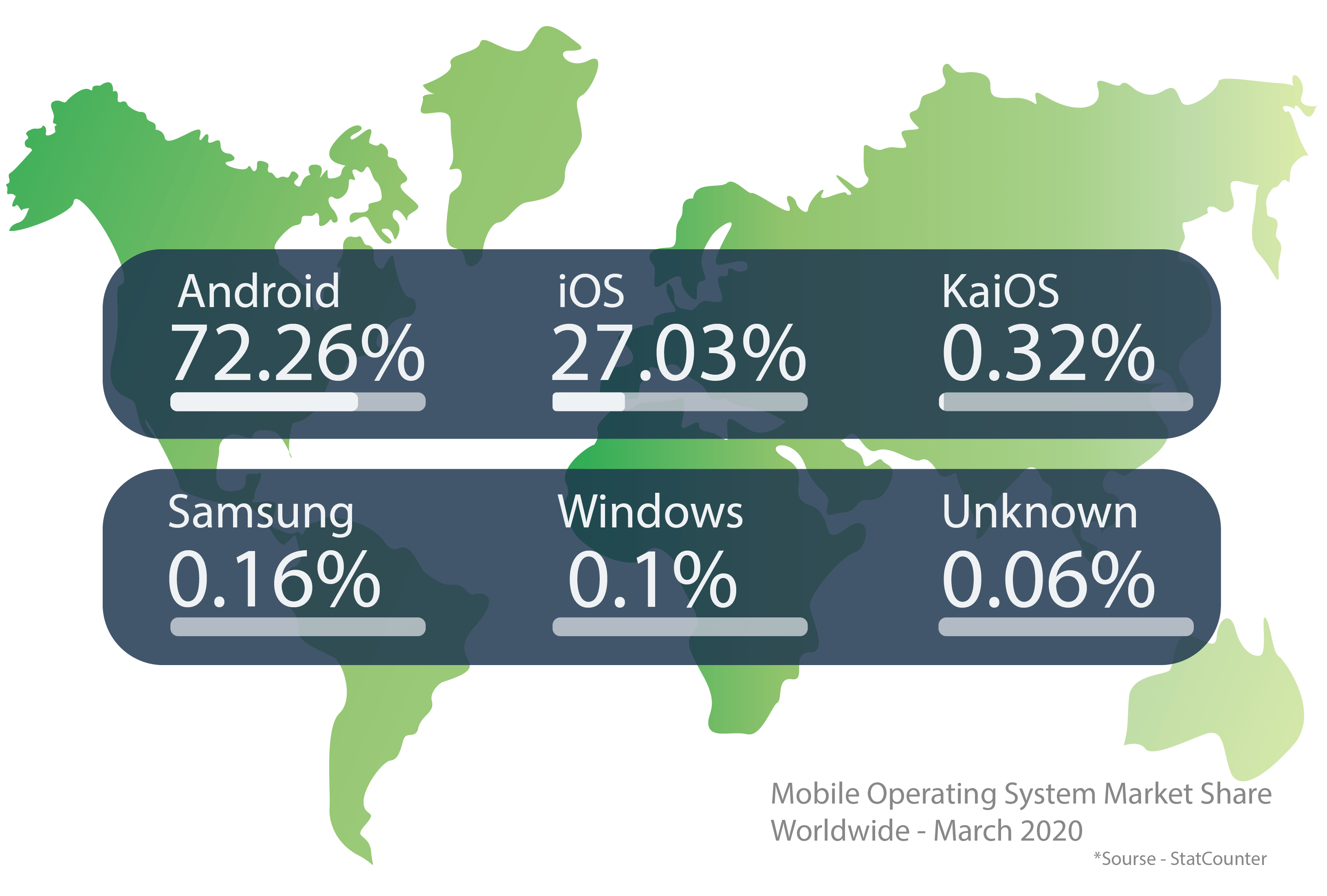 Cross-platform Development Facts
Easier to develop than native apps and parts of their code can be shared across platforms
May decrease the cost of development for simple apps
Slow code performance with limited tool availability
It is not easy to integrate your app with local settings, preferences, and notifications
Lack of updates for frameworks so it causes problems with the features supported by the operating system
Inferior User Experience because building an app that presents great UX across all devices and platforms is not easy
Deciding to develop a cross-platform personal finance tracker may cut the development costs and get the ready app very fast, but this economy can cost you more in the future. Native applications are stable and with regular updates, so their performance will be at a high level all the time. New cross-platform frameworks appear quite often and it can be a real problem to find a developer in the future who knows the framework and will be ready to support the app or add something. If you plan your personal finance management app will perform long and bring value it's better to choose native platforms.
Personal Finance App Design
The app design cost depends on the complexity of UI and the presence of numerous tiny things like micro animations. Simple design mainly consists of standard, platform-specific elements that don't take much time. Animation and custom elements increase the complexity and thus the app design cost in general. It takes approximately 80-150 hours to design a simple app, 150-250 hours – for an app of medium complexity, and 250+ hours – for a complex app. The last option is unlikely for a personal budgeting app that requires a limited number of features. So if you plan a sophisticated design with animations, be ready to pay 20-50% more for the whole app development because such design elements cause additional work hours for front-end developers.
Any questions? Drop us a line.
Personal Finance App Development Step by Step
Business Analysis. It's a very important step to start with because it helps to cut down expenses on surplus MVP features and rework identifying and documenting the key requirements and functionality of the future product for the development team. Typical BA activities include:
Research of the competition.
Workshops with the client to identify the right scope of the MVP according to the available budget and priorities in the functionality.
Analysis and selection of third-party systems for integrations.
Documentation of the requirements for the development team.
UI/UX Prototyping. At this stage, a UI/UX Designer creates a navigation map of the future system and mockups of the key screens which can be united into a clickable prototype. The goal of prototyping is to test the flow of a design solution and gather feedback on it before constructing the final product.
Architecture Design. With a prototype in hand, it's time to determine the technology stack, architecture, and third-party components required to build the system. All three should take into account performance, security, and scalability requirements. By the end of this step, a Software Architect also creates a feature-by-feature workload and cost estimate.
MVP Scope Definition. The client and the contractor define the scope of MVP taking into consideration the budget and feature-by-feature estimates.
UX/UI Design. Graphical Designer creates all necessary screen elements (e.g., icons, illustrations, animations) and assembles them into slick interfaces.
MVP Implementation. This is usually the longest stage. To keep the highest efficiency, the team follows Agile principles in the development process. The most important features are delivered first. The client stays in the loop throughout the whole stage and gives feedback on each deliverable.
Production Cloud Setup and Going Live. The final step in production is to set up the cloud infrastructure in the selected cloud.  DevOps engineers have to address the project's security, performance, monitoring, backup, and high availability requirements. After that, the product is ready to be deployed to the production cloud. 
Support. After going live, the post-production stage starts. A maintenance team performs a range of tasks: 
Monitor production servers and logs using automated scripts
Install security updates
Create and deploy patches and new feature updates
Analyze and resolve user issues.
Of course, not all of the specialists work full-time on the project if you cooperate with a development company. Thus you won't pay for the downtime. Take a look at a rough estimate on specialists' workload on fintech app development projects:
Let's Summarize
The Fintech niche is still waiting for the best personal finance tracker app that will include all needed features, cute and intuitive design and be very easy to use. There's no fixed cost of a personal budget app because it depends on numerous conditions: the set of app features, whether you decide to develop it in-house or outsource, your vendor's location, and design. To develop a personal finance app with mentioned above core features costs roughly 3000 hours. Then multiply it by an average developer hourly rate. For example, at Itexus, we apply a $35-$40 per hour rate to Fintech projects. In the end we get an estimate of around $110 000.
We at Itexus know the ins and outs of development for the financial sphere and would be happy to help your business become the next big thing everyone in the Fintech community will talk about.
Itexus stays on top of things and keeps abreast with all the latest trends in FinTech software development.  Many of our developers have a background in finance, and we started working with financial technology as soon as it became clear that its rise was imminent. Over the years, we have gained unique Fintech expertise by working with both newcomers to the market and established players. Now, we are ready to share this expertise with you. So, if you are aiming to build a finance app do not hesitate to reach out, and we'll help you transform the idea into a product that is ready to take on the existing players, however big they might be, and disrupt the market.  
By Itexus Team