Smartphones and tablets have long been an integral part of our everyday lives. According to Statista, the current number of smartphone users worldwide is 6.378 billion. This means that 80.76% of the world's population owns a smartphone, compared to 49.40% in 2016.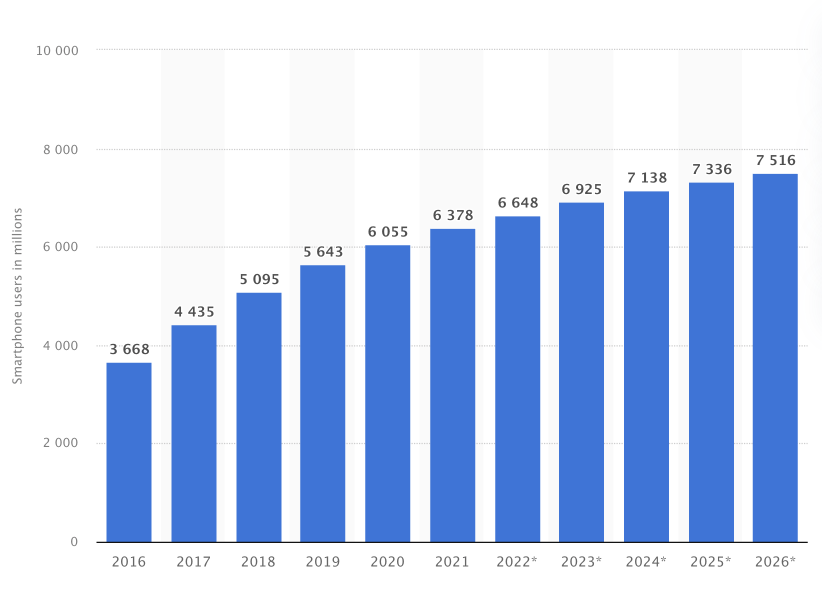 Modern smartphones are incredibly versatile and can replace many tools used in everyday life, and there is hardly any aspect of life that cannot be optimized with an appropriate application. From simple everyday tasks and digital entertainment to practical things like online banking or health management, mobile apps make everything easier.
This is where mobile app developers come into play. Want to build an app and need to hire mobile app developers? Check out our list of the best companies offering mobile development services.
Itexus builds custom mobile iOS, Android, and cross-platform apps from scratch for fintech, insurance, retail, healthcare, education, and other industries. The company offers a full range of mobile development services, including strategy, business analysis, UI/UX design, cloud deployment, testing, and support. Whether you need to expand your in-house dev team or outsource app development from shaping its concept to post-production support, Itexus has a proven track record in mobile development and the expertise to solve your business challenges with an innovative, secure and scalable digital solution.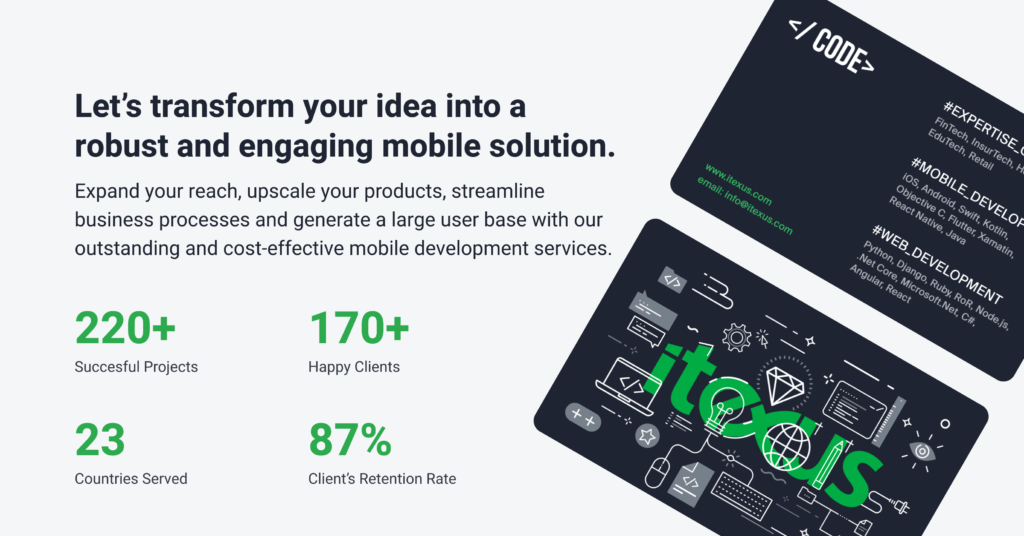 2. hedgehog lab
hedgehog lab is a company that leverages emerging technologies to help brands and enterprises achieve their business goals. With over ten years of experience in mobile product development and design, hedgehog lab delivers impactful and powerful mobile solutions for financial, medical, and other industries.
3. Glance
Glance is an app development agency that offers a full range of mobile development services including strategy, research, UI/UX design, coding, and marketing. With the focus on enterprise, SME, and startups, the company delivers industry-specific solutions through advanced mobility technology.
4. Digiryte
Digiryte is a software consultancy that builds innovative applications helping businesses across the globe sustain the challenges of the future. The company offers native and hybrid mobile app development services as well as design and prototyping, product scaling, and UX audit services.
5. Puzzle
Puzzle is a company focused on the development of high-end mobile products using React & React Native. The company specializes in mid-market and small businesses and startups and helps them to transform ideas into cost-effective digital products that drive value both for businesses and their customers.
6. 247 Labs Inc.
Over the last 9 years, 247 Labs has been involved in the design and development of custom applications for health, education, finance, and other industries. Their trained, certified, and experienced developers, designers & product managers consistently deliver high-quality application development projects.
7. Codal
Possessing vast experience in both iOS and Android design and development, Codal's engineers craft engaging, immersive apps that users love. The company follows the data-driven, market-tested Agile approach and ensures that every solution addresses the exact needs of its end users.
8. Lean Apps
Lean Apps is an app development agency that follows the design-first approach. The company has designed, developed, and delivered 100+ apps for startups and enterprises from such industries as retail, e-commerce, hospitality, and more.
9. Interexy LLC
Interexy LLC provides app development services for over 15 industries, including healthcare, food delivery, social software solutions, retail, e-learning, and more. Interexy ensures an efficient process management system and accurate realization of quality-assured applications within strict deadlines and budget limits.
10. Appinventiv
Appinventiv is a team of adept mobile strategists, UX/UI designers, and app developers are driven by one relentless pursuit – to craft innovative solutions and deliver unparalleled results. Appinventiv focuses on enterprise and midmarket clients from medical, education, and some other industries.
Any questions? Drop us a line.
3 Surefire Tips to Build an App That Would Be Loved by Millions
Whether you need to create an app for iOS, Android, or build a cross-platform one, there are three components required for success.
Research your idea
You probably already have a basic idea for your future app. That's already a lot, but most of your work is still ahead.
At this stage, you need to analyze your competitors and their unique selling points (USP) – this would help you understand their strengths and weaknesses compared to your own and find a gap in the market, identify how you can improve your own strategy, and figure out how to outdo your competitors to get users' attention.
The next step is to identify and research your target audience. This will allow you to focus your marketing efforts on the groups that would be most likely to buy from you. So make sure you know exactly who your target user is and what their needs you want your app to meet. It may well be that there is no market for your mobile solution, or you may find that your app is too specific and will never appeal to a wide audience. In this regard, conducting audience research can be a great source of insights that can help you develop your idea further, or at least save you money and time.
Last but not least, a business plan – a well-crafted, detailed, and insightful business plan is the first step towards a successful mobile app launch.
Clarify the concept
Your idea may be brilliant, but if you can not articulate it in a way that others can understand, it's worth nothing. A clear vision streamlines communication, simplifies requirements gathering, and speeds up the entire process, reducing time to market, which can be critical to the success of the project in today's competitive environment. So make sure you know exactly what features your app needs.
If you have only a rough idea, we recommend that you start with a discovery phase. This is the research and planning phase, which serves the purpose of the complete preparation for the development phase. Depending on your needs, you may get some or all of the following deliverables after the discovery phase:
Vision and Scope documents
SRS (Software requirements specification document)
Software Architecture Document (SAD)
UX/UI design and a clickable prototype of your future product
Detailed work breakdown structure, workload and cost estimate, and a project plan.
With these deliverables, you can proceed to the development phase and be absolutely sure that you will get exactly what you want, on time and on budget.
Hire a vendor
Skilled and experienced engineers, affordable rates, portfolio, customer reviews – the criteria for choosing a software development company are pretty clear. But the real magic starts when you're on the same page with your development team. Whether you want to hire dedicated mobile app developers or choose the time-and-materials model, you need to make sure you've built reliable and trusting relationships with the people who will bring your idea to life. And if they are as excited about your idea as you are, it's for sure the start of something great.
Looking for a team of passionate and skilled professionals that will ensure your ideas reach their full potential? Contact us to find out how the Itexus mobile team can help your app occupy a wealthy place in stores.
By Itexus Team