The landscape of the digital lending market has undergone significant changes in recent years, with impressive advancements and opportunities emerging at every turn. While many of these improvements were necessitated by the pandemic, the further digitization of financial services, including lending, was inevitable.
The numbers speak for themselves. According to statistics, the global digital lending platform market will continue to expand at a compound annual growth rate (CAGR) of 24% from 2021 to 2028. To keep up with this industry's growth, transferring your services to digital is essential. A mobile application for your lending service shouldn't be an add-on; it's a requirement. It's high time to start developing it. Read on to learn about the latest trends in lending software development that you should consider to stay ahead of the competition.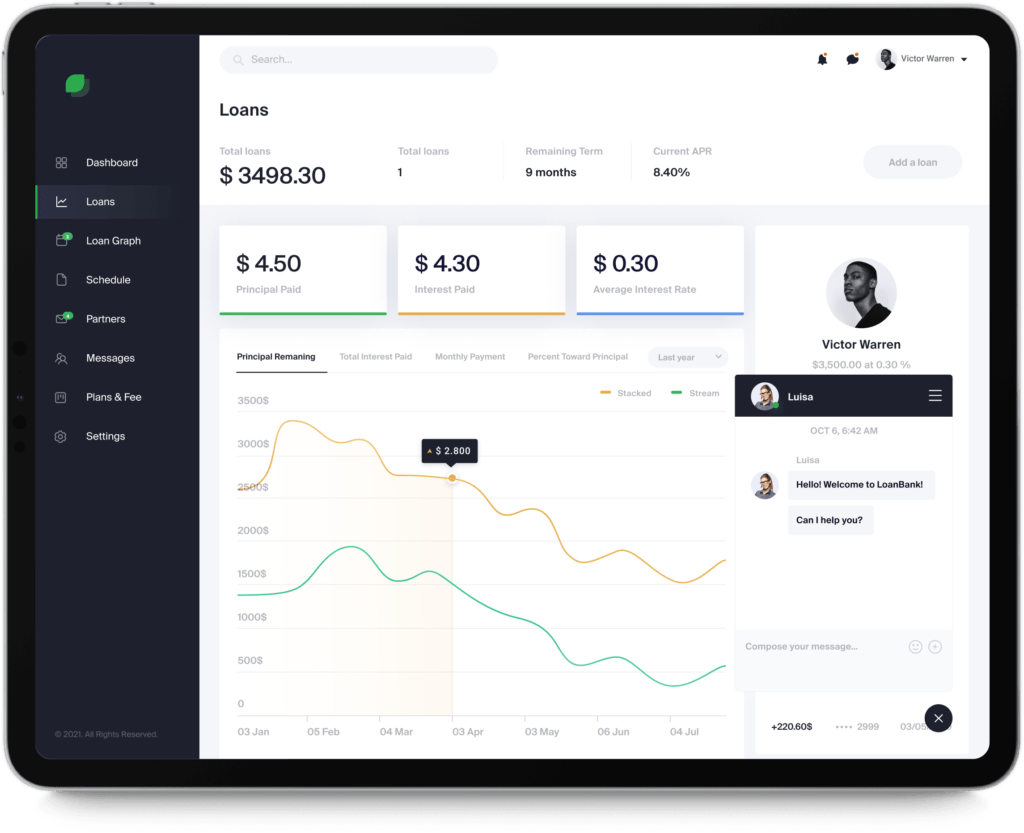 Digital Lending Industry Trends
The Increased Use of ML and AI
For example, Machine Learning can be efficient in the following areas.
Sales and Marketing. As a business, we understand the importance of acquiring new customers. However, it's also important to make the most of your existing customer base. Many lenders fail to realize the value of their existing customer data. ML can assist in analyzing these data sets and identifying who among them has a greater interest in taking out new loans. It can also help determine the best locations to expand your services.
Risk Management. The same analytics can also identify existing risks to assist with risk management. In addition, machine learning can improve the customer verification process and prevent fraud.
Back-Office Operations. Additionally, it can automate routine processes, which will increase your staff's productivity.
Meanwhile, Artificial Intelligence can help support the following business functions:
Customer Acquisition. By leveraging ML and AI, you can generate more leads and create personalized, targeted marketing campaigns.
Credit Scoring. Lastly, these technologies can also reduce the resources needed to check customer eligibility by half. They can quickly gain access to and retrieve information from the necessary channels, allowing your customers to access your services whenever and wherever they want.
It is no wonder that ML and AI are the leading digital lending trends.
However, you need to be careful when using lending devices or applications that leverage the power of machine learning and artificial intelligence. This is because no matter how well-designed your lending applications or smart your lending devices are, things can go wrong. This is one of the reasons that makes the convergence of observability and AIOps important.
This convergence provides lending businesses with a way to remain on top of their devices and applications and monitor their health as well as performance. In case of an error or something that might affect performance, you can detect them in good time. You can also fix them before they bring down your lending software.
Any questions? Drop us a line.
Automation
We have mentioned one of the most important keywords in lending app development trends recently: automation. Think of your entire loan process. How many of those tasks are routine and repetitive? Is it necessary for your personnel to handle all of them?
Credit analysis, loan program selection, decision-making, approval, and risk management are all processes that can be automated with the right technology. You might be surprised by how much of your process can be streamlined.
Going to Cloud
For any lending organization, two of the biggest challenges are data and accessibility. This is especially true for online lending companies and brick-and-mortar lenders that have had to accommodate remote employees due to the global health crisis.
Fortunately, there is a way to manage vast amounts of data and make it accessible to anyone within your organization. This is the main benefit of cloud-based technology. It can also reduce capital, streamline your workflows, and provide room to scale up on demand.
The Use of APIs
After transitioning to a cloud-based system and integrating ML and AI, the next step is to consider how these programs will communicate and transact with each other. This will enable a faster and more streamlined process.
The key to exchanging information between applications lies in the application programming interface (API). In short, an API is a technology that enables two applications to communicate and share information with each other.
Recent trends in the digital lending industry suggest these fintech APIs are a must-have for any lending app:
Onboarding APIs. These APIs are specifically designed to handle onboarding information, such as the amount of loan required, the expected (or preferred) duration range, and the type of loan.
Credit Underwriting APIs. These are APIs created to gather data from different sources and deliver it to lenders. These APIs eliminate the need to distribute data across multiple systems as they handle that task as well.
Loan Fulfillment APIs. This type of API delivers information from the lending program to the customer. One of the benefits of using APIs is the added cybersecurity it provides to protect your company and customers' financial information. You can learn more about what banking institutions do to keep their customers secure here.
Predictive Analytics
By leveraging data and machine learning algorithms, lenders can make more precise predictions about borrowers' creditworthiness. Predictive analytics reduces risk and enables data-driven decisions, thereby enhancing lending operations. Furthermore, predictive analytics can greatly improve security by detecting fraud.
Open Banking
The increasing adoption of open banking is another trend that has implications for the future of digital lending. Open banking is sharing financial data between different financial institutions through standardized APIs. This provides lenders with access to a wide range of data about potential borrowers, resulting in more precise credit scoring and lending decisions, as well as a more personalized experience for borrowers.
Robotic Process Automation (RPA)
Software robots are commonly used to automate and streamline repetitive tasks, such as data entry and document processing. Automation helps lenders save a significant amount of time and costs when processing loan applications. Additionally, it improves accuracy and eliminates manual errors, resulting in a more efficient process overall.
Chatbots and Virtual Assistants
Using chatbots and virtual assistants provide borrowers with quick and easy assistance on loan applications and questions, thereby improving customer service. Additionally, these tools automate time-consuming tasks like answering FAQs and providing loan updates. This allows customer service representatives to focus on more complex inquiries and provide better service to borrowers.
Summary
To summarize the article quickly, here are the key trends that experts predict will redefine the future of lending:
Machine Learning and Artificial Intelligence. These technologies can help sort and manage the ever-expanding amounts of data from both new and existing clients.
Automation. Save time processing requirements and getting loans out to borrowers by automating routines, tasks, and report-making. Doing so will also free up personnel and make them more productive.
Going Cloud-Based. Keeping everything in print exposes your important documents to significant risk. Digitizing them is not enough, as it still limits access, especially for remote customers and staff. Going cloud-based offers a more secure and convenient solution for everyone involved.
Application Programming Interface. Finally, you need to tie together all the involved platforms by using a secure API. There are different types of APIs that you can integrate with your business processes, such as onboarding, credit underwriting, and loan fulfillment.
Predictive Analytics. Using machine learning algorithms and data can lead to more accurate predictions about borrowers' creditworthiness.
Robots and bots. Robotic process automation, along with the use of chatbots and virtual assistants, allows for the streamlining of time-consuming work, freeing up resources for other tasks.
Remember that these are not the only technologies that will make an impact in the coming years. We've identified these as the most promising and therefore the most important to integrate into your current digital lending software development efforts.
Itexus develops digital solutions for non-bank digital lenders and traditional financial institutions. From online loan applications to entirely automated platforms with a full suite of services, we deliver flexible, reliable, and secure financing and lending solutions that help businesses manage regulatory compliance requirements, shorten financial cycles, and increase revenue. Contact us to learn how you can benefit from our expertise and discuss possible collaboration.
By Itexus Team