A reliable, quality backend system is essential to any excellent fintech solution. It is responsible for storing, processing, and arranging data, and providing a secure environment for users. Additionally, it ensures that the software operates as it should, performs well, and runs smoothly. Moreover, even though the backend is invisible to the end user, it directly affects their experience.
Considering the role of the backend system in the overall software's performance, it's essential to choose skilled and experienced backend developers to build and maintain these systems. In addition to creating, maintaining, testing, and debugging backend systems, a highly skilled back-end developer should also know how to analyze user needs to ensure a positive user experience.
If you're seeking skilled fintech back end developers to fill the skills gap in your team, you've come to the right place. Below, you'll find a list of reputable software development companies with a proven track record of providing quality backend development services for fintech companies. They also offer flexible engagement models and highly skilled developers who can assist you in building and maintaining your backend systems.
1. Itexus
Itexus is a software development company that specializes in creating solutions for the financial services industry. Their skilled fintech back end developers have extensive experience in building and maintaining robust backend systems for fintech companies. Itexus offers flexible engagement models to meet the needs of its clients and can provide developers for both short and long-term projects.
Their expertise and experience allow them to deliver scalable and maintainable code that is always up-to-date with the latest technologies and best practices in the industry. They take pride in their ability to assist clients in filling their knowledge and skills gaps, as well as building and maintaining reliable and secure backend systems for fintech solutions.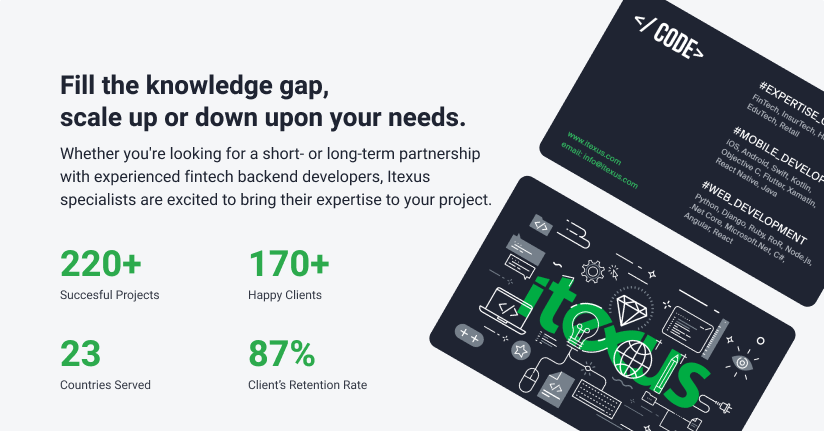 2. Deazy
Deazy is a developer marketplace that assists enterprises, VC-backed startups, and European clients in finding pre-vetted development teams or individual specialists, including fintech back end developers. With "Make development easy" as their motto, Deazy's team aims to build long-lasting relationships with their clients and provide them with high-quality, easy-to-maintain code. The company is known for the diverse skill sets among its specialists, flexibility, and individual approach.
3. Devsu
Devsu offers web and mobile app development, custom software development, and technology consulting. The company also provides fintech back end developers for hire and IT augmentation services for those seeking to benefit specific expertise while avoiding the hassle of recruitment and onboarding. With top fintech back end developers on board, Devsu is a perfect fit for organizations looking to add specialized tech expertise to their projects or scale their teams.
4. Intersog
As an established provider of AI development and IT staffing services, Intersog helps organizations across various industries and locations take advantage of high-quality fintech backend developers in a time-efficient manner. The company delivers agile team staffing solutions and is known for its convenient recruitment model and wide and diverse talent pool, where each business can find the right candidates, be they fintech backend developers, or other specialists.
5. Modoq
Modoq specializes in nearshore software development and offers fintech back end developers for hire capable of working on a wide variety of projects remotely, both short-term and long-term. Modoq is dedicated to handling all employee-related issues so that clients can access remote backend fintech developers with the required qualifications at a loyal price, and focus on their core business activities. This means that administrative tasks can be left to Modoq, providing a hassle-free experience for their clients.
Any questions? Drop us a line.
6. ByteCorp Technologies
ByteCorp is a technology company that specializes in providing end-to-end, custom-built solutions for clients from various industries and where you can hire remote fintech back end developers. The company aims to help its clients save time, money, and effort by hiring remote backend developers for specific projects, periods, and tasks. ByteCorp's remote backend developers have a diverse range of skills and expertise in various programming languages and frameworks, allowing them to work on complex projects and deliver high-quality results. Additionally, the company offers flexible pricing options to accommodate different budgets and project requirements.
7. Appniv
AppNiv thoroughly examines its clients' requirements to provide specific skill-set resources dedicated to your project that will act as in-house team specialists. The team takes pride in its flexibility and is always willing to adjust to your processes and approach to ensure that the project is completed to your satisfaction. In addition to backend development, AppNiv's specialists can help you with a wide range of services, including product design and digital marketing.
8. N-iX
N-iX is a global company that offers engineering services, expertise in a wide range of technologies, and team extension options for businesses in the financial industry. As a reliable tech partner, N-iX provides access to additional talent pools and enables flexible scaling to help you grow your team and expand your software development capabilities, ultimately delivering high-quality software solutions.
9. Eleks
ELEKS is the go-to company for a wide range of businesses looking for top-tier backend fintech developers. With a global reach, ELEKS offers an extensive suite of services designed to help companies maximize their value and potential, including custom software development, product design, QA, and team extension services. ELEKS also prides itself on its commitment to quality and customer satisfaction, making them a trusted partner for businesses of all sizes.
10. Accedia
Accedia is а professional IT services company with a focus on technology consulting, software development, and IT operations management. The company is a partner of choice for startups, SMEs, and large enterprises across various industries. Just like other companies in the list, Accedia offers backend fintech developers for hire, but what sets it apart is its commitment to high-quality code and long-term partnerships, as well as flexibility and transparency.
Summary
Having a reliable and high-quality backend system is an essential component of software performance. Likewise, having skilled, experienced, and dedicated backend developers is crucial for the success of the project as a whole. These developers bring valuable expertise, knowledge, and skills that can help optimize the system, identify potential bottlenecks, and propose creative solutions. By working with the right team of developers, you can ensure that your system is designed and developed to meet your specific needs and requirements, while also being flexible and scalable enough to adapt to future changes.
If you are facing a skills gap in your in-house team and struggling to find the right talents, we've got you covered. Our experts have years of experience in developing and maintaining robust backend systems and a proven track record of delivering high-quality code that is both scalable and maintainable. Whether you need help with building new features, debugging existing code, or improving performance, we have the skills and expertise to get the job done. Contact us to discuss your needs and find out how we can help.
By Itexus Team