The mortgage industry is one of the most challenging for businesses though it's the one which is the most fulfilling. Dealing with many people on a daily basis, helping them to fight uncertainty and fears, and at the same time, joining them in the happy moments of their lives, when families could have a dwelling of their own is truly exciting. A powerful mortgage CRM system is the key to a successful decision-making process, which not only streamlines the operations, facilitates the processes, and improves efficiency, but also increases customer satisfaction, which results in maximized mortgages and sales. This could be one of the reasons why mortgage CRM development is one of the fastest-growing software markets nowadays reaching $80 mln by 2025. Up to 50 percent of businesses in the field are ready to allocate the funds to embrace customer management technology.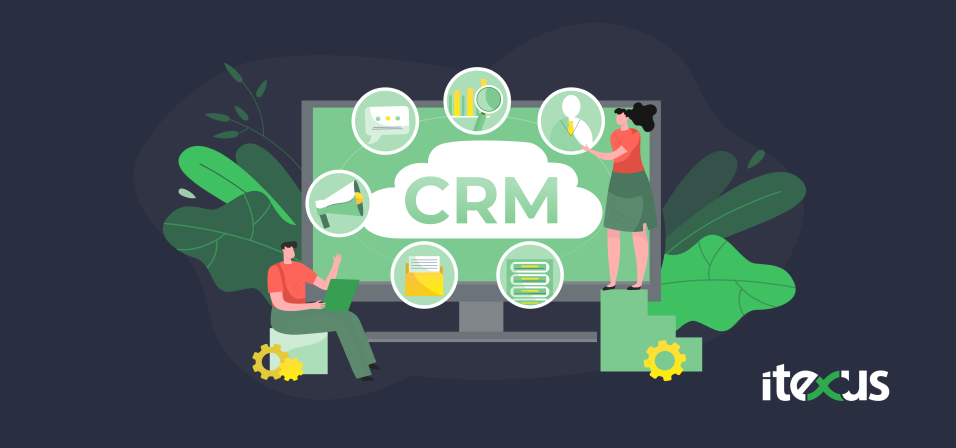 What is Mortgage CRM Software
CRM for mortgage brokers addresses the pain points of mortgage lending. It is designed to help loan officers be more effective, respond faster to requests, keep all necessary data in one place, and turn casual inquirers into happy customers.
In addition to standard customer service functionality, mortgage CRM solutions also help borrowers apply online and upload any needed documents required by banks or other financial institutions, which speeds up the decision-making process tenfold. Mortgage CRM platforms should also help lenders and borrowers stay up-to-date concerning various regulations and compliances coming from institutions like FHA (Federal Housing Administration), or keep track of changes in UFMIR (Upfront Mortgage Insurance Rates).
It's critical to discuss the important features mortgage CRM software should have as it helps companies make the right decision toward the developer or the solution provider. Let's give this topic more consideration.
Key Features of Mortgage CRM Software
1. Integration Capacities
CRM software for mortgage brokers should offer several key integrations, including Loan Origination System (LOS), accounting, and Enterprise Resource Planning (ERP) systems. Many of these systems are outdated, requiring multiple installations and setups. Without these essential integrations, your mortgage CRM solution will be unable to unite disparate systems, which will negatively impact your customer relationship goals.
2. Compliances and Regulations
Any business sphere that deals with people's money is highly regulated, and the mortgage industry is no exception. Moreover, the crisis of the early 2000s reshaped the industry, leading to the creation of more regulations. These regulations are constantly being updated to scrutinize the lending and loaning processes and to reduce risks for both borrowers and lenders. That's why a mortgage CRM should be flexible enough to embrace changing protocols and help mortgage industry players stay ahead of their competitors.
3. Loan Management
Loan management integration connects mortgage CRM with the Loan Origination Software (LOS) which enables report views, loan tracking, and also the synchronization of the Uniform Residential Loan application (Form 1003). Loan management inclusion is vital for next-generation CRM for mortgage lenders, as it revolutionizes the mortgage industry, making it transparent and accessible for any legal party in real-time.
4. Mobile and Web Functionality
Having a mobile mortgage CRM app is not only convenient but also very efficient. Any requests that are time sensitive could be addressed on time. In addition, a mobile CRM mortgage app enables brokers to access customer details, appointments, and tasks anytime and anywhere. A cloud-based web portal adds to total mobility. Moreover, a web portal helps borrowers fill in the loan application and retrieve it. Make sure that your mobile and web UI and UX are responsive and engaging attesting to low customer dissatisfaction and high employee retention.
5. Secretary Functionality
The virtual secretary functionality embedded in mortgage CRM enables brokers to function more effectively. Personalized dashboards help to sync brokers' schedules and provide important alerts and reminders. This helps brokers concentrate on acquiring new clients, rather than struggling to keep track of disorganized notes scattered across several means of communication.
6. Social Media Integration
In today's world, where most people get their news and information from social networks, it is crucial for mortgage CRM software to have an embedded social media tool. This tool enables lenders to monitor feedback and reviews, as well as provide timely updates. A positive presence on social media is beneficial for any company and helps to run successful CRM campaigns.
7. Marketing Campaign Component
Drip marketing campaigns help to cultivate customer loyalty and could be a very valuable integration to a CRM solution for mortgage lenders. Targeted messages facilitate customer-broker interaction and let the mortgage business stay relevant by getting in touch with the customers on a regular basis. Neatly organized, automatically dispatched emails direct customers to make an inquiry call or visit a homepage.
8. Scalable Infrastructure
When finding a software development company to build your mortgage CRM make sure that their specialists are experts in solution architecture. The back end of your software should be scalable and grow together with your business. It should be malleable, enabling the handling of data and the users' number coming in spikes. Make sure your software has the needed processing powers and powerful cloud infrastructure.
Any questions? Drop us a line.
Off-the-Shelf VS Custom Mortgage CRM Solution 
There are multiple CRM systems on the market that are white-label or stand-alone software. Some of them are quite successful and may become ideal solutions for mortgage companies that only start making their first steps in the field. Such solutions might have vital CRM functionality and some of the above-mentioned features implemented but they will still miss a thing or two when your business starts growing and molding itself. Anyway, let's discuss the benefits of existing mortgage CRM software alongside the benefits and challenges of mortgage CRM solutions built from scratch.
3 Case Studies of Successful Mortgage CRM Software
Shape
Shape is a marketing automation tool offering CRM mortgage services in addition to catering to many other industries. It's ideal for brokers as the platform has an in-built phone unit with the ability to track calls, record voicemails, manage caller IDs, etc. The tool has unmatched marketing functionality in addition to loan update management, referral partner tracking, and employee productivity monitoring. Many agree that detailed reporting provided by Shape is very convenient as it helps you to highlight the metrics you are interested in. Last but not least, the platform is integrated with Zapier helping customers to connect it with LOS systems.
Whiteboard
Whiteboard is another mortgage-dedicated CRM system helping its customer cover all vital operational aspects including text marketing campaigns, lead generation, loan processing, and generation. One of the strongest sides of the platform is its intuitive user interface and powerful virtual secretary functionality. Whiteboard has various pre-built reporting templates helping to visualize not only monthly leads who have converted into customers but also receive a wholesome picture of loans funded and their value in national currencies. Many brokers praise the tool for automatic updates on the loan status.
BNTouch
BNTouch is a mortgage CRM software emphasizing marketing multi-channel practices. It means that apart from the specific mortgage marketing pathways BNTouch provides brokers with other marketing tools powerful enough to run full-scale campaigns through emails, landing pages, social media, blogs, texts, etc.
5 Benefits of Custom Mortgage CRM Software Development
1. Essential Features Implementation
When you buy the license and your employees start using a ready-made mortgage CRM solution, you might find out that some of the features are unnecessary and some are lacking. For such implementations, you'll have to onboard a group of certified developers to fulfill the needed high-scale integrations, which would cost money. The tailored solution will match your business goals ideally and there will be no need for any additional third-party integrations.
2. Your Very Own 24/7 Support Team
White labels or ready-made solutions don't come with a support team. Meanwhile, in case of any alterations which your business might need, you have to make sure that all of them are working seamlessly and are load resistant. Crafted software comes with system maintenance and bug fixing by default.
3. Solid Protection Against Breaches
Any business operating with customer personal data sets the priority on safety and security. This is the way to gain trust and build long-lasting relations. Custom development helps to introduce any additional protection layers or update the existing ones to ever-emerging online safety regulations.
4. Maximum Flexibility and Scalability
Based on the goals of your business you might need specific features or new cloud integrations which would become noticeable on the stage of user usability testing. You will be able to address such callings knowing that a team of professionals is covering your back rather than staying on your own with a fresh license for an off-the-shelf solution in your pocket.
5. Top-Notch Technologies Adaptation
FinTech development is a massively growing industry open for any new undertakings powerful enough to revolutionize the industry. Some of them are AI, blockchain technology, and encryption. Many businesses are looking in that direction. Tailored mortgage CRM developed according to the highest industry standards could embrace any emerging technology upon your request.
Summary
Understanding your customers' behavior is a paramount peak of a business's growth. Being able to address customer issues and respond to their pains helps to structure the voice of your business and makes it thrive. If the business allocates the funds correctly and invests in the custom development of a CRM solution that suits its business goals, then the huge amount of customer communication is properly tackled and the power unleashed puts the business ahead of competitors.
Finding a trustworthy skilled company to build your solution could be not easy but doable. Drop us a line, and open up on the issues you want to cover: whether it's a new solution or a surge of upgrading an existing one, we are here for you.
By Itexus Team