Taking out a mortgage loan is a common practice that allows home buyers to get money from banks and other financial institutions and purchase a house. Often, this is one of the biggest decisions in their lives, which indicates the level of accuracy mortgage software developers should tackle such a sensitive issue as mortgage management software development.
When borrowers decide to take out a mortgage loan, they do a lot of research and deliberation. Also, the level of complexity the legacy banking institutions are injecting into the process, makes it long and tiring for all sides. Nevertheless, the mortgage market keeps growing: around 70% of all homeowners in the USA have obtained a house through a mortgage loan making the total residential mortgage debt of $11 trl for the Q1 of 2022.
Taking into consideration how important a robust and scalable software solution for mortgage lending is, we expect that such a sphere of financial operations doesn't tolerate chancers and only companies with deep expertise and proven record of projects accomplished in FinTech can take leads and make clients' journeys to their home less stressful.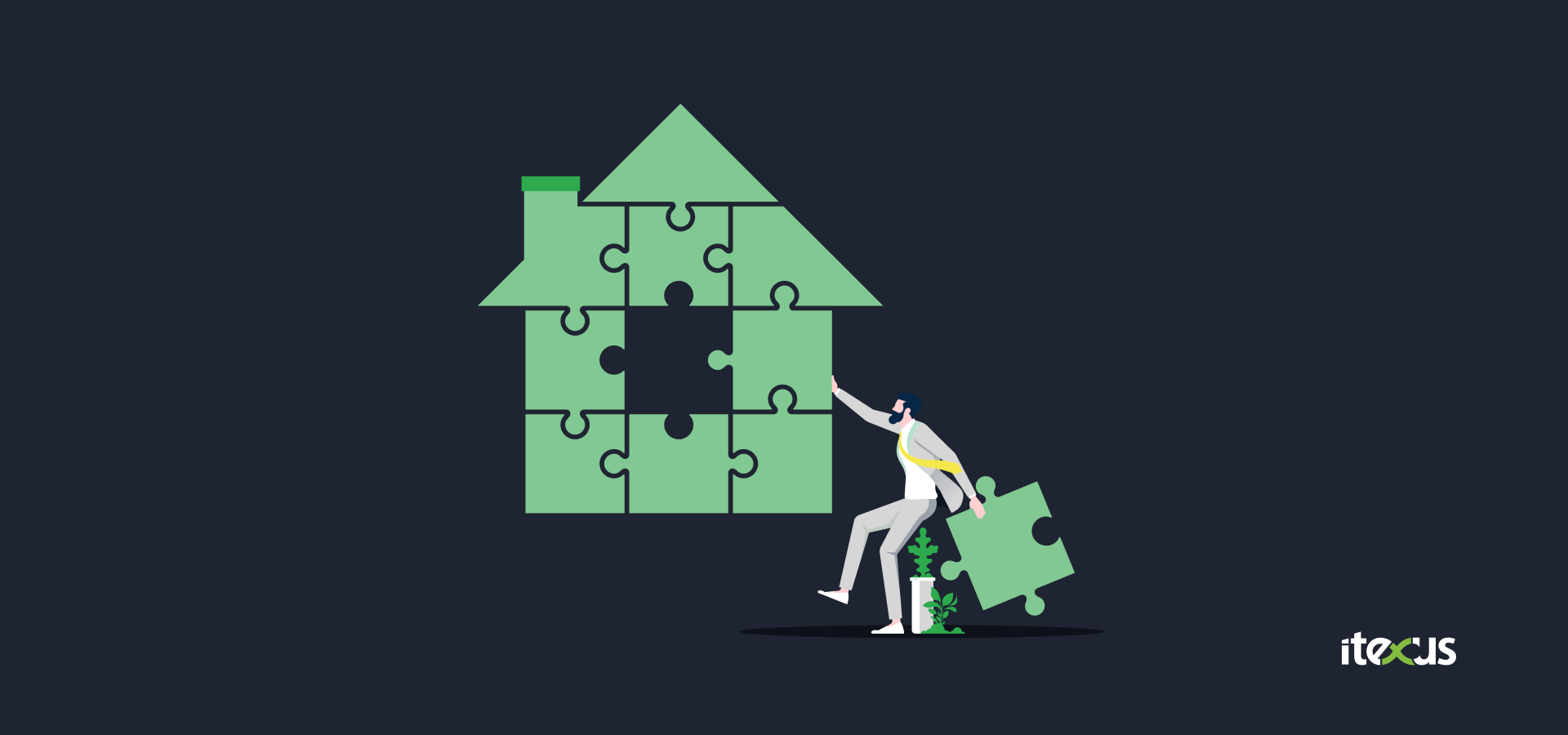 Mortgage Software Benefits
Sales Operations Streamlined
Sales and management processes in mortgage software are extremely difficult and multifacet. There are entire banking departments involved in mortgage documentation management. With the inflow of clients, the already huge document turnover increases manifold. The digitization and automation of the mortgage sales process are the answer to the efficient procession of lending and client-related data. Moreover, streamlining the management processes helps to gather all related information from different bank departments in one spot, enhancing the cooperation between them, and thus speeding up the decision-making.
Maximized Sales and Mortgages
Such a delicate sphere as mortgage lending implies a very high level of consideration, specifically in terms of report origination. Mortgage automation software creates reports to different parties of the lending process, such as borrowers, investors, regulatory bodies, etc. in an accurate and technical way. Such optimization helps a lending company to increase sales and mortgage in addition to catering to the needs of a more considerable number of clients.
Processes Facilitation
The two most complicated parts of mortgage lending processes that should be addressed by mortgage software are loan processing and property transaction closing time facilitation. The creation of a platform allowing the connection in real-time for borrowers, originators, processors, and underwriters assisted by automation software is the key to cutting time and completing cases much faster. Embedded AI-backed software helping to fill out deadening paperwork and pointing out the requirements also adds to the process facilitation.
Increased Revenue and Improved Efficiency
Mortgage software allows the processing of bigger amounts of applications and consequently manages more loans. With the increased workflow, income is also growing. Having many mortgage lending processes automated with the help of AI and Big Data, there is not much space left for human error, which also increases the company revenue, because there is no need to spend more time and effort on the correction of mistakes. On the stage of mortgage loan origination, robust mortgage software could alert borrowers and other entities of the lending process about any missing or incorrect data, in addition to the required compliance with the recent local regulations, which significantly improves the efficiency of the mortgage lending process.
Better Customer Experience
According to the Bank of America, 81% of their clients' mortgage applications in 2021 were initiated online which doubled the percentage of digital applications they received in 2020. It means that mortgage software development is on the rise in the USA and the digitization of this banking sphere will only grow. Facilitated mortgage loan origination and closing time increase customer satisfaction. Also, the transparency of the system which lets borrowers know which stage exactly their case is in, makes the process less stressful.
Core Features of Mortgage Management Solution
Loan Management
Mortgage loan management software keeps the lender updated on the status of the mortgage loan, while automated reporting provides information on the present installments. Advisory tools could predict the future status of the loan. Scalable, cloud-based solutions help to manage the lifecycle of the mortgage loan. Also, they could be easily programmed to concentrate on unique tasks, i.e. repayment tracking or Uniform Residential Loan Application (Form 1003) and loan status values synchronization. The automation of tedious and repetitive tasks optimizes the company resources manifold. Moreover, robotic tools improve the data accuracy on the level of loan origination, making sure that the process of getting approvals and cross-verification on several management levels is smooth and time-saving.
Client Management
Mortgage CRM should address the pain points in the mortgage lending process and be scalable enough to adapt to the growing network of clients. Lenders need to keep the borrowers' detailed data and be able to maintain timely follow-up of the clients in addition to controlling the loan pipeline. Borrowers benefit from mortgage CRM software as it makes them stay up-to-date on important compliances and regulations provided by such organizations as Federal Housing Administration (FHA) or the changes in Upfront Mortgage Insurance Rates (UFMIP). Also, it enables the upload of any needed documents which significantly speeds up decision-making. Ideally, the mortgage application software should also provide a support module and a chatbox to facilitate communication with borrowers.
Broker Management
Mortgage applications are fueled by how efficient brokers are. One of the features of mortgage management software is to provide a function of a virtual secretary to organize brokers' tangled web of appointments and make sure that their schedules don't contradict each other. Also, brokers would be able to receive regulation compliance notifications, recent updates in the regional mortgage loan policy, and feedback.
Streamlined Accounting
A cohesive accounting module is a part of mortgage management software that streamlines all business and financial transactions. It allows lenders to track every transaction either approved or rejected and offers various automatized accounting reports. Mortgage accounting software gives the analysis of overall payments and provides analytical reports for the future. It also provides bank reconciliation, duplicate payment alerts, recurring bills, approving processes, etc.
Third-party Integrations
For successful mortgage management software development, third-party integrations should take place, which maximizes its efficiency. These could be KYC/AML providers, various payment gateways, Business Intelligence tools, accounting systems, cloud services, and legacy ERP systems. Open banking integration speeds up the decision-making of the mortgage loan and closing time based on the disclosed borrower's financial data: monthly income, taxes, loans, expenses, bankruptcy filings, etc.
Any questions? Drop us a line.
How to Develop a Mortgage Servicing Solution
The mortgage sphere has been traditionally a very complicated sphere of banking activities as it involves intense human communication, implies high levels of stress, and responsibility from all parties. The introduction of scalable, resilient, and omnichannel mortgage management platforms is a new trend becoming possible with the development of state-of-art technologies. At Itexus, we advocate for a unique approach to every client, pinpointing their pain points and helping them rise. Let's discuss the vital steps to take on the road to your dream solution:
1. Market Research
Being in the mortgage business, lending parties know how the system works from the inside. Custom mortgage software could solve a bigger range of issues and provide careful assistance to first-time borrowers. It's a good idea to survey competitors and cutting-edge solutions originating in the mortgage sphere.
2. National Regulators
One of the top concerns of banks providing mortgage loans to borrowers is mortgage compliance. Make sure that the software to develop is following local policies and laws, in addition to keeping track of all changes in the regulatory field. Some of the important regulators aimed at lender and borrower protection in the USA are the Home Mortgage Disclosure Act (HMDA), National Credit Unit Administration (NCUA), Equal Credit Opportunity Act (ECOA), etc.
3. User Experience
Following the users' expectations, mortgage software should be mobile-friendly with an intuitive and easy-to-understand interface. It should use encryption to protect sensitive users' data and many other essential functionalities from streamlining the mortgage loan origination and application tracking.
4. Trusted Software Vendor
Building mortgage management software is a challenging task and should be handled by professionals skilled in FinTech development. They will help with business analytics and technical specifications for the project, give development cost estimation, assist in planning the roadmap of the project, and, what's more important, help you to deliver and deploy your mortgage servicing solution.
Summary
First-class mortgage management software helps professionals unite multi-channel processes and financial transactions on one transparent, seamless, and easy-to-operate loan disbursal platform. Moreover, if you decide to go with the custom mortgage software development you will get unique features based on the needs of your business, 24/7 technical support, and unmatched scalability when the solution is growing together with the client's base. Another important point is to find a team having international security certifications. If you are struggling to find an ideal IT partner for mortgage software development, drop us a line. Share some details with us during the call with a specialist and we will get back to you with the quote in the shortest time.
By Itexus Team