Online lending has become very popular lately: first, because of marketing that actively promotes what to buy, how to look, and which cafes to visit. Secondly, due to the lockdown and inability to book an appointment at the bank when you need money. Also, if there is no need to go to the bank and make physical contact with bank employees there, it's easier to get a loan and not feel uncomfortable after all. Some people just like the instant nature of P2P loans as it allows them to borrow a few dollars if needed just before the payoff date and then pay it back with relatively low interest after a week or two, depending on the loan terms.
All of this has led to the automation of lending processes, including online loan generation, credit score calculation, KYC, payments, underwriting, and bad deal management. Fortunately, modern technologies such as AI, ML, Blockchain, and Big Data have created a safe space for the development of 2P2 lending apps which are highly welcomed by end-users for their scalability, fast operation, and enhanced user experience. Let's discuss the top 10 lending app development companies that are bringing significant value to the lending industry today.
Top Loan Lending Software Development Companies of 2022
Itexus has a successful history of FinTech software development starting from 2013. With highly skilled professionals on board, the company has managed to develop solutions that boost business, attract thousands of new users and increase ROI. With its expertise in developing custom solutions for insurance, banking, investment, and other financial sectors, Itexus has also earned a reputation as an excellent partner in the development of lending software, which has enabled the company to hit the list of top lending software development companies. The company focuses on building secure and reliable FinTech solutions that are compliant with financial regulations from PCI DSS and FASB. Itexus is well-versed in providing smooth integrations with numerous third-party services, not to mention its deep expertise in technologies such as React, Python, Swift, Kotlin, . NET C#, etc.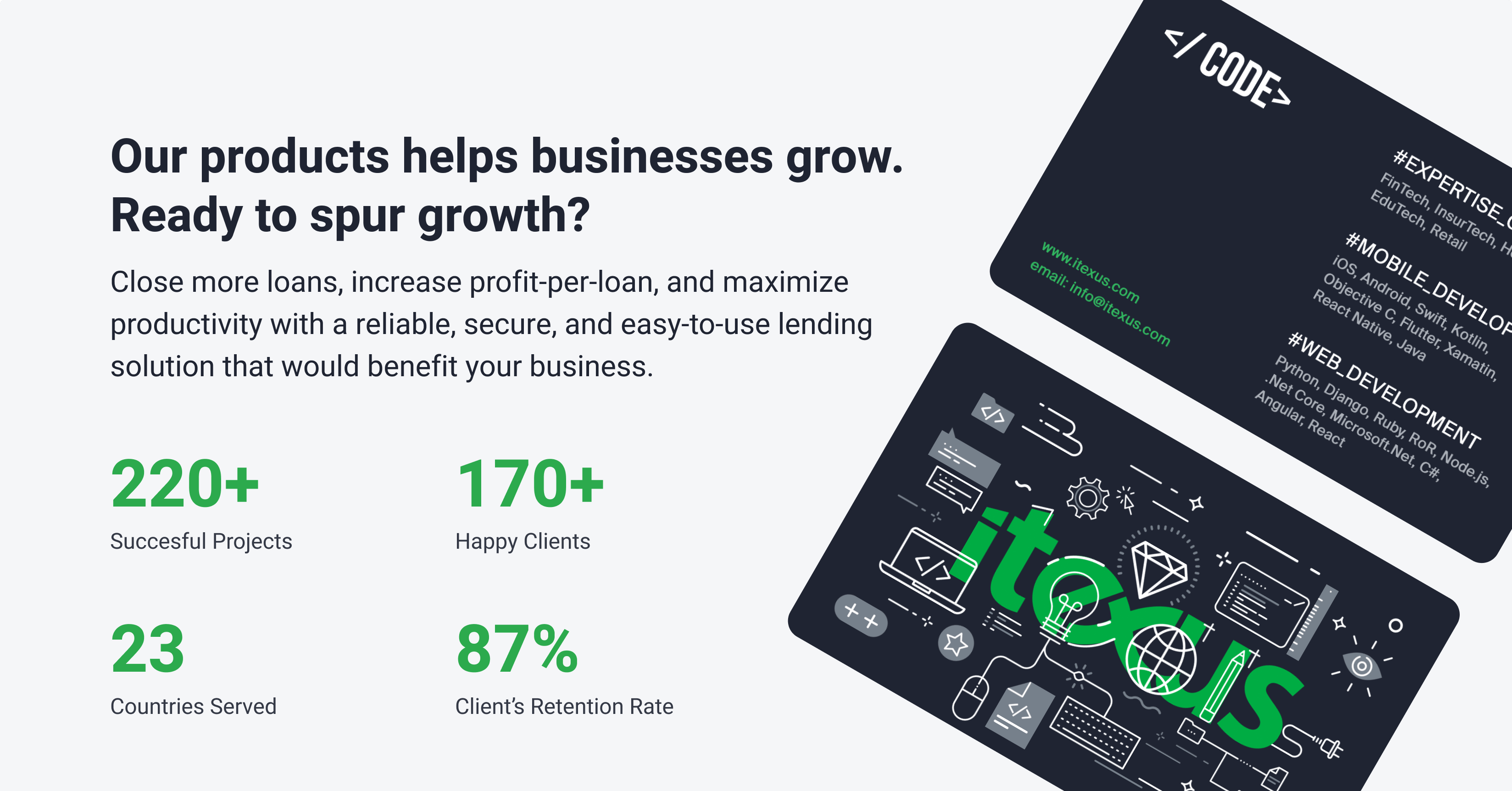 2. Code & Pepper
Code and Pepper is a Polish-based IT company founded in 2006 building FinTech apps and custom web solutions for clients all over the world. They are equally skilled with front-end and back-end customization providing services of lending app development for startups and midsize companies. The company is actively providing team augmentation services in addition to building end-to-end solutions.
3. Radixweb
Radixweb is a custom development company that not only provides turnkey solutions and maintains its performance, but also offers marketing, SEO, and SMM services if needed. The latter could be a pleasant bonus if you are a startup and thinking of P2P lending app development. The solutions created by the company are custom-made and a lot of emphases is put on security and reliability.
4. Praxent
Praxent is a US-based development company having vast expertise in financial APIs development, loan lending platforms and apps, as well as other FinTech solutions. The company also claims to have skilled IT business analysts and solution architects who are able to develop a specific project delivery strategy that best suits your business objectives.
5. Magora Systems
Magora Systems is a UK-based company with more than 5 years of experience in FinTech development. The company helps its clients improve their brand awareness and increase monetary turnover through high-quality, robust lending apps. Magora Systems' software has well-written code in its backbone which makes its integration with other software smooth and speedy.
6. Woodridge Software
Woodridge Software is a US company headquartered in Colorado. It has been a trusted player in the FinTech market for nearly 10 years, with thousands of completed projects and steady customers. They are advocating for agile development, the use of smart technologies such as ML and AI, and offer a unique secure software development lifecycle.
7. Diceus
Diceus is a trusted lending app development partner that knows how to benefit your business with a shortened loan lifecycle, detailed customer insight, smart deal dashboards, and thus an improved customer experience. In addition to the development solely, Diceus offers a discovery phase, which is a very useful option if you do not have a clear idea of your future product yet.
8. Scalo
Scalo is a Poland-based vendor with a successful history of projects for international banks and financial institutions such as Santander, ING, Onet, Vodeno, Capgemini, etc. One of the distinctive features of this company is that it is committed not only to well-made software, but also to high-quality customer support for all the solutions they create. With AI-driven chatbots and immediate responses to users' questions 24/7 in multiple languages, the company wins the hearts of end-users.
9. STX Next
STX Next is another Poland-based development agency that has made a name for itself with loan lending platforms and apps you can trust. They have the expertise and tools to build a solid system architecture, provide powerful data analytics, and enable secure integrations with a hypothetically unlimited number of solutions to make your app the first of its kind.
10. Scopic
Scopic is a US-based development agency that offers a wide range of services in the FinTech domain, including lending app development. The team has a proven track record of well-made, resilient solutions and its strength is providing a high level of security and reliability for its solutions.
An Example of Online Lending Solutions: Itexus Expertise
A FinTech startup with decades of experience in the financial services industry turned to Itexus to develop a fully digital online loan platform and mobile app for small and midsize businesses that would fully automate traditional lending. The solution developed by Itexus specialists automates the entire lifecycle of a loan, online loan application, KYC, credit scoring, underwriting, payments, reporting, and bad deal management. The platform features a custom AI analytics and scoring engine, virtual credit cards, as well as integration with major credit reporting agencies and a bank account aggregation platform.
For this project, the Itexus team followed the Scrum development process with 2-week sprints and demonstrations of the new product versions, and feedback collection sessions at the end of each sprint. The solution was delivered on budget and on schedule and was ready for launch in the App Store.
To learn more about the project, please read the original case study.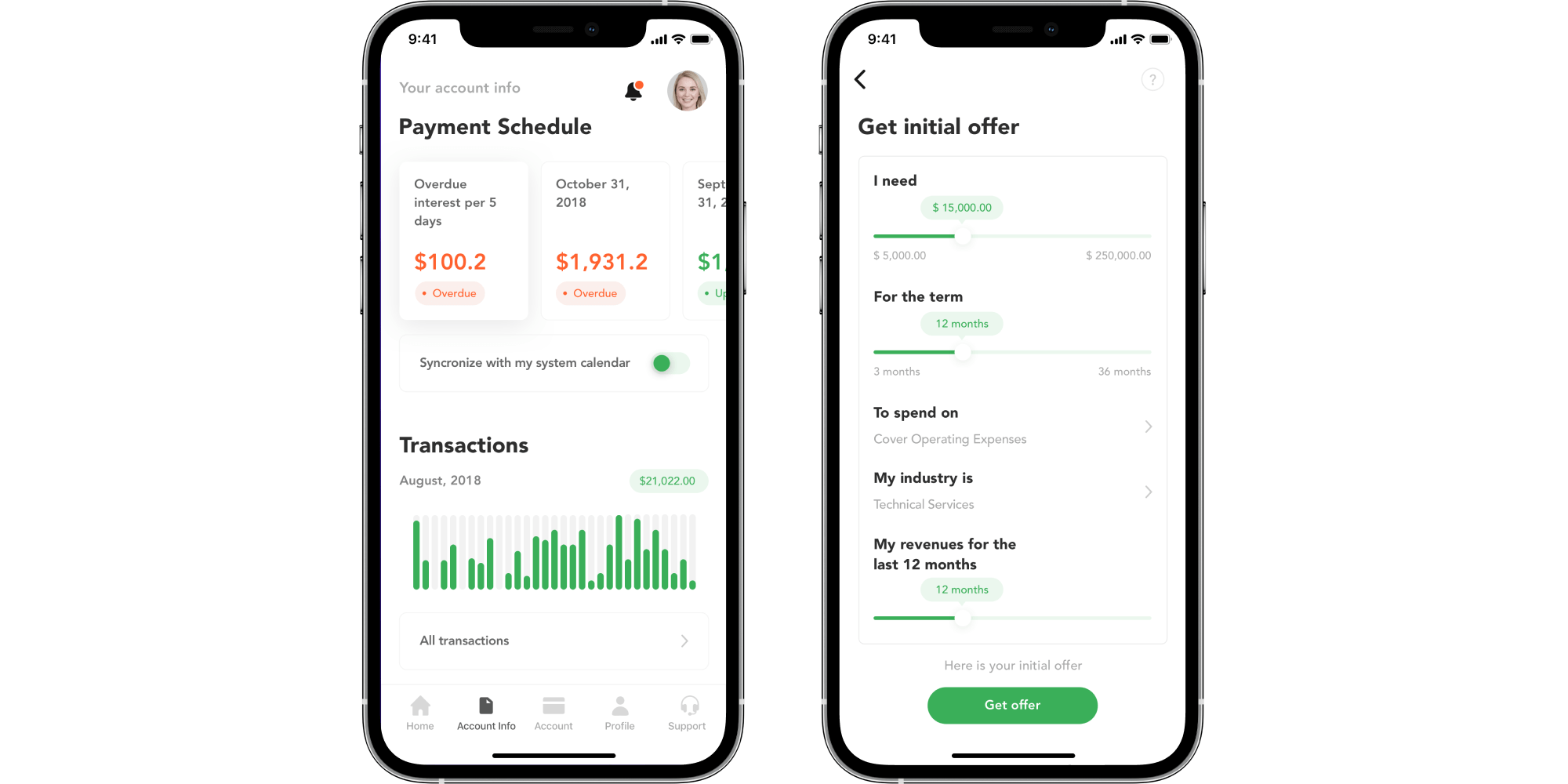 Any questions? Drop us a line.
How to Choose a Partner to Develop a Loan Lending App?
Finding the right partner to develop the solution for you is half the battle. When looking for a contractor to develop lending software and help your business succeed, there are a few factors you should not overlook.
✔️ Make sure the development company has the needed expertise 
Go through the reviews the company posts on its website or in other independent sources like Clutch and others. Pay close attention to the company's experience in developing loan software. Check the team's capabilities and make sure the company has the necessary professionals to handle the technical stack specific to your project. Do not hesitate to ask and have a zoom conversation before you decide to work with this company to develop your lending app.
✔️ Opt for a company with a strong business analytics part
It does not matter if you are a startup or a company that's made a name for itself in the lending world when it comes to developing an app that will help you better engage and retain your customers. You need to go through the same process of market analysis and competitor research. Some flexible development companies can do all this for you in the discovery phase.
✔️ Decide on what model of engagement you seek for your project 
There are several ways to get developers for your projects: hire an in-house team, give the work to freelancers, or outsource development. In terms of efficiency and cost-effectiveness, outsourcing is obviously the best solution. The next question to answer is: what part of our small globe to give it to outsource? Find a company with a similar mentality and business ethics that will not charge you millions for their work. Check out different engagement models and how they compare.
✔️ Pay attention to in-house design team availability
If you decide to outsource the development, make sure that the company developing the software for you has all the necessary specialists such as business analysts, designers, engineers, testers, etc. The company should also provide you with an experienced project manager to establish communication with the development team and make sure that the project is delivered on time and within budget.
To Sum Up
If you decide to create custom software for lending, keep in mind that the rough estimate of development time can range from 1500 to 2200 hours, depending on the functionality needed. If you choose to outsource the project to an Eastern European country where the average hourly rate is $45-$50, then the cost of development alone could range from $75,000 to $110,000. For more details, feel free to contact us and let the journey to the land of coding begin.
By Itexus Team