Crowdfunding is a popular alternative funding method that allows people to diversify their funding sources. It fosters collaboration and community by enabling people to contribute to projects they're passionate about. Crowdfunding is particularly beneficial to startups and small businesses, as it can help them overcome barriers to entry, such as lack of capital or networks. It can also be used to validate a product or idea, signaling strong demand to potential investors.
In this article, we will explore game-changing technologies that have reshaped the crowdfunding landscape. Additionally, for those considering custom platform development, we have compiled a list of the top 10 crowdfunding developers. Check them out if you're searching for a reliable tech partner to bring your idea to life.
Trends in Crowdfunding Software Development
Below, we explore the latest trends shaping the evolution of crowdfunding software. From the integration of blockchain technology to the utilization of artificial intelligence and machine learning, along with the seamless integration with social media platforms, these trends define the way creators and backers engage in the crowdfunding ecosystem. By leveraging these trends, developers build crowdfunding software that empowers users and promotes successful campaigns.
Blockchain technology
In recent years, blockchain technology has emerged as a game-changer in the world of crowdfunding development. By leveraging blockchain's transparency, security, and decentralization features, crowdfunding software can offer enhanced trust and reliability to backers and creators.
Blockchain-powered crowdfunding solutions enable seamless and secure transactions, eliminating the need for intermediaries and reducing costs. This technology changes the way funds are raised, tracked, and distributed, providing a new level of transparency and accountability in the crowdfunding ecosystem.
Artificial Intelligence and Machine Learning
The integration of artificial intelligence (AI) and machine learning (ML) into crowdfunding software development opens up exciting possibilities. AI-powered algorithms can analyze vast amounts of data, including backer preferences and campaign performance, to provide valuable insights and predictive analytics. This enables creators to optimize their crowdfunding campaigns, enhance targeting strategies, and improve overall success rates. Additionally, AI-powered chatbots and virtual assistants can improve user experiences by providing personalized support, answering queries, and guiding users through the crowdfunding process.
Integration with Social Media Platforms
The impact of social media in driving crowdfunding success cannot be underestimated. Crowdfunding software developers are increasingly integrating their platforms with popular social media platforms like Facebook, Twitter, and Instagram. Seamless integration allows creators to leverage their social media presence to promote campaigns, engage with their audience, and generate buzz. With built-in sharing functionalities and social media analytics, crowdfunding software enables creators to tap into the vast reach and viral potential of social media networks, amplifying their fundraising efforts.
If you want to create your own crowdfunding website, keeping up with these trends can help you build a dynamic and successful crowdfunding platform that meets the evolving needs of the crowdfunding community. Check out our guide on how to start a crowdfunding platform from scratch to gain actionable insights.
List of Top 10 Crowdfunding Software Developers
Let's explore a list of top crowdfunding software developers who can bring your boldest ideas to life.
Itexus is a custom software development firm that specializes in building digital solutions for the financial services industry. With over 300 successfully completed projects for clients around the globe, Itexus has experience developing mobile banking applications, trading platforms, digital lending platforms, e-commerce solutions, and more. The company's specialists combine their deep financial knowledge with technical proficiency to deliver quality, secure, and user-friendly software. Itexus offers both outsourcing for entire development projects and additional specialists to reinforce your in-house team. It's a reliable and trusted tech partner, known for high-quality software, flexibility, transparency, and a client-centered approach.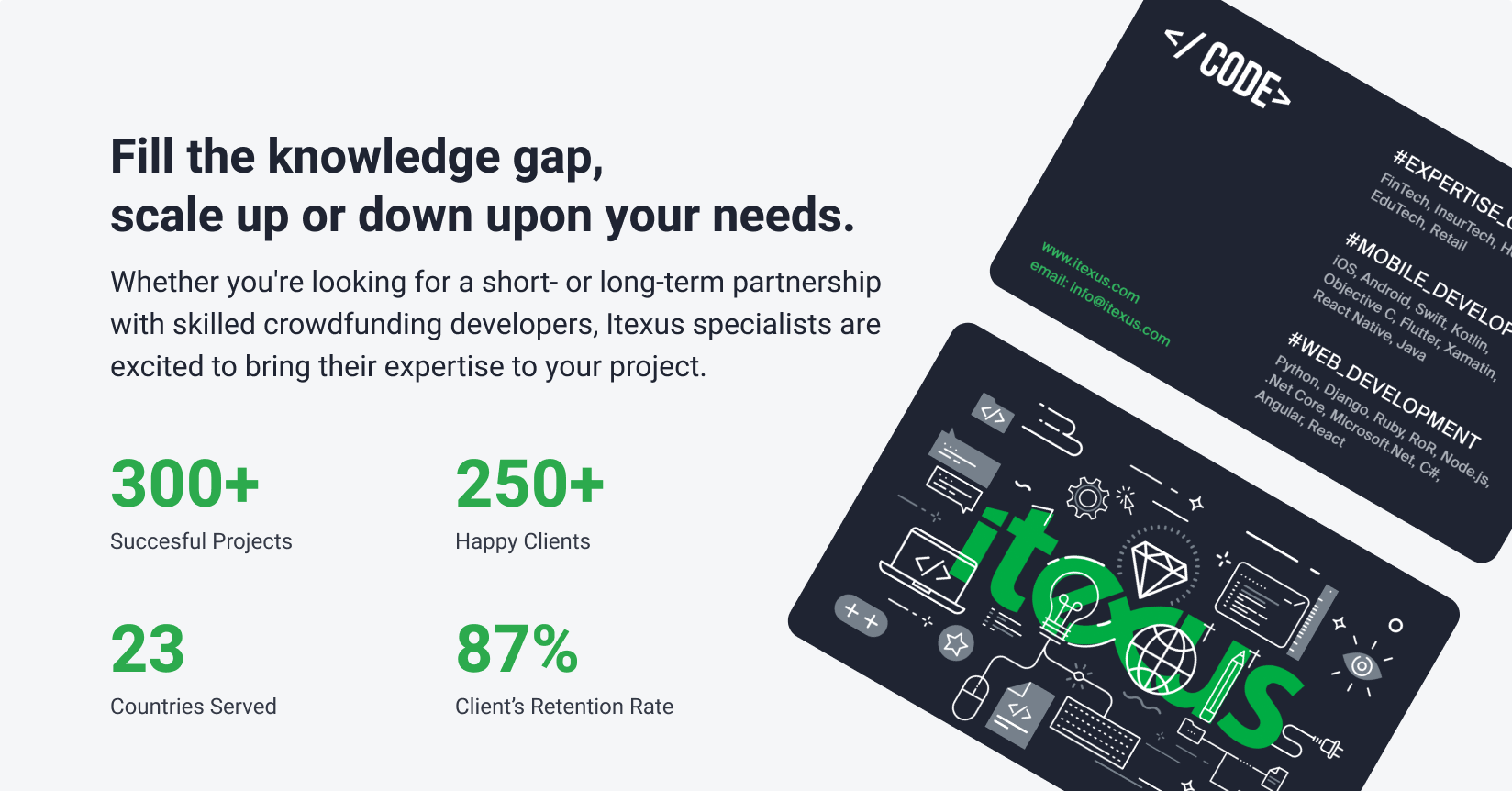 2. Ingeno
Ingeno is a team of crowdfunding software developers committed to building comprehensive solutions that cater to your unique business needs. They ensure timely and cost-effective delivery of all their services, which cover all aspects of the crowdfunding journey. This includes building turnkey web or mobile applications, accelerating growth, transforming your crowdfunding strategy, and providing expert advice.
3. Comarch
Comarch is a pioneer in the industry, excelling in crowdfunding platform software, white-label crowdfunding software, and crowdfunding blockchain integration. With extensive experience working with market leaders, the team can equip your company with the desired crowdfunding solution. Comarch prides itself on offering flexible cooperation and ensuring an individual approach that aligns with specific project requirements.
4. 20tab
20tab has a unique approach to crowdfunding development that draws upon best practices and methodologies from several disciplines, including lean agile, DevOps, design thinking, growth, and modern product management. By combining these approaches, they ensure that their crowdfunding app development and white-label crowdfunding platform solutions are efficient, innovative, and aligned with business goals.
5. Spiria
Partner with Spiria to shape the future of crowdfunding development. They can guide you in building a remarkable crowdfunding website or creating a cutting-edge crowdfunding platform that captivates your audience and drives results. Together, you can unlock the full potential of your crowdfunding initiatives and create digital products that make a lasting impact. Spiria prioritizes smart customer experiences and offers customer journey mapping services to gain a deep understanding of your customers' needs and interactions with your brand.
Any questions? Drop us a line.
6. Baufest
At Baufest, professionals believe in the power of collaboration and shared interests. They approach every crowdfunding development project with a Y-shaped mindset, in which their interests align with the customers' interests to achieve the best results. The letter Y symbolizes the joining of paths, and at Baufest, it represents their commitment to evolving together with their clients.
7. Nextide
Nextide's core strengths lie in designing and building creative websites and web-based business applications that align with the way people think and work. They have the capability to custom-create any business function and create the ideal work environment for optimal performance. With a team of experienced software developers on board, Nextide is an excellent choice for companies looking to develop their own crowdfunding platforms.
8. Transputec Ltd
Transputec Ltd is a well-known software development company that specializes in creating award-winning bespoke software solutions. Their expertise lies in delivering reliable, flexible, and well-supported crowdfunding software that drives business growth from concept to delivery. Transputec offers a range of services tailored to meet your crowdfunding needs, including software development, mobile app development, database management, and application modernization.
9. Optimum7
What sets Optimum7 apart from other companies on this list is their in-house team of copywriters, videographers, and graphic designers. This team can create high-quality, on-brand content tailored to enhance the effectiveness of your crowdfunding campaign. Therefore, if you need assistance with processes beyond crowdfunding software development, Optimum7 can become your preferred partner.
10. ARCH
ARCH has a proven track record of developing engaging and user-friendly applications across multiple industries, including crowdfunding. Their development and design teams have a wealth of experience in creating successful applications for both iOS and Android platforms. ARCH's expertise in the field allows them to provide a comprehensive range of services, from conceptualization to post-release maintenance and support. With a commitment to quality and innovation, ARCH can help turn even the most complex ideas into reality, delivering outstanding solutions that meet the needs of its clients.
Summary
If you're looking to build a successful crowdfunding platform that stands out from the crowd, the top 10 crowdfunding developers from our list can bring their expertise to turn your ideas into reality. With a proven track record of creating innovative and reliable solutions for businesses like yours, each of these companies can become your trusted and reliable technology partner.
From concept to execution, they will work closely with you to understand your unique requirements and deliver a custom solution that aligns with your goals. Contact the crowdfunding developers to build a crowdfunding website from scratch.
By Itexus Team