Smart leaders know that employees are a company's most valuable asset, and it's their top priority to ensure a positive employee experience because it directly impacts business performance. Timely and accurate payments drive employee engagement. In contrast, any payroll mix-up or error can have a direct impact on their productivity and efforts.
Traditional payroll is confusing, time-consuming, and costly. It is therefore easy to understand why so many business owners choose payroll software with direct deposit as a convenient, secure, and cost-effective method of compensating their employees. By implementing a special system, salaries are electronically transferred from the company's payroll account to employees' personal bank accounts. Here is how it works:
• a company sets up a specific account from which salary payments are transferred;
• the employees provide their account details;
• when payday comes, the paychecks are quickly and securely transferred from the company's account to the employees' accounts.
Using direct deposit software makes life easier for the staff and simplifies accounting. For those looking to develop a custom payroll system, we've compiled a list of the top 10 direct deposit payroll software development companies. Check them out to find a perfect tech partner to help you improve employees' experience while saving time and money on your cash flow.
Backed with years of experience in software development, Itexus is a reliable tech partner for businesses across various domains. The team has solid knowledge of the financial services industry and can help you find and implement the best technical solution for your goals, including a direct deposit payroll system. Itexus offers the full spectrum of software services – from fintech consulting to design, custom solution development, third-party service integration, and post-launch maintenance and support.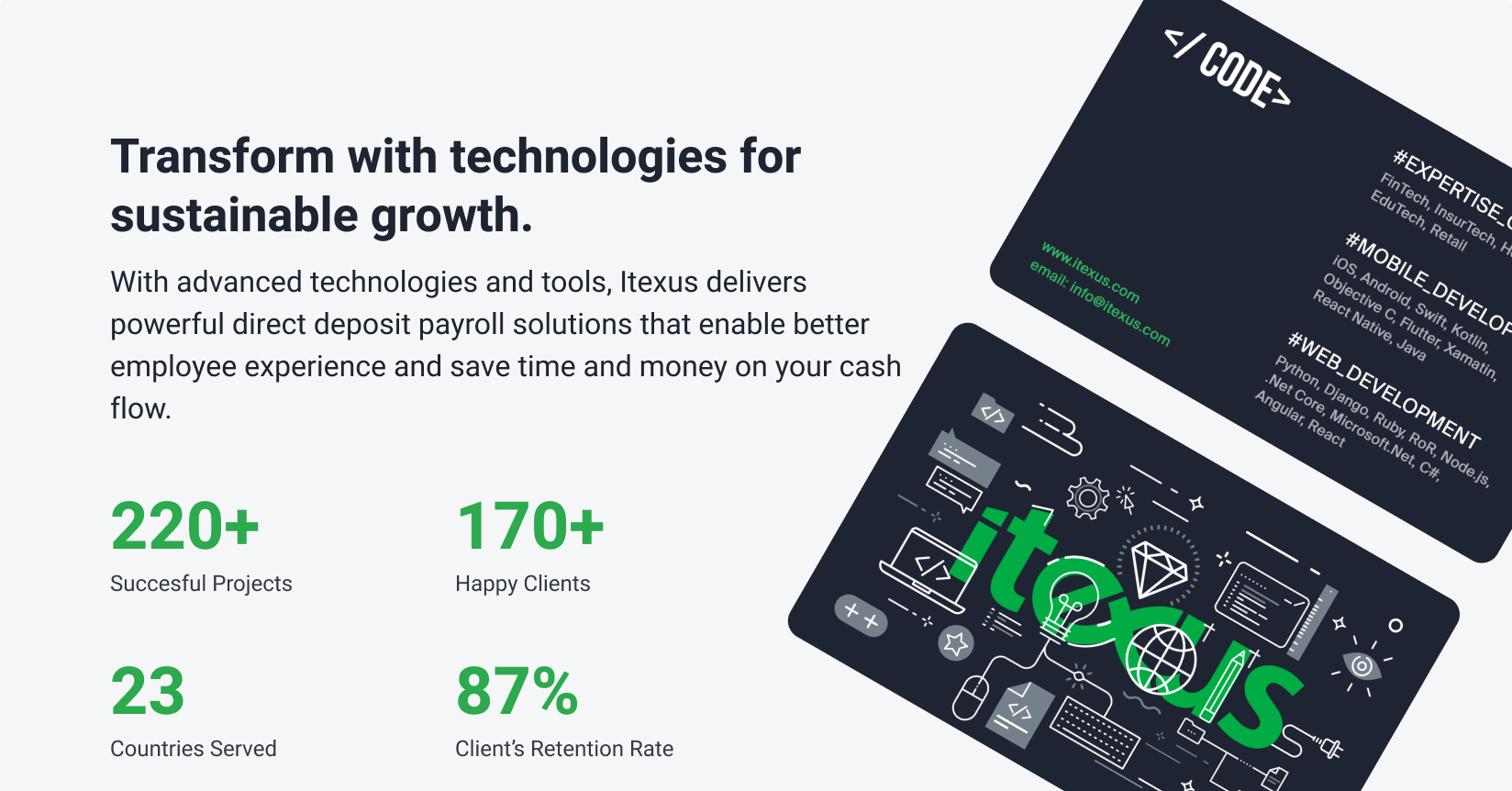 2. N-iX
N-iX is a software development services provider with outstanding professionals on board. The company is committed to supporting its clients' businesses with innovative technology to overcome challenges and achieve growth ambitions. N-iX is known for its flexible approach, making it a good fit for companies of any size looking to develop direct deposit payroll software.
3. Q agency
Q is a growing development and design agency that builds digital solutions and scales-up dedicated teams for global brands, enterprises, agencies, and startups. Q Agency works across many industries and specializes in custom software solutions, including direct deposit software, various mobile and web apps, enterprise platforms, and others.
4. Digiryte
This software consulting and development meets & exceeds its clients' expectations with next-generation digital products. Digiryte's main expertise lies in custom mobile and web solutions for retail, finance, and healthcare industries. The team is known for excellent service and high-quality software.
5. Scalo
Scalo has proven to be a trustworthy technology partner for companies in banking, fintech, media & entertainment, e-commerce, and other industries. With its expertise in leading technologies and client-centric approach, the agency strives to build long-term relationships with its clients by implementing end-to-end software projects and building dedicated software development teams.
Any questions? Drop us a line.
6. Anadea
Anadea's mission is to help its clients build a solid foundation for their businesses using leading technologies. The company develops both web and mobile solutions and can implement direct deposit payroll software of any complexity, ensuring high quality and security.
7. Edvantis
Edbantis is a mature software development vendor that offers a wide range of outsourcing models to create efficient technical solutions, including payroll software with direct deposit. The company is known for complete transparency, top-notch tech talent on board, established processes, and long-term commitment to each client.
8. 8base
This agency takes a low-code approach to streamline development processes and quickly deliver cost-effective digital products to its clients. 8base works with clients ranging from startups to enterprises in almost every industry, including financial services. So, they'd be happy to contribute their expertise and help you achieve your business goals with a comprehensive direct deposit payroll solution.
9. Profinit
Profinit is an IT outsourcing company serving clients in banking & finance, insurance, fintech, and other sectors. The agency develops and maintains various banking applications, insurance policy management systems, B2B and B2C portals, direct deposit software, fraud prevention solutions, and other types of software. Profinit is considered a reliable, trustworthy partner that can deliver payroll software with direct deposit within budget and schedule.
10. Softedge Technologies
Softedge has vast experience in building and supporting large, robust, and complex systems using the latest technologies. The team has earned a reputation for flexibility, adaptability, problem-solving approach, and excellent coding at reasonable prices.
Summary
While there are many off-the-shelf direct deposit payroll solutions on the market, they are little compared to custom software tailored to your specific needs and goals. However, developing financial software requires solid engineering skills, therefore, choosing the right tech partner is half the battle.
No matter what your technical needs are, we've got you covered. With top tech talent on board, years of experience in financial software development, and a flexible, customer-centric approach, we're happy to bring our expertise to help you achieve your business goals with a robust, secure, and user-friendly direct deposit payroll solution. Contact us for a free project quote.
By Itexus Team