Compared to traditional financial institutions, credit unions offer numerous benefits to their members, such as affordable loan rates, lower fees, better savings opportunities, etc. On the other hand, credit unions struggle with lower technological capacity than banks and therefore have fewer opportunities for growth. Technological underdevelopment does not allow credit unions to bring their digital service offerings up to par and increases the risk of losing revenue, relevance, and members' loyalty.
At a time when software development services are much more accessible and affordable, more and more credit unions are looking to invest in technology to become more accessible and provide better experiences for their members. To help you choose the perfect development partner, we have shortlisted the best software development companies for credit unions – check them out.
List of 10 Credit Union Software Companies
Itexus is a financial software development company that helps credit unions provide a better digital experience for their members. The team of seasoned fintech experts harnesses the power of modern tools and technologies to help credit unions transform digitally, grow, and exceed their members' expectations. Itexus engineers upgrade credit union core software and on-premises architectures to integrate them with needed applications and tools, handle data privacy issues, and address legal roadblocks ensuring compliance in the financial industry.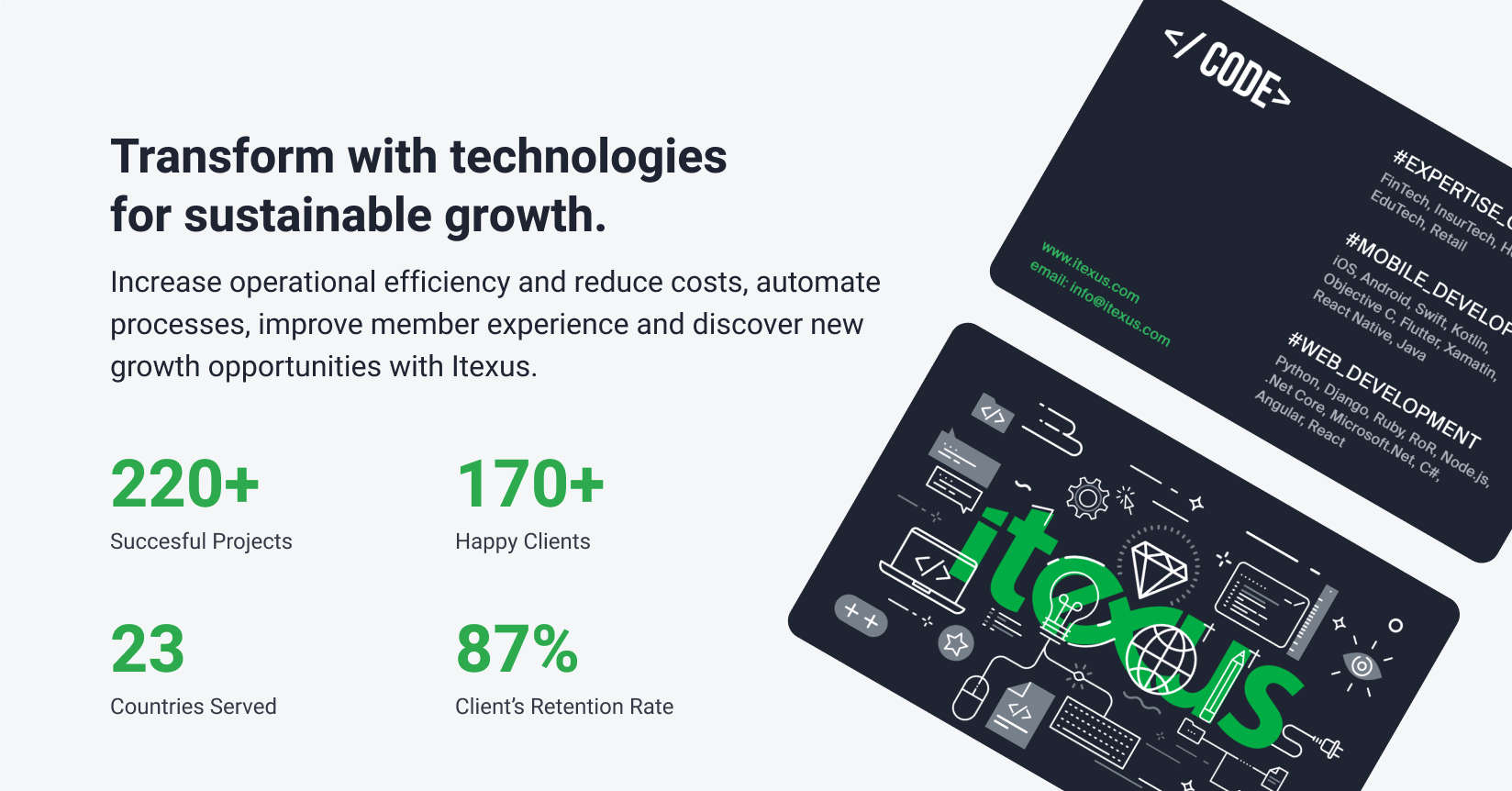 2. Snowman Labs
Snowman Labs is a software development agency known for transparent collaboration and robust solutions. The firm offers credit union and bank software development services, working primarily with mid-sized and large companies.
3. JSGuru
JSGuru develops digital products including lending software for credit unions. The company provides product discovery, UI/UX design, and software development services and helps businesses grow with the best development solutions. The team is known for its responsiveness, flexibility, and customer-focused approach.
4. Keeper Solutions
Keeper Solutions specializes in highly regulated development environments and is known for delivering robust, secure, and scalable credit union financial software solutions. Keeper Solutions' highly skilled team is fully committed to the long-term success of its partners.
5. Kanda
Kanda is a trusted full-service software development firm that creates credit union software systems. The company has extensive experience in providing solutions for the fintech domain and offers a wide range of services, including lending software development, UI/UX design, architecture and prototyping, maintenance and support, cloud migration, and more.
6. CN Group
CN Group creates high-quality credit union & banking software and provides a range of consultancy services, QA and testing, support, and maintenance services. The company is a flexible, reliable, and competent development partner known for its high-quality standards, robust development processes, and in-depth knowledge of its business areas.
7. Zoolatech
Zoolatech specializes in high-end software development and strives to create a harmonious, collaborative environment for its employees and clients. The company provides custom credit union software development services tailored to the individual needs of the client, helping them to overcome challenges and grow their business. Zoolatech also offers lending software development for banks.
8. Instil Software
Instil helps businesses prosper and succeed through digital transformation. It is an engineering consultancy that develops bespoke credit union software solutions. The company has earned a reputation as a trustworthy, honest, and competent credit union software vendor with world-class development expertise and a transparent and flexible approach.
9. Avenga
Avenga is an agency that provides custom software development and design, product management, technology consulting and advisory services. The firm builds credit union loan origination software and credit scoring solutions and works primarily with mid-sized and large companies.
10. BJSS
BJSS is a technology and engineering firm that delivers complex and innovative technology solutions. Like other credit union software companies mentioned above, BJSS provides cost-effective development services, in-depth fintech domain knowledge, and extensive expertise in delivering banking software for credit unions. The company offers a range of flexible engagement models, from individual consulting engagements to full project outsourcing.
Any questions? Drop us a line.
4 Reasons for Credit Unions to Invest in Technology
Now that the majority of financial issues have shifted online, credit unions have to compete with fintechs and traditional banks for their member's attention and loyalty. In this regard, making the digital push will be well worth the effort for credit unions.
✔️ Stronger member service
People join credit unions because they value personal service, local decision-making, and a tailored approach to their financial needs that help them achieve their financial goals. Technology enables credit unions to better understand their members' needs and offer them better products and tools, which has a positive impact on how members are served. Investments in mobile and online innovation and digital enhancements enable credit unions to keep pace with lending trends and improve the digital experience for their members.
✔️ Automated processes and lower operational costs
Automation frees up time for analysis and streamlines operations to enable a more efficient, effective, and flexible organization. The results of automation are already dramatic: credit unions are seeing greater efficiency and transparency, lower operating costs, and happier members. By automating processes such as loan origination, credit scoring, and KYC, credit unions can focus on higher-level tasks such as strategic analysis and adding more value to the business.
✔️ Great insights and intelligence
Marketing intelligence and AI are enabling credit unions to gain more information about their members' behavior and better understand their needs, wants, and painpoints. These actionable insights help create personalized experiences and provide more effective tools that lead to happier members and stronger customer retention.
✔️ Smarter money management for members
The global shift toward digital has impacted member demands, which have increased dramatically. Most credit union members today expect secure and reliable digital services with little or no downtime and 24/7 support. Thanks to modern technologies, credit unions can meet and exceed these growing demands by offering robust, user-friendly, intelligent, and accessible money management solutions to their members.
Summary
Ignoring the global shift toward digitization is a hopeless strategy for a credit union, but launching a software development project may seem at first glance to be an overwhelming task that requires an enormous amount of effort. The key is to work with an appropriate credit union software company. A reliable technology partner will take your whole run so you can focus on the higher-level tasks at hand.
At Itexus, we help credit unions transform digitally, operate more efficiently, reduce costs, and automate processes. Whether you need to update legacy software, develop a responsive website or mobile banking app for your credit union, or ensure compliance with regulatory requirements, we are here to help. Contact our team to find out how we can help you get the most out of technologies.
By Itexus Team