In our digital age, routine financial operations have migrated to online. People no longer want to wait in line for hours at a bank to get a loan when they can do it from the comfort of their couch. Those banks and credit unions that deny their customers this option are losing their competitive edge.
According to YouGov Custom, 56% of American consumers say they would rather avoid bank branches in the future thanks to the coronavirus. Markets and Markets predicts that the size of the global digital lending market will grow from $10.7 billion in 2021 to $20.5 billion in 2026, at a CAGR of 13.8% during the forecast period.
If banks and credit unions want to stay afloat and meet their customers' expectations, they need to invest in technology. One of the ways to make your services attractive and accessible to a large audience is to offer digital lending. Itexus has been developing such systems for years. In this article, we will explain why your organization needs lending software now.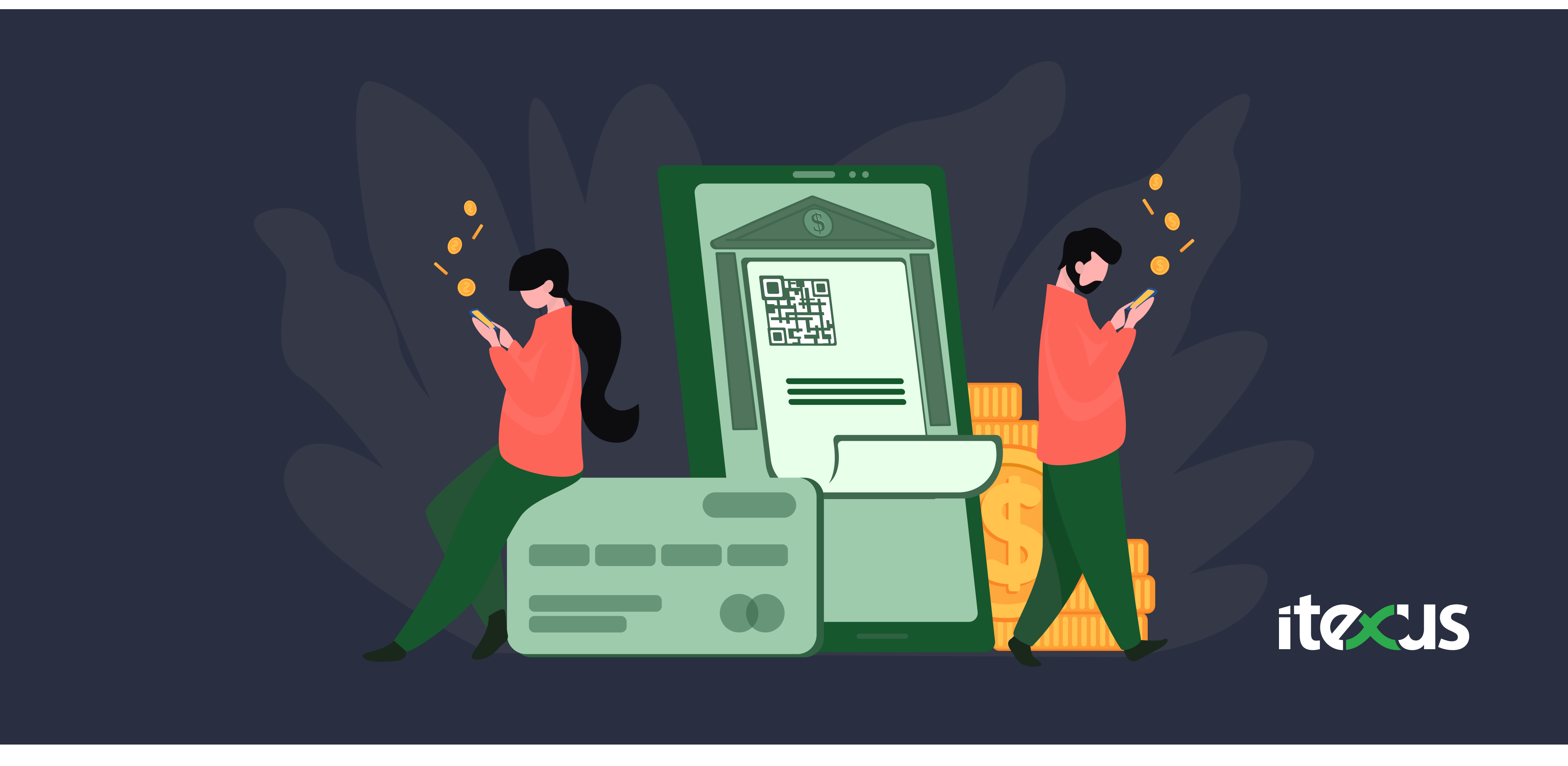 What is Lending Software?
Lending software, or loan management systems, are platforms that help automate the entire lifecycle of a loan, from the application, processing of customer data, and origination of new loans, to case closure.
The traditional loan management process is time-consuming and sometimes chaotic. It requires collecting and verifying personal and financial information about each applicant, checking their trustworthiness and credibility, and monitoring terms and payment dates.
With lending software for credit unions and banks, granting a loan becomes a simple process. Checking whether the customer is eligible for a loan, granting the loan, and processing repayments are streamlined. Moreover, the system isn't limited to these basic functions. An experienced lending software development company will help you with modular, scalable, and customizable components that your business can use for complete automation.
The Benefits of Lending Software for Banks and Credit Unions
Since we have already started talking about the benefits of lending software, let's look at them in detail.
✔️ Rationalized Underwriting
One of the main goals of lending software development for banks is to create a system that eliminates human error. Such solutions are integrated with credit bureaus and credit reporting agencies that filter out unreliable payers and prevent them from getting a loan. Software is more fail-safe and works faster than humans, which means that decisions about loans are made more accurately and quickly. Automation in bank and credit union financial software reduces risks, manual labor, routine, and bureaucracy.
✔️ Enhanced Borrower Experience
First, it means you have more time to create a personalized and caring environment for your borrowers and take care of complicated cases when your lending system does the heavy lifting. Secondly, such solutions save borrowers from visiting financial institutions and doing paperwork. All they have to do is open an app, submit their loan application, sign all documents with e-signatures and get money muсh faster. All this is due to digital lending. Most likely, your happy borrowers will recommend this service to their friends and relatives, expanding your customer base.
✔️ Automated Workflow
Top lending app development companies automate everything that can be automated to streamline the process and keep customers happy with the speed. Here are the areas that need to be automated:
• Loan origination
• Loan servicing
• Underwriting
• Portfolio risk management
• Credit analysis and presentation
• Collateral management
• Debt collection
• Reporting
• Covenant monitoring
• Regulatory compliance
✔️ Lower Costs
Lending automation results in lower loan origination, operating, and debt collection costs. Loan origination costs are reduced through automated underwriting, borrower tracking, mobile CRM capabilities, and e-signature. Operating costs are optimized through faster and more accurate decision-making, and debt collection costs are reduced through advanced analytics, omnichannel interactions, and transparency.
✔️ Paperless Processes
The benefits of paper-free lending:
• Better organization without the messy stack of loose documents.
• Improved collaboration when the entire team has access to information at all times and can work with one document simultaneously.
• Increased efficiency. Going digital means you spend less time on clerical tasks and more time on what matters most.
• Lower costs for paper, printer maintenance, ink, toner, postage, and physical storage.
• Improved security. Sensitive files on paper can easily be compromised, and paperwork can be misfiled, destroyed, or stolen.
• Compliance. Protecting sensitive data and complying with regulations is made easier with digital safeguards.
✔️ Advanced Analytics
When a prospective borrower applies for a loan, they must provide sensitive personal data that is processed by a bank or credit union core software. If these organizations have analytics tools, all this personal data can provide insight into the customer's credit behavior and needs, as well as general trends in the loan market.
✔️ Wider target market
This point is particularly important for CUs. Using special lending software, credit unions can eliminate potential biases in lending decision equations, adopt better inclusion practices, and spend more time evaluating borrowers who have had difficulties obtaining credit in the past, such as minorities and low-income consumers.
Must-Have Features for a Digital Lending Solution
Lending software for credit unions and banks is scalable and flexible and can be equipped with a variety of features to meet the needs of a particular organization. That said, there are a number of basic features that any digital lending system should have. We've divided them into features for end users and businesses (banks and credit unions).
End-User Features
• Smooth Onboarding
Banks and credit unions need to understand who their new customers are and what level of money laundering risk they pose. For this reason, financial institutions use AML and KYC guidelines during onboarding to ensure security and integrity. When you seamlessly incorporate KYC/AML into the onboarding process, you reduce the time and cost associated with digital account opening. A fully digital onboarding process also means less risk of regulatory fines.
• Loan Origination
This is an automated process of applying for a loan and processing it. Credit union banking software can assess the risks and make a decision on whether to grant a loan to a particular customer. The process involves reviewing an individual's or company's credit history and suggesting which loans are appropriate for that particular customer. A digital lending system with a best-in-class user interface should offer configuration menus that intuitively guide borrowers through the loan application process, display conditional fields based on loan type, and support multilingual interfaces.
• Loan Servicing
Loans differ in many aspects, such as interest rates, payment dates, and more. The loan servicing feature allows managing each loan individually and provides a variety of features, such as tracking the loan, calculating interest and fees, retrieving account statements, setting up recurring payments, and one-time payments, retrieving the current payoff quote, updating contact information, and accessing account servicing FAQs.
• Debt Collection
A digital lending platform with a debt collection function allows you to speed up the processes of identifying debtors, managing debtor accounts, creating delinquency tickets, and tracking and completing the collection process. The system also allows you to track all of your employees' communications with your customers and make changes or agree on new payment terms.
• Analytics and Reporting
This feature allows to visualization of the data in a way that helps to manage the lending process efficiently. You can select which parameters are relevant depending on the type of lending, type of customers, business operations, and sources of collateral. These are the indicators that are usually measured and reflected in reports: Revenues and Gross Margin, Asset/Liability Ratio, Interest Coverage Ratio, Interest Expense, Total Asset Turnover and Total Loan Production, Closing Cycle Time, Yield Spread, Loan Origination Unit Cost, and Application Pass-Through Rate.
• Customer Support
Credit union loan origination software needs a comprehensive support system that provides a consistent experience for customers across any device. It should have a unified agent desktop, internal chat, an integrated ticketing system with prioritization, a self-service portal, live chat, customer sentiment analysis, and an up-to-date knowledge base.
• Document Management
The loan origination process requires a large number of documents from loan origination to closing. The system ensures that all uploaded documents are secure. You can easily customize uploaded documents in the application and select which information to include in the required fields for different loan products.
• Notifications
Banking software for credit unions can be set up to accurately notify lenders of all steps in the lending process and upcoming tasks. This way, they won't miss the time to pay their monthly fee.
Business Features
• Client Management
Lending software allows administrators to monitor the number of customer registrations, separate new and existing customers, suggest a product to new customers according to their needs, and increase profits. The customer management feature helps to track all customer payments in real-time, reduce bad debt rates, increase customer lifetime value, and more.
• Parameter Customization
You can customize the parameters, such as origination fee and decision logic. The loan origination software provides improved decision-making accuracy without human error.
• CRM Integration
You can integrate an enterprise CRM that enables you to market to customers, deliver engaging content, meet compliance regulations, and recruit the best talent in your industry.
Any questions? Drop us a line.
What Makes a Good Lending Software?
Good loan software not only has the chaos of loan management under control but also has a number of features that make the user experience as smooth as possible for both lenders and borrowers.
• Scalability. The system should allow lenders to grow in terms of operations, delivery of exceptional services, and product offerings.
• Integrations. Customizable modules and third-party integrations should work seamlessly together in one system.
• Centralized access. Lending software should allow lenders to store all customer-related data in one central location to provide a 360-degree view of the customer profile.
• Transparency. Stakeholders, including customers, should have a clear view at every step of the lending process.
• Responsive interface across all devices. These days, customers typically do all their financial operations on a smartphone.
• Security. The system should ensure that it adheres to data security best practices and meets industry standards for data security and privacy.
Summary
Over the years, Itexus has gained the reputation of an expert in credit union software development, helping companies worldwide automate their lending and banking operations. From our experience, both off-the-shelf and custom solutions do the job. While the former can provide you with the basics, custom solutions are fully tailored to the specific needs and goals of your organization and take into consideration every aspect of your business. If you'd like to learn more about the benefits of a custom solution for your business, or if you are considering getting one, reach out to our team.
By Itexus Team