Treasury management software is a really great assistant for CFOs and treasurers, that helps automate repetitive manual treasury processes, get a better overview of cash and liquidity, gain control over bank accounts, ensure compliance and manage internal banking and financial transactions. Although there are off-the-shelf treasury management solutions (TMS) on the market, more and more companies are opting for custom software. This option is preferred over ready-made systems for several reasons:
• custom software for treasury management is tailored to a company's specific needs;
• it saves costs as there are no subscription fees;
• it is flexible and scalable as needed;
• there is no excessive functionality to pay for; etc.
For those looking to create a custom TMS, we have done a little information gathering from open sources and shortlisted the top 10 treasury management software developers. Check out our list of treasury software companies to find your perfect development partner.
Itexus is a full-cycle development agency with core expertise in the fintech domain. With a solid understanding of all the ins and outs of finance software design and development, top tech talents on board, and high transparency across all stages of project delivery, the company has earned a reputation as an accomplished and trusted technical partner for multiple financial organizations from around the world. Itexus specialists can either set up an off-the-shelf treasury management system of your choice and integrate it with your enterprise software, or create a custom TMS tailored to your specific needs and processes.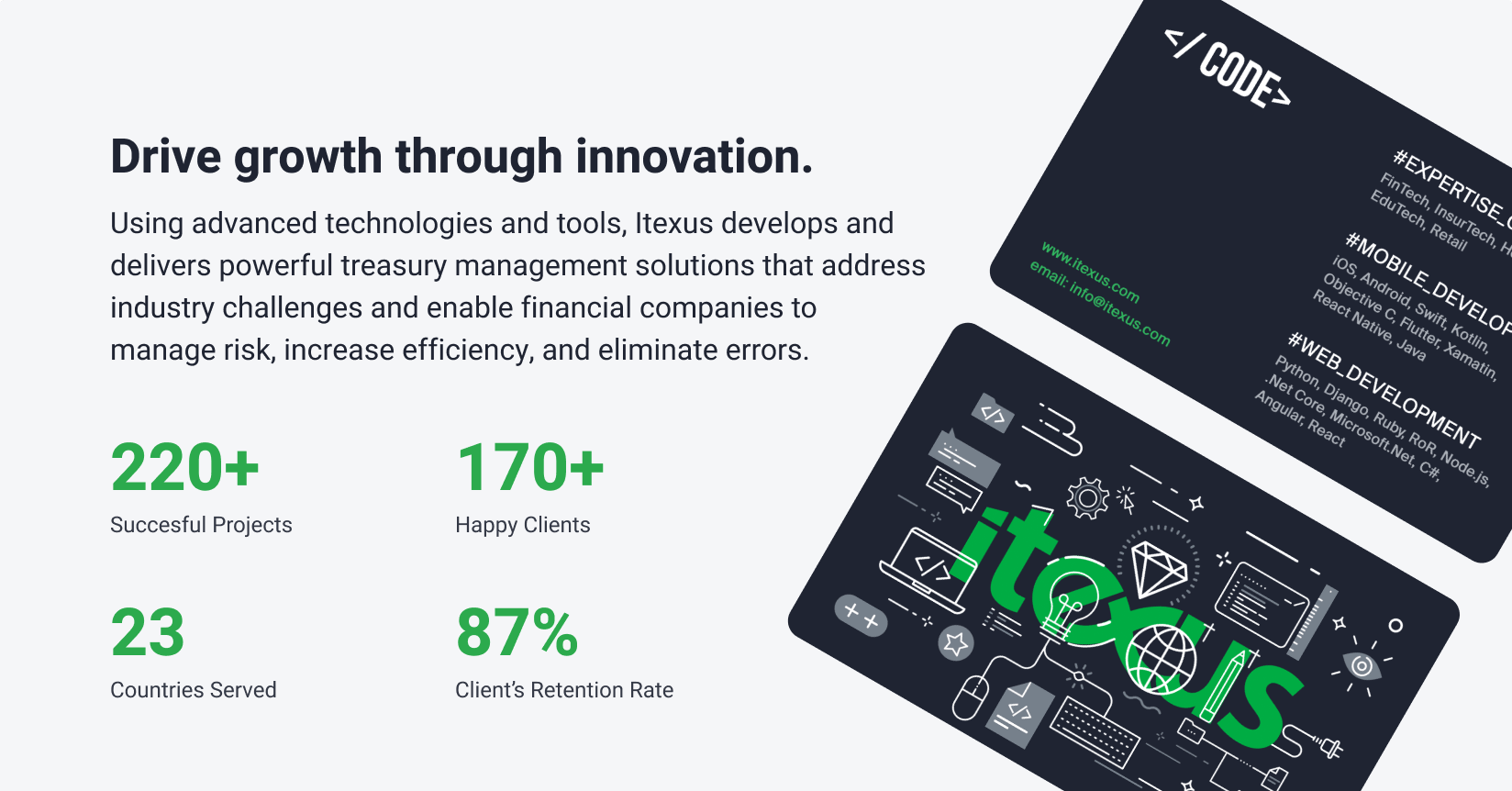 2. Donatix
Donatix is a web & mobile app development company that works with startups and companies from various sectors, including financial. Donatix engineers develop functional, scalable solutions with modern technologies and would love to share their expertise in treasury software development to help you achieve your business goals.
3. Silverchip
Silverchip is a team of creative and passionate problem solvers who help financial services firms harness the power of technology to increase efficiency. The agency combines its creative talent, technical expertise, and analytical approach to develop best-in-class enterprise treasury management software, as well as other software, for forward-thinking organizations.
4. INVID, LLC
INVID is an engineering company that creates custom software for treasury management that solves its clients' business challenges. The firm offers a wide range of services, including technology consulting, software design & development, and turnkey app development. INVID's team is known for transparent and well-established communication processes and adherence to deadlines.
5. Uhray
From mobile app development and API integrations to custom software and complete digital transformation projects, Uhray's team tackles their clients' business challenges with technology. The company has a solid understanding of the fintech industry and strives to leverage its expertise to deliver robust and scalable treasury and risk management software and other solutions for financial companies.
Any questions? Drop us a line.
6. Appniv
Appniv is a team of development & technical experts that provides custom end-to-end tailored solutions and has expertise in product development, including mobile app development, innovation, software testing, user experience, cloud computing, big data, and software architecture solutions. The firm is the best choice for small and medium businesses looking to increase efficiency with a comprehensive treasury management solution.
7. Level 12
As a custom software solutions agency with a proven track record in fintech, Level 12 helps companies evolve and address their unique challenges through expert analysis and custom software. The company offers CTO consulting services, app & database development, enterprise treasury management software development, cloud development and DevOps, and other services.
8. Nextide
Nextide provides a range of services in the design, development, and support of web-based financial applications, including treasury and risk management software. The company has earned a reputation for developing excellent custom web applications. Nextide is known for its approach that combines a healthy dose of customer involvement with cutting-edge web development expertise to deliver outstanding results.
9. 8base
8base is a technology and services company that strives to simplify and improve the digital product development process for all innovators. The company works with startups led by non-tech-savvy founders as well as large global financial firms. 8base aims to amaze its customers with a design-first approach and focuses on speed and leanness without sacrificing architecture or security.
10. Kovix
Kovix is a digital transformation studio with expertise in various sectors, including treasury management. The team develops web & mobile apps for financial services firms and is always ready to go the extra mile to exceed clients' expectations when it comes to delivering robust, scalable, and user-friendly digital products.
Summary
Robust & comprehensive treasury management software is half the battle when it comes to running a financial services business efficiently. Whether you want to develop a custom TMS from scratch or integrate treasury software vendors into your business software and need professional help, you can turn to any of the treasury software companies listed above. They'll all do their best to help you overcome your challenges and amplify your growth opportunities.
Whatever your goal, Itexus specialists have it covered. With our extensive experience in custom financial software development and third-party services integration, we can either develop a custom TMS tailored to your specific processes and goals or advise you on a third-party TMS and integrate the chosen system with your software. Reach out to learn how we can help.
By Itexus Team