In our time, we witness banks, insurance companies, trade unions, fintech companies, startups, and other financial service providers shifting a big chunk of their commercial operations into the digital sphere. There are several reasons for this, apart from the lockdown and COVID pandemic status turned on in countries all over the world. One of the reasons is the growing confidence in emerging technologies that can provide the highest level of security and protection for our sensitive financial data. That's why without thinking we are eager to download different financial apps, connect our banking cards, and provide passwords and logins. Trust is generally a valuable category in the fintech world, if not the fundamental one. Moreover, the choice of a fintech consulting company is also based on trust. You want to find someone to entrust your ideas, dreams, hopes and at the same time fears and doubts, a reliable partner and a co-player. Among other things, the consultant can even help you choose the right fintech software development company whose expertise is relevant to your project.
Why fintech consulting services are much-in-demand
The key concept in understanding the reasons for fintech consulting companies' upsurge in the ever-emerging sophisticated technologies that require time and skills for professionals to master. Under this scenario, not to wait until your in-house developers and business analysts acquire the needed technology you could seek a piece of advice from someone who is already experienced enough to consult you. Let's discover the popular trends covered by financial technology consultants.
1. Security and data protection
The world of malware keeps testing fintech solutions trying to spot weak sides and cause breaches of sensitive data. A fintech consulting firm aims to employ robust access and identity management, shed some light on the level of personal data privacy protection, and help the company get full control over the data.
2. Cloud computing and automation
Some solutions operating in the fintech sphere are quite outdated. Modern times bring new challenges and these systems have to be upgraded to stay competitive in the field. Financial technology consultants help to get a clear way of how to perform the digital transformation and sometimes could even provide a dedicated team to do it.
3. Financial benefits
Though professional fintech consultations may not be cheap, old systems that are ill-functioning cost more. Firstly, you still have to pay high salaries for people doing jobs that can be eliminated with a proper level of automation. Secondly, there could be additional expenses to cover the errors made by humans. Thirdly, without modern technologies, one won't be able to provide instant financial operations, which is quite a trademark of the new banking area.
4. Regulations and legal knowledge
Fintech consulting companies not only help startups and businesses get to the bottom of modern technologies but also assess companies' compliance with local regulations. Assistance with taxes prevents businesses from having serious issues. Help could be also provided with legal documentation, changes in government regulations, safeguarding, money laundry, etc.
5. Business network
Partnering with a fintech management consulting company means that whatever business contact they have, in case needed would be brought to you. These could be one-time connections that have the potential to end up in lasting and valuable business relations. The support from the consultants (legal, technical, financial) helps you be at the forefront of the market.
Top fintech consulting companies
It's crucial to choose the best fintech consulting company that has a deep understanding of your sphere, and the technologies you are adopting or planning to take on. It should be the evangelist of your business concentrated on understanding, educating, and collaborating with you to guarantee your solution rocking the field. Let's review the best examples of companies providing much assistance to fintech startups.
Itexus has been in the market since 2013 and gained deep expertise in various fintech fields by running such projects as trading and lending platforms development, banking apps, wealth management, investment solutions development, and insurance software creation. Itexus has provided its consulting services to fintech companies around the world by not only advising on the best regulatory practices, investments, and technology stacks but also being a great partner in mediating between the client company and its users, ensuring growth by asking the right question at the right time. One of the strongest points of the company is that the consulting services provided go hand in hand with a dedicated team capable of developing solutions of any complexity. This means that any advice on MVP creation, architecture design, API and integrations, etc. can be easily put into practice. More importantly, in case of changes and unexpected twists, the consulting team easily finds common ground with the developers to deliver a high-quality product in the shortest possible time.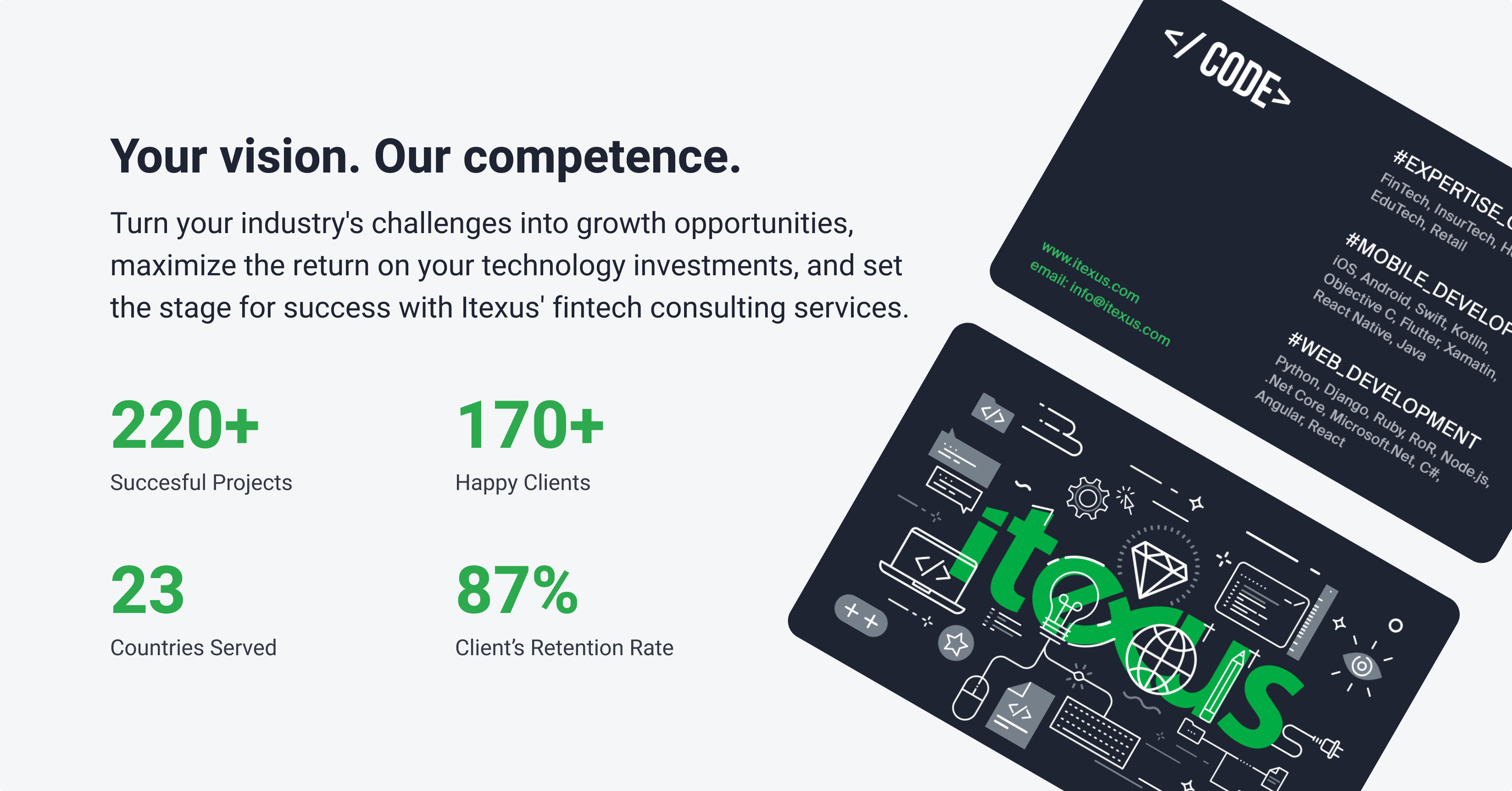 2. Versett
Versett is a Canadian fintech company helping clients reach their goals by applying top-notch technologies to boost their performance. In addition to providing fintech consulting services on the right business strategies and tech stack, the company has extensive experience with UX and UI design targeting the spheres of what makes their clients successful more than what makes them happy enabling thus the provision of hyper-personalized experience.
3. Parkside Interactive
Parkside Interactive is an Austrian consulting and development agency that renders its services to many European and American companies. Parkside Interactive is known as professionals in product prototyping, analyses of legacy software and its modernization, automation tests, test management, technology consulting, and coaching. They work hard to keep up with the latest trends in the software development field and wrap them up in MVPs and product prototypes.
4. Tronvig
Tronvig is a USA-based company with a head office in NYC which is an expert in company brand creation and offering branding strategy services. They have served various clients across the Northern American continent and have proven themselves as extremely valuable partners able to bring maximum value to their clients.
5. Prescient Strategists
Prescient Strategists is another American-based consulting company with headquarters in Boston. They are best known for advising and consulting in case of complex change management challenges. Prescient Strategists come up with an individual approach to the issues challenging clients' business and are capable of providing tangible results in quite a short time period.
6. Beyond Analysis
Beyond Analysis is a UK-based fintech consulting agency actively applying Data Science and data strategies to the consulting services they offer. They help companies to better understand their clients, and drive business improvements and efficiency gains. Beyond Analysis is heavily adopting AI and ML to forecast users' behavior and create models, which helps to deliver a competitive advantage to their clients worldwide.
7. SMB Technologies
SMB Technologies is a USA-based IT consulting company with headquarters in Portland, OR. The company has been in the market for around 20 years and managed to grow from a small IT consulting group to a fintech advisory and consultancy agency. The two strongest sides of SMB Technologies are cloud services and cybersecurity. Prioritizing clients' needs SMB Technologies are monitoring suspicious activity 24/7/365 and always stay relevant regarding innovative technologies and solutions.
8. SMBHD
SMBHD is a consulting company, headquartered in Chicago assisting businesses from the fintech field. They advocate for total business transformation and are ready to serve with best-in-class digital solutions. The specialty of the company is backend architecture development consulting bearing in mind its protection against malware. Also, the agency calls for business intelligence solutions adoption in the fintech sphere.
9. Trianz
Trianz is an international company helping its clients remain valuable for stakeholders during the turbulent times of technological disruption the fintech field is experiencing nowadays. Trianz has proclaimed itself as a digital evolution adapter and has even come up with Digital Enterprise Evolution Model helping its clients to prioritize correctly and understand which direction they should evolve. Consulting services offered by Trianz are mostly aimed at digital transformation, cloud migration, and system management.
10. Fresh Squeezed Ideas
Fresh Squeezed Ideas is a Canadian consulting company mixing modern technologies adoption with deep insights into the psychology of human behavior and social anthropology. This blend helps to understand the users and advises on how to build a valuable solution or what digital transformations are required to serve the needs of customers better.
Any questions? Drop us a line.
4 things to look for in a fintech consulting firm
Finding the right partner that would play along acting more like a part of your company rather than a contractor is crucial for the success of your business and its growth in the dynamic and challenging fintech world. Also, the right advice allows avoiding non-working business models, escape from regulatory pitfalls, and as a result, saving your time and money.
✔️ Skilled software developers
No one would argue that any solution developed by a true professional has a better chance to fly once it's deployed. Some of the reasons for that are bug-free, easy-to-understand code, and secured scalable backend architecture. Logically assumed we could say that if the specialist can develop high-quality products, it means that they could advise on how to create one. Look through the team members and test their skills if needed before making up your mind to partner with the company.
✔️ Regulation compliance
It's important to take advantage of open banking and PSD2 as it consolidates the offerings in one location. At the same time, it requires a professional touch to make the fintech product compliant with PSD2 and open banking. Also, some banks might have specific demands concerning data handling or network configurations. Make sure your financial technology consultant is familiar with the field of banking software development.
✔️ Company success rate
No matter what is written on the company's website concerning the completed projects, do your research. Go for reviews of previous clients. If there is some space left for doubts, you can even contact the representatives of these companies to get the information first-hand. Pay extra attention to the complexity level of the transformations completed and the way the company handled the data received.
✔️ Level of communication
Opt for a company that is close to your mentality and will easily understand your concerns and doubts to be able to address them correctly. Financial consulting service is built on trust and you should be able to open up about your business and your goals which could be quite confidential and not shared with the rest of the world. Quite often help is needed with a license application to be able to function in the fintech field, this means giving the consultant company the authority to represent you.
Fintech consulting process step-by-step
To help you better understand what you can expect from fintech consulting firms, we have outlined the principal steps of the process and highlighted the outcomes you get upon completing each step.
1. Assessing your as-is and to-be
The team will start by having a detailed discussion with you to gather information about your current financial systems, processes, and technologies. This will help them understand your specific needs, challenges, and goals. Once financial technology consultants have a clear picture of your situation, they will conduct a comprehensive gap analysis to identify any shortcomings and inefficiencies in your existing setup. This analysis will help to create a customized plan to address the gaps and align the solutions with your objectives.
2. Developing tailored fintech strategies and solutions
The team creates customized strategies that utilize the latest technology to address your requirements and identified gaps. Next, the consultants evaluate available technologies and platforms to determine the best fit for your specific needs. During this evaluation, factors such as scalability, security, compliance, and integration capabilities are assessed to recommend the most appropriate solutions.
3. Implementation and integration of selected solutions
Fintech consultants often suggest conducting a pilot test to validate the effectiveness of proposed solutions before implementing them fully. The pilot test involves deploying the fintech solutions on a smaller scale to identify any potential issues and fine-tune the implementation strategy. Financial technology consultants collaborate closely with your IT team to ensure seamless integration of new fintech solutions with the existing infrastructure, minimizing disruptions and downtime during the process.
4. Post-implementation support and assistance
Once fintech solutions have been fully deployed, the consultants can continuously monitor their performance, efficiency, and impact on your processes. This data-driven approach helps to identify areas for further improvement and optimization. If required, the fintech consultants can provide training to your staff to ensure they can effectively use the new technologies and tools. The team should also offer ongoing support and assistance with updates, security patches, and adjustments based on changing business requirements to address any issues that may arise post-implementation.
5. Continuous improvement and innovation
If you require additional services, fintech consultants can monitor the ever-changing financial industry and emerging technologies closely. They can offer valuable insights and recommendations on adopting new solutions or upgrading existing ones to help you stay ahead of the game.
Summary
The fintech sphere these days is full of various startups, apps, and other solutions that make our lives easier by facilitating financial operations. But to get there, a company needs to comply with multiple regulations at the national and global levels. Not all companies operating in the fintech field can afford to hire in-house professionals giving sound advice on the company's path in the fintech field. Moreover, sometimes each separate sphere needs an individual consultant, i.e. insurance consultant, wealth management consultant, TechReg consultant, etc. That's why partnering with a fintech consulting company is the best choice to save the budget and at the same time get your back covered.
If you need professional advice and help with any of the fintech fields, let us give you a helping hand. Drop us a line about the challenge you are facing right now, and we'll turn it into an opportunity.
By Itexus Team