When it comes to entering the fintech market, having a squad of true team players with relevant skills and expertise is half the battle. But finding the right candidates with enough experience and skills at the right price can be extremely costly and time-consuming.
Luckily, there are companies whose fintech recruiters have already rounded up the best tech talents – all you've to do is sift through the resumes and select the candidates to join your project.
To save you time and help you fill the knowledge gap in your project with proven industry experts, we've listed the top fintech recruiting firms. Check them out to find the right people to reinforce your in-house team.
Itexus is a trusted full-cycle fintech software development agency providing both dedicated teams and team augmentation services. With a strong team of seasoned engineers, business analysts, DevOps, designers, project managers, and other specialists, the company has the resources to fill your expertise gap and advance your project. Itexus is known for its customer-centric approach, flexible staff augmentation options, and transparent billing and communication processes.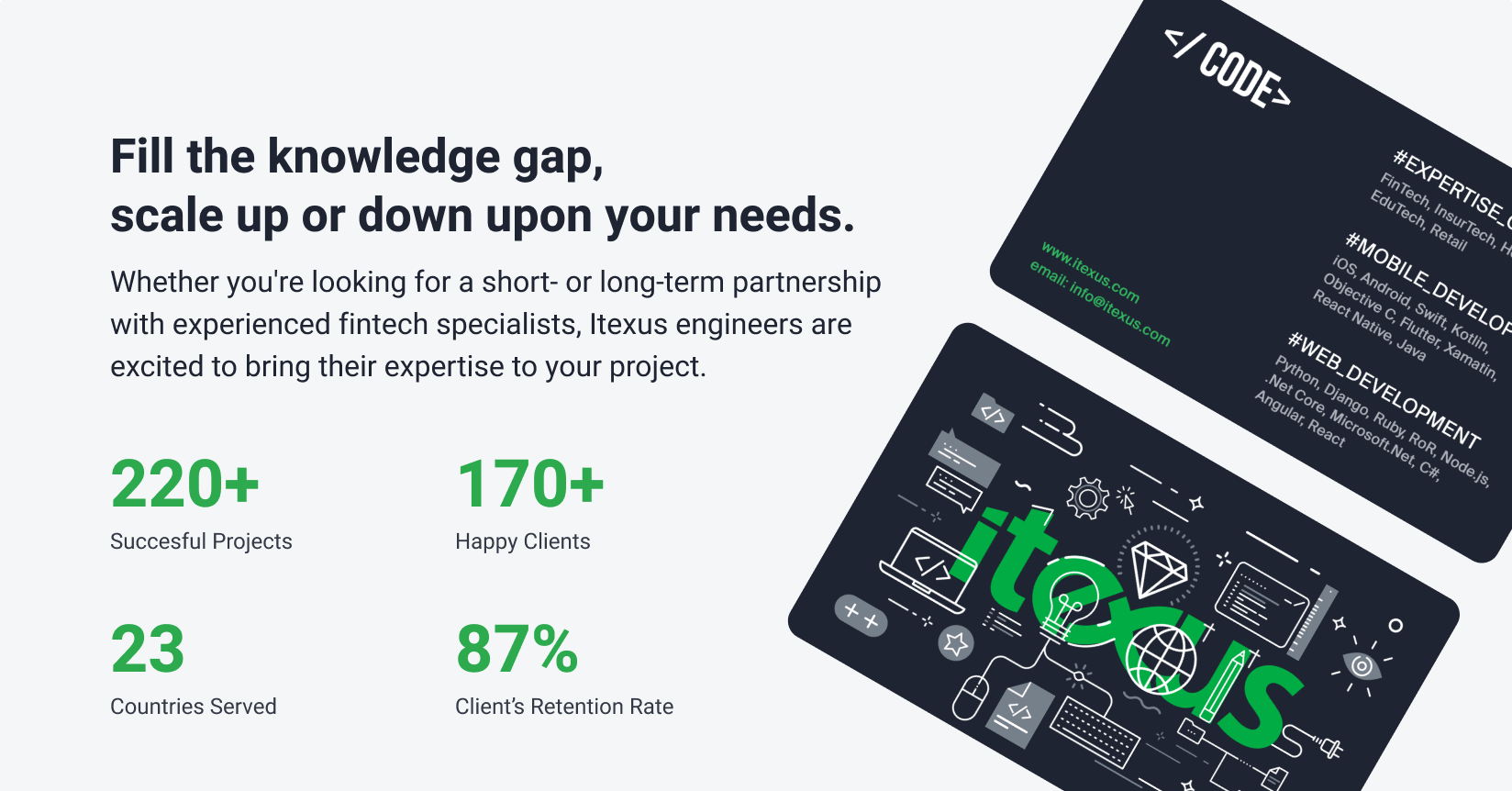 2. Southern Code
Southern Code is a full-cycle custom software development company. With experienced fintech engineers on board and flexible engagement models, the company can provide different sets of skills on favorable terms to scale and reinforce your in-house development team.
3. Magora Systems
In addition to bespoke financial software development, Magora Systems lets you hire fintech developers who seamlessly integrate with your internal staff and bring their expertise to the table. The range of expertise among the company's engineers is really wide, so chances are you'll find someone to fill the knowledge gap.
4. Anadea
Anadea's team of highly skilled, experienced, and seasoned professionals is the right talent pool to hire fintech developers when you need an extra pair of hands for your project. The company is known for its impeccable reputation, well-established communication processes, and high-quality work.
5. Kellton
Along with IT consulting and custom software development, Kellton offers fintech recruiting services. The company has a strong network of mid to senior-level developers, allowing it to offer the needed skills and expertise to add value to almost any project in finance.
Any questions? Drop us a line.
6. Digiryte
As part of its team augmentation services, Digiryte provides access to the best talent in fintech engineering. The company offers in-house recruitment and is known for applying industry best practices and standards to help its clients efficiently fill gaps in specialized skills.
7. ITMAGINATION
ITMAGINATION not only develops turnkey software solutions, but also helps its clients assemble interdisciplinary teams to achieve their business goals, shorten time-to-market, and save on in-house hiring. Following the "remote-first" approach, the company's specialists seamlessly fit into your team and work hand-in-hand to ensure the success of your project.
8. JAFTON
This company works mainly with funded startups, therefore, it might be the best choice if you're one of them. JAFTON offers flexible outstaffing options, so check them out to find the top developers, designers and other IT professionals for your project – their fintech recruiters will be happy to help you pick up the right candidates.
9. CognitiveClouds
The company designs, architects, and develops elegant web, mobile, and tablet products for startups and established businesses. At CognitiveClouds, you'll find specialists of every profile to join your internal team – from UI /UX designers and Node.JS, ReactJS, Ruby on Rails, and Python developers to AI, ML, and NLP specialists and experts in VR, Big Data, and Blockchain.
10. One Beyond
Like other fintech recruiting firms, One Beyond offers options for long-term and short-term fintech staff augmentation. Among the company's specialists, you'll find the right skills to scale up or down upon your needs.
Why should you hire in fintech recruiting firms?
Your hiring model depends entirely on your business needs, project requirements, budget, and long-term goals. Let's take a closer look at when hiring in fintech recruiting firms might be the more profitable choice.
Short-term projects. If you have a project that requires specialized skills for a limited time, hiring through an agency can be a cost-effective solution. This allows you to access the necessary expertise for the required duration without committing to long-term employment.
Limited resources. Recruiting, onboarding, and managing new employees take time and require internal resources and infrastructure. If your team is not ready for in-house hiring, then outstaffing may be your best option.
Skill gap. If your internal team lacks certain skills, fintech recruiters can promptly provide experts in those areas. This can assist you in bridging the skill gaps without incurring extensive training costs.
Regardless of the reasons for hiring through outstaff agencies, you can count on the following benefits:
Cost savings. You pay only for work hours, operating costs are on the employers.
Flexibility. You can scale your team up and down quickly.
Talent pool. You have access to qualified professionals with the right skill sets around the world.
Summary
To those looking for a way to supplement the internal staff, team augmentation offers numerous benefits – from lower costs to flexible and transparent processes and closer alignment with the business processes. Whether you need a temporary injection of talent or a longer-term partnership with experienced fintech specialists, Itexus team augmentation services could be the right fit for you. Reach out to advance your in-house team with our tech talents.
By Itexus Team