Ruby is a dynamic, high-level language designed with an emphasis on programming productivity and simplicity. It's the best option for fintech startups that need to develop MVPs quickly and efficiently. Security is a crucial consideration for any fintech application, so Ruby offers several features that help ensure data safety. For example, Ruby on Rails (a popular web development framework built in Ruby) includes in-built security features such as protection against SQL injection and cross-site scripting attacks.
Ruby is a back-end choice of fintech giants like Stripe. With it, the company serves 13 000 payment requests per second from 3.1 million websites across the globe.
The best way to find Ruby software developers for a fintech project is to refer to reliable agencies with confirmed success stories in fintech talent augmentation. They allow hiring remote fintech Ruby developers for any type of project. Partnering with them comes with a range of benefits, including:
• saving time and costs on hiring;
• quick start;
• minimized risks of hiring incompetent specialists;
• access to the wide talent pool of fintech Ruby developers;
• quickly scalable team;
• transparent cost to hire remote fintech Ruby developers.
Talent augmentation services relieve the tedious routine of developer searching, screening, interviewing, and onboarding. You get a team extension in a matter of days, compared to weeks or even months when it comes to the traditional hiring process. Looking for Ruby developers to fill the skills gap on your project? Check out the top 10 fintech Ruby developers to hire this year.
Itexus opens the list of the top fintech Ruby developers offering a dedicated development team or a single developer for fintech projects of any scale and complexity. The professionals operate as an extension of your in-house team with no extra operational costs – the company covers all infrastructure expenses including hardware, software, salaries, medical insurance, and so on. Itexus specialists have successfully accomplished over 220 projects in 23 countries.
The Itexus talents share an all-encompassing fintech expertise and know how to pick the right technology stack for the product. Their knowledge is more comprehensive than the basic developer tools but encounters the integration with KYC & AML providers, BaaS & Payment Gateways, financial brokers, financial data aggregators, and more. The company offers flexible engagement modules so you can scale up and down your team quickly.
Itexus Team Augmentation Services
• Full-cycle dedicated teams
• Tech specialists as an extension to your in-house team)
• CTO as a service
• Project-based software development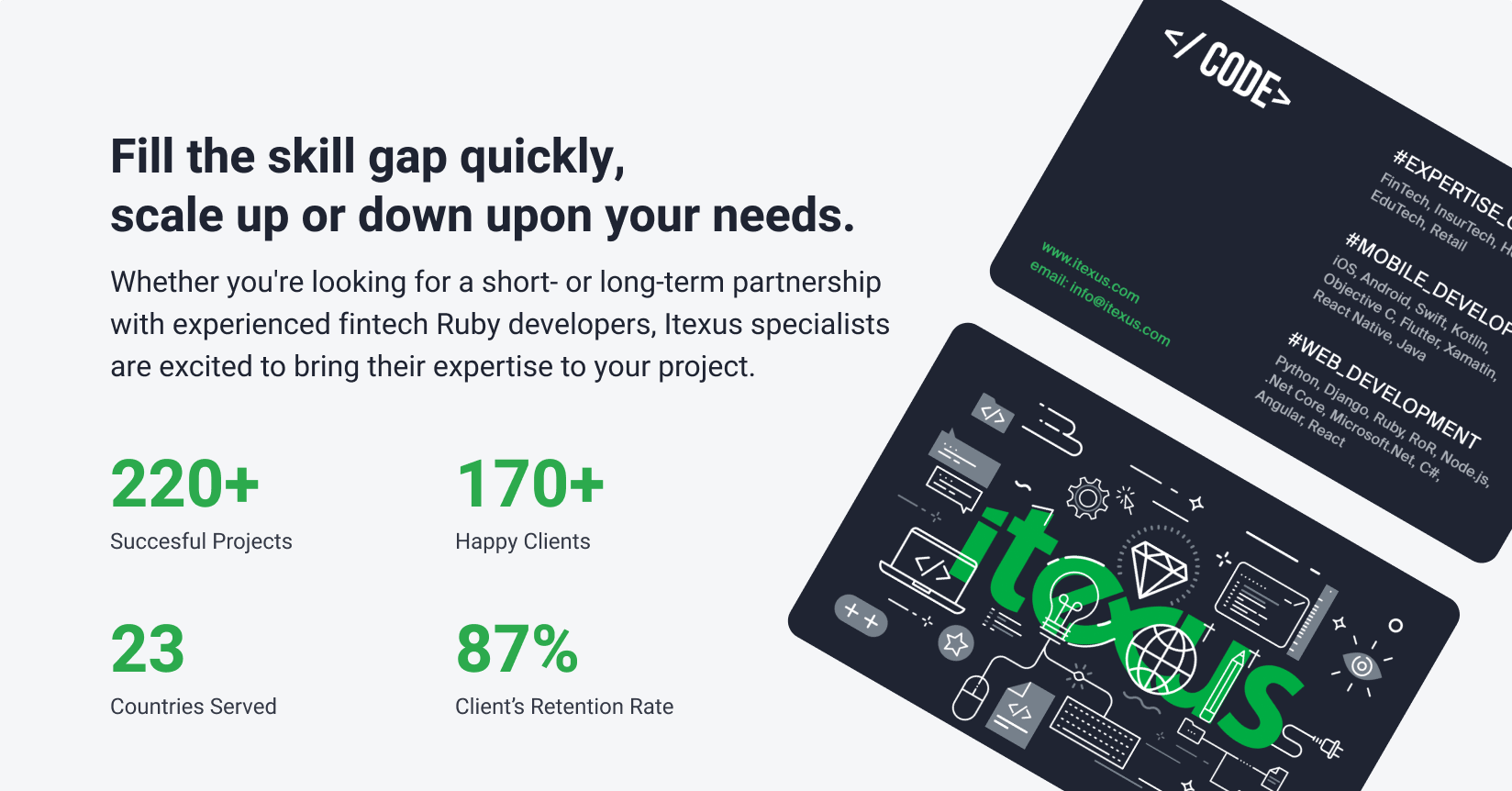 2. Code & Pepper
Code & Pepper is a reputable company with a strong record of delivering high-quality fintech and blockchain solutions. They have developed several successful fintech applications, such as digital banking platforms, investment management tools, and trading platforms. The company uses agile methodologies and cutting-edge technologies to ensure its projects are delivered on time and within budget. Code & Pepper offers recruitment & onboarding and project-based software development services.
3. Moove It
Moove It strongly focuses on innovation and has worked on such products as digital banking platforms, trading systems, and financial analytics tools. Their Ruby developers nourish startups in the fintech industry, building beautiful and scalable MVPs. Moove It offers Ruby developers as single tech specialists and dedicated teams.
4. Icalia Labs
Icalia Labls provides a team of experienced developers and designers who work closely with clients to understand their business needs and goals and provide tailored solutions that align with their vision. The company always has available fintech Ruby developers for hire. At Icalia Labs, you can hire remote fintech Ruby developers as single tech specialists to reinforce your in-house team or outsource your Ruby project to a full-cycle dedicated team.
5. Anadea
Anadea develops payment processing systems, cryptocurrency exchange platforms, and investment management tools. It has received recognition for the quality of the software built by Anadea specialists. The company was named one of the top fintech Ruby developers according to leading B2B ratings and reviews platforms. Anadea has both single Ruby specialists and dedicated teams.
Any questions? Drop us a line.
6. SoftProdigy
The SoftProdigy team promises a faster development process and high-performing web app delivery. The company's services are not limited to offering Ruby software developers for fintech and include digital marketing support in all popular channels. Whether you need an extra pair of hands for your in-house team or want to outsource the development from scratch, SoftProdigy is a smart choice.
7. Lunar Logic
Lunar Logic accomplishes fintech projects from idea to execution and maintenance with the help of their business strategy, UX, and development professionals. The agency dives into business goals and advises on scoping and budgeting before project initiation. In Lunar Logic, you can hire Ruby developers as an extension for your team, as well as gather a dedicated cross-functional team of their specialists.
8. Josh Software
Josh Software has developed several banking, wealth management, and insurance apps. They aim to help companies develop innovations and reliable solutions based on the appropriate technological stack, secure interfaces, and intelligent automation. Josh Software is a nice choice if you are looking to hire remote fintech Ruby developers – the company is known for its specialists' high work ethic and flexibility.
9. Monterail
Monterail is among the top fintech Ruby developers delivering lending, investment, personal finance, money transferring, banking, and insurance apps. It has contributed to developing award-winning startups, multilingual apps, and interfaces with beautifully visualized data.
10. Spiria
Spiria has forward-thinking fintech Ruby developers that nourish innovations. In fintech, their development approach focuses on customer experience – the company cares about high customer engagement rates and seamless customer journeys for the target users.
Summary
Choosing the right technology stack for a fintech app is a critical decision that impacts the application's scalability, security, and performance. That's where Ruby steps in bringing flexibility and efficiency to the development process. Ruby's focus on security, performance, rapid development, ease of use, and cost-effectiveness make it a top choice for a fintech project. There is also a large and active community of developers behind Ruby constantly contributing to open-source libraries and frameworks, making a pool of pre-built tools and resources available for fintech developers.
Looking for a tech talent pool to fill the skill gap? Reach out to learn how Itexus Ruby developers can help you.
By Itexus Team