Many of you have watched Forrest Gump, an iconic movie. And who remembers the moment when Forrest accidentally bought stocks of some 'fruit company'? Should we remind you what kind of fruit company that was? Yes, it was Apple. If that was a real story, the guy could have been rich by now.
It means that making the right choice at the right moment could give you and your children a fortune, or at least provide some passive income aside from the main job. This explains why investment apps have been extremely popular nowadays. Not to mention that modern technologies paved the pathway for investment opportunities knocking on the doors of ordinary households around the world.
The FinTech market keeps growing and expanding calling to life more apps enabling earning on stock trade or investing from the couch. Little wonder that more than 50% of Americans have stocks due to their accessibility. The majority of investment apps nowadays have advisory functionality so even teenagers could start the trade. According to David McDonough, the CEO of Commonstock App, "We are at the start of a massive explosion of investing. Investing has gone fully mainstream." That's why many startups are trying to occupy this niche and create an investment app to help users increase their savings.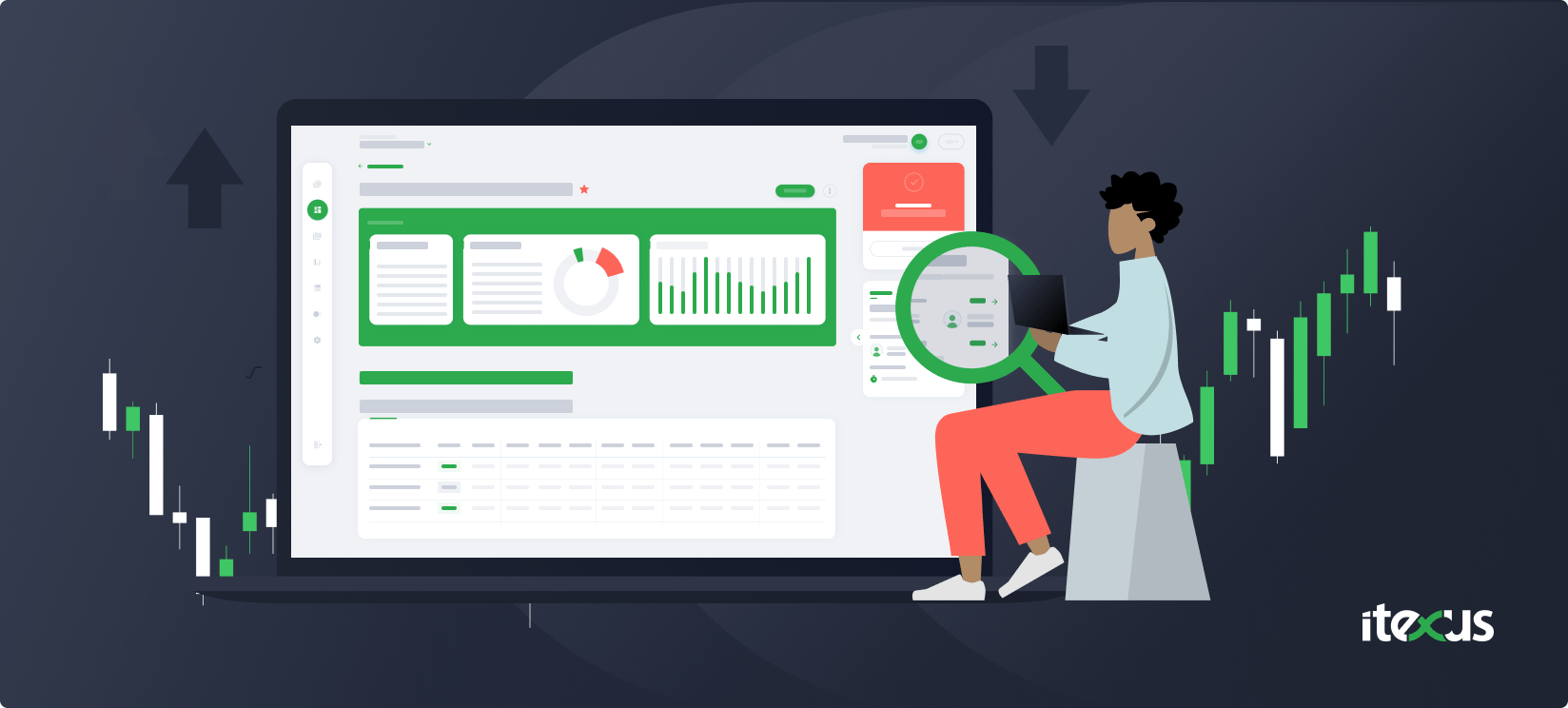 Main Three Categories of Investment Apps
1. Banking apps
The functionality of banking apps is quite transparent and easy to predict. These are the same old functions of the banking sphere generally: making transactions, checking bank balances, saving money, taking loans, and so on. Anyway, banks and other financial institutions are also embedding investment functionality into their apps.
2. Exchange-traded funds apps
These are the apps that unleash opportunities the stock trading market is providing to anyone. Some of them are aimed at professionals who prefer to transact online due to COVID regulations, others at students and the so-called millennials, young people just over 30 who are finding their place in life.
3. Standalone investment apps
These are solely investment apps with a wide range of features tailored to the market and target audience. In this group, you'll find Acorns, Betterment, or Investr-like apps, as well as those aimed at crypto investors.
Types of Standalone Investment Apps
This section focuses on the group of standalone investment apps and aims to elaborate on the subdivisions that exist there so that firm owners can better understand how to build a stock trading app to cater to the needs of the target group of users.
• DIY apps are called so because there is no special advisory functionality provided. They allow users to invest on the go and could vary from having simple interfaces that inform users about market fluctuations to advanced UI meant for professionals.
• Robo-advisor apps are more personalized than the aforementioned type of investment apps. They provide users with AI-based guidance. The algorithms used help in predicting upcoming trends and analyzing user behavior and historical data.
• Hybrid Apps offer a higher level of security to beginners as they combine the functionality of DIY apps with robo-advisory features.
• Human advisor software is similar to the previous category of investment apps, with the difference that humans, not AI, advise users. Such apps could exist on their own, as a form of interaction between the investment firm and its clients, or the human advisory function could be added to any other type of investment app.
Any questions? Drop us a line.
8 Must-Have Investment App Development Features
1. Onboarding
To make your app user-friendly, think of several ways to register: a phone number, social network accounts, Apple ID, email, etc. Moreover, to complete the registration the app should provide ID verification functionality alongside two-factor authentication to ensure the protection of users' data and funds. The rough calculation of the development hours to enable onboarding is 236 including front-end and back-end engineering.
2. Linking Bank Account
Make sure users can select their national bank to connect it to the app. In case needed they should be able to edit a bank account, delete it or add another one. The implementation of this feature could take as much as 295 developmental hours per two platforms.
3. Personal Profile and Portfolio
Users should add information about themselves, specify preferred payment options, review the assets, and view statistics on the assets owned. Mind that the data presented visually could be better processed by the human brain: use graphs and charts for clarification. The hours spent on front-end and back-end development per two platforms will be around 374 hours.
4. Payment Gateway
It's extremely important to provide a secure payment gateway. Consider integrations with Stripe or PayPal for smooth and safe checkouts. The amount of development hours to spend on the integration of this feature is 188 for Android and iOS.
5. Dealing With Stocks
This functionality allows users to search for stocks to invest in. Filtering and sorting should be implemented alongside facilitated navigation when stocks are divided into several categories. Also, cart functionality should be provided: set a preferred price, change the quantity, and add or remove stocks from the cart. The total amount of hours spent on Android and iOS investment app development to implement this functionality is 679.
6. Push Notifications
The app should notify users about new investment opportunities, changes in the market, new recommendations, etc. It could take up to 98 developmental hours to provide apps with notification alerts.
7. In-App Support
In case your app comes with online support, the required functions should be implemented: 24/7 support, the opportunity to book a call. The number of hours spent on this development is 293 for front-end and back-end development per two platforms.
8. Educational Section
If the app is not DIY then some education and guidance are needed. The easiest way is to provide users with access to educational videos on youtube. It could take around 32 development hours to enable this functionality.
Advanced features of investment apps
Social trading
Social trading enables users to interact with and follow the trading activities of other traders on the platform. Essentially, it allows users to copy or mirror the trades of successful traders on the app, providing an opportunity to learn from their strategies and improve their own trading performance. This feature promotes social engagement, and community building, and helps democratize access to investment opportunities and strategies.
Robo-advisors
Robo-advisors are automated investment tools that use algorithms and machine learning to provide personalized investment recommendations to users based on their risk profiles, investment goals, and market trends. This feature allows users to access professional investment advice without the need for a human financial advisor. Robo-advisors can offer diversified investment portfolios, rebalancing, tax optimization, and other services at a lower cost compared to traditional investment management services.
Investment App Development Cost
The cost of investment app development depends on the platform, UI/UX design complexity, features complexity, number of integrations, etc. The development team location affects the cost as well – based on it, the price for 1 developmental hour differs from $200 to $50. Outsourcing the development to Eastern European offices kills two birds with one stone: you can easily squeeze into the budget due to affordable prices and you get a top-quality product in the end due to high qualifications for local IT professionals. Let's build a table of how much the implementation investment app core functionality could cost. On average, a developer's hourly rate is $50.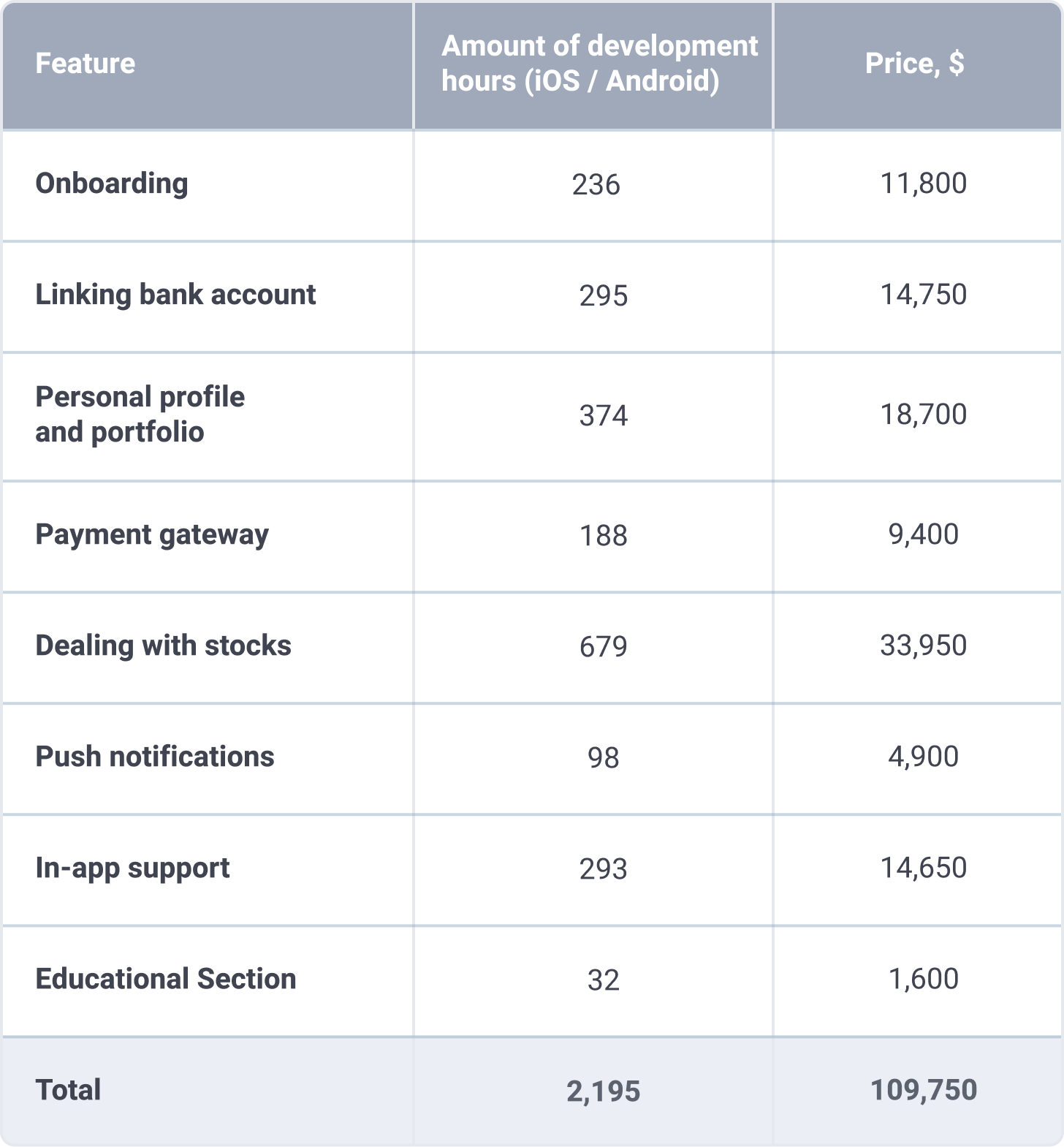 Mind, that the table holds the data which is an approximate calculation. Every project is unique and the actual price could be lower or higher based on the development requirements.
Conclusion
The FinTech world keeps growing, bringing new software products for end-users. Changes in the lifestyle and the way households are run nowadays in the Northern American continent and Europe brings keen interest to investment apps searching aside income to bring more stability to the lives of ordinary people. AI and neural networks contributed to narrowing the gap between the professional investment world and the public.
Let's start writing the story of success together. Drop us a line to discuss your idea.
By Itexus Team