Fintech is an umbrella term used to describe different software aimed at making financial transactions easier. These can include apps that help banks connect with customers, apps that improve users' investment abilities, apps that enable instant money transfers, and more.
Financial institutions can greatly benefit from going mobile. This includes improving customer experience, increasing engagement, cutting operational costs, exploring various marketing opportunities, gaining actionable insights into customer needs, and more. With accessible services and the power of wearables, customer acquisition becomes easier. Additionally, fintech apps help financial institutions remain competitive in the rapidly evolving industry.
According to Statista, there are an estimated 5.62 billion fintech users globally as of 2023. The digital payments segment accounts for 4.4 billion users, making it the largest fintech sector. By 2027, the number of fintech users is projected to exceed 7 billion.
Investing in technologies is no longer just a trend, but a strategic solution for financial organizations that want to remain competitive. In this article, we'll explain how much does it cost to build a fintech app to help businesses gain a clearer understanding of what it takes to develop a financial solution.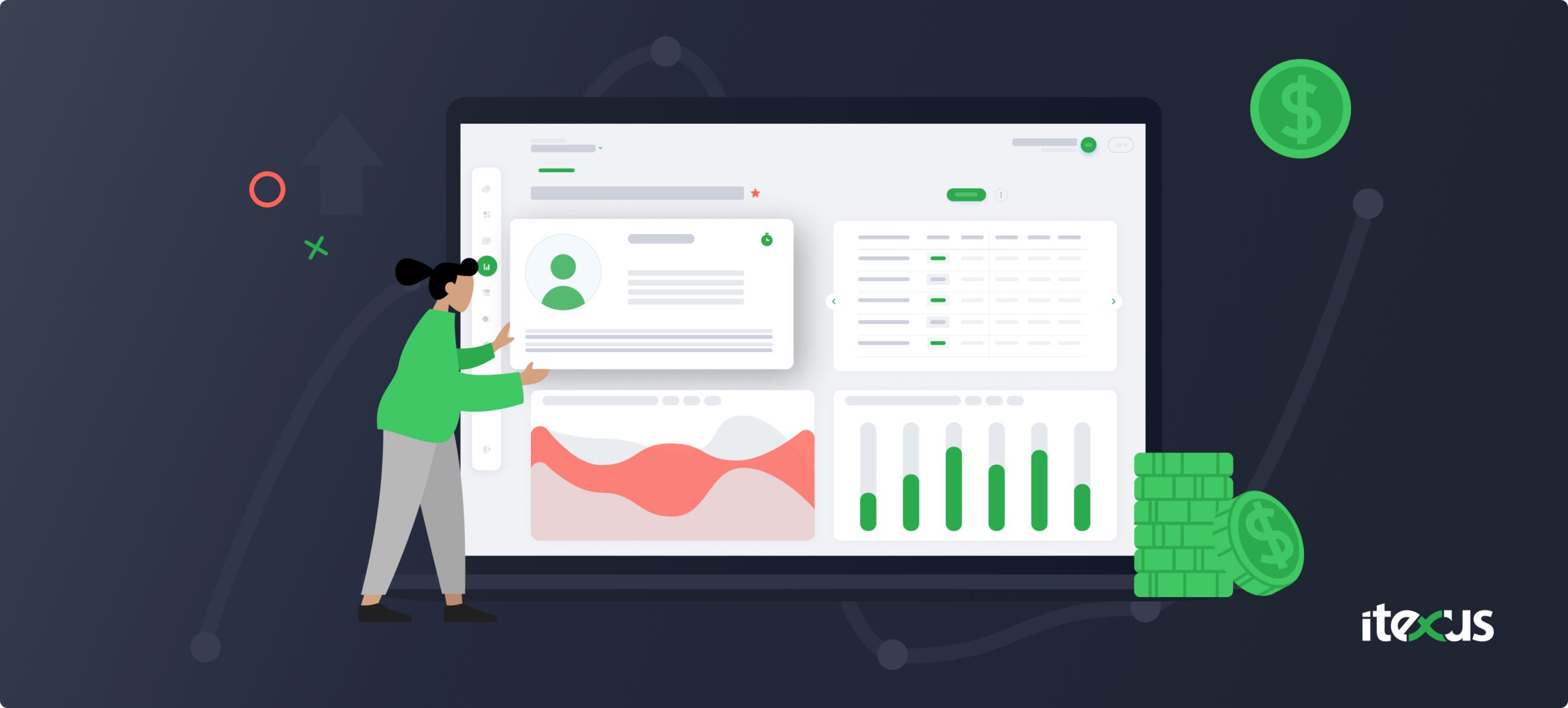 In-house or outsource: how type of the development team affects the cost
The team is an important factor that affects the cost of fintech apps development. Due to security concerns, financial institutions typically opt for either an in-house development team or outsourcing the entire project to a fintech software development company.
Outsourcing the project to a software development agency is usually more cost-effective than building an in-house team. However, the choice between the two should not be based solely on budget. We advise you to carefully consider your long-term goals before making a decision.
For those who are still undecided about whether they need to build an internal team or outsource their fintech app development project, we've prepared a comparison of these two options, including their pros and cons.
Building an in-house development team
Cons
Pros
❌ Higher costs

Having a full set of skills in the office can cost you a pretty penny because of the need to pay salaries, provide benefits, and cover infrastructure expenses, not to mention the costs associated with hiring.
✅ Faster communication

Face-to-face communication is usually quicker and more efficient, which is important for sensitive financial projects.
❌ Lack of talents

In-house teams may not have the necessary skills at the moment when your project needs them. Therefore, you'll have to find and hire professionals with specific expertise, which can take months, especially when it involves a specific combination of skills and experience. Not to mention that you're limited by the talent pool in your region.
✅ Better alignment

In-house teams can better align with your company's culture, values, and long-term goals.
Building an in-house development team pros and cons
Outsourcing the project to a development company
Cons
Pros
❌ Communication challenges

Different time zones, language barriers, and cultural differences can present communication challenges that impact the overall efficiency of a project.
✅ Cost efficiency

When opting for outsourcing, you only pay for the hours that the team spends on your project. Other expenses, such as administrative, insurance, benefits, and salaries costs are the responsibility of the employer.
❌ Less control

The performance and stability of the individuals involved in your project have a direct impact on its overall success. Given that outsourcing implies limited control over the development team, it is important to select a reliable and well-established development company.
✅ Access to a global talent pool

By accessing a diverse talent pool from around the world, you have the opportunity to select the team that best fits your specific project.
✅ Scalability

Outsourcing companies can scale their teams up and down quickly to fulfill the needs of your project at different times.
✅ Faster time-to-market

An outsourced project can start immediately since there is no need to spend time building the team – all required specialists are already in place.
Outsourcing the project to a development company pros and cons
Now that you know how the type of team impacts the project, let's move on to the breakdown of fintech app cost. Please note that all estimates are provided based on the assumption that you choose the outsourcing model.
Five main types of fintech apps and the development pricing
The pricing of fintech app development is primarily influenced by two main factors: the hourly rate of the developer and the size/functionality of the app being developed. On average, a fintech app development project requires a minimum of 1500 hours to complete. Skilled engineers' average hourly rate is around $50. Now, let's explore the estimated development time for various types of fintech apps and compare the associated costs.
Banking apps
This is probably the largest group of fintech apps. They allow users to check their account balances and transaction history, enable money transfers to other bank accounts, schedule payments, send peer-to-peer payments, and find nearby ATMs that can be used free of charge.
Developing the modules for onboarding, authentication, transactions, deposits, savings, settings, support, and notifications can take up to 3500 hours. This would result in an average fintech solution development cost of $175,000. The price includes the development of a native banking app and admin panel.
Lending apps
P2P lending apps facilitate borrowing money by connecting individuals who are willing to lend with those in need. Some lending apps utilize machine learning to gather data on individuals with limited or no credit history and provide recommendations to lenders regarding the amount of money that can be loaned to such users. These apps also include built-in budgeting tools to assist users in managing their spending more effectively. Lending app development will take about 2200 hours, which corresponds to a budget of $110,000.
Finance management apps
This type of fintech app helps users plan their budget, control spending, and avoid going into debt on their credit. Personal finance management apps also assist with bill payments, enable users to connect bank cards and PayPal, and provide visualizations of spending through charts and diagrams. Some apps even offer investment functionality. To create software with the necessary personal finance management features, the developer company may require approximately 3450 development hours, which would amount to $172,500.
Investment apps
These apps enable users to invest and improve their investment performance by utilizing relevant data provided by the app. This data can include articles, videos, the latest investment news, or other automated AI-driven advisory features that assist users in maximizing their return on investment (ROI). Recently, there has been a growing demand for investment apps that allow users to trade cryptocurrencies and other financial assets. To develop an investment app, developers may require approximately 2100 hours, resulting in a fintech software development cost of $105,000 for a native app and admin panel.
Insurance apps
Insurance apps simplify the process of resolving insurance-related issues for users. These apps cover various insurance categories including Vehicle, Property, Health, Life, and Travel. Additionally, there are apps specifically designed for insurance marketing.The development of an insurance app involves several components such as onboarding, authorization, offers, payment methods, privacy settings, push notifications, agreements, and terms and conditions. The development time for such an app can amount to approximately 1400 hours. As a rough estimate, the cost of insurance app development starts from $70,000.
Any questions? Drop us a line.
Fintech app development cost breakdown
Taking a look at the app development process, specifically the features to be implemented and the hours required to introduce them, can be quite exciting. Let's explore how the cost of developing a banking app is broken down. The following estimate is based on the general MVP features and includes the costs for both the client-side and admin panel.
Client-side cost breakdown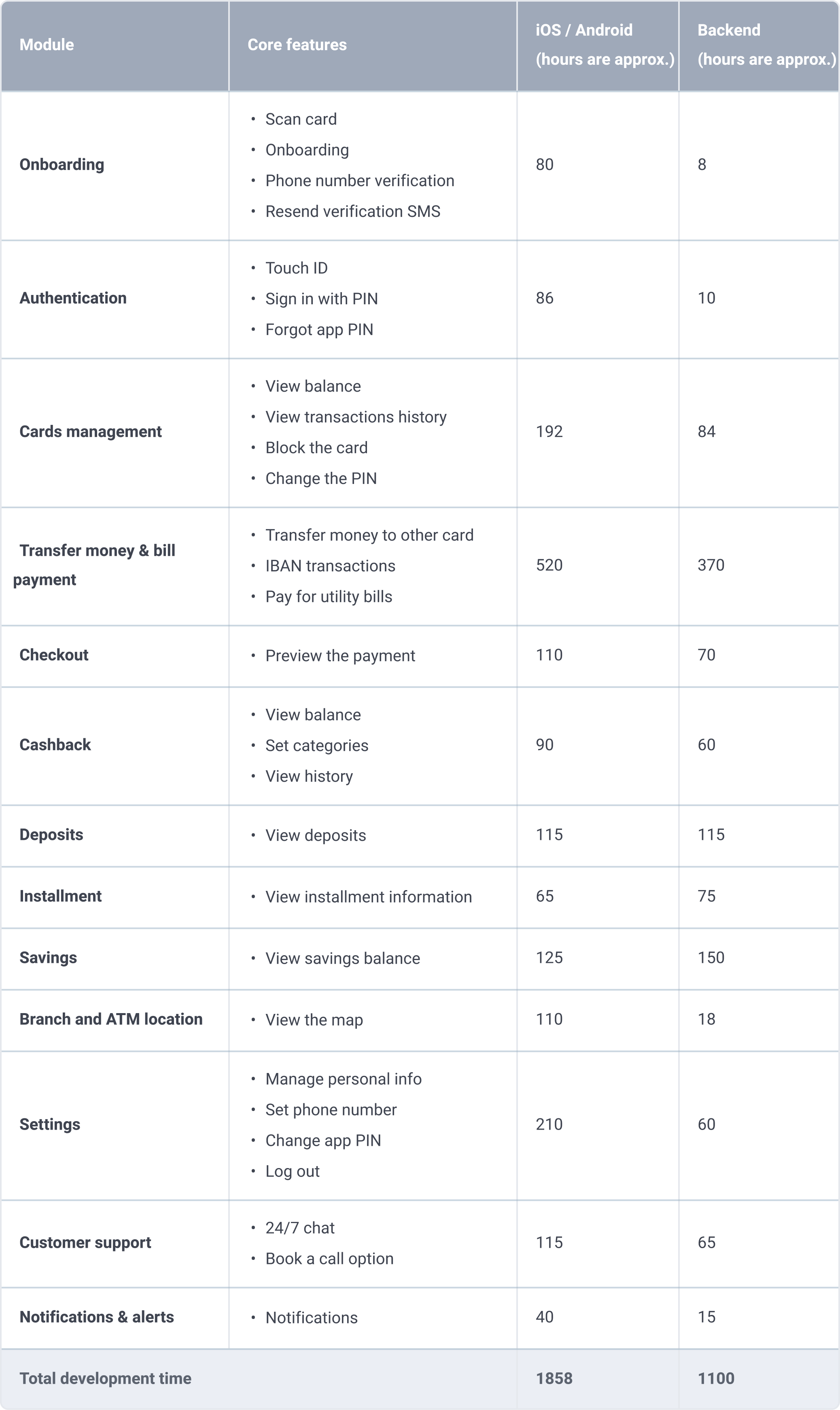 Admin panel cost breakdown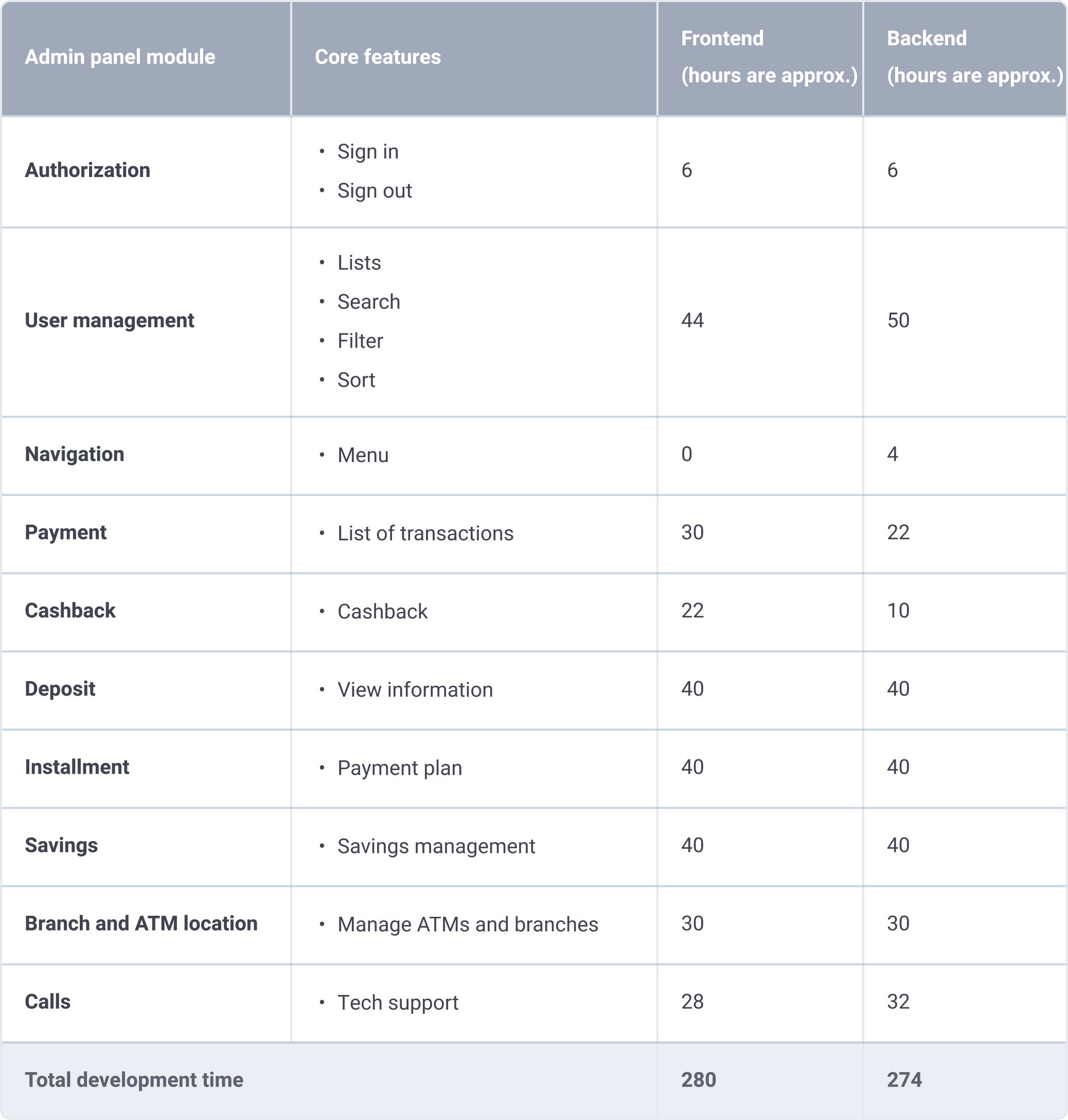 💡 Note: The provided costs for fintech app development are only a rough estimate for the development portion. In addition to developers, designers, business analysts, project managers, QA engineers, team leaders, and other specialists also contribute to the app as part of the team. Therefore, the final cost of the app includes the combined cost of all these individuals. The composition of the team depends on the complexity of the project and may vary.
3 Tips for choosing the right fintech development team
Finding the right development team is crucial for a successful fintech project. Having a good team can save you time and money by delivering clear, high-quality code and adhering to established and efficient processes. And vice versa, choosing the wrong team can put your brilliant idea at risk. Here are some helpful tips to keep in mind when selecting the perfect team:
Expertise in financial services sector. To create a successful FinTech app, it is essential to have more than just technical abilities. A strong grasp of the market is also necessary. Therefore, it is important to choose a team that not only possesses technical expertise but also understands the business aspects of the development process.
Positive reviews from previous clients. Platforms like Clutch can provide valuable insights into a team's professionalism. Take a look at the feedback from previous clients of the companies you have shortlisted. This can be a valuable source of information to assess their reputation and competence.
Track record in fintech. When evaluating a company for your fintech app development needs, you should take into account their past achievements in the field. A strong track record of creating successful fintech products can significantly enhance the likelihood of success for your own project.
Itexus fintech development expertise
Take a look at a few recent projects that the Itexus team has delivered for clients in the financial services industry. This will give you an idea of what to look for in the portfolio of your preferred development company.
Financial data analytical platform for a large investment management company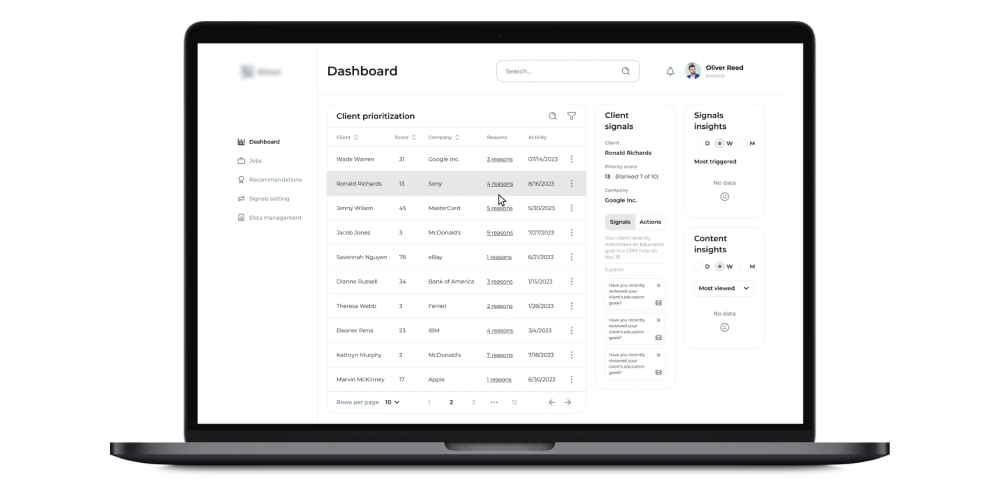 A leading investment management company with over 1.5 trillion dollars in assets under management that caters to both institutional and retail investors approached Itexus to develop a solution for financial data analysis. Our team developed an AI-based data analytical platform that analyzes clients' stock portfolios, transactions, quantitative market data, and uses NLP to process text data such as market news, research, CRM notes to generate personalized investment insights and recommendations.
To learn more about the project, read the case study.
Online lending platform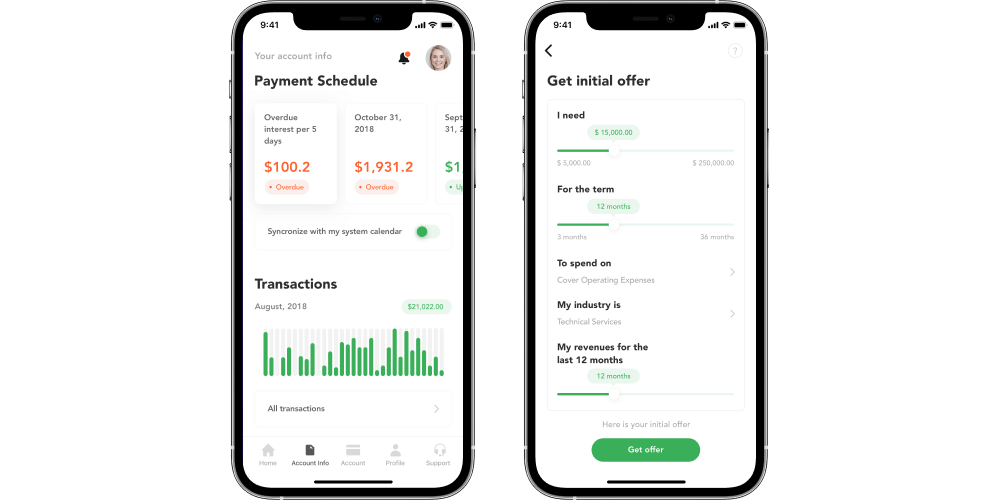 For a fintech startup, Itexus team built a digital lending platform and a matching mobile app client that automate loan-lending process and features AI-based credit scoring. The solution is integrated with industry-leading third-party service providers, such as Plaid, Mbanq, Experian, PayPal, and others.
To learn more about the project, read the case study.
White-label mobile banking app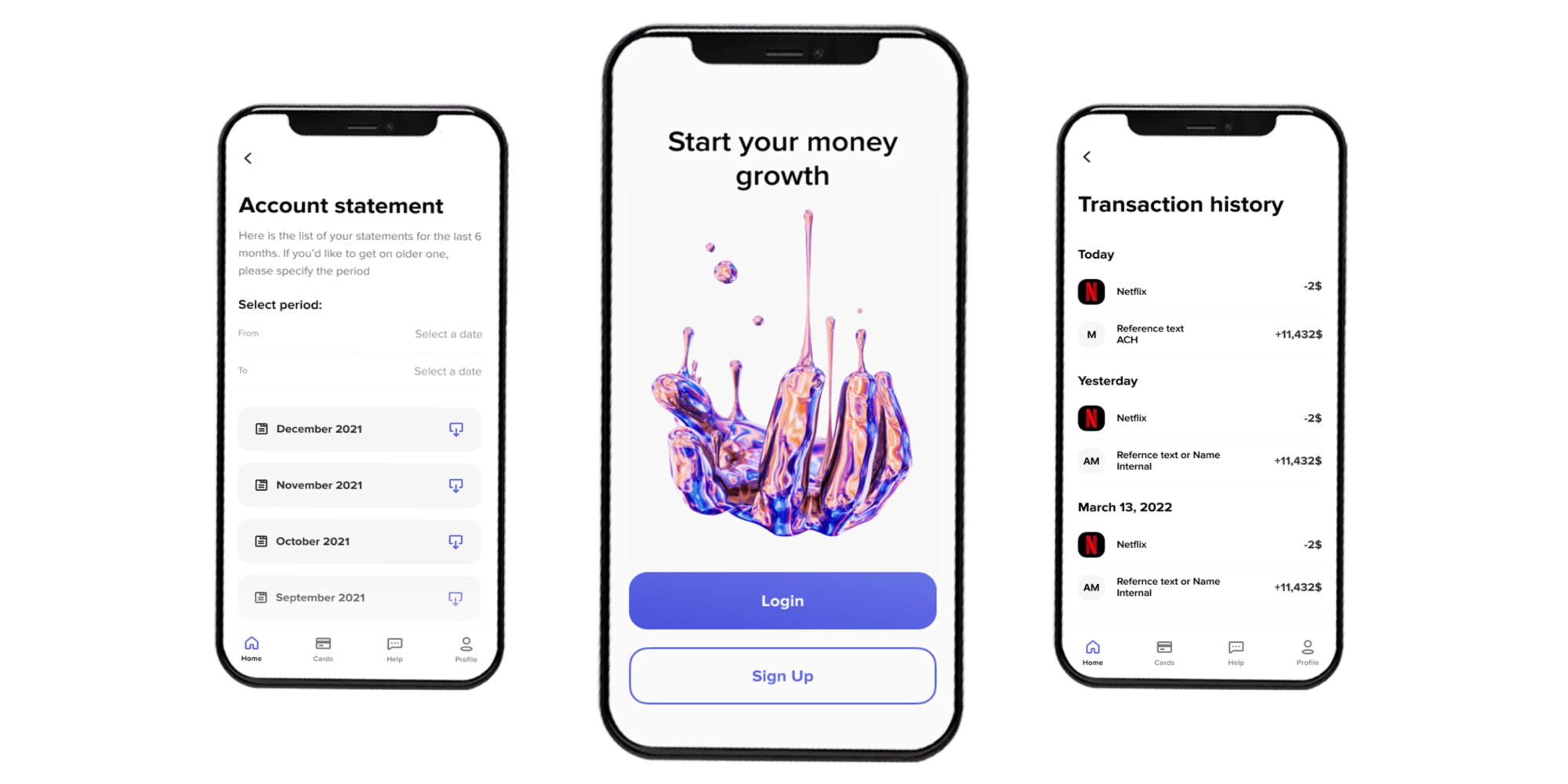 A Silicon Valley-based digital banking services provider contacted Itexus to develop a white-label mobile banking application. In just 4 months, our specialists delivered a customizable and scalable application featuring the full range of financial services that banks and non-banking financial organizations want to offer to their customers.
To learn more about the project, read the case study.
Algorithmic intraday stock trading system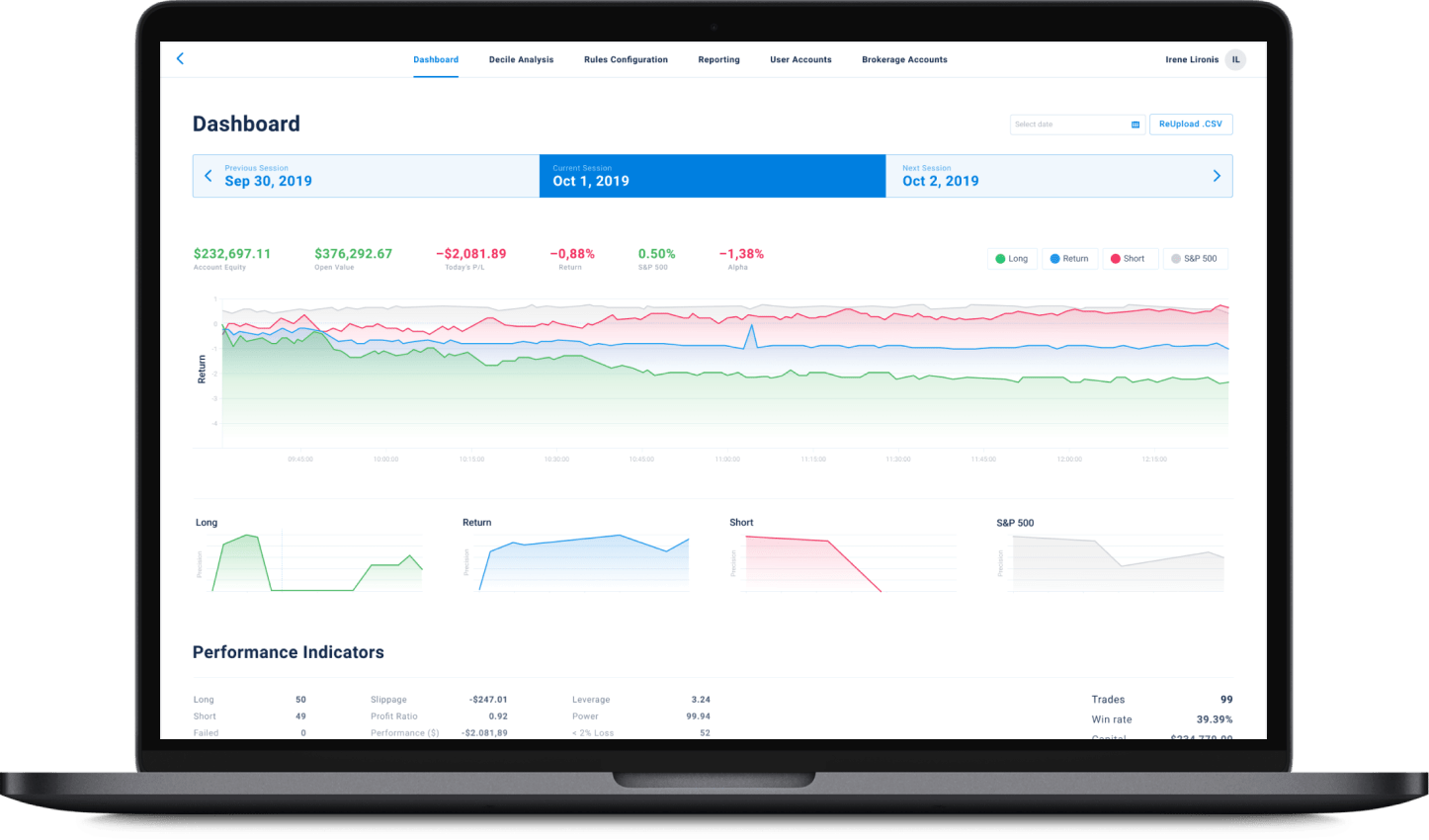 A wealth management company aimed to digitize their business in order to expand their customer base, boost trading profits, and reduce operational costs. They planned to achieve this by developing a SaaS system that would automate trading strategies and operations. With this request they approached Itexus. It took us 3 months to deliver a minimum viable product (MVP) of the SaaS system for automated intraday stock trading. This system enables investors to connect their brokerage accounts and configure a robot to automatically trade stocks on their behalf. Users are charged a commission and subscription fee for this service.
To learn more about the project, read the case study.
Summary
Building a fintech app is not cheap, but it is definitely worth the investment if approached properly. The right development team will not only deliver a high-quality solution in the most resource-efficient manner, but also save you money on cost to build fintech app, further product maintenance, and support. The challenge is to find a team like that.
At Itexus, we combine our tech proficiency with extensive fintech expertise and robust development processes to build first-class software products that help businesses grow. Have an idea for a fintech app? Contact us to find out how we can help you turn it into a next-generation fintech solution.
By Itexus Team