Fintech is an umbrella term used to describe various software targeting financial transactions facilitation. These could be apps helping banks connect to customers, apps enhancing users' investment skills, apps providing instant money transactions, and others.
Going mobile helps financial institutions get more profit due to increased customer engagement. Customer acquisition is eased through enhanced user experience, increased connectivity, and the unleashed power of wearables. Fintech apps expand financial literacy among users as well.
The latest data from the USA according to Statista shows that the percentage of millennials adopting digital banking rose to 77.6 in 2021. Moreover, other financial services adoption has increased in the last 5 years and is predicted to keep growing.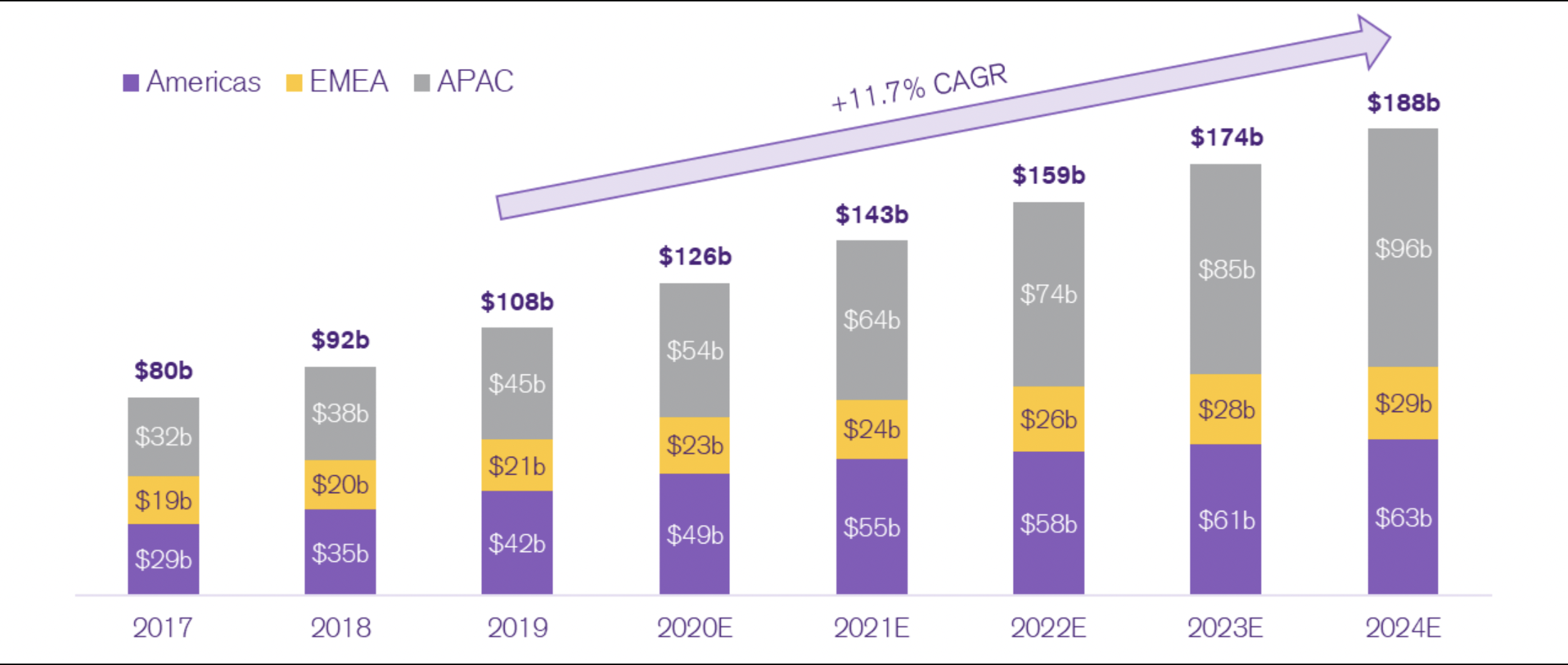 What Slows Down FinTech Adoption
The fintech industry is facing some challenges that are delaying the adoption of financial innovations:
Regulatory compliance
Cybercrime and therefore lack of trust from users
Use of Big Data that offers both opportunities and obstacles for fintechs
Challenges of Blockchain and AI integration
These challenges could be easily overcome if the company has enough experience in fintech development and is staffed by the necessary professionals to handle the dynamics of the industry. Such companies are able to develop flexible software architectures that can adapt to rapid technological and market changes.
Five Main Types of FinTech Apps and the Development Pricing
The two main factors affecting fintech app development pricing are the hourly rate of the developer and the size/functionality of the app being developed. A fintech app development time starts from 1500 hours. And as for the hourly rate of the developers, you can hire skilled engineers for $50 per hour on average. Let's discuss the approximate development time for different types of fintech apps and compare the development cost.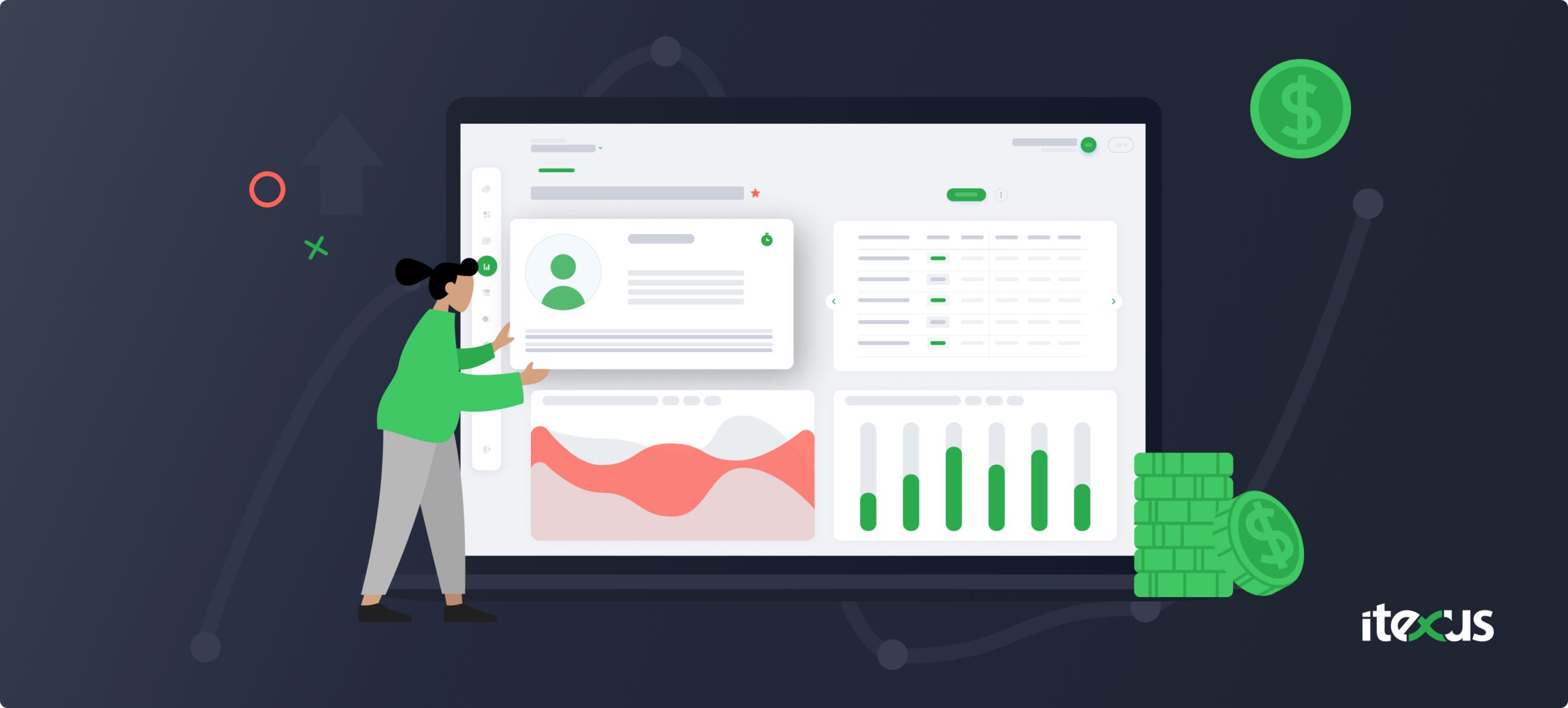 Banking Apps
This is probably the largest group of fintech apps that allow their users to check account balances and transaction history, enable money transfers to other bank accounts, make scheduled payments, send P2P payments, and find nearby ATMs that can be used for free.
The development of the modules responsible for onboarding, authentication, transactions, deposits, savings, settings, support, and notifications could take up to 3500 hours, bringing us to $175,000 as an average cost to develop a fintech app. The price includes the development of a native banking app and admin panel.
Lending Apps
P2P lending apps help people borrow money by connecting to individuals who are eager to lend. Some lending apps use ML to collect data on people with little or no credit history and recommend to lenders what amount of money can be given to such users. Built-in budgeting tools are aimed at helping people manage their spending more efficiently. The approximate number of hours spent on lending app development is 2200, which translates to a budget of $110,000.
Finance Management Apps
This type of fintech apps helps users plan their budget, control spending, and prevent them from going into the red on their credit. Personal finance management apps also help pay bills, allow users to connect bank cards and PayPal, and visualize spending in the form of charts and diagrams. Some apps offer investment functionality. To create the software with the required personal finance management features, the developer company could spend about 3450 development hours, which is $172,500.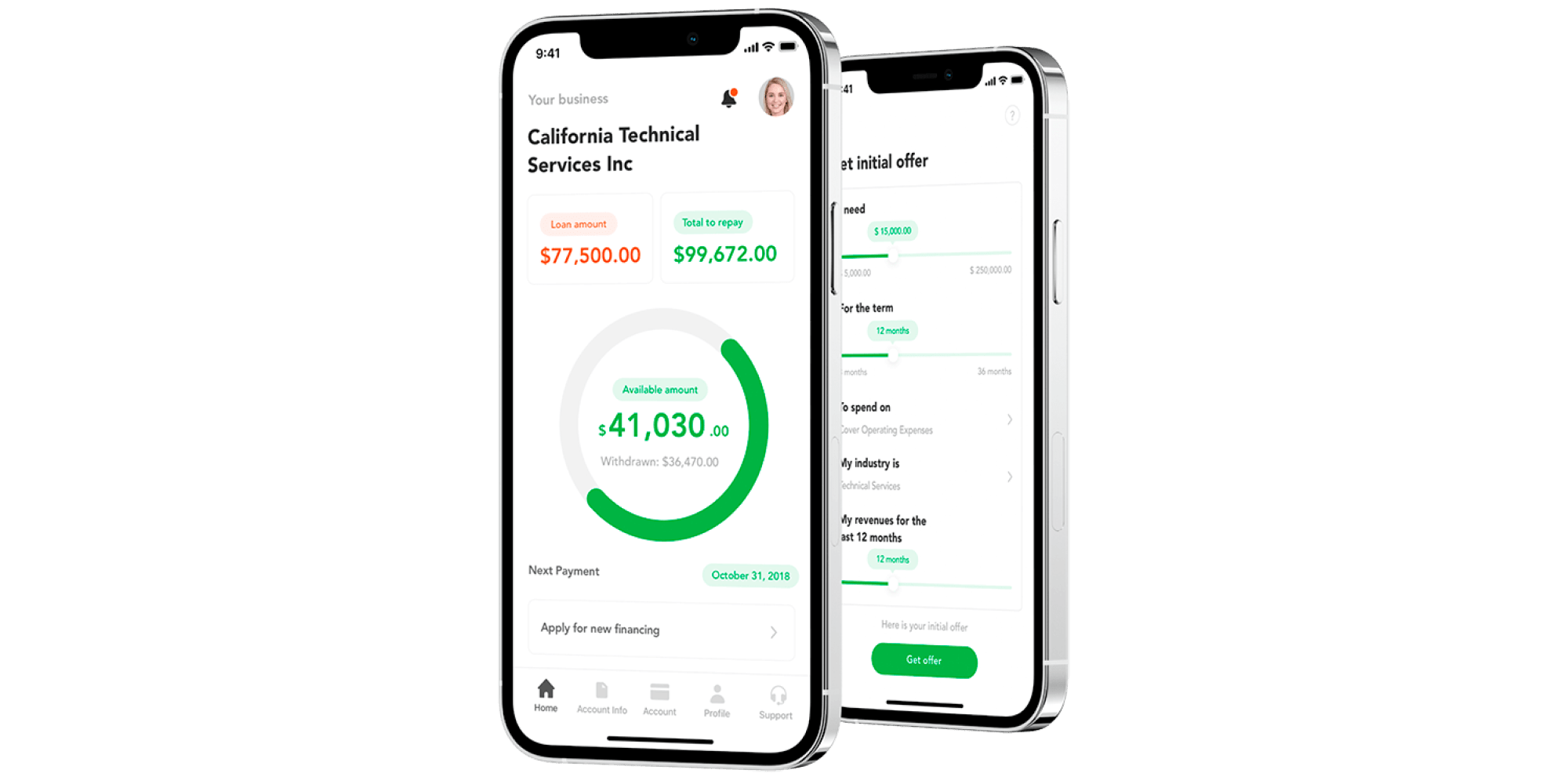 Investment Apps
These apps allow users to invest and improve their investment performance using relevant data provided by the app. This can be articles, videos, the latest investment news, or other automated AI-driven advisory features that help users boost their ROI. Recently, there has been an increasing demand for investment apps that allow trading cryptocurrencies among other financial assets. To build an investment app, developers could spend around 2100 hours, resulting in a cost of $105,000 for a native app and admin panel.
Insurance Apps
Insurance apps make life easier for users when it comes to solving insurance-related issues. Such solutions cover the following insurance categories: Vehicle, Property, Health, Life, and Travel. There are also apps developed for insurance marketing. Together with the onboarding, authorization, offers, payment methods, privacy, push notifications, agreements, and terms and conditions, the development time can be up to 1400 hours. At a rough calculation, the cost of an insurance app development starts from $70,000.
Any questions? Drop us a line.
FinTech App Development Cost Breakdown
It could be quite exciting to take a look at the app development process, in terms of the features to be implemented and the hours spent to introduce them. Let's find out how the cost of developing a banking app breaks down. The following estimate is based on the general MVP features and includes the client-side and admin panel costs.
Client-Side Cost Breakdown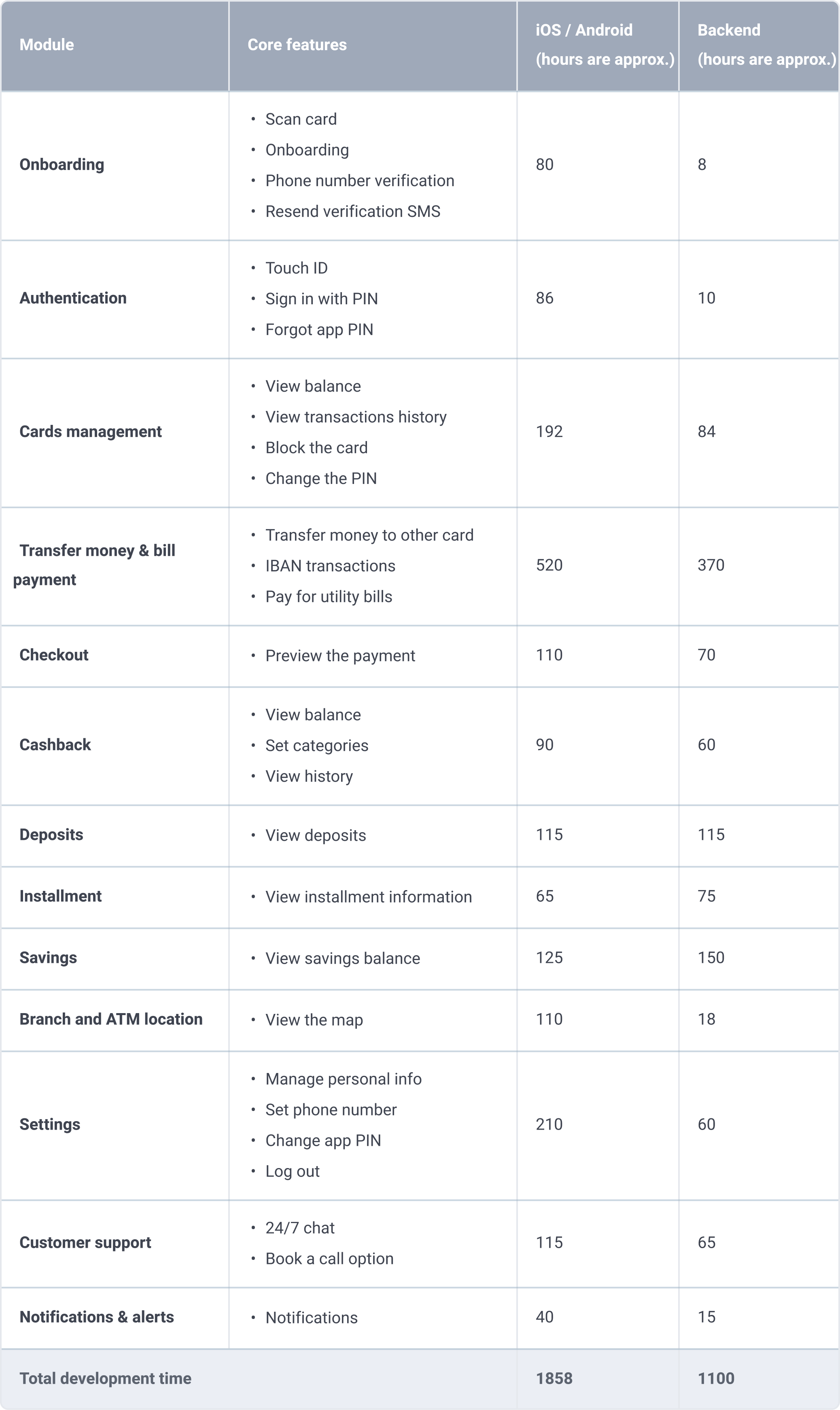 Admin Panel Cost Breakdown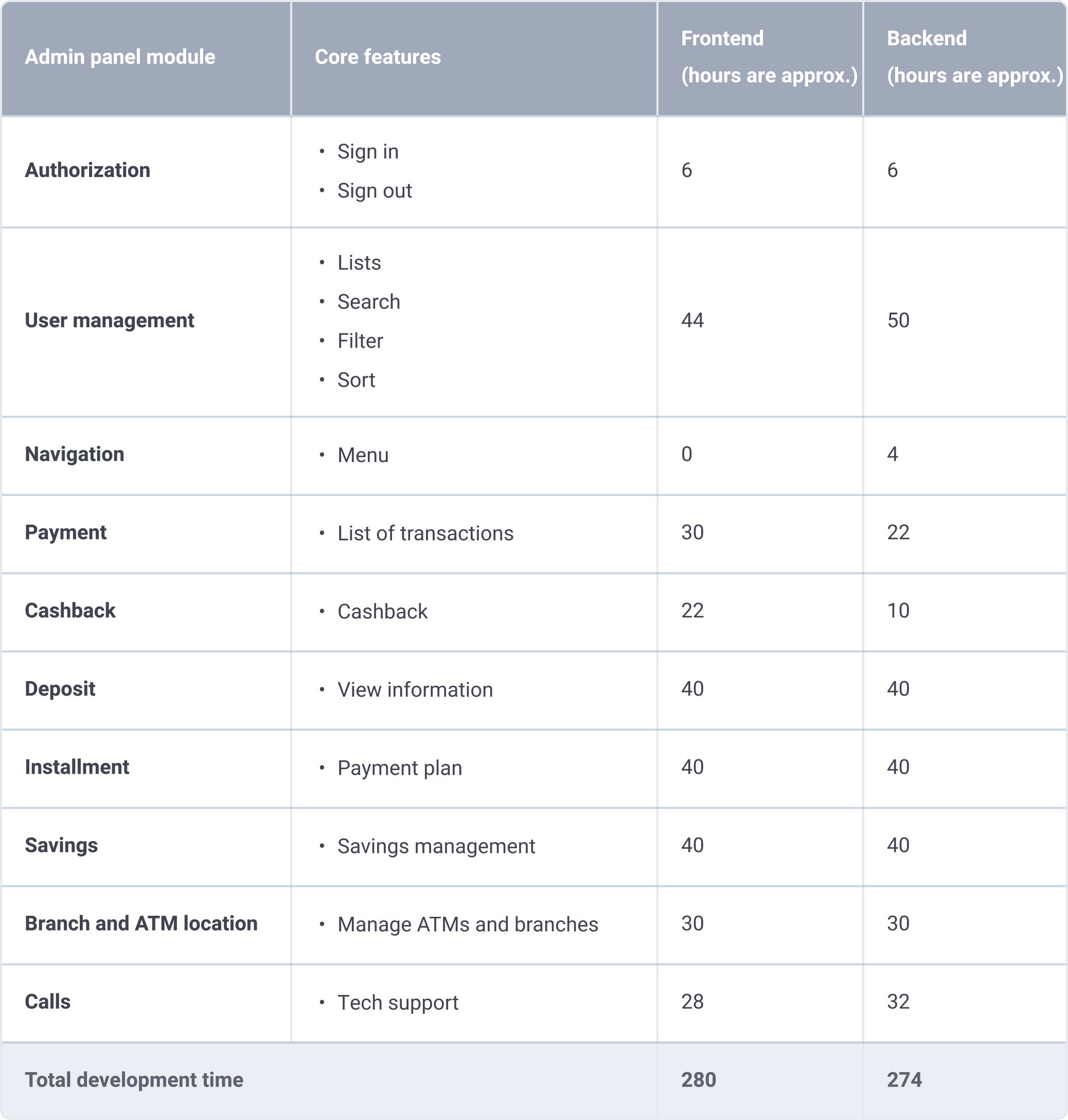 Note! The given fintech app development costs are a rough estimate of the development part only. Apart from the developers, designers, business analysts, project managers, QA engineers, team leaders, and other specialists also work on the app as part of the team. So, the final cost of the app includes the cost of work of all these people. The team composition depends on the project's complexity and may vary.
Summing Up
Before hiring a developer for your fintech project, make sure the company has extensive expertise in the field, as fintech solutions should be approached with accuracy by licensed specialists who are well-versed in the specifics of the field and changing government regulations. Modern fintech solutions are driven by technologies such as Big Data, ML, AI, NLP, Blockchain, and encryption and it is important to hire professionals who have the necessary skills to develop and deploy the solution. At Itexus, we leverage our extensive fintech expertise and robust development processes to build first-class software products that help businesses grow. Have an idea for an app? Contact us to find out how we can help you turn it into a next-generation fintech solution.
By Itexus Team