For each new product, there is a specific reason to develop an MVP: test the hypothesis and product-market fit, test product idea and gain some actionable insights from users' feedback, and so on. What's more, presenting an MVP to investors is the perfect way to establish your credibility, show your commitment and seriousness, and thus increase your chances of getting funded.
Whatever the purpose, someone on the team should handle the MVP development. But sometimes you just have a great idea and a like-minded team, but no one on board to build a minimum viable product. In this case, trying to wear multiple hats leads to increased time to market at best and outright project failure at worst. The truth is that every phase from idea to launch should be handled by professionals. That's why more and more startups and product teams are outsourcing MVP development to software development companies instead of hiring in-house specialists and getting overstaffed.
Working with a software development company is especially reasonable when it comes to building an MVP for fintech startup, as the financial industry is heavily regulated and there are multiple issues to handle. Although, the same issue can pose insurmountable challenges for a startup and be a piece of cake for an experienced fintech development company.
So, you're all set to take on the fintech world and looking for a software development agency to create a minimum viable product for you. However, not any company fits – to get the most out of the collaboration, you should find a company that knows the ins and outs of working with startups and has hands-on experience with fintech MVP development. To make your search easier, we have looked around at development agencies and created a list of financial MVP development companies. Check it out!
Top 10 FinTech MVP Development Companies
Itexus is a fintech software development agency known for its customer-centric approach, robust development processes, and world-class engineers on board. In addition to fintech MVP development, Itexus offers discovery phase, consulting and advisory, design, and other services tailored to the specific needs of startups. What's more, the company has a wide network of investors and actively partners with accelerators and incubators, and can therefore help its clients raise funds. All this makes Itexus a perfect financial MVP development company for both newcomers entering the fintech market and established businesses considering launching a new product.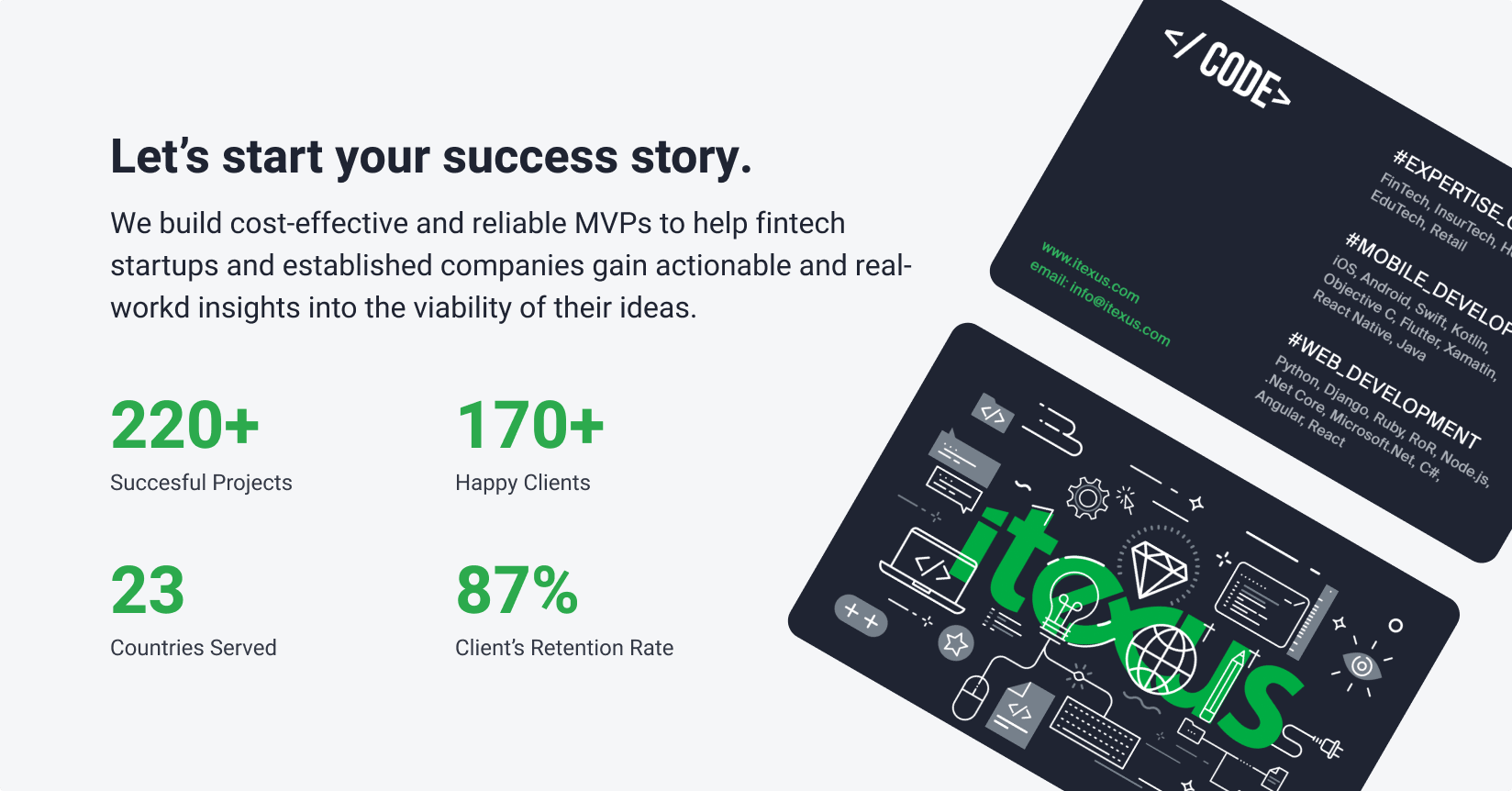 2. Atomic Object
Atomic Object builds software products for the web, mobile devices and computers, helping its clients innovate and grow. The agency has hands-on experience with many frameworks, languages, and tools. What sets Atomic Object apart from other development companies is that its software developers and designers do not just do the job, they understand exactly how people will use the solution and how to make it more useful to end-users which is particularly valuable for startups.
3. DOOR3
A software consultancy DOOR3 specializes in software development, technology strategy, and UI /UX design, helping companies – from startups to members of the S&P 500 – modernize and align their technology for the future. With a global team of talented professionals dedicated to building things of lasting value, the company is committed to bringing empathy and creativity to all of its client relationships.
4. KitRUM
KitRUM is committed to developing software solutions for new businesses, non-governmental organizations, and large enterprises in the most risk-free and cost-effective manner possible. The company supports a high level of expertise in the fintech domain by working with financial data providers, loan associations, brokerages, and banks. Whether it is a startup or an established fintech company, KitRUM focuses on security, compliance, and regulations for its clients.
5. Tivix
Tivix is an MVP professional financial consultancy company that specializes in agile web and mobile application development, including fintech mobile MVPs. They strive to reduce the technical risk for clients by enabling rapid time-to-market while delivering standards-based software code that can be shared with an internal team at any time. In addition to web and mobile app design and development, the company also offers DevOps services and innovation workshops to its clients. Tivix works with venture-backed startups, large enterprises, and non-governmental organizations.
6. Binariks
Binariks is a development and consulting agency with a team of talented, open-minded professionals specializing in custom software development that would be happy to build a fintech minimum viable product for you. The company works with a variety of organizations, from startups to large enterprises, helping clients achieve their business goals. Following the Lean Startup methodology, Binariks goes with startups through all phases of product development, from the hypotheses and MVP to the launch of the finished product.
7. Imaginary Cloud
An award-winning software development and UX /UI design agency, Imaginary Cloud offers web and mobile development, UX/UI design, code audit, and UX audit services. The company is known for unique and well-established processes, streamlined agile development, and flexible business models. Some of the best startups have started their journey to success with Imaginary Cloud.
8. eTeam
eTeam's services cover the entire lifecycle of MVP fintech development, from UX design and project management to coding, testing, and delivery. The company is committed to agile, iterative development and ensures complete transparency throughout all stages. eTeam is known for design thinking, flexibility, and delivering fast, reliable results for its clients, whether they are startups or established companies.
9. BrightMarbles
BrightMarbles is a software engineering house that creates digital products and experiences. The company strives to bring maximum impact to its clients' businesses while minimizing costs. To this end, they tailor the development cycle to meet individual client needs and ensures rapid prototyping. Dubbed a "startup builder," BrightMarbles has more than seven unicorns in its client portfolio and five award-winning software products.
10. Infinum
Infinum advocates for turning complex business problems into simple software solutions. Infinum's team works on agile principles to adapt to a client's specific needs and provide tailor-made services. The company designs, develops, and scales authentic digital products for both venture-backed startups and established businesses.
Any questions? Drop us a line.
How to Choose a Company to Outsource Financial MVP Development
Choosing the right tech partner to outsource your fintech MVP development is a crucial decision that can affect the success of your startup. Here are some factors to consider when choosing.
1. Experience and expertise
When it comes to building a minimum viable product fintech is a challenging domain. Your partner should have a proven track record in developing fintech products and understand the unique challenges specific to the industry. Checking their portfolio and case studies will help you make sure they have both the knowledge and the skills to build your product.
2. Tech stack
Make sure your shortlisted companies are proficient in the technology stack you plan to use for your MVP. This can include programming languages, frameworks, and platforms.
3. Established, robust processes
Your tech partner should have established, clear, and effective development and communication processes in place. This point is especially important if you're planning to work with a remote team. You can ask about development methodologies and project management tools the company uses. The company should also provide you with regular progress updates and be responsive to your feedback and questions.
3 Points to Consider When Building an MVP for a Startup
Here are three surefire tips to consider in addition to hiring fintech MVP developers.
1. Create a list of your success criteria
It may seem simple, but many startups have failed because they were unable to track progress due to a lack of established success criteria. You should develop success criteria in a measurable style so you can calculate ROI. Also, set a long-term goal.
2. Map the user journey
Visualizing the user journey from A to Z helps you see how people interact with your solution and identify how many steps the user takes and optimize them. Mapping the user journey gives you actionable insights into what users really need, and you can discover areas for improvement. Do not worry if your findings do not meet your expectations – at this step, you can still make adjustments to the idea and prioritize activities to provide even more value to end-users.
3. Address only really existing user problems
When you are working on the solution, you need to make sure you are addressing real user problems and building your fintech MVP around them. Sometimes we get so obsessed with the idea that we do not see the users behind it, and the solution may solve problems that do not bother users that much. To avoid this, you can convene a focus group and thoroughly analyze their feedback at all stages – from ideation to implementation.
Summary
Developing an MVP is beneficial for startups in many ways. But whatever your goal, make sure you work with the right financial MVP development company. Experienced engineers, designers, and business analysts will guide you through all ins and outs, facilitate every step of the way, address any challenges that arise, and make sure you get the most out of your collaboration.
At Itexus, we have been developing fintech MVPs for over 9 years, helping startups innovate and win the markets. Drop us a line to find out how your project can benefit from our expertise.
By Itexus Team