As the awareness of the importance of customer experience grows, banks are starting to see banking apps as more than just a way to streamline their operations. Nowadays, apps have become a powerful tool for banks to provide tailored and personalized experiences to their customers. This shift in thinking dictates the approach: while cross-platform mobile development is a good fit for getting the app to market faster and saving costs, native mobile apps are selected by banks that prioritize exceptional user experience, performance, and security.
If you're interested in developing native mobile banking apps for both iOS and Android, we've compiled a list of accomplished mobile banking application development companies. All of them offer flexible engagement models, so you can choose the most suitable option. Whether you want to outsource the entire development process or just need extra help to fill in skill and expertise gaps, our list of top mobile banking app development companies has what you need. But before we get into that, let's dot the i's and clarify why to choose native app development over a cross-platform or hybrid solution.
4 reasons to opt for native mobile banking app development
1. Security
In finance, everything boils down to trust between customers and service providers. An app's security is the foundation for building this trust. Native apps provide enhanced security due to their tight integration with the platform they are built for. This allows developers to leverage platform-specific security features, making native apps less vulnerable than hybrid apps.
2. Performance
Being designed specifically for a particular platform, native apps can make the most out of the user device's hardware and software capabilities. This ensures the application runs as efficiently and effectively as possible and opens up many options for new functionalities.
3. Better user experience
Each platform has its own design guidelines, and developers should follow them. Adhering to the UI/UX standards specific to the selected platform results in a consistent, intuitive, and interactive user experience. This, in turn, leads to greater loyalty, higher customer satisfaction scores, and even customer acquisition, as satisfied users are more likely to share their positive experiences with others.
4. Improved scalability
As the number of users grows, the last thing you want for your app is for it to crash due to increased traffic. The architecture of native applications allows for supporting a higher load compared to hybrid and cross-platform apps. Therefore, a native app can handle more users without compromising performance. This provides opportunities for scalability and the product's future growth.
Now that you have a clear understanding of the benefits of native banking apps, let's explore companies with a proven track record in the fintech industry that can help you develop your banking app.
Top 10 mobile banking app iOS developers
Itexus is a custom software development company with an impressive track record of building digital solutions for financial service providers, including banks, wealth management companies, fintech startups, and others. They have successfully completed over 300 projects for clients worldwide. Combining deep financial industry knowledge and extensive tech proficiency, Itexus strives to deliver products that help clients' businesses grow.
The company offers flexible engagement models. They can either take over the entire project and develop native apps from scratch according to your requirements, or provide you with experienced iOS and Android mobile banking app developers to reinforce your in-house team and fill in skill gaps.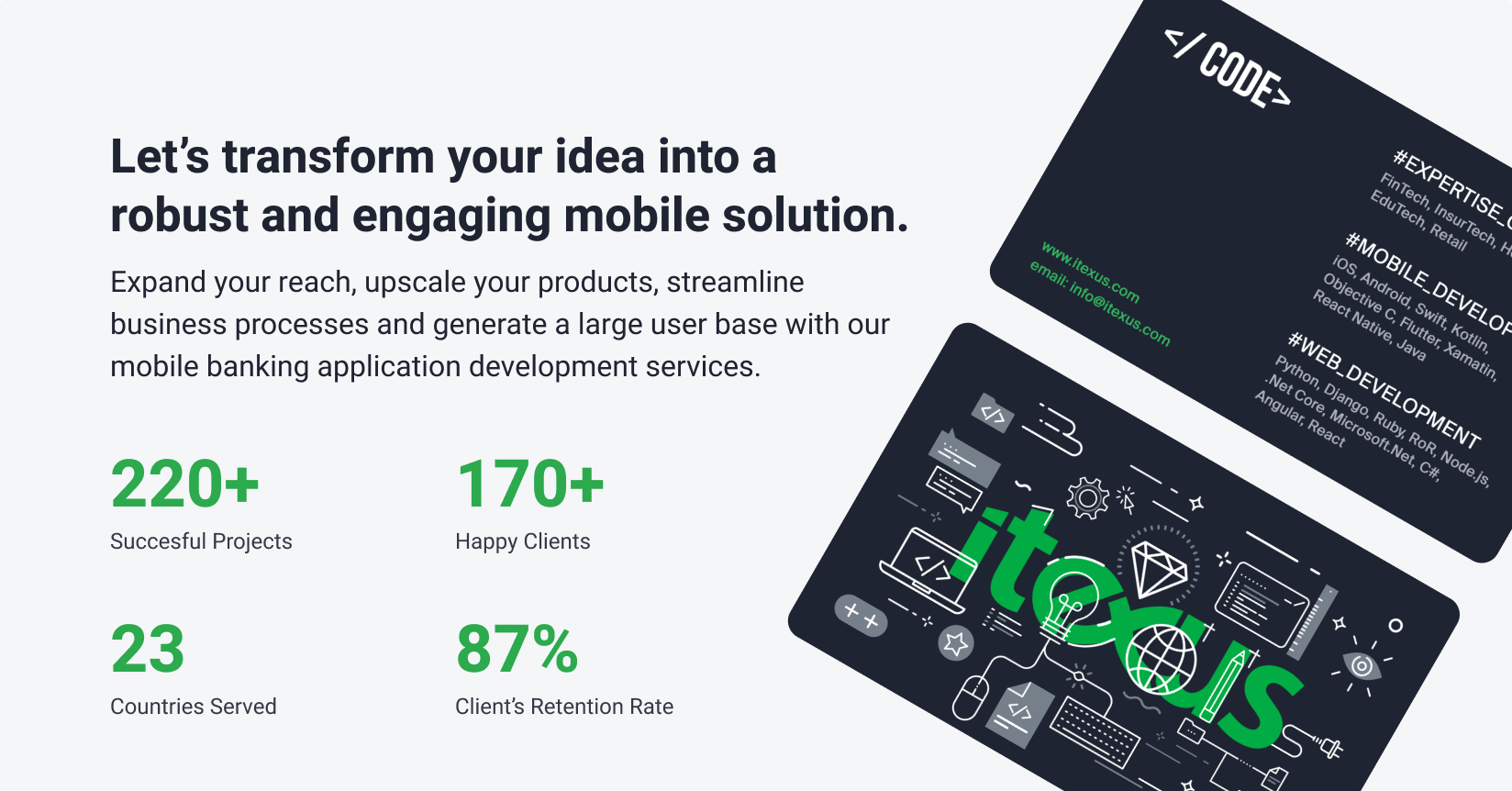 2. Robosoft Technologies
Robosoft is a digital transformation company that has gained a reputation for delivering delightful, intuitive digital products to a wide range of clients across various domains, including banking and financial services, e-commerce, and retail. With a strong focus on quality, Robosoft has earned recognition as one of the leading mobile banking application development companies. Their expertise in banking mobile app development is not limited to a particular operating system – they offer both iOS and Android mobile app development services.
3. Shockoe
Shockoe is a mobile app development company that is dedicated to creating innovative, high-quality applications. These applications are not only visually stunning but also highly functional and user-friendly. With a team of experienced developers, Shockoe will transform your ideas into a high-quality mobile application that exceeds your expectations. The company's clients highlight transparency throughout all processes, a collaborative atmosphere, and a strong work ethic.
4. Josh Software
As a trusted technology advisory and software development company, Josh Software has successfully helped its clients modernize their technological foundations and create innovative digital products. Josh is committed to delivering top-quality digital solutions and services that are comprehensive and tailored to meet each client's unique needs. In addition to custom software development, the company also provides team extension services, allowing you to hire mobile banking app developers with the necessary skill set and experience.
5. Finnocunsult GmbH
Finnoconsult is a consulting and development boutique that specializes in building digital products for banks and insurance companies. The company's team of seasoned professionals is well-versed in developing a mobile banking application. They combine their deep expertise in UX with a background in fintech and insurtech to deliver cutting-edge solutions and expert insights to clients around the world. Whether you need to develop a banking app from scratch or fill a skills or knowledge gap, Finnoconsult is well-equipped to help.
Any questions? Drop us a line.
6. Despark
Despark designs, builds, and launches custom digital products for startups, SMBs, and enterprises. The company values collaboration and transparency as the foundation of all its processes, so Despark's specialists will work closely with you to ensure that you receive precisely what you want and expect. With its innovative approach to mobile banking app design and development, the company is a trusted partner for financial service providers looking to stay ahead of the curve in today's digital landscape.
7. Shout Digital
Shout Digital is a full-cycle digital transformation agency that helps its clients unlock value and deliver impact through strategy, design, engineering, and ongoing partnership. In addition to team extension service, the company's offering expands from web platforms to mobile apps and complex integration projects. The team's commitment to quality extends beyond the launch of the product – they provide ongoing support and maintenance services to ensure that the delivered product remains reliable and up-to-date.
8. Geeks Ltd
Geeks is a financial app development company that strives to revolutionize software development by making it faster, easier, more reliable, smarter, and more enjoyable. They work closely with clients, leveraging the team's expertise and skills to bring awesome software ideas to life. The company has a proven track record in mobile app development and can provide experienced developers to augment your team with the necessary skill set.
9. Flint Hills Group
Flint Hills Group is a team of experienced financial app developers specializing in creating mobile applications, working on AI and blockchain projects, building complex cloud-hosted systems, and more. No matter what your current state is, our team can help you achieve your desired outcome. They can handle the development process from start to finish, offer additional tech support for your in-house team, or take over a project from another team.
10. Alpha Bravo Development
Alpha Bravo Development is a software development agency that helps small and medium businesses save money and grow with custom-made software. Their expert team builds custom solutions that are effective, easy to use, and implemented to meet each business's unique needs. In addition to custom software development, Alpha Bravo Development also offers team extension services, as well as technology consulting to help businesses determine the best software solutions for their needs.
Summary
When launching a successful digital product, the skills and expertise of the development team are crucial. By working with any of the mobile banking application development companies from our list, you can be confident that your app will meet the highest standards of the industry in terms of user experience, security, and performance. Do you have an idea for a banking app? Contact us to learn how you can benefit from our experience and discuss possible collaboration options.
By Itexus Team