As we head into the age of digitization, insurers should consider a mix of offensive and defensive measures to boost longer-term recovery efforts and pivot to the thrive phase when growth is reemphasized, despite challenging economic conditions.
A global outlook survey by Deloitte's Center for Financial Services found that 79% of respondents believe the pandemic uncovered weaknesses in their company's digital capabilities and transformation plans.
In response, 95% of those surveyed are already accelerating or looking to speed up digital transformation to maintain resilience. Europe and North America seem further along in implementing such plans, compared to APAC.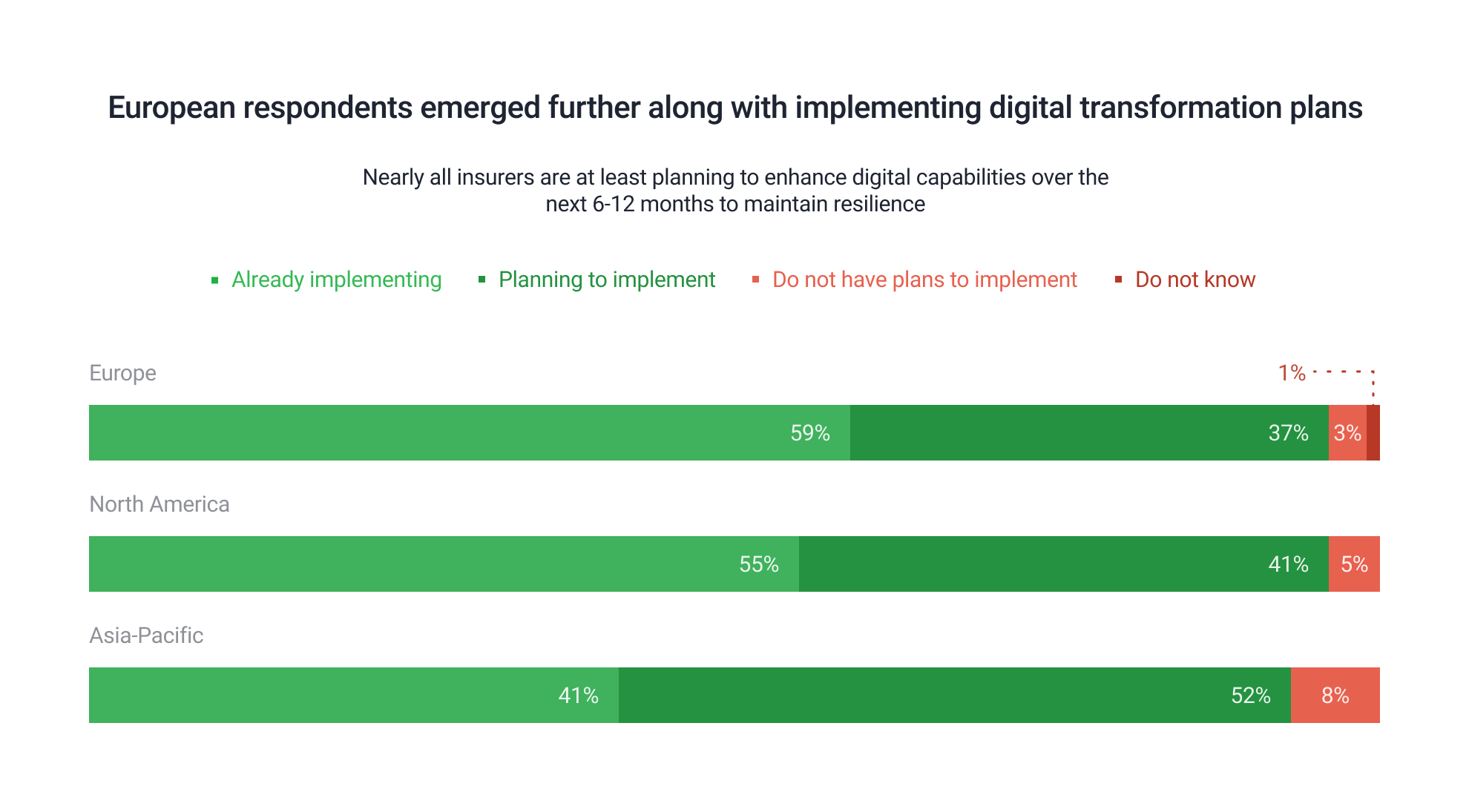 Considering the challenges insurers all over the world are facing, insurtech leaders ensure their foundation remains strong, as well as the strategies they're starting to deploy to position themselves for success in the coming years.
This requires digital transformation and automation, and here's when you need to consider implementing custom insurance software into your business.
We've Shortlisted Top 10 Insurance Software Development Companies to Keep an Eye on in 2023
Over 8 years Itexus builds custom Insurance & Financial solutions. Trusted by 150+ clients Itexus team develops claims management solutions, policy management, underwriting & quoting software, crowdfunding solutions, documents management software, billing & payments solutions, RMS, and more! They help eliminate legacy software, automate manual operations, reduce human errors, improve customers' experience, and as a result get more clients, reduce costs on operations, and increased revenue.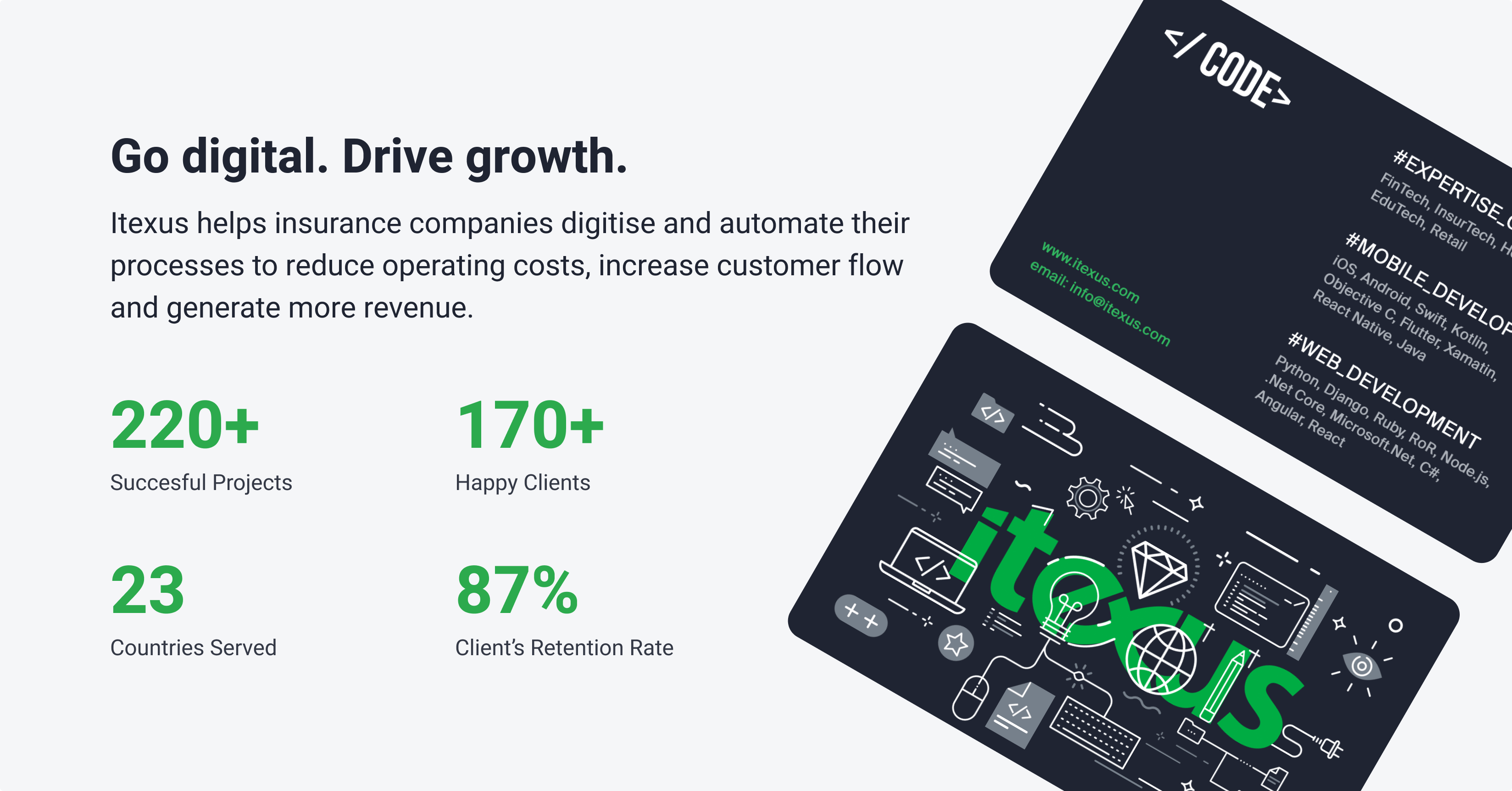 2. Applied Systems
Applied Systems makes it their mission to spearhead the digital transformation of your business, tapping into new technologies to improve communication. Applied Systems is all about improving communication between staff, leads, partners, suppliers, and more.
3. Adaptik
Adaptik offers a range of flexible and scalable solutions that are specifically designed for property and casualty insurance. The goal is to take complicated workflows and simplify them while identifying "opportunities for sustainable growth".
4. ISI Enterprise
ISI is a company that was founded over twenty years ago with the goal of modernizing the way that insurers go about their business. Initially focusing solely on property and casualty insurers, they've since expanded their offering to cover all areas of the insurance industry.
5. Chetu
Chetu offers custom software development and promises to offer "industry experienced developers on-demand". These are the guys to go with if you don't just want something out of the box because they'll get to know your business and build something specifically for you.
6. Zfort Group
Zfort Group's team starts by getting to know you and your customers and walks you through the process to make sure that your software is the best it can possibly be. They cover all the aspects of insurance company software development.
7. Coding Pixel
The company avails the already available advanced tech solutions, like tech solutions, like AI, Big Data, Machine Learning, IoT, to its maximum capacity to make sure your insurance business makes it big in the market. The team of developers is well equipped with the main tech trends in software development in contemporary times.
8. Fortifier
Founded in 2013, this company emphasizes optimizing your insurance processes, reducing costs, and controlling risks meanwhile enhancing the efficiency of your insurance business. The developers are aware of cloud computing, Al & Machine learning, and the right way to adapt to modern technologies and developing software keeping in mind the realities of the markets.
9. VelveTech
The company believes that in insurance, what really matters are digital innovations, unique user experience, and security and compliance. Hence, the developers are aimed at creating insurance software solutions keeping in consideration the aforementioned factors.
10. Serokel
The company aims at providing developmental services to complex tasks by availing blockchain technology. They create secure encrypted insurance company software with protected databases. They integrate BI and Big Data analytics to provide you with solutions that will help you in laying out calculated decisions according to the trends.
*Of course, it's not a full list of experienced and reliable Insurance software development companies, but it's quite enough to give you an idea of what the market looks like.
Any questions? Drop us a line.
Types of Insurance Software Solutions
Insurance companies need a variety of software solutions to make their work easier. Some of the most commonly used insurance software are claims management systems, document management software, insurance marketplaces, CRMs for agents and brokers, etc. Let's take a look at what each of these types of software has to offer.
✅ Claims Management Systems
Such systems enable insurers to manage the entire claims lifecycle and streamline claims management workflow, automate claims document creation, manage payments, identify fraudulent claims, and integrate policy administration. A custom claims management system includes just the right set of features a particular company needs to reduce operational costs and financial losses from fraudulent or inflated claims.
✅ CRMs for Agents & Brokers
CRM software for insurance companies is rightly considered the most useful solution for insurance processes. It connects teams, sales channels, call centers, and agents into a unified portal. An omnichannel CRM solution not only enables insurers' digital transformation but also helps organize prospects and automate activities so agents and brokers can focus on delivering a better customer experience.
✅ Insurance Marketplaces
A digital insurance marketplace connects insurance brokers and companies with their end customers. The most well-known example of this type of solution is the health insurance marketplace, where people without health insurance can purchase one that complies with the ACA (Affordable Care Act). Typically, insurance marketplaces offer advanced filtering options, comparison of selected insurers, integrated online payments, online consultations, an AI-based recommendation engine, and so on.
✅ Underwriting or Quoting Software
Underwriting is crucial to an insurance company because it assesses the company's risk in insuring a person's property, health, or life. Underwriting software eliminates manual effort and reduces human error by allowing users to write rules and policies that are automatically executed during the underwriting process. It also improves workflow, enables effective use of underwriting resources, increases transparency, and promotes informed decision-making.
✅ Document Management Software (DMS)
Document management software enables insurers to securely organize, store, and access important documents – e.g., insurance applications, customer statements, contracts, policyholder agreements, etc. Such solutions streamline insurance paperwork, improve insurance compliance, increase document security, and help to assign staff efforts more efficiently.
These are not the only software solutions for insurance companies. Depending on the specifics and needs of the company, they may also use P2P insurance software, policy management systems, risk management software (RMS), one-stop support apps for policyholders, billing and payment solutions, fraud analysis software, and more.
3 Things to Look For In An Insurance Software Development Company
Shortlisting top insurtech companies and deciding on the type of solution is only half the battle, you still need to choose a reliable development partner that will turn your vision into reality. Fortunately, we've narrowed down key qualities your insurance software development team should have:
1. Relevant Expertise
Mind the vendor's track record, whether it previously has worked with clients in the insurance industry and if it has enough resources to fulfill all of your requirements.
2. Reviews on Trusted Resources
The platforms like Clutch and GoodFirms display clients' reviews. You have to carefully study the customers' feedback to avoid misunderstanding. Pay attention mostly to the verified customers' feedback.
3. Business Alignment
It means that both companies should work for one aim and are eager to achieve success in their project. It's also about communication because it's the best way to understand whether it will be comfortable to work and stay on the same page while working on a mutual project.
Get a Free Consultation
The highly competitive environment requires insurers to partner with the best insurance software development companies and transform digitally. Such development companies are there to provide custom insurance software solutions tailored to insurers' specific needs and goals.
Itexus keeps abreast of the latest trends in insurance software development. Over the years, we have gained unique InsurTech expertise by working with both startups and established businesses. Now we are ready to share that expertise with you – drop us a line to transform your insurance business!
By Itexus Team