The adoption of the PSD2 (Revised Payment Services Directive) has given non-banks in the European Economic Area (EEA) the necessary legal background to promptly launch fintech products related to payment services. PSD2 requires banks to share personal financial data (with user consent) with third parties via open banking APIs, greatly simplifying the process of creating personal finance applications. The directive had become one of the main factors that led to the dynamic growth of the non-bank fintech sector and accelerated innovation in the financial services market.
If you're thinking about personal finance app development, explore our blog post to learn what key features a budget app should have and how much it costs to develop a personal finance app.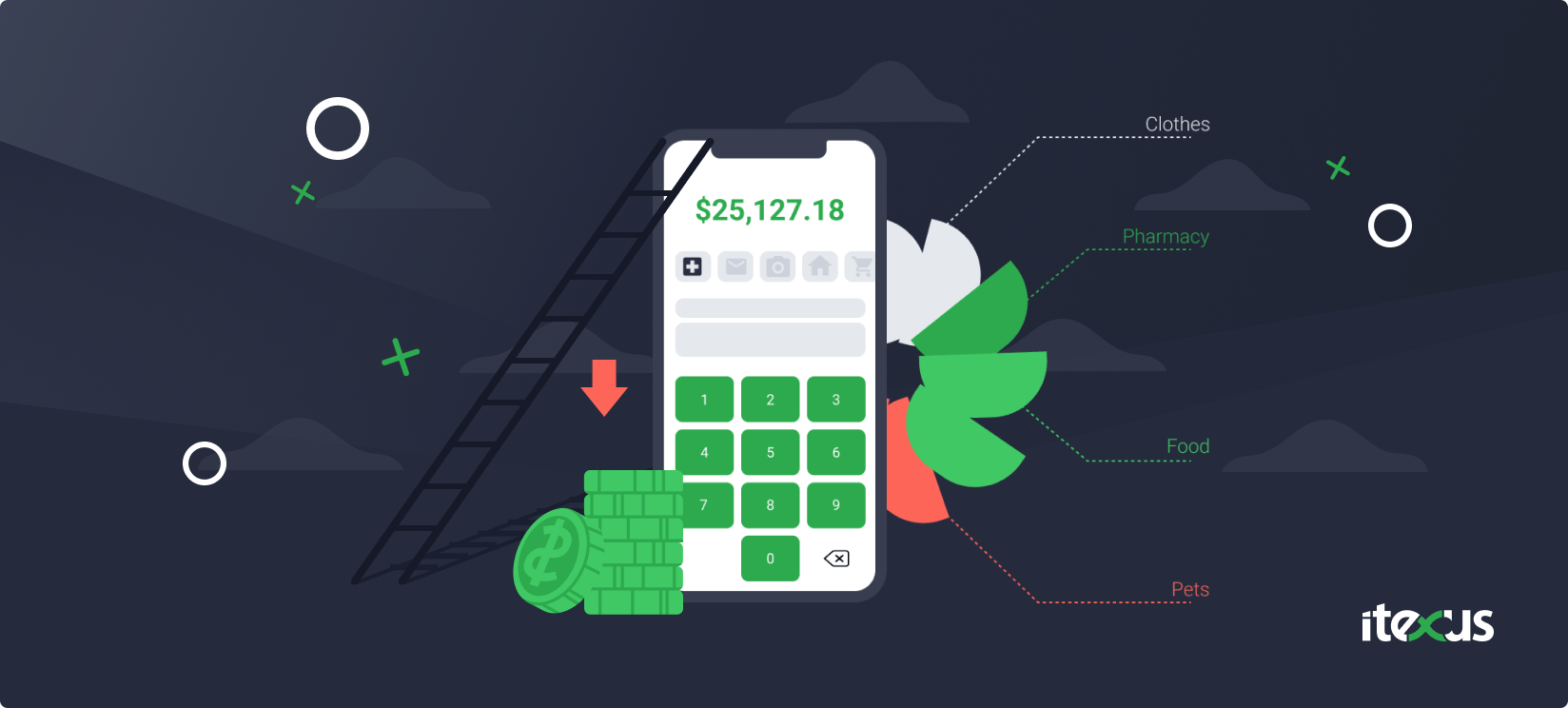 Personal Finance App: Key Features
Personal finance apps refer to fintech software developed on the basis of the B2C model to help users manage all aspects of their personal finances. End-users can connect such apps with their banking accounts to track expenses/revenue, upcoming payments, and credit score, and manage stock/crypto investment portfolios.
To be competitive in the fintech market and become a good investment with a high ROI rate, your personal finance tracker must come with a certain set of features. To give you a clear idea of what features a successful budget app should have, we've compiled this list – check it out.
✔️ User registration and onboarding
Since personal finance management apps are supposed to process a large amount of sensitive data, registration and authentication are particularly important issues. The key here is to strike a balance between keeping user data secure and providing a smooth, fast, and easy onboarding experience. We also strongly recommend opting for multi-factor authentication with PINs, OTPs, various biosensors, etc.
✔️ Wallets management
Users should be able to create in-app wallets to categorize and allocate their funds based on their intended use or source of income (pocket money, salary, savings, rent, etc.).
✔️ Expense tracking
In typical personal budget apps, users can divide their expenses into different categories: rent, gas, clothing, groceries, etc. By classifying expenses manually or automatically, users can analyze their spending and optimize spending behavior and get a comprehensive picture of their financial lives. The top-rated personal finance tracking apps are equipped with comprehensive expense tracking and management tools, including data visualization, gamification, notifications, etc.
✔️ Payments
To provide the customer with full control of his personal finance the application may be equipped with payments functionality. So there is no need to go to your bank application. A user can pay right in this app. This core feature takes 260-320 hours.
✔️ Tax payment management
With a personal finance app equipped with smart algorithms, users can automate some tax management activities. For example, the algorithms can analyze debit and credit card spending to determine which expenses need to be taxed, sort them by specific time periods, and generate detailed reports. The time needed for the implementation of this feature may vary depending on the tax laws in the country where the application is used.
✔️ AI-powered forecasts
AI algorithms can be used to process the user's current spending and then create short- and long-term budget forecasts in the form of infographics, charts, tables, etc. On this basis, one can plan a budget, optimize costs and set appropriate financial goals.
✔️ Investment portfolio management
An advanced budgeting app can turn into a personal investment advisor. After analyzing the user's financial statistics for a given period of time, the app can offer options for investing assets and their subsequent growth. An AI advisor can help to manage investment portfolios providing users with automated investment strategies, market insights, and tips for inexperienced investors.
✔️ Credit score management
The target audience of personal finance apps clearly pays attention to their credit score and needs an effective tool to manage it. And the budgeting app can be such a tool. For example, it can display the user's current credit score and give advice on how to optimize it, or calculate the credit utilization ratio (CUR), which is the ratio between the credit limit and the balance on that credit account. Since CUR directly affects the credit score, users can leverage this data to improve their credit strategy and rating.
Any questions? Drop us a line.
Choose the Right Integrations
The best personal finance management solutions allow users to manage all of their assets in a single system. This can be achieved by integrating your app with third-party providers through application programming interfaces (APIs). APIs also help reduce development costs and speed up time to market because you do not have to develop the various integration features from scratch.
There's an API for virtually every aspect of a personal finance app – Plaid, for example, allows you to easily connect a user's bank account to your app, the Stripe API enables payments, and Uphold allows you to implement cross-border payments and currency conversions. However, it's important to carefully choose the APIs you want to integrate your app with.
Personal Finance App Development Cost
To give you an idea of the cost of app development, we have put together a table with an approximate estimate of the amount of time IT professionals spend developing the above features. We have used an average hourly rate of $50 to determine the approximate cost.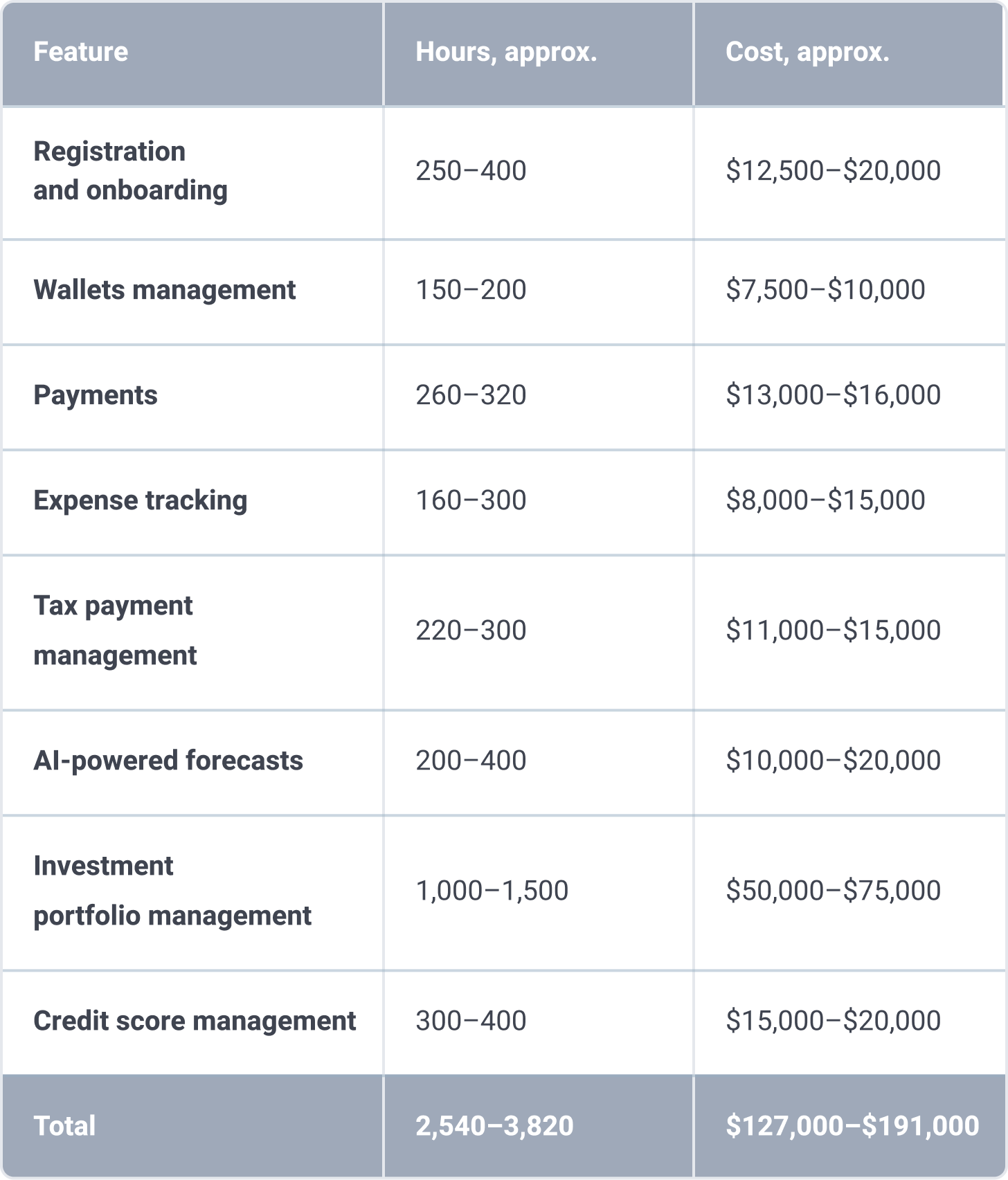 According to our estimates, the cost of developing a personal finance application starts from $127,000. Please note that the estimate does not include the cost of personal finance app design and the work of project managers, business analysts, and quality assurance engineers – these are just rough numbers to help you get an idea of how much it could cost to develop a personal finance app. Each project is unique and the actual price may be lower or higher depending on the development requirements.
Itexus Experience in Personal Finance App Development
Personal Finance Assistant App
The Itexus team developed and implemented a smart personal finance management app with advanced functionality. The client wanted to create an intelligent budgeting solution to help millennials organize their financial lives. Due to the integration of TrueLayer APIs, users can link their accounts at major US and UK banks to the app. Within the solution, users can track, analyze and categorize their income and expenses. Thanks to AI and ML, the smart finance management app helps optimize costs by providing alternative services and insights.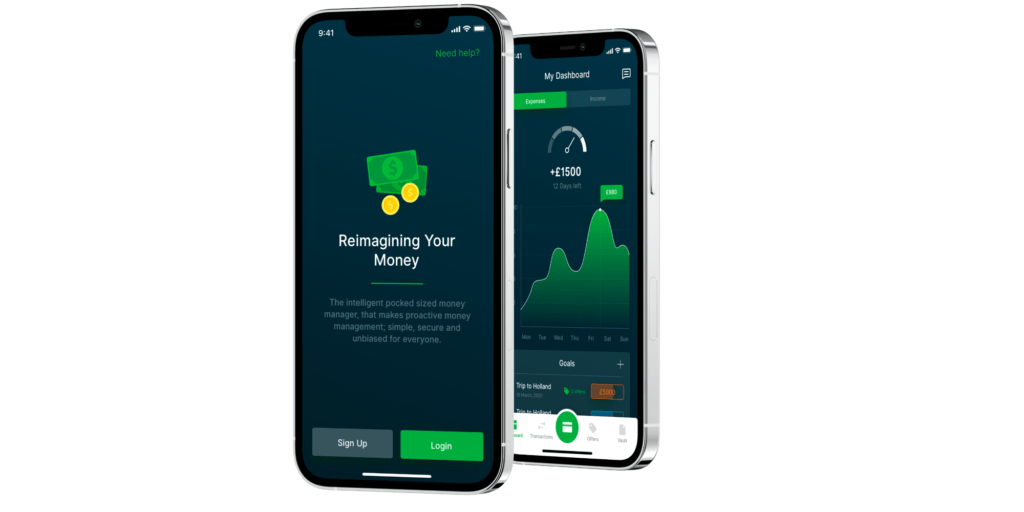 Check out the original case study for more details.
Money Saving and Personal Finance Assistant App
We also developed a personal finance assistant app as a core product for a Silicon Valley startup. It supports a money tracking feature and a comprehensive reporting system. The solution is equipped with gamification features and allows users to set financial goals inspiring them to adopt healthy spending habits. Users can also automate their payments and get access to detailed statistics about their transactions.
For more details on this project, see the original case study.
Sum It Up
Since personal finance app development can require an investment of significant resources, it is extremely important to delegate such a responsible task to a reliable software development partner with advanced technology and domain experience. Since 2013, Itexus has been delivering top-notch fintech solutions for financial organizations, gaining industry-specific knowledge and experience along the way. If you are considering developing your personal budgeting app, let us help you. Reach out for a consultation.
By Itexus Team