IoT App for Garland Remote Control
The LegionLites™ app is a mobile application for managing home and outdoors illumination. The app supports the creation of different modes, brightness, colors, and applies other visual effects on a garland – whether individually or as a group – via Wi-Fi. This technology can be used for managing lighting on a Christmas tree as well as for storefronts decoration and street lighting on the trees and buildings.
Features
a possibility to work not only with a string, but also with a net-shaped garland
exclusive calibration algorithm – the app will know the position of each light on a tree
a function to send messages and effects from the app to a garland
custom-made animations
several garlands can be connected to Wi-Fi router and managed from the app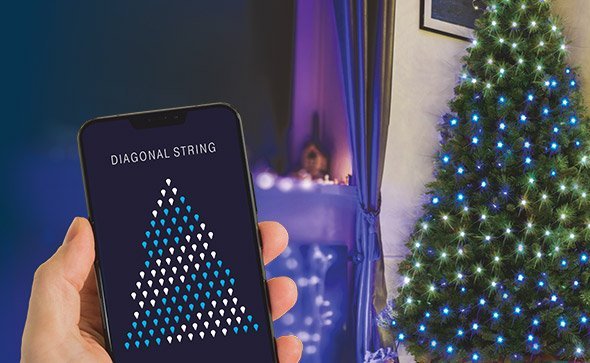 How it Started
Legion Lites founder is a manufacturer of garlands who wanted to create a white-labe l illumination management application. He needed a tech partner with a diverse skillset to develop native iOS and Android apps and to program the controllers. That's when Itexus came in, accompanying the project from a concept to the fully functional product.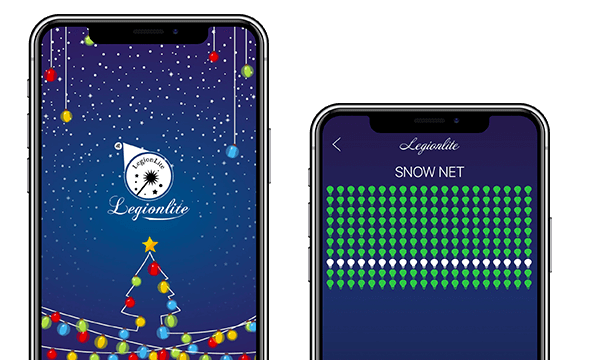 Discovery Phase
The client approached us with an app idea which we had elaborated during the Discovery phase. Our team conducted an in-depth research including tech risks analysis. The outcome of this effort was the preparation of the end-to-end project documentation. It included:
Software Requirements Specification
Document describing all functional requirements with use cases, diagrams, user screen mockups, user journey etc.
Software Architecture Document
Document describing suggested technology and architecture of the system, security, performance, reliability etc.
Project plan and a detailed work estimate
Detailed project plan with all work​​​​​​​ broken down into 8-16 hours tasks, with priorities, dependencies, and team structure.
UX/UI Design
The next step was to create the UI/UX layout for iOS and Android. We designed the apps with iOS Human Interface Guidelines and Google Material Design Guidelines in mind.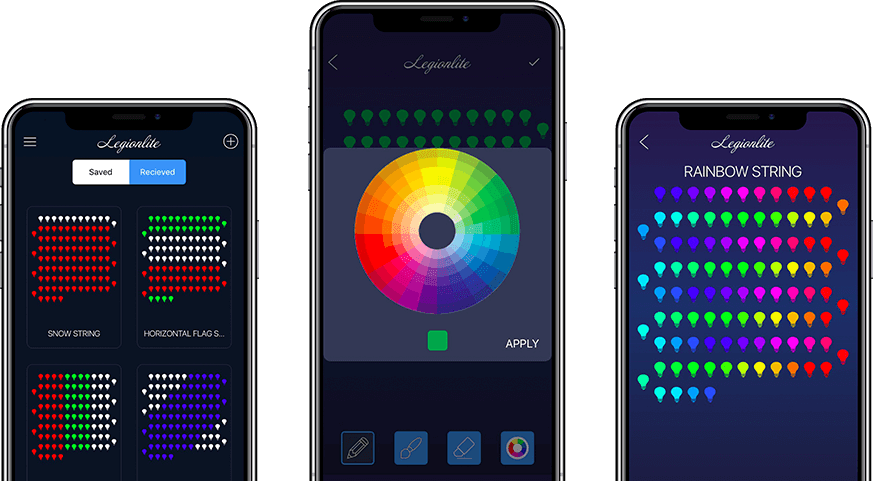 Development Work
The work was organized using the Agile development model and Scrum framework. We split the development into 2-week sprints with a presentation of the new features at the end of each stage. Unified QA team was assigned to the project from the very beginning. The client communicated with the team in Slack and Skype, we also used Git as a code repository.
Challenges
The development of the calibration algorithm was the most challenging part of the project and required an oscillograph for tuning the garland. Our engineers created a new way of calibration that made it accurate and precise. No matter how the garland is positioned, effects such as a "falling rain" will appear correctly from top to bottom.
We also needed to customize the controller to fit the project needs taking into account the limitations of the software. Our engineers wrote a bespoke soft for the controller in Arduino to program it to process the requests from the mobile app.
Fun fact: 5 garlands have been destroyed in the process.
Technical Solution
The applications were built using the following technologies:
avFoundation
coreGraphics
Swift
Core data
Android SDK
Kotlin
Dagger2
Reactive swift
Reactive cocoa
Arduino IDE
C++
Retrofit
Realm
OpenCV
Workload
The project took 4 months to implement with the team of 7 people:
1 project manager
1 business analyst
1 QA engineer
4 developers
Total efforts: 6 man-months.
Platform for improved event organization and management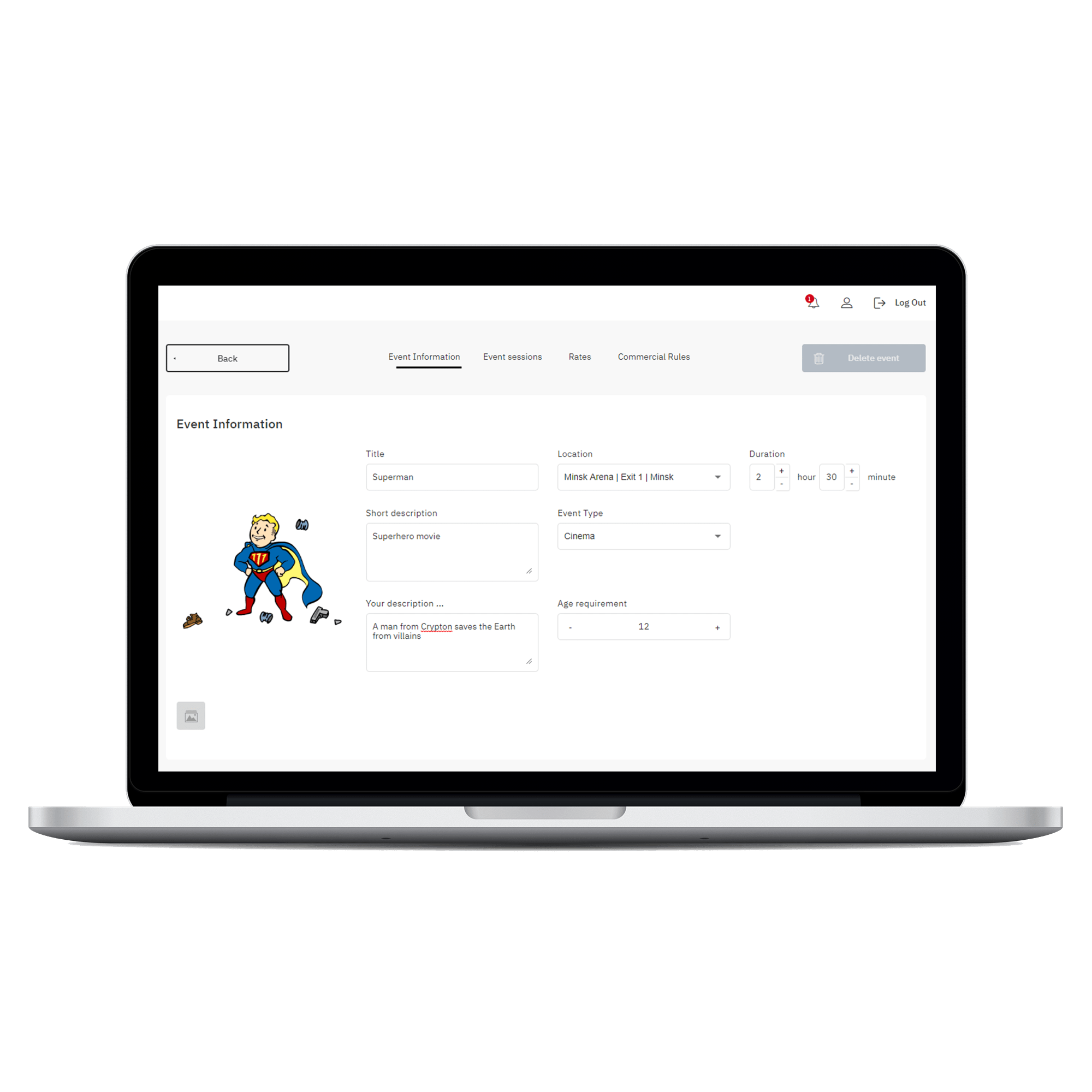 Platform for improved event organization and management
The B2B Ticketing System is a unique innovative platform designed to solve the common problems of the French event ticketing market. It provides event organizers such as theatres, operas, cinemas and retailers with an opportunity to provide final consumers with sufficient quality of service for buying tickets online.
Money saving and personal finance assistant app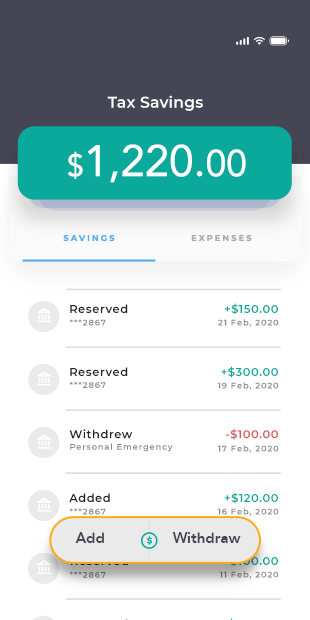 Money saving and personal finance assistant app
A money saving app that enables users to track spendings and monitor balances of linked credit cards and bank accounts, plan their finances, and automatically transfer money to savings or brokerage accounts. The app helps develop healthy financial habits with gamification features and supports viral marketing with social functionality.
Wealth Management Platform with Robo-advisor, Remote Portfolio Construction and Monitoring Functionality
Wealth Management Platform with Robo-advisor, Remote Portfolio Construction and Monitoring Functionality
Wealth management platform connecting investors with a professional wealth-advisory company, allowing investors to answer a questionnaire and receive either a recommended model portfolio or a custom-tailored individual portfolio, that is further monitored, rebalanced and adjusted by a professional wealth-adviser based on the changing market conditions and client's goals.
Software for Tracking Real Estate Agents' Performance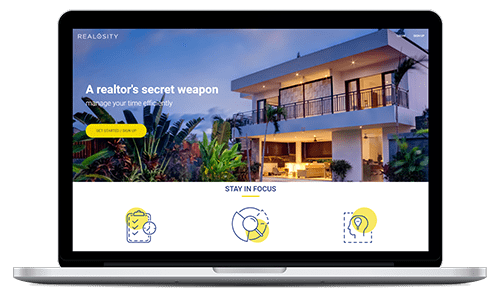 Software for Tracking Real Estate Agents' Performance
An MVP for a tool for Real Estate agents. It will allow the users to log activities daily and tie them to KPIs. The platform will help to calculate how much prospecting an agent needs in order to make a deal, provide valuable insights on closing deals better, set yearly GCI goal and track pace against actual numbers, track time spent, and results from each activity, track money spent on various activities.
Energy Resources Consumption Management System for Enterprises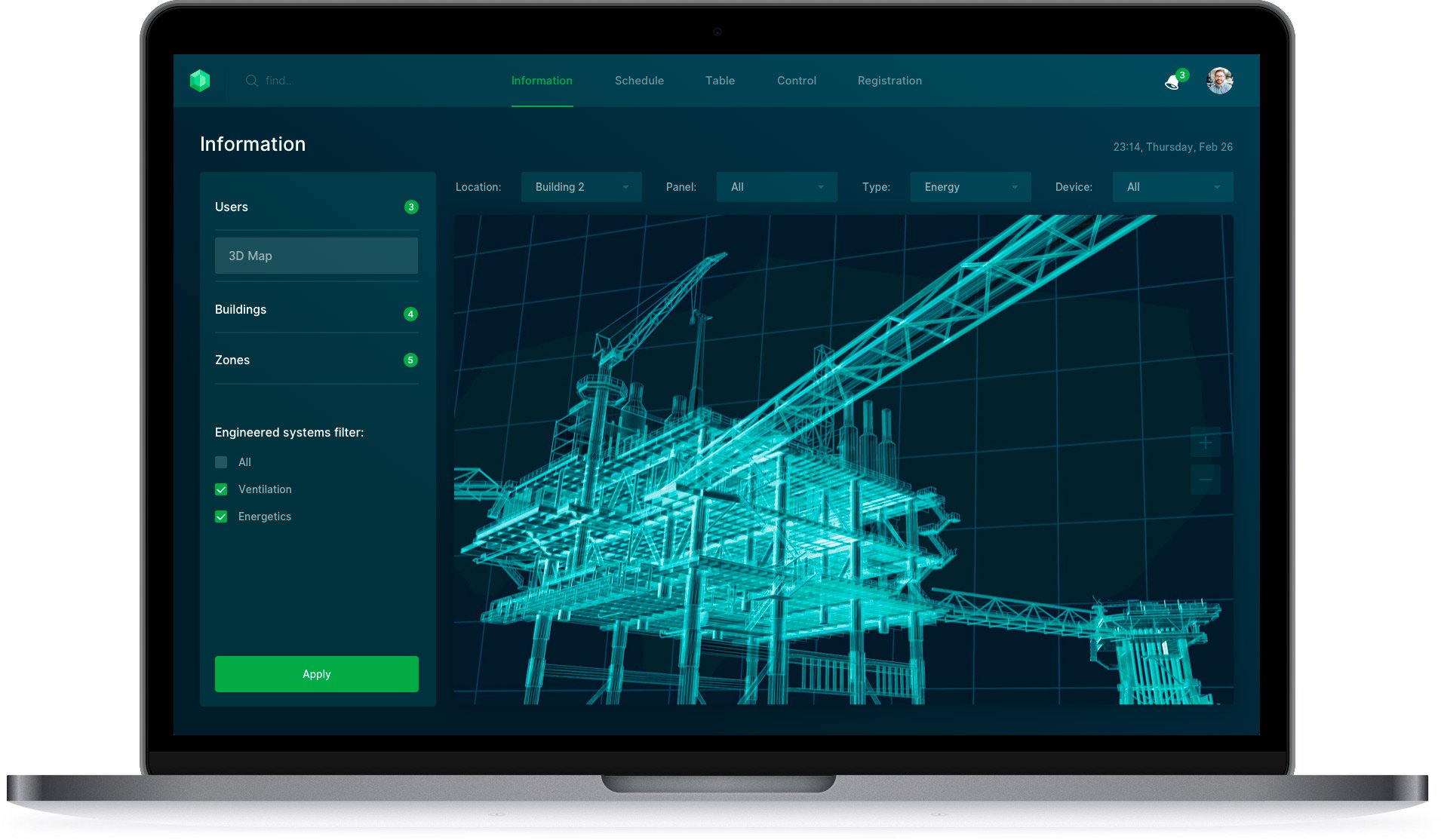 Energy Resources Consumption Management System for Enterprises
The system enables to monitor the flow rate and cost of consumed resources (heating, electricity, gas, water) in enterprises, buildings and geographically distributed objects (a group of buildings, region, city), efficiently select suppliers and rates depending on actual and planned consumption. It also allows regulating daily consumption both in manual and automatic modes with the aim of minimizing costs.
Bot Answering Machine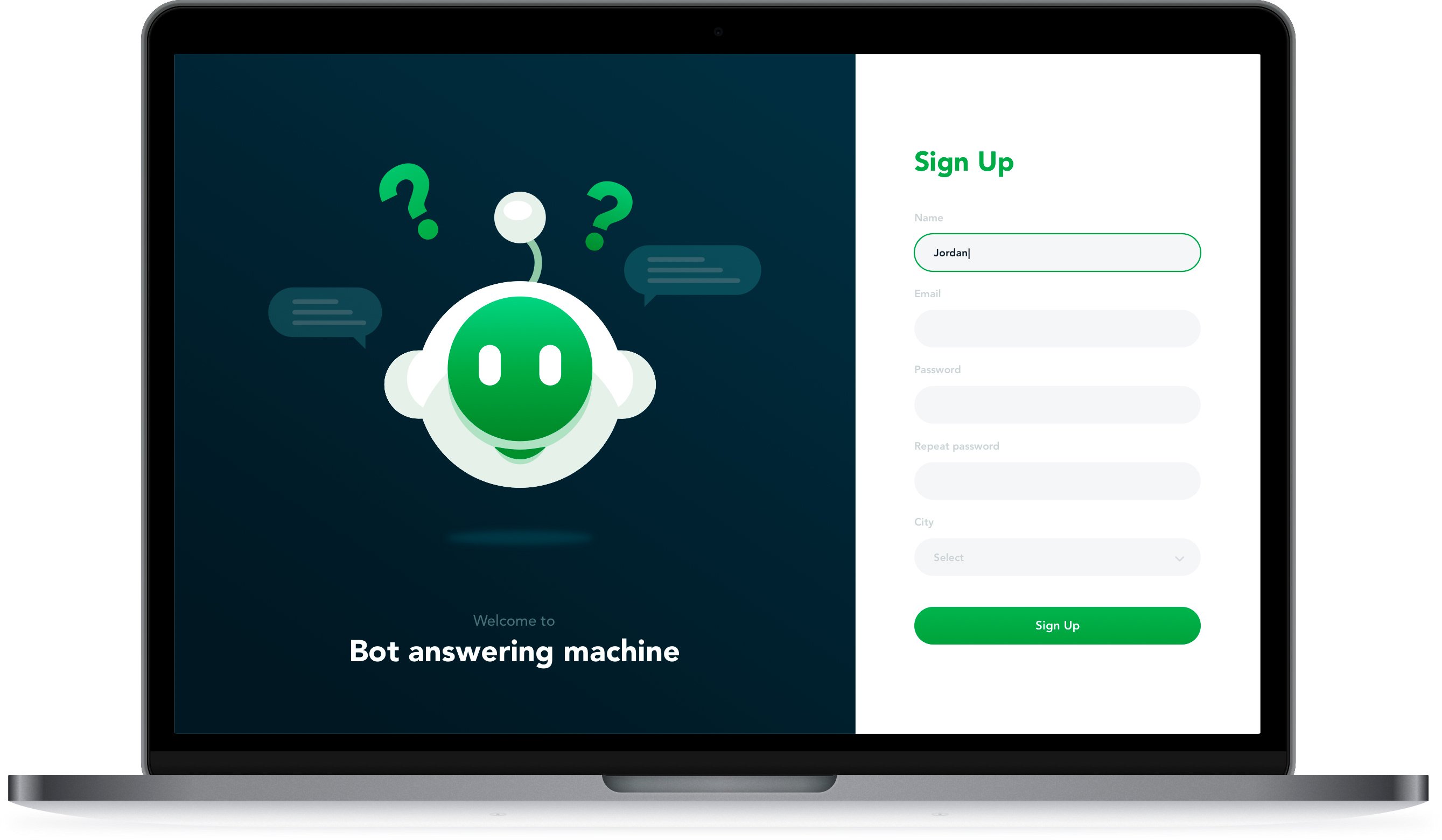 Bot Answering Machine
Healthcare
Machine Learning
Natural Language Processing
Artificial Intelligence
The system allows a business to train its own chatbot that will be able to answer phone calls, greet user over the phone/sms, provide information about a client's services and also help a user to schedule an appointment based on the available time slots. The application is HIPAA-compliant and has emergency calls scripts. There is also a dashboard where clients are able to create, configure and train very own conversational agent.
Document management system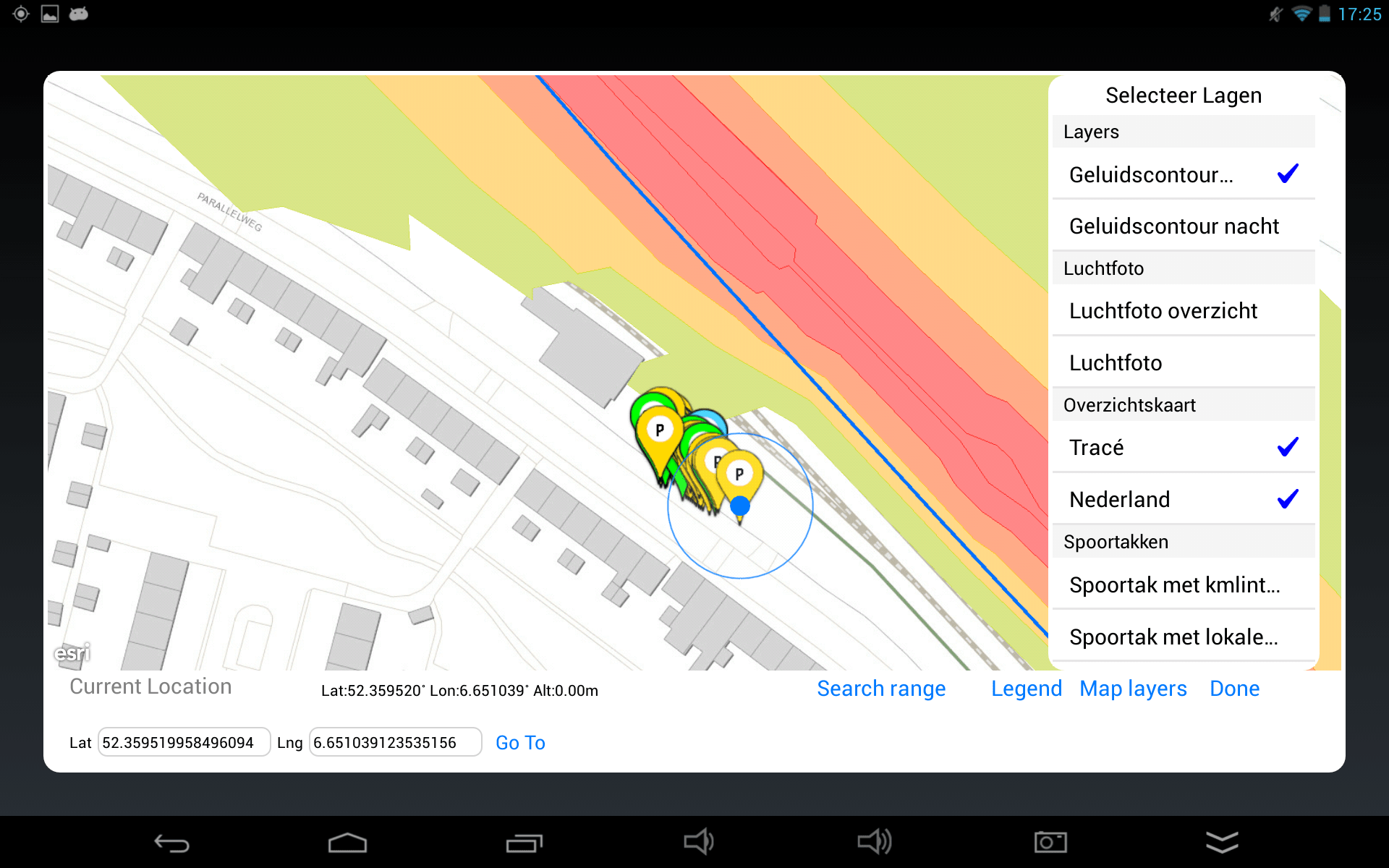 Document management system
A user-friendly dashboard which can always be accessed from anywhere using a web browser. It is a Document Management System in which the importance of version control, classification and the accessibility of information such as drawings, certificates and procedures, is evident. Moreover, the system facilitates extensive collaboration between parties because everyone has access to the same central document management system from their own work station. It can also be linked easily to once existing document management system.
Mobile App for Supporting Young Athletes

Mobile App for Supporting Young Athletes
Education
Social
E-learning
Sport
This mobile app helps communities support their young athletes so they can grow, learn and thrive.
Contact Form
We keep all your project information safe and secure. Drop us a line and we"ll get back to you shortly.
x
Something went wrong!
Try one more time!
The Itexus Team