If there is any sphere that was created to confuse the customer, it's banking or financials in general. It is historically known for complicated operations, and long waiting times for many of the requests, either a credit score inquiry or loan approval and its specific terminology. This confusion has been growing and growing like the Babel tower until FinTech startups knocked on the door of the financial world bringing new standards of customer service. Banks and other financial organizations didn't have any other choice than to start playing by the new rules and adopt new technologies, robust protective mechanisms, and also new design patterns bringing user-friendliness and attractivity to fintech solutions.
To show the importance of fintech product design, let's take a real-world example: Revolut. It is a neobank that exists exclusively online. This means that the way it looks and appeals to users is crucial. If you take a closer look at how the app positions itself and attracts new customers, you'll notice that they pay particular attention to branding and a smooth user experience. Since Revolut does not have a specific UK banking license, even though the startup is based in the UK, the designers and copywriters work hand in hand to refrain from using the word bank for legal reasons. Such government guidelines based on a fintech company or startup's country of origin should be known to design teams. Furthermore, there are other psychological issues specifically of a spending nature that solutions representing the fintech sphere should take into consideration. One of them is preventing emotional spending by users. Let's discuss possible hurdles that could be put in the way of a fintech designer.
5 Difficulties of FinTech UI/UX Design
1. FinTech UX Complexity
What is meant by this is that users of fintech solutions are not always tech-savvy people. As statistics show many elderly people are hopping on apps to help them to control their finances and quite often they need user journeys inside the app to be as smooth and simple as possible. Even if designers find some features clear and straightforward in their understanding, they should put extra effort into additional testing to make sure that the final product won't bring any confusion to anyone.
2. Data Management
Always ask users to provide the minimum amount of information at a time. If you don't want your app to make a demanding impression, you can always break long onboarding forms into several steps with some explanations along the way. It could be the reason why users have to provide specific information or tell them how the layers of protection work, etc. All these efforts are aimed at decreasing possible confusion.
3. Security Issues
Modern technologies provide several ways to guarantee the protection of users' sensitive personal and financial data. The mission of designer teams is to wrap up the so-called obstacles (for instance, KYC and AML) into unobtrusive processes that don't bother users too much.
4. Emotions and Money
To retain customers, companies providing fintech services should not only know what their target audience needs but also what they feel, how they react to your product, and what might make them smile or feel grateful. Just showing a human touch, like wishing a good day to your users or reminding them about important dates in their life is enough to create a positive emotional impact in their lives.
5. Visualization
Some people love numbers, but they hardly make up the majority. In this case, it's important to equip your fintech solution with charts and tables. Even the choice of color palette, use of white space, and font parameters can make a difference and evoke users being more responsible with their decisions, especially when it comes to money.
The good news is that some companies are fighting the hurdles described above better than others, which eventually brings them fair ratings and exceptional reviews. Let's talk about these fintech design agencies in detail.
Any questions? Drop us a line.
10 Top FinTech Design Companies
Itexus is a software development agency that provides a wide range of fintech design services to different types of clients: startups, MSB, and enterprise clients. The company offers custom fintech UI UX design services, including website design, mobile, and web app design, prototyping, and visual design concepts, as well as usability audits, A/B testing, consulting, and so on. Itexus creates memorable and recognizable designs for such types of fintech solutions as digital banking, wealth management, and investment, insurtech, digital lending and alternative financing, online payments, personal finance management, regtech, and others. The Itexus fintech UI/UX design team has proven to deliver exceptional services by applying different approaches based on the client's unique business goals and needs.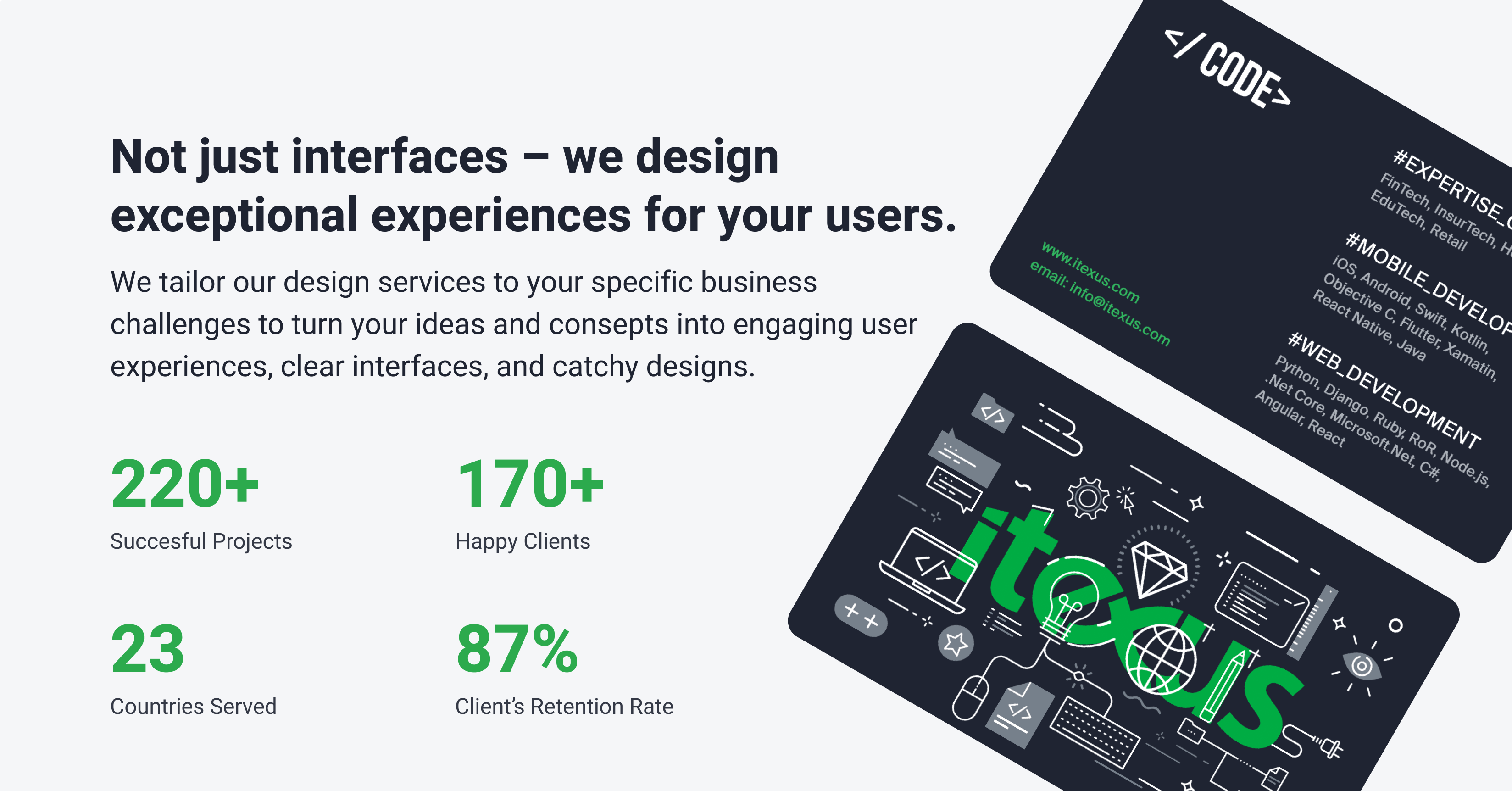 2. Noformat
Noformat is an NYC-based fintech design agency working primarily in the fintech segment. They are well-known for website, web app, and mobile app designs. To make sure that every project succeeds and hits clients' goals, every project has an assigned creative director and a senior strategist. Noformat agency is skilled in the audit of outdated banking websites and applications alongside revamping such solutions into better functioning and engaging.
3. Infinum
Infinum is another NYC-based fintech design company that has been providing its services to fintech and other companies since 2005. Infinum has created hundreds of authentic design products, including mobile app design, landing pages, and even back-office systems with multiple levels of integration. Infinum has proven to be a reliable partner for many European and US companies, offering not only intuitive and user-centered design, but also development services.
4. Cinnamon
Cinnamon is a Croatian design and development company with several offices around the world. They advocate for cost-efficiency and at the same time high-quality digital experiences they deliver. Cinnamon is extremely skilled in producing and testing high-fidelity wireframes and sketches to enable impactful and catchy design in addition to impressive fintech UX design expertise.
5. Spire Digital
Spire Digital is a Colorado-based fintech solution design company founded in 1998 that provides development, consulting, and design services. The company creates user-centric designs helping its clients to increase revenue, enhance customer satisfaction, and improve operational efficiency. The agency's clients primarily include large corporations and, to a lesser extent, mid-sized and small businesses.
6. DOOR3
Door3 is one more NYC-based fintech software design and development company founded in 2002. The agency has expertise in designing complex, high-performing solutions, and transactional portals, as well as creating digital strategies empowering their clients with robust and catchy solutions accelerating their company's objectives. DOOR3 fintech design agency applies detailed research before any solution development and also frequently validates prototypes created.
7. Utility
Utility is an NYC-based fintech software design agency specializing in craft design for mobile apps and web apps founded in 2013. They advocate for detailed and efficient research phases including stakeholder interviews, competitor analysis, user feedback, and validation. Utility design team came up with unique research-backed product strategies helping them to craft new styles in brand design, brand prototype, and UX/UI design.
8. GeekyAnts
GeekyAnts is a California-based design agency with offices in San Francisco and London. The team is providing fintech startups and established companies with catchy and user-friendly designs. Agency members have deep expertise in Invision, Adobe XD, Sketch, Illustrator, and Photoshop and are advocating for unique design strategies and deep knowledge of fintech-related regulations.
9. Sonin
Sonin is a London-based app development and fintech design agency founded in 2008. They help clients to reach out to their end-users through the exceptional design of fintech mobile apps. Sonin brings value to its clients due to authentic user interface design, high-rated user experience design, and continuous user testing. The team is also highly appreciated for their support and insightful attitude toward their clients.
10. Tivix
Tivix is an experienced development and fintech software design company with a head office in California, USA. They stress the importance of mockups and detailed clickable prototypes created in the stage of preparation before the product enters the development phase. Also, the agency is known for working with many European fintech startups and companies.
Best Practices for Designing Trustworthy FinTech Products
To design a trustworthy fintech product, it is necessary to adopt a comprehensive approach that considers several key elements such as product design, user experience, security, and compliance. Here are some best practices that designers can implement.
User-Centered Design
Building trust in fintech products heavily relies on creating a positive user experience. By adopting a user-centered design approach, designers can better comprehend user requirements, behavior, and preferences, and incorporate these insights into the design of a more trustworthy and user-friendly product.
Transparency
To establish trust with users, it is crucial to offer transparent and succinct details about the product's benefits, risks, and features. Users must have a clear understanding of how their data will be collected, stored, and utilized. Lastly, being upfront about any fees, charges, or terms and conditions of the product can also contribute to building trust.
Excellent Customer Support
Delivering exceptional customer service is paramount to establishing user trust and loyalty. It is essential to ensure that users can conveniently access customer support and receive prompt and helpful assistance.
Summary
Little wonder that two worlds collide when designing fintech software: that of money and that of emotions. Design agencies should balance between addressing all required regulations and guidelines to make apps secure and trustworthy and at the same time conveying the idea of enjoyment while using the solution. The most important function of fintech app design is to make products easy to navigate and provide a smooth experience when managing your finances.
Getting to know the right partners for fintech product development is key to effective, high-quality design and thus your success in the future. If you have an idea for a product and need professional help with your concept, send us a line. Our designers will go through your inquiry and get back to you with some insights.
We also provide fintech development services. Learn more about our expertise here.
By Itexus Team