In order to accurately assess the creditworthiness of customers and reduce the likelihood of potential insolvency or loan default, banks and financial institutions use credit scoring software. Investing in the development of credit scoring applications also gives banks and financial institutions the benefit of lower operating costs. For this reason, many banks and financial institutions are looking for a software provider with deep expertise in credit scoring solutions development.
Selecting a reliable credit scoring application development company is crucial as the quality of the entire solution depends on it, as well as the development cost and timeframe. To help you choose the right development partner, we have created a list of top credit scoring software development companies – check them out.
Itexus has been providing clients with seasonesd tech talent and product development expertise to build world-class digital solutions for almost 10 years. It is a fintech development company with a solid background in developing digital lending & alternative financing solutions, including credit scoring apps. Itexus tailors its services to meet the individual goals of its clients, helping businesses around the world increase transparency, ensure borrower creditworthiness, and protect lenders' interests by providing high-quality credit scoring solutions.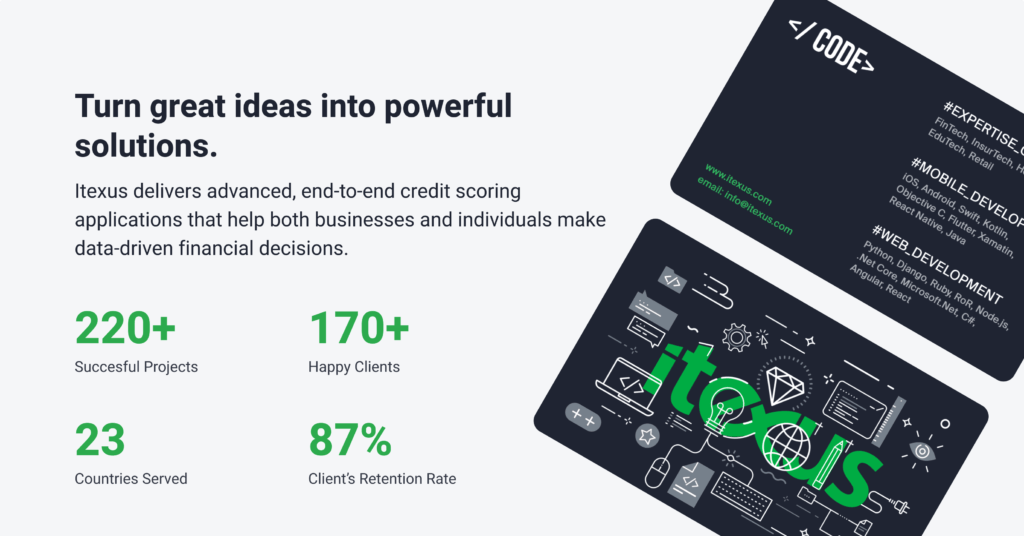 2. 99x
99x offers a wide range of services, including custom banking and financial software development, digital banking product development, etc. The team has strong competencies in application testing, enterprise app modernization, and mobile financial solutions development.
3. 10Pines
10Pines delivers software solutions for clients from the banking and leasing industries helping them to digitize, automate and improve processes in companies and institutions worldwide. The company's professionals leverage a range of advanced tools and technologies to make the credit scoring process more robust, swift and efficient.
4. Aetsoft
Aetsoft offers DLT-based tools that can improve credit scoring by establishing a vast universal database of customer information where banks have more resources for credit scoring, including credit histories. The firm is focused on blockchain development, cloud services, business automation, AI, ML, Data Science, Big Data, and so on.
5. JustCoded
JustCoded develops digital web solutions, including custom credit scoring apps for tech startups and established businesses. The company is committed to transforming the traditional financial industry and helping clients overcome challenges with technical and business guidance and support at all stages of the app development lifecycle.
6. AccelOne
AccelOne is a nearshore software development agency with a team of dedicated senior-level developers, designers, and project managers on board. The company works with mid-sized to enterprise-level clients and is known for responsive and agile development processes and delivering on-time and on budget.
7. Code&Pepper
Code&Pepper is a fintech software development company that offers digital product design and development services and team augmentation. The company specializes in predictive analytics that can leverage data sourcing via automated APIs to feed their scoring models and risk profiles with relevant data, such as financial history, macroeconomic variables, and qualitative information.
8. Avenga
Avenga helps fintech professionals, banks, and financial firms transform their offerings with custom financial services software and credit scoring solutions, accelerate time to market, compete by means of technology, gain valuable business insights, and improve end-product security. The company provides custom software development and design services, product management, technology consulting and advisory expertise, and more.
9. Metryus
Metryus is a full-service mobile and web app development company that develops card management systems, credit scoring solutions, etc., and strives to deliver an engaging digital experience to end-users. The company works with entrepreneurs, startups, and enterprises around the world, with a focus on fintech. It offers custom software development, UI/UX design, MVP prototyping and development, systems integration and technical consulting, backend and API development, and other services.
10. Agency04
Agency04 is an award-winning full-service software development agency that develops mobile applications, web applications, and enterprise backends, and provides test automation and Agile coaching. The company's services cater to businesses of all sizes. The team is characterized by deep technology and framework knowledge, as well as its long-term commitment to the project.
*This is certainly not a complete list of seasones credit scoring software development companies, but it does include all the major players in the industry.
Any questions? Drop us a line.
Profit of Engaging a Credit Scoring Software Development Company
Credit scoring app development offers multiple benefits to both borrowers and lenders:
✔️ Better efficiency
Customers can find lenders and interest rates using only credit scoring apps. Customers no longer have to go to local banks or financial institutions to apply for a loan, no matter when or where they are. For lenders, credit scoring software allows streamlining credit processes without additional human resources.
✔️ Faster credit decisions
Credit scores can be delivered almost instantly only with the credit score application, which contributes to faster credit decisions. There is an even greater advantage for users with a good credit score, as they are more likely to receive fast approval.
✔️ Automated & data-driven decision-making
Credit scoring software reduces the risk of human error and potential fraud and enables lenders to make data-driven decisions and better manage risks.
✔️ More holistic approach to credit scoring
All credit-related information is weighted in users' credit reports, both good and bad, to provide a more holistic perspective to potential lenders. If a user had a poor credit score in the past, they would have had a chance to improve it.
Summary
Developing an efficient, robust, and user-friendly credit scoring app requires an understanding of the ins and outs of the fintech space, software development proficiency, and strong UI/UX skills. At Itexus, we have been building our fintech expertise for years to ensure our clients get high-quality tech products that help them achieve their business goals. Want to develop a credit scoring app? Contact us, sign the NDA, and after discussing your goals and requirements, we will provide a full project estimate with hours and the required budget.
By Itexus Team