As Bill Gates shrewdly pointed out, "If your business is not on the internet, then your business will be out of business."
According to Think with Google, 47% of all purchases are done online. However, although it's 2021, more than one in four small businesses (28%) don't have a website and 44% only plan to create one. What they miss is the market of 4.66 billion active internet users who make purchases every day. An important factor whether to choose a particular service provider or product is the website's UX/UI. 75% of internet users form their opinion of a business based on the website's aesthetics and functionality.
In this article, we'll discuss what it takes to create a website that people will love. We'll provide a detailed breakdown of website creation costs, including design and development.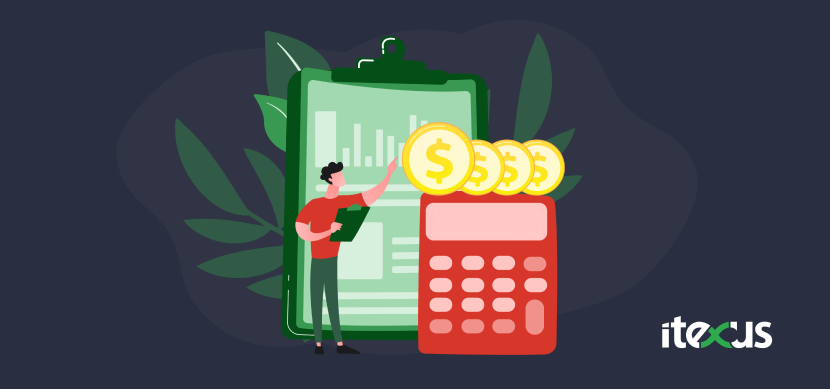 CMS-Based Websites
Websites can be developed from scratch or based on a Content Management System (CMS). A CMS is software used for creating, managing, and editing a website, even if you don't have specialized technical skills or knowledge.
A website developed from scratch is the right option when it:
contains static data
doesn't require content update
needs to have an ultra-fast load page load time
CMS-based websites significantly reduce website development price and time. They offer a variety of off-the-shelf solutions that can be easily customized to fit your business needs. CMS-based websites support registration, user management, third-party integrations, collaboration tools, and many other functions. CMS is particularly useful when you plan to grow your website, need constant access to the admin panel, and require continuous updates to your website content.
Popular Content Management System Examples
Although all of the following systems are designed for content management, they serve different purposes.
WordPress
WordPress is the most popular content management system, with the largest market share among its competitors. It is used by over 40% of websites, as reported by Kinsta. Some of the world's most renowned websites, such as The New York Times, BBC America, TED Blog, TechCrunch, and Forbes, are based on WordPress.
This CMS is designed for landing pages, multi-page websites, online shops (with up to 500 items), and blogs. It features powerful SEO tools that can help promote your products and services. With its built-in features, WordPress website development cost is lower than building one from scratch.
Joomla
Joomla is the second most popular content management system. While not as beginner-friendly as WordPress, it is very flexible in many aspects of web development and creation. Like WordPress, Joomla is an open-source CMS that enables users to build engaging and professional-looking web pages without having to code. It offers multilingual support and the ability to use a variety of templates on the same website for different types of content.
Shopify, Tilda, and Wix
These are website builders that enable you to create personal websites and online shops without any coding knowledge. They are great to start with but won't be enough as your business grows. Such website builders have limited functionality and lack customization options.
Opencart and Drupal
These content management systems are designed specifically for online shops. Opencart provides basic functionality, such as adding and managing products, allowing customers to use a shopping cart to purchase them, and processing their orders. Drupal is a more flexible system that enables you to create a multi-functional website. Modularity is one of Drupal's core principles, and its tools help you build versatile and structured content that is necessary for dynamic web experiences.
Factors Affecting the Website Development Cost
Before we break down the website development cost, let's first examine the factors that affect it directly. These include the website's complexity, design, functionality, content requirements, third-party integrations, and maintenance. All of these factors can affect the cost of website development.
Complexity. Complex websites with many pages, unique features, and interactive elements can increase development time and cost.
Design requirements. They greatly affect the final cost and include visual elements such as color, typography, and layout. Other design elements, such as graphics and multimedia, can also increase the complexity and expense of the website.
Functionality requirements. Depending on the purpose of the website, it may require specific functionality, which could increase both the development time and cost. Therefore, an ecommerce website development cost will be higher than that of developing a landing page, for example.
Content creation. It takes time and effort to create and organize content for a website. High-quality content may require professional copywriting, which could add to the cost.
Integrating third-party services. Integrating third-party services like payment gateways or social media platforms can add to the overall cost due to additional development, testing, and maintenance efforts required.
Maintenance and updates. Regular maintenance is required to keep websites up-to-date and secure, such as updating software, fixing bugs, and adding new features. You might also want to migrate to a new hosting plan further down the line as the site grows. When you choose a plan for enterprise-grade VPS hosting, this could impact maintenance routines.
Development team location. The website creation cost can vary greatly depending on the team's location. For instance, website development cost in the USA is significantly higher than working with a team based in a lower cost-of-living area.
Website Development Cost Breakdown
Let's assume that we need to build a website for a small business. Generally, it will take from 5 to 10 web pages. Further, you'll find a step-by-step development process with website creation cost.
Roll-out and pre-tune
Taking into account the peculiarities of the project, we prepare a framework for the future website.
Takes from 3 to 5 hours.
Create a landing page
This is the title page of the website which contains key information about the business and its offerings.
Development time — 18 – 22 hours (frontend), 4 – 6 hours (backend).
Create interior pages
Typically, pages of this nature have a similar structure and design, which means that subsequent pages will take less time to develop.
Development time — 8 – 12 hours for the first interior page (frontend), 4 – 6 hours for the first page (backend) plus 2 – 3 hours for each successive page.
Work on the admin panel
At this stage, we create unique fields in the admin panel that the editor can use to update website content.
Development time — 8 – 12 hours (backend).
Develop technical pages
These pages include 404 Error, Personal Privacy, and Terms and Conditions pages. Personal Privacy and Terms and Conditions pages usually have no special design, so they take less time to develop. Technical pages may also include catalog pages and subsections.
Development time:
404 page — 3 – 4 hours (frontend), 1 hour (backend)
Personal Privacy and Terms & Conditions pages — 4 – 6 hours (frontend).
Catalog pages and subsections without search filters — 8 – 12 (frontend), 8 – 12 (backend)
Enable form submission
This task involves creating several items, such as a feedback form, a letter to a user, a letter to the administrator, a message indicating successful or unsuccessful operation, field validation, a checkbox for a consent to the personal data processing policy, and data collection from the page where the form was submitted. Additionally, it includes a news subscription.
Development time:
News subscription — 4 – 6 hours
Feedback form submission — 8 – 12 hours (frontend), 12 – 16 hours (backend).
Localize the website
It can be as many languages as you need. Here we'll talk about one language.
Development time — 3 hours per page (front end).
Test 15% of the project
You have to stabilize and optimize download speed.
Development time — 12 – 16 hours (frontend & backend).
Adjust SEO tools
It includes:
Free Google tools to track website performance, create code for custom events, and track website performance, keywords, as well as web errors.
Robots.txt — a text file that tells search engine robots which pages you would like them not to visit.
Sitemap.xml allows informing search engines about URLs on a website that are available for crawling.
Meta tags have a huge impact on site ranks and the relevance of the page to the search words.
Rich snippets allow changing the way the page is seen in SERP.
Development time — starts from 22 hours per project.
Any questions? Drop us a line.
Website Custom Design Cost
As with website development, Itexus website design services include designing your website from scratch or using templates. Let's get a more detailed view of the two design options.
Templates are a great option when clients have no specific design requirements. They save time but often contain unnecessary elements and lack desired ones. Therefore, customization is necessary. The cost varies from 50$ to 200$ per template. The setting and customization will take from 4 to 18 hours, on average. The cost varies from 50$ to 200$ per template. The setting and customization will take from 4 to 18 hours, on average.
Custom design makes your website unique and promotes brand recognition.
The custom design will take from 12 to 16 hours of work per unique page. However, if the page is long and includes animation or other special effects, the work will take around 40 hours.
Website Maintenance Cost
Website maintenance is the act of regularly checking your website for issues and mistakes and keeping it relevant. It includes several manipulations:
Autotests for feedback forms.
One-time setup will take from 8 to 12 hours plus monthly check-up — approx. 4 hours.
Keeping SSL certificates up-to-date
(a free certificate — once in 3 months will take one hour.)
Bug fixes per request
Starting from 4 hours.
So, here's the ballpark estimate of our work:
• Custom landing page — from 30 hours. It will take from 3 to 5 working days to send data from one form to the endpoint.
• Landing page on WordPress — from 40 hours.
• 5-10 page website — from 100 hours .
The exact estimates depend on your requirements. In general, the whole process will take from 200 to 300 hours.
Summary
A website is essential for businesses to reach more people and tap into the growing market of online consumers. It serves as a digital storefront where potential customers can learn about your products or services, interact with your brand, and make purchases. With a well-designed and functional website, you can establish credibility, increase online visibility, and drive sales.
At Itexus, we create websites that are not only responsive, fast, and user-friendly, but also visually stunning. Our team of experienced designers and developers works closely with our clients to ensure that we fully understand their needs and goals. We then use this knowledge to create a website that not only meets their expectations but exceeds them.
If you're interested in learning more about how we can help your business grow, please don't hesitate to contact us for a consultation.
By Itexus Team