According to Juniper Research, total banking RPA revenue will make $1.2 billion in 2023. What's more, the annual cost savings from chatbots for banking customer service will be around $11.5 billion in 2023. No wonder customer support automation is one of the major digital transformations that have taken place in the banking sector recently.
There are multiple touchpoints between banks and customers – mobile app, call center, website, online chat, etc. – interaction across all these touchpoints can be automated to create a personalized and consistent customer experience. To help you figure out how to get the most out of automation for your business, we've prepared an A to Z guide on how to automate your customer service.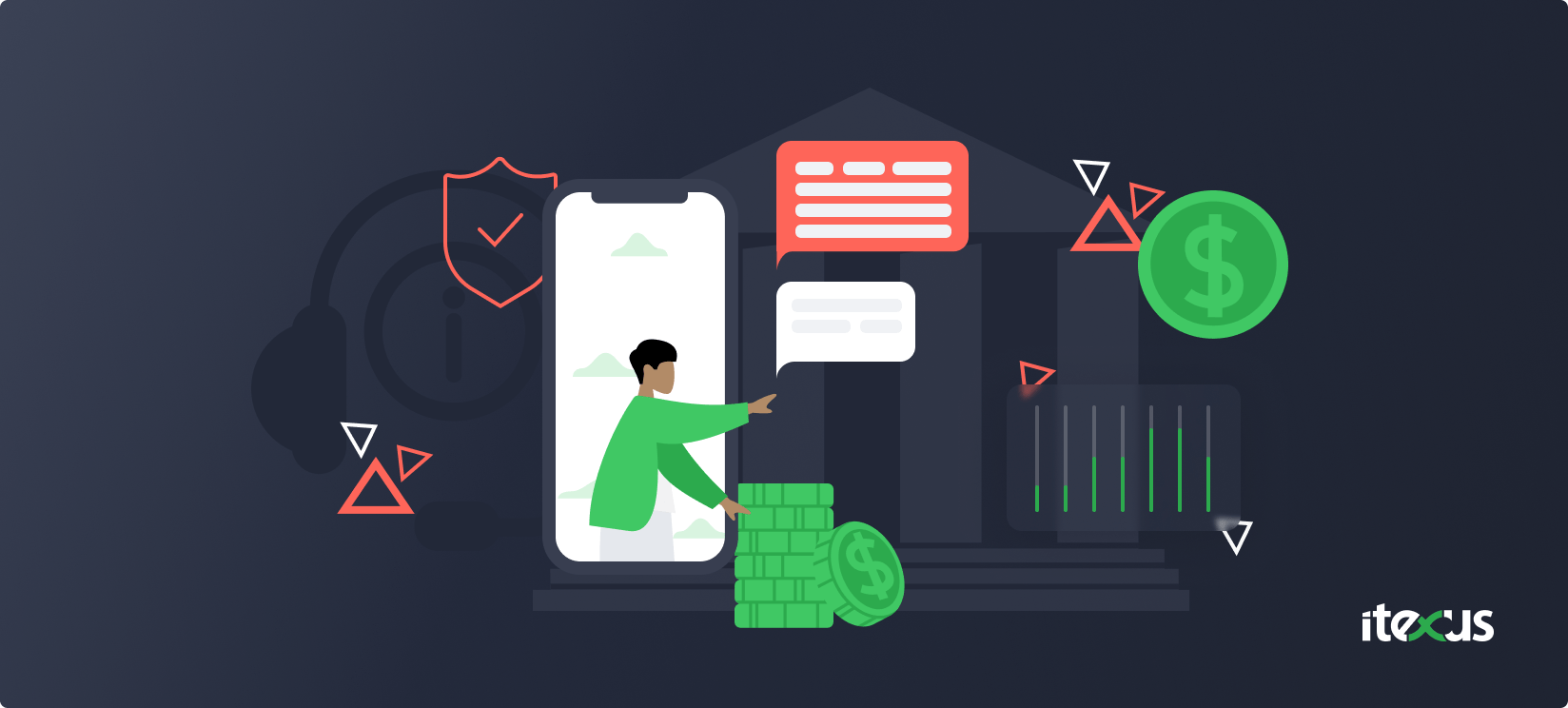 6 Benefits of Customer Service Automation: for Banks and Customers
Intelligent banking customer service enables banks to handle each and every task with automated processes. There are four key benefits of automating customer service for banks: lower costs, increased personalization, better customer retention, and fewer human errors.
• Lower costs and increased efficiency. Automating bank support encourages digital self-service and allows customers to find answers to their questions without interacting with humans. When routine tasks are reduced, bank employees have more time for more complex tasks that require emotional intelligence and a personal touch.
• Increased personalization. When customers get a personalized banking experience, it leads to higher engagement and subsequently better conversion rates. This, in turn, leads to a higher return on investment and revenue for your business.
• Better customer retention. The tip is to turn an average customer into a loyal one. Automation can help you do this by following up with customers after interactions, sending out surveys to gather feedback throughout the year, segmenting customers by the account type, making more personalized offers, etc.
• Fewer human errors. By using automated customer service, banks can drastically reduce the number of administrative errors, which helps reduce wasted time and customer complaints. The bots work round the clock on routine tasks and do not require breaks. In addition, employees feel less overworked and make fewer mistakes.
Users also benefit from customer service automation. It's easier for them to use banking apps and websites and get support when they need it.
• Ease of use. Banking is often confusing, especially online. That's why it's important that your bank provides the most comprehensive and user-friendly mobile experience possible. Chatbots will help to get a better picture of the whole service and product range and will automatically forward your query to the appropriate human specialist if the issue requires such assistance.
• Efficient service. This term includes fast and effective problem-solving and pleasant communication with the bank. Customers do not want to wait hours for a response. Therefore, both the speed with which you initially respond to the customer and the total time it takes to resolve their issue are important. Automated banking systems respond immediately, communicate politely, and reduce wait times significantly. Even complex issues are solved faster because employees can respond immediately to high-profile issues.
Automated Customer Service Across Multiple Channels
Automated customer service for a bank usually includes several aspects that can be implemented altogether or separately.
Automatically Answer Calls, Emails, and Queries
Auto-answer is an extremely handy feature when it comes to answering incoming calls quickly. With this feature, customers can avoid long wait times before speaking to an agent. In addition, auto-answer reduces the average response time, which increases customer satisfaction with your service.
A great example of bank support automation is a system that allows training a bot to answer calls, greet users via phone/SMS, and provide customer service information.
By 2022, companies will automate 75%-90% of interactions with chatbots. Especially in the banking sector, as chatbots automate simple interactions and free up your live agents to respond to high-profile cases.
Automating the Customers Enrollment Process
Customer registration and onboarding are becoming increasingly complex, so financial institutions spend a lot of time and money manually processing checks. Automation of these processes makes them accurate and efficient without adding extra weight to your team's workload. Automated customer onboarding and verification leverage advanced AI and machine learning technologies to ensure that all regulatory standards are met.
Routing Advanced Cases to Appropriate Human Personnel
Although most of the work, such as billing data queries and how-to-do-it questions, can be turned over to automation, there are cases where humans still need to make high-level decisions. For more complicated questions that require human empathy, bots are currently unable to meet those needs, but they can route those cases to the appropriate human staff. This takes much less time for customers than trying to figure out who can help themselves.
Saving All Interactions in the Log
If your bank is not able to track all customer interactions, you will miss out on many insights that will improve your business processes. Automated logging of interactions allows you to learn more about your customers' needs and provide them with the products they need. It also helps you evaluate your employees' behavior towards customers and see how efficiently bank employees can handle difficult cases.
Capturing the Customer's Feedback
Feedback analysis is the only way to measure the performance of customer service representatives in your bank. Automated systems can analyze customer feedback by applying customer service metrics such as first response time, the volume of customer inquiries, the number of responses, customer satisfaction, etc.
Best Practices for Customer Service Automation
In this section, you will find some strategies that will help your customer service processes run smoothly.
Ask for Feedback
Automation is a great way to streamline your customer service when you ask your customers for feedback on their experience with you after their issue has been resolved. If the same issue is mentioned over and over again, you'll know it's a consistent issue and can continue to improve your service.
Don't Make It Too Human
Automated interactions should be friendly and have a personal touch. But that does not mean you should try to hide the fact that you are using automation and pretend a real human is talking to a customer. After all, customers these days expect certain processes to be automated.
Personalize Your Customer Service
Develop basic templates to personalize responses to customers. This adds a friendly touch to your communications and increases the likelihood that your customers will open and read automated emails.
Have Backup
Automation can sometimes fail to work. Have a human support team ready to step in at any point of interaction with the customer. That way, your team can help customers who are frustrated or have issues that go beyond what an automated solution can do.
Add Live Chat
A live chat ensures instant interaction and offers help with inquiries outside of business hours. After you perfect the right responses, chatbots can function as standalone virtual tools on your website.
Encourage Self-Service
Customers skip self-service because they're sure they won't find answers to their questions. Surprise them with engaging support articles. Ensure your support content readability and accuracy and update it regularly as new products and offers evolve. Include videos and images for greater interaction.
Any questions? Drop us a line.
Tech Trends in Customer Service Automation to Watch in 2022
Knowing the trends in customer care automation is helpful in preparing for the challenges in the financial sector that will come our way in the next few years. There are five key trends you should be aware of:
Artificial Intelligence
Machine Learning
Robotic Process Automation
Intelligent Automation
Blockchain
We've already discussed this matter in detail in one of our articles. Take a look.
Customer Service Metrics to Measure
To assess how successful your automation strategy is, and to find weaknesses and growth points to perfect your work, you need to consider what metrics you want to measure.
There are two types of metrics: operational and organizational.
• Operational metrics measure the performance of your customer service representatives. For example, how many queries they receive, how many are resolved, etc.
• Organizational metrics show what your customers think about your product, how happy they are using it, etc.
Operational metrics
• Average Issue Count (Daily/Weekly/Monthly). Calculating the average number of daily, weekly, and monthly complaints will help you to work out benchmarks for your company staff and identify frequently occurring issues.
• First Response Time is the time in minutes, hours, or days between when a customer first sends a message and when a support representative provides their first response. This indicates how long the customer has to wait before she is helped.
• Average Ticket Resolution Time is the total time that is taken by the support team to solve the issue once it is looked upon. Efficient teams focus more on the resolution time, rather than the reply time.
• Issue Resolution Rate is the percentage of issues your staff actually resolves from the total queries received. A rising resolution rate is a clear indication of the efficiency levels of your staff.
• Number of Interactions per Case is the number of interactions the support representative and the customer have on one issue before coming to a resolution. It shows how good the support executives are at addressing a given issue without needing multiple interactions.
• Rate of Answered Calls refers to the number of calls answered in comparison to the number of calls received by your customer support center. A high rate of missed calls indicates more customers with negative experiences and the low efficiency of your team.
• Preferred Communication Channel tells about the general preferences of your customers. You need to track how your customers contact you and then optimize those channels for an improved service experience.
• Average Handle Time is the time a customer spends on the phone with a customer support agent. Quick average handle times can signify that your executives are simply trying to hang up calls.
• Self-Service Usage. The more customers use your self-help channels, the better it is for your company, as it helps your service team to focus on more complex issues rather than answering the same set of questions over and over.
• Backlog is customer requests that have accumulated over a period of time. You should aim to keep this number at a minimum. The more your backlog, the more irate customers you'll have to deal with.
Organizational metrics
• Customer Satisfaction Score (CSAT) is often a subjective metric and you need to use it in combination with other customer support metrics. To track customer satisfaction, you'll need to use a combination of quick feedback, surveys, and ratings.
• Net Promoter Score (NPS) measures how likely customers are to recommend you to friends, family, and colleagues. It will give you a strong sense of how satisfied the customers are with your product or service and play a key role in your marketing campaigns.
• Frequency of Upsells and Cross-sells. Upselling is when you convince your customers to opt for a higher-priced version of your product. Cross-selling is when you convince the customer to purchase a complementary product. Higher upselling and cross-selling rates mean your service departments successfully convince customers to spend more on your products.
• Customer Retention Rate goes hand in hand with great customer experience and customer service. Retaining existing customers for the longer term shows that a business has developed loyalty and trust.
• Customer Effort Score (CES) measures how much effort a customer has to put in to use your product. The more frictionless it is to use an app, the more likely customers are to continue using it.
• Customer Churn happens when customers stop using your bank. Acquiring new customers is a lot more expensive than retaining old ones. Reducing churn should naturally be a priority for your business. 
Itexus Experience
For years, Itexus has been helping financial institutions to automate as many routine processes as possible to help staff manage challenging cases. What we offer:
• Chatbots
• RPA (Robotic Process Automation) and RDA (Robotic Desktop Automation)
• Omni-channel customer support automation systems
• Data analytics
• Customer service metrics + KPI calculator
For every client, we leverage the benefits of customer service automation ensuring superior customer experience, more efficient processing of repetitive work, cost savings, and increased back-office productivity. Reach out to find the best possible automation solution for your business.
By Itexus Team